What is Smart Panel – A Scam designed to steal your information?  Or a smart way to make a little extra cash online?
I've seen a bunch of these sorts of apps popping up more frequently.
They look they provide a quick way to make some extra cash – seemingly by doing nothing.
But do they really work?  Let's dig into my Smart Panel Review….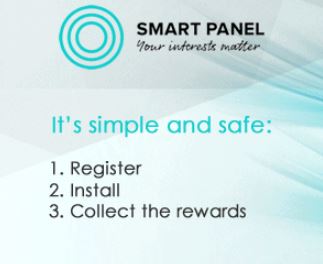 Product:  Smart Panel
Website: https://smartpanel.io
Income Opportunity: pocket money
Overall Score: Legit but with some pros and cons I outline below.
Review In Brief: Smart Panel is not a scam, but does have some negative feedback.
Complaints mainly resolve around the App disrupting your internet connection, (which Smart Panel deny, so it could be simply individual connection issues) and some customer service issues.
If you want to make $100's of dollars online every month – this won't work! Learn how to make more here.
What Is Smart Panel All About?
Smart panel is a business that collects personal data from its members by asking them to install a tracking app on their technical devices – such as your laptop, ipad and smartphone.
This information is said to be used to help the development of future technologies, apps and websites.
Once you have the app installed, you can go about your business as though nothing has changed, (or that's the idea).
In exchange for your personal data, you receive a small payment.  $5 each month and a bonuses every few months.
This equates to $110 in the first year if it all goes to plan, not bad for installing an app – right?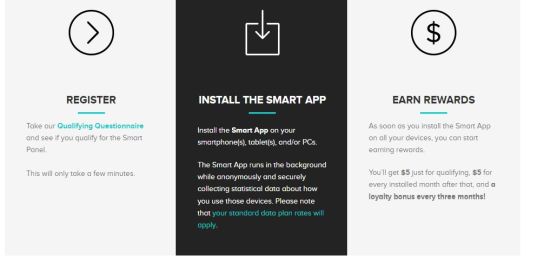 Of course, you could just use it temporarily and pick up some extra dollars, rather than sticking with it long term.
You can take it off, whenever you like.
Get a $5 bonus for joining my top rewards site here
How Do You Sign Up To Smart Panel?
When you first go to the Smart Panel website, you need to do a quick questionnaire to see if you're eligible.
But there are so few questions, I'm not sure exactly what process Smart Panel choose to select people.
It may vary according depending on the demographics of their current members at the time.  In any case, it's very quick.
The next stage is to install the app.
You need to tell smart panel what devices you have and you're expected to install the app on every one.
The reason for this is, they won't get accurate data for you if they aren't accessing every internet device that you use.
Let's say you only access a certain App on your Ipad and not your Iphone – if you hadn't divulged you even own an Ipad, then they will be getting an incorrect picture of your behavior online.
Anyhow, all going well, you get the app installed and that's as much work as you should need to do – simple!
Are You Selling Your Online Privacy For $110 A Year?
If all goes to plan and you keep the app on your devices for a year, you will be $110 better off.
If you keep it for two years, you're $230 better off.
While this idea may seem great for doing next to nothing, you may be concerned that all this personal data is being collected from you and you don't know where it's going.
There are some out there that possibly make a bigger deal of that than is necessary…
For starters, Smart Panel have a privacy policy which states your personal info will never be accessed – it's not actually viewed by humans.
It's not like someone has access to computer and is looking through all your details, it doesn't work that way.
Smart Panel say that all data received is anonymous and that they will not sell your information to third parties either.
All security measures are taken to ensure things like passwords and so forth, are not compromised.
Smart Panel are a legitimate business that have to adhere to strict guidelines in order to operate.
Some people will be more concerned at how their info will be shared than others…
I guess it boils down to how much it concerns you and whether $110 a year is enough to NOT worry?
Earning Rewards With Smart Panel:
Smart Panel Complaints:
There are quite a large number of complaints against Smart Panel, but it's worth noting that people are very quick to leave complaints these days, even when there could be a completely legitimate reason for their issues, (I will explain more in a moment).
Most companies that have been around for a while, will have a large number of complaints against them online – it's up to you to figure out whether the Pros outweigh the potential cons.
Some of the complaints online include:
The app influencing the performance of technical devices online – such as slowing down internet connection.  Some even say it doesn't let them access certain websites.
There is not a way to temporarily switch off these apps, so if you have a problem with them, you're stuck with it or you have to stop using it.
Not all users share this complaint about Smart Panel, so the only way to really know, would be to test it out.
Smart Panel also claim that this should not be a problem with installing their app.
It may be worth simply contacting them if you have any problems.
There have been complaints regarding customer support.  When no payment has been made, or other issues have arisen, it seems being able to get to the bottom of the issue can be a struggle!
It's said that customer service can come back with unhelpful emails and are generally also slow to respond.
Again, it's worth nothing that plenty of people do not have these issues whatsoever, even as far as saying their devices haven't slowed down at all.
So, this will be variable and can also be influenced by things such as your own internet connection.
PROS VS CONS:
PROS
If all goes to plan and runs smoothly, it's potentially money for doing very little and that's always a good thing.
You're not locked in, so theoretically you could just install it for a few weeks and then leave it at that.
CONS
Some have complained it slows down your internet connection, (smart panel do deny this completely).
Some have complained they believe it interferes with internet usage in general, such as by closing web pages, or not letting you access certain pages.
Complaints regarding poor customer service.
You're told you need to put the app on all devices you own – all devices that are registered must be in use in order to get paid.  If you stop using one, you must remember to remove it from your account.
Smart Panel can use up to 3MB per month of data.  So, if you don't have unlimited data, this may be something to consider before signing up.
Is Smart Panel A Scam – Or Worth Your Time?
I don't believe that Smart Panel is a scam, but ultimately they appear to have some customer service issues, that have left many frustrated by the service.
I believe there could also be some confusion with some complaints.
For example; some think the app suddenly stops working and they're not paid…
When, in fact, it's likely that one of their registered devices is no longer in use and in this case, you will not be paid.
This can be corrected by removing the unused device from your list.
Apps like this generally are criticised for slowing down internet connections.
But considering that some people have absolutely zero issue with their internet connection or experience any disturbances at all using this app – you need to take complaints with a pinch of salt.
Obviously, you will be able to tell personally once you sign up with the app and can always remove it if you believe you're having issues.
Having to pass on all this personal information on faith alone that it will be anonymous, may feel too invasive for some – although, all data collected is completely anonymous and not linked to you.
Additionally, if you sign up and have any issues with Smart Panel, it looks as though you may have some trouble trying to resolve your problems.
If you do have issues with the app, I guess what once appeared to be an easy way to make some money, may seem like a bit of a hassle for the money involved.
I've been looking into using more Apps online and have been quite enjoying it…
For example; one app called receipt hog  pays you for scanning all of your receipts.  Some people may not like the thought of that personal info going somewhere…
It may have bothered me in the past, to be honest, but I know that this data is used anonymously and it really doesn't bother me now.
What do you think?  Is it worth it?  How do you feel about your online behaviour being tracked?   Let me know in the comments below!
Beyond Extra Income Sites:
If you'd like to make more than a few extra dollars each month, there are many ways that you can do this – but they do take some effort.
But what's putting a bit of effort in initially, when you can reap the rewards later?
The problem is, people are too desperate to make money overnight or for no effort…
That's why so many end up getting scammed by products that claim they can make you thousands over night or millions at the touch of a button….
I have spent years trying to find ways to make money online – but make the most right now from affiliate marketing and paid advertising.
If you want to know how that all works – You can start learning for free here.
I hope you found this Smart Panel review helpful – feel free to leave a comment below!