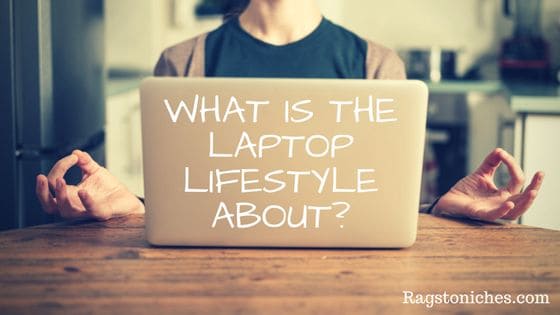 You hear the term "laptop lifestyle," thrown about a lot, but what is the laptop lifestyle about really?
And is it easily attainable – or a just pipe dream?
The Laptop Lifestyle Explained:
The essence of the laptop lifestyle in my mind, is about freedom.
By attaining it, it means that you are not tied to any particular location, because you're working for yourself online in one way or another…
And all you need to do that effectively, is your laptop and the internet!
So, no matter where you want to be around the globe…
As long as you have a relatively reliable internet connection, you're good to go!
As you might imagine, this idea is a great attraction to people who love to travel.
For many people, that is the dream lifestyle!!
The ability to support yourself financially, while you travel the world, is something many people would love to do.
For many others though, it's not just about location – maybe they don't live in a beach hut, but they want to have more time with their family and they want the freedom to move around – should they choose to do so.
The fact still remains that with the laptop lifestyle, you could potentially go anywhere that you like, so long as you have the ability to work on your computer.
This is exactly one of the notions that appealed to me when I first looked into how to make money online.
Ultimately, I wanted the freedom to work the hours I decided to work, where ever I wanted.
I needed to fit my work around my family life – in a more harmonious way than a traditional 9-5 would ever allow.
While there are certainly a tonne of benefits that come with this idea – it's become somewhat of an ideal for some people too.
But, the reality is often much tougher than what people imagine while their dreaming.
So, while the "laptop lifestyle," is potentially within the reach of anyone who would like to attain it – only a minority actually do!
Some may try and give up, while most never take those first steps to even attempt to make it happen.
tip: this place taught me how the laptop lifestyle could be possible.
So, what are some of the benefits of the laptop lifestyle?
Location independence.
You can be your own boss, (although this could include still being employed by different people, in various degrees).
You can set your own hours.
You can have more quality time with your family.
Your "job" can fit in more to your life – rather than dominating it.
You can choose to travel and still take work along with you.
Generally less stressful than a traditional job.
What are the downfalls of the laptop lifestyle?
People can find it very tough to get started.
In the beginning especially, there is not much security.  Depending on what you do, you may make a lot of money one day and nothing the next.
When you rely on technology – sometimes things go wrong, you have technical issues or your internet connection fails.
It can be extremely solitary – some people suit this very well, others do not!
A lot of people may presume you're not really working and just hanging out – a lot of people are still pretty judgmental about working online, as many don't realize how it can be done.
If you only have one stream of income and the work suddenly dries up, you could find yourself in a bad situation.  Which is why gradually building up several different streams of income is a good idea.
It can be extremely high stress, because the pressure is solely on you and there can be many ups and downs.
What Skills Do You Need?
While some technical skills online would be advantageous – they're certainly not necessary.
The advancement  of technology now means that even people who aren't very tech savvy can achieve things they would never have been able to in the past – without spending a fortune on coders or website designers.
Some of the common gateways into the laptop lifestyle are…
Should You Go Online & Pursue The Laptop Lifestyle?
The great thing about diving into the unknown and trying to make money online is, the cost of entry is very low.
So, there's little harm in giving it a go and if you REALLY do dedicate yourself to that experiment – it could be life changing.
The internet has made it possible for thousands of regular people to have a lifestyle that just wouldn't have been possible in the recent past.
Most people probably feel that's it's something unattainable, but it's really not.
That being said, the road to making money online is not straight and steady, it can be a bit of an up and down route, but if you're prepared for that, you will be better off and stick it out.
A tonne of programs out there will make you think that living the laptop lifestyle can be achieved by purchasing some course that reveals a secret system or a push button software that can make you a millionaire in days or weeks…
Those are all promises you have to steer well and truly clear of if you have any chance at all of building an online business.
The cold hard truth is – it takes time and effort, you will be working away for nothing at first, but the same is usually true in a regular business start ups.
You'll be lucky to turn a profit in the first year of a regular offline business – whereas in an online business, it's highly likely that you will have made a profit in your first year if you put in the work.
The problem is, people often going into an online business expecting it to be easy  – when it's a bit harder than they thought, they start losing interest.
When actually, what they perceived as hard is one hell of a lot easier than dragging yourself out to a mundane job that you hate every day.
Even on those days that you do hate your online business, (and those days do come…)
It's STILL so much easier to drag yourself to your laptop, (where ever it may be) and get on with your work.
OR – big deal, take a little break.  Because you CAN.
If you're interested in learning how to build your own online business – centered around anything you're interested in, this is where I got started.
You can start for free and it's a simple gateway into the online world – from there, you can build and expand your knowledge over time.
So, what got you interested in the Laptop lifestyle?
Let me know in the comments!

All the best,