What Is TimeBucks? Legit Money Maker, Or Giant Time Waster?
Timebucks is a rewards site that pays you a small amount for doing various tasks. It's a little more unique than some of the sites like this I've seen; although the actual income opportunity doesn't appear to be any better.
In fact, I see this site resembling a PTC website. That is, one where you click on ads for money. While there is more than just that here; most of the opportunities are for minute amounts of cash – just like PTC ones.
I actually came across this website while I was reviewing a different rewards site, called online Panel NET. TimeBucks looked a little unusual, so I thought I'd check it out.
Click Here For My Top Extra Income Sites!
TimeBucks Review In Brief:
Website: https://timebucks.com
Price: free to join
Money making opportunity: pocket money.
Overall ranking: While this site is legit, I don't highly recommend it.  The pay for most things is just too low.  The main way you seem to be able to make money is via having a lot of referrals, otherwise – I wouldn't choose it over other sites. Have you had experience with Timebucks? What do you think? Leave me a comment below!
Related Post:  My Top Extra Income Sites!
TimeBucks Explained:
How Do You Make Money On TimeBucks?
There are various ways you can earn on TimeBucks, including the following:
Paid Surveys:
you can complete surveys with various providers including, Tap Research, Peanut Labs, Dalia Research, Poll Fish, SaySo Rewards and many more.
Typically surveys will be between 10-30 minutes. When I was checking out the surveys, a lot of them seemed to pay really low – everything I saw was under a dollar, one survey I saw was for 6 cents!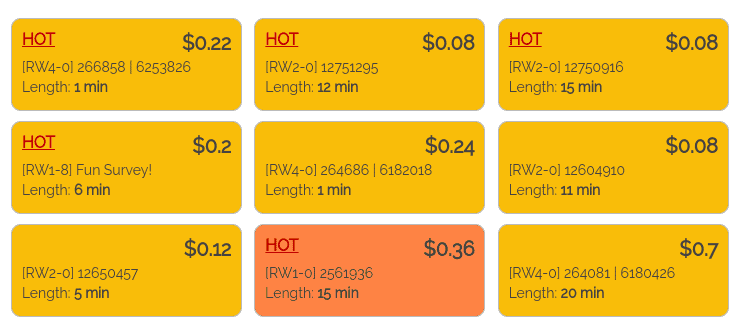 Content:
In this section, you're either paid to click on links from advertisers, (only earning a 10th of a cent per time for many).
In the "social theatre," section, you're paid to view content from the TimeBucks sponsors.
Earning a 10th of a cent per two offers. Finally, there is a slide show option, where you need to scroll through side shows available for a set amount of images – for one that I did, I had to scroll through 11 images. I hadn't even made a cent for that – I don't really get it. 😮
I was thinking I was making a cent originally – but it was actually $0.001 for many of these, not $0.01!
Why anyone would spend time doing ANYTHING for a 10th of a cent!? I don't know.
Videos:
You can earn by watching video clips. If you can call making $0.001 per video actually earning anything. Which I don't. Obviously, there is little point in this, unless you actually want to watch videos.
Referring Others:
This is perhaps one way that people are really making something on this platform. As there is a tiered commission level going on.
It looks like the sort of structure a multi-level-marketing program would have. Because, you don't only earn from the people you bring to TimeBucks, but also the people THEY bring to the platform too.
However, if you're just recruiting regular individuals, most people will not be referring people to Timebucks.  So, you'd be stuck with level one.
To get people who were also getting referrals, you'd need to be referring people who are already in the internet marketing space and are interested in promoting this sort of offer.
You can see how the referral program works below:
You are also able to buy referrals. (Note: you cannot currently purchase referrals here, due to high demand).
These are people that have signed up via Facebook, but that do not already have someone that referred them.
TimeBucks say that buying referrals is a good investment and that you should be in profit within 12 months!? A YEAR?
I'm dubious about this, because most people signing up to these sites will NOT remain active for very long at all, let alone a year. Also, a year seems a long time. You have to buy a minimum of 100 referrals.
Paid Offers:
You can also earn from paid offers. Typically this involves signing up to another website, (such as another survey site), signing up to a trial, entering sweepstakes, filling out a questionnaire and so on.
However, as you can see in the image above, you don't actually get paid very much for these paid offers. They look on the low side to me.
How much you earn for paid offers, are going to be dependent on your location and what TimeBucks have available.
Offerwalls:
Tonnes of more offers available, via different offer companies like; adgatemedia and CPA lead.

The offers still seem to pay on the low side though, with the ones I looked through being cents, rather than dollars.  This is really low for paid offers.
Mining:
I don't really understand this – but it says by keeping the tab open, they use your PCs processing power to mine cryptocurrencies.  It seems as though you don't earn very much at all for this either.
Mini Tasks:
Only one available when I signed up – which involved categorizing certain text. This paid 10 cents for each task completed and there were 13 available.
Social Media:
Here you get paid for performing certain social media tasks. For example; subscribing to a YouTube channel, signing up to an Instagram account, sharing something on Facebook.
Each task appeared to pay either $0.005, or $0.01.
Roll:
You must have completed 10 tasks to be eligible for this action.
But here, you are able to simply click "roll," and win a certain amount, up to $100 – or anything as low as $0.002
You are able to roll every 24 hours and will also earn 50% of what your referrals make.
What Else Can You Do On TimeBucks?
You're able to advertise here, by purchasing things like YouTube likes, (or dislikes, interestingly!).
Instagram, Facebook and YouTube followers and so forth. Of course, you do need to pay for this service and I probably wouldn't recommend it, as people performing actions on this site are unlikely going to be engaged followers, (because they're just doing it for the money).
You can also do things such as, purchase clicks for URLS on your blog or website. Again, I doubt the traffic from this site is going to be very engaged.
There is also a chat room, where you can post questions and talk to other members.
How Do You Get Paid?
You need $10 to cash out – which is a lot, considering how little most of the tasks actually pay.
You need to cash out via PayPal or Payza at this time.
PROS VS CONS
PROS
Bonus $1 to sign up.
Free to sign up.
Has a range of tasks available.
Referral program.
CONS
Very low pay for tasks.
Without referrals, you'd have to spend a LOT of time here to make anything.  Even with referrals, you'd need thousands an most people just don't stick to these sites for long and become inactive.
$10 threshold for pay out, which is high considering many of the tasks pay 1 cent or even less.
Is TimeBucks Legit, Or A Scam?
TimeBucks isn't fooling you into thinking you'll make a lot of money here – it states clearly what it pays per task and will pay out if you reach threshold. But the earnings seem SO low here, that isn't something I'd personally recommend.
Perhaps one of the ways you can earn from this site, is via their referral program, but you would probably need thousands of referrals to make that worthwhile.
To do that, you need to have some understanding of affiliate marketing.  If you want to know what that's about – you can learn here.
If you're looking to make more money in the long-term, (as in a real income online, not just pocket money) there are legitimate ways to do it, but all of them will take time and effort.
You may want to check out my 40+ ways to make money online.
Have you made much on sites like TimeBucks? I'd like to hear about it! Why not leave a comment below?
All the best,