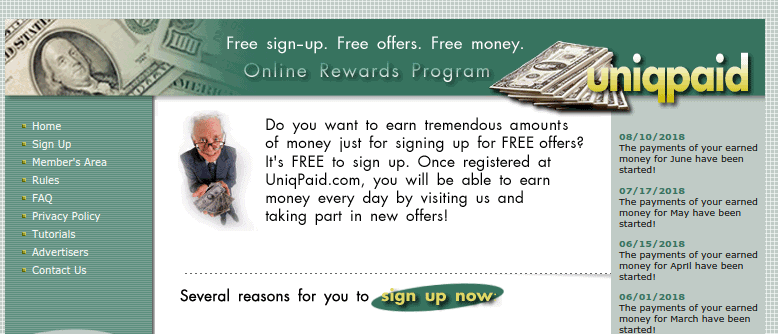 What Is Uniqpaid – Legit Or Scam?
Today I'm going to review this get-paid-to, (GPT) website and let you know whether I think you can trust this website, or whether you should steer clear.
I Perhaps you're a regular visitor to my site, or perhaps you stumbled across it because you're wondering whether Uniqpaid is legit and I don't blame you…
Uniqpaid was created in 2001 and wow… It really shows.
I really don't understand why they'd keep a site that looks like this. Without a doubt, a majority of people landing on this site will just think it's a scam and leave.
….And what is that image of a weird old creepy guy holding money about?!  (see in the title image above!).
The outdated design and overall feel of this site is going to put people off from the get-go.
I signed up and I'm pretty confused why I've seen any reviews claiming this site is good.
If you really want to go and join a get-paid-to website – why this? Does it have anything going for it? Well, I felt like I shouldn't JUST judge this site purely on the way it looks, so I signed up.
I immediately felt that Uniqpaid was difficult to navigate and makes you feel like you are being scammed by just being there. I didn't feel comfortable giving them my details at all.
Related:  My Top 10 Survey Sites USA OR Top 10 UK!
What Are The Good Points?  (If Any!?).
Well, they do offer a tiered referral program, but your average person won't make much from that, (will explain a bit later) and they also offer bonuses for completing offers and extra incentives.
But, when there is such a large amount of sites to choose from that look professional by comparison, have a lot more offers available and are generally lead to a better overall experience – I really can't recommend this one!
How Does Uniqpaid Work?
When you sign up you need to give your name/email/home address/date of birth/phone number.
So, quite a lot in comparison to some sites, that may allow you to just sign up with your email.
Once you get into the main site, you probably won't be to sure where to go. You may want to check out their FAQ.
They claim that you can earn money from completing cash offers on the site – some of the best online that you can get, (not that I saw).
The main ways you can earn money are:
Completing cash offers.
Completing Surveys.
Reading emails.
Referring other people to join and do the same.
The surveys I saw on offer were really low in pay. $0.2, $0.32, $0.08, (which was 9 minutes long). Why Would I do any survey for $0.08!?
Paid offers I checked out definitely looked on the low side too, in comparison to some other sites I've reviewed.
Most offers and surveys I could see, were all under a dollar. Many not even 50 cents. Not great!
Suspiciously decent reviews online?
I have a feeling that Uniqpaid has paid certain reviewers out there to give good reviews.
Because some were trying to say that this is one of the best GPT sites out there… that's just nonsense and I can't think of why they'd say it.
What Are The

GOOD

Points Here?
While the good points are minimal from my own perspective, there are a couple.
1) There is NO minimum payout threshold.
This is a good point because, it means you can figure out very quickly if they're going to pay you and you also won't have to stick around with this site if you don't want to.
With some survey related sites having a $10, $20 and even $50 minimum payout threshold, it can be frustrating when you may not want to stick with a certain site and yet feel you must keep going just to reach the payout.
2) Bonuses As Incentive.
They give you a 10% bonus on any cash offers you complete within your first two days. This is there to encourage new members to get started.
3) Decent Referral Program.
This company has a three tiered referral incentive scheme.
10% on everything your direct referrals earn.
5% on everything their direct referrals earn.
1% on the level below that.
Also, you get a $1 bonus for all active referrals. These are referrals who have made a minimum of $5.
While this sounds OK, your average person signing up is not going to make money from a referral scheme like this.
You need hundreds/thousands of active referrals to make decent money from this sort of referral program.
Therefore, it would only be experienced marketers that are likely to make money and I doubt many are nothing with Uniqpaid, when there are better looking and more profitable sites to promote.
Your average person may refer a few friends, most of those are unlikely to take any action at all, least of all invite anyone else to join.
Additionally, most people DO NOT stick with sites like this. They come and go very quickly and I'm actually talking about sites that are far better.
Most people that land on this site are not going to perceive it as trustworthy, so they're also far less likely to stick with it.
3. They say NO to spam.
On their site, they say they will immediately terminate anyone who spams their links around.
Whether they do or not, who knows. But at least that's what they are saying their website.
4. It's open to everyone – Worldwide.
A lot of sites like this are not available Worldwide, so this is one benefit for some people unable to join other similar websites.
Any

Negative

Points About Uniqpaid?
There are a bunch of downsides to this website and I feel they far outweigh any of the positive aspects.
Poor design.
Confusing to navigate.
Low income potential.
Low paying offers.
They won't pay you until their sponsors have paid them. That means, you could have to wait 30 days or more before you actually get paid for an offer you've completed.
Some reviewers have claimed there are MANY ways to earn here… Well, there are some ways to earn, but not as many as other GPT sites I've seen.
What springs to mind is something like MOOCASH app... a lot of low-paying tasks, but there are tonnes of them.
Another one that comes to mind is PocketmoneyGPT – another website that looks a bit dated, but it's still got plenty of ways to earn and plenty going for it, by comparison. You also only need to have made $1 to cash out!
If you are in the UK, you may want to try 20 cogs – as it's a bit of a twist on your regular paid offer website.
So, What Is Uniqpaid…. Scam Or Legit GPT?
Uniqpaid doesn't appear to be a scam, but it doesn't have much going for it either.
Poor design, very low pay potential and you may have to wait 30-40 days to get paid for a paid offer you've done, (or potentially more if there is any issue with their sponsors paying them).
I don't know why you'd waste your time, when there are so many other sites out there to try out.
Beyond GPT Sites?
Unless you're a super affiliate for some of these programs and bringing in thousands of referrals – GPT sites have a pretty low earning potential.
On the other hand, if you learn about affiliate marketing, you could earn a lot more and not just from GPT sites, (although, you could go into that area if you like).
You could promote all sorts of things with affiliate programs.
Most things you can think of these days have an affiliate program attached.  This means you can recommend products, services and memberships to people and get a commission when certain actions are performed.
The action could be just signing up to a service for free, or actually purchasing something…  It all depends on the program.
Anyway, it may sound complicated initially, but the concept is pretty simple once you learn about it.
If you're interested in learning how to make money from affiliate marketing, I highly recommend this training.
That concludes my Uniqpaid review for today – you're welcome to share your own experience below!!
All the best,