In my Valentus review I will give you some of the facts and key information necessary for you to decide if this is the right opportunity for you.
What is Valentus – is Valentus a scam – how do you make money with Valentus.
Let's get started.
Product: Valentus
Cost: $20 sign up – then up to $499 for product.
Overall Rating: 50/100
Tired of MLM opportunities?  Click here for a change.
What Is Valentus About?
Valentus is a multi-level-marketing company, (MLM) that is fairly new.  This business started up in September 2014, by founder Dave Jordan.
As MLM's go, your best bet is always to get in quite early – that being said, you don't want to get in right away, because many of these businesses fail before they gain momentum.
MLM's all have some sort of product that they are selling, but the primary objective is always to recruit others and get those people to recruit others as well.
In other words, the product is fairly irrelevant and could be anything- but ultimately to have the best chance of selling any or convincing others to sign up, you'd want it to be as appealing as possible.
By recruiting others into the MLM, you gain a commission from their sales, as well as extra cash bonuses.
But you also create a downline, where you will earn a commission from their recruits too and the recruits below them and so forth.
What Do Valentus Sell?
Valentus sell a small variety of drinks, (targeting the health/weight loss industry).
Fortunately, the Valentus products, while not original- will appeal to some individuals, as they're meant to have added health benefits.
Most notably, some are also meant to aid weight loss.
If you're hoping for some great evidence to back up the validity of these drinks, you won't get very far.
That aside, the Valentus drinks come in easy to use sachets containing a powder and you mix them with water…
The products, (as of August 2016) are as follows:
All their drinks are marketed as super healthy, packed with antioxidants, vitamins and minerals.
While I can't claim to believe these drinks really have all the great qualities that Valentus claims, (any drink claiming to help with weight management should be taken with a large pinch of salt in my opinion) – their products do have some reasonable reviews on amazon.
Often around 4-5 stars, although complaints surround the taste, the effectiveness and the price.
But hold on….
If you check out the Valentus compensation plan, you can buy one box of product for $59.  At their most expensive package, ($499) you can get the boxes at roughly $31 each.
This is also the price you'll be paying to purchase the product direct from Valentus, so the price you will be trying to sell it for will be higher – as obviously your aim is to make a good profit.
But check here… you can buy this box on Amazon for $39 right now…
And it said it WAS $59… I imagine some people are trying to get rid of product that they have purchased, or are just getting this on the cheap somehow.
In any case, if you can buy Valentus products at a lower price online, why on earth would someone pay more than they need to – and how would you convince someone to do so?
Even if you're signing up for most expensive package they have, you're paying $31 per box.
To match Amazon, you would only be able to sell each one at $39.   This would make for a measly profit, in comparison to what Valentus are suggesting you sell for, (e.g. $60 a box or more)
valentus presentation

In the above presentation, Valentus try and convince you just how popular coffee is… does anyone really need to be convinced of that?
With thousands of coffee houses that have flooded the world in recent decades, it's a sure thing that people are obsessed with getting their daily fix.
But people can pick up coffee relatively cheaply, absolutely anywhere.
The fact that this coffee has the additional "weight loss" gimmick attached is not very unique.
But this benefit is meant to somehow mean people will want to buy into it – and pay a lot for it.
But where is the scientific evidence?  Time and time again these sort of weight loss drink claims are debunked.
I don't see Valentus providing any legitimate scientific evidence to back up their claims.
What all this means is, you may struggle to get people to buy into this MLM by simply talking about the product – but you may do better trying to sell this MLM as a money making opportunity.
Valentus compensation plan
The compensation plan works as follows…
Your start up fee is $20, there is no annual fee.
you buy different packages ranging from 1 box ($59) to 16 boxes, ($499).  They strongly suggest you take the $499 (business builder) package and get others to do the same – or else you miss out on one of their most lucrative bonuses.
When you sell the product, you get 25% off your customers first order.  Any subsequent orders go into the binary system, or auto shipments and your residual income.
When your bring in a customer and they refer two friends, who also purchase an auto order, they will get a $59 box for free the following month.
Fast Start Bonus – you get bonuses of between $20-$100 when you refer a new person who purchases a certain amount of product.
Extra Legacy Bonus – this is the extra bonus of $100 you receive if you you initially signed up to the most expensive plan, ($499) and your recruits do the same.  For your first 3 recruits, you get the $100 fast start bonus if they sign up to the– but on your 4th recruit you get an additional $100 extra legacy bonus and this continues on no matter how many extra recruits you make.
Duel Team Cycle Commission: You get paid weekly here.  When two shipments on your left leg and one on your right, you make $20.  In addition, when two shipments are made on your right and one on your left, you make $20 and so forth….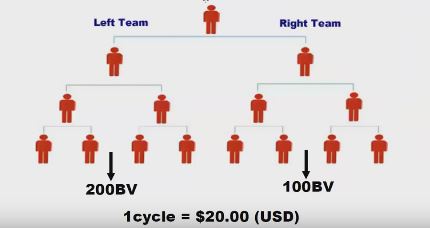 You will also earn a different percentage of your downline earnings, depending on what level you're at.  E.g. this may be 10-25% at level 1, 15-20% at level 2, 10-15% at level 3 and so forth.
There are a couple of other perk bonuses as well, such a car bonus.  This bonus again increases depending on what level you've reached within the company.
Valentus Compensation Plan Explained:
Valentus Pros vs cons
PROS
The creator of the company transparent and seems totally legit, this is not a company to be worried about in that way.
Decent compensation plan.
The chance to make money from a variety of different ways.
coffee/diet drinks will be easier to sell than many things – even with the price and effectiveness issue.
CONS
Hefty buy in fee $499 if you want to benefit from the best bonus they have on offer.
You can buy the coffee cheaper on Amazon than what you'll be selling it for.
If you have no experience recruiting people and no sales experience, you will find it really tough going.
You have to rely on having a successful downline in order to be successful – so, you need quality leads with people who are likely to work well in this business.
So, what is valentus:  Is Valentus A Scam?
Valentus is not a scam, it is a legitimate MLM company and some people have been very successful at promoting it.
However, I'm not a fan of MLM companies, because they rely on you having to sell extremely over priced & often poor quality products to people.
The key selling point of MLM's is getting you to believe you can make money and tonnes of it, (when the reality is, a very small percentage make any money by joining an MLM).
If you have a great product to promote, then that's great, but it's rare.
Most importantly, the downfall to me is having to rely on your recruits being successful in order for you to be – if they're not selling anything, nor recruiting anyone, you will not be a success.
MLM's Vs Affiliate Marketing.
I have yet to find an MLM program that I'd feel comfortable promoting.  But if I did, I'd be in a good position to start earning money from it.
Why?  Because I already have some internet marketing knowledge and would know how to leverage the internet to work in my favour.
(note: if you think you know of a great MLM you'd like me to review – let me know!).
Having this sort of internet marketing knowledge is something a majority of network marketers don't know when they start out – and this is why a majority will fail.
MLM businesses unfortunately do not provide the training required for being able to recruit other people into the business.
Some people will already have that ability or figure it out along the way, but many will quit before they do.
Personally, I prefer the affiliate marketing model over an MLM and mainly, (for me) that comes down to a couple of key reasons…
I don't want to have to rely on having a successful downline to make money.
I don't want to have to try and sell overpriced products to people and try and sell them on something I do not believe in.
The graphic below just outlines a few reasons why my preferred method to make money online – affiliate marketing – is a better choice.
Want To Learn All About Affiliate Marketing too?  Click Here!
I hope you got some value out of this Valentus review.
Have you signed up with Valentus?  I'd love to hear your stories.  Leave me a comment below! 🙂
All the best,