Welcome To My Zwerl Review….
Today, I will be taking a look into the Zwerl App! Can you make money chatting online and answering questions?
…Or is Zwerl a scam?
Well, I've spent a lot of time downloading and testing Apps that claim to help you make, save, or even win money online!
For the most part, they're not really worth the time and I do hope that one day there will be an App that can provide a good income opportunity.
Is this App different? Well, it appears to be growing in popularity and at first, (I admit) I didn't know why…..
But after spending some time on the platform, I am starting to understand how it works better.
What Do You Think About Zwerl? Please Leave Your Comments Below!!
Related Posts:
What Is Zwerl & Is It Legit?
Zwerl is a platform where you can ask questions on any topic and receive, (apparently) *expert,* answers to questions.
The idea is that you can also earn money for answering questions.
It's funny because, I keep reading people saying you need to be an expert in the chosen field you answer in…
But there doesn't seem to be any regulation at all.
I also read you have to complete a test before you can answer questions…
I didn't take any test!?
Update: I believe there used to be a test… but there isn't now?
In any case, I was able to add any number of topics to my profile that I wanted and I was not presented with any sort of test.
I tried to look further for more information – what I did find is that you may have to provide evidence of your expertise in SOME topics, if you're asked:
Also, every time you do answer a question in a certain field, it's automatically added to your "expert," topics in your profile.
So, I answered one religious based question and then saw that spirituality and religion had been added to my topics!
The only thing is, if you go into a chat and don't answer a question well then, it's unlikely that your answer will be given any votes…
(Actually, even if you do give an incredible answer, you may not be awarded either… I will explain all this in depth further down).
I saw a serious amount of really mundane questions, that would not require an expert to answer them at all.
So, for example… someone asked whether their Pregnancy test was positive or negative.
You wouldn't need to be an expert in Pregnancy to understand whether it was or not and it would appear you don't need to be.
From looking around, this seemed a lot like Quora really.
Except there is a slim chance you can get paid for answering, (I will explain exactly how in a moment).
An example of some of the other weird and dumb questions posted here were:
How many birds do you know?
63+10?
Winter Or Summer?
What will you do if you meet your ex by accident?
Or simply…. *Hi….*
So, yep… not even a question.
No matter how dumb the question, you can join any of these conversations and give your "expert," answer.
If you click a question to answer, you'll be transported into a mini chatroom, with other people who also want to answer the question.
It's then just like an open chat room, where you can say what you like in response to the question.
Each chat lasts 10 minutes.
At the end of which time, everyone will get to vote on the answer they believe was most helpful.
The people who have the most votes, get paid the most.
If you get zero votes, you don't get anything at all.
The more votes you get, the stronger your reputation becomes and the more money you can make per answer.
So, now I'll explain to you exactly how this works and how you can make money.
How Does Zwerl Work?
First, you need to download the App via Google Play, or Appstore.
Alternatively, you can also simply login via your laptop – this is what I did when I joined here, (that is, after the App wouldn't let me in!).
It's actually way easier to navigate and it's something you can keep open, while you do other stuff online.
When you sign up, you need to give basic details like your name/email and password, (that's if you want to sign up, you can just browse)
When I first signed up via the App, there were various error messages and I couldn't sign in.
Consequently, I went to sign in via my laptop instead.
I have read that this App can be glitchy, so if you are having any troubles, I suggest you go and sign up via your PC, or laptop.
You also need to give your age, as you must be over 13 to join.
You then access the main dashboard, where there are lots of questions being posted.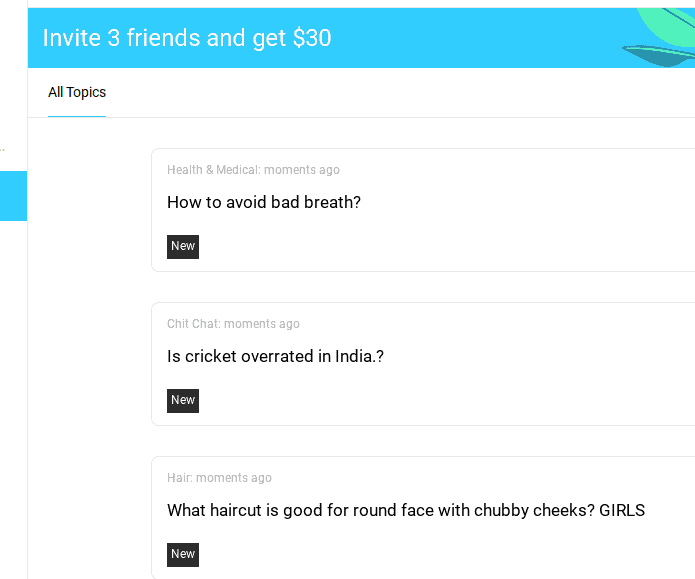 You're able to jump into any conversation and give your opinion, there will be a time limit once the conversation begins of 10 minutes.
From my experience so far, people seem to be using this more like a chat room, rather than a place to be gaining serious answers to their questions.
However, that may be just the questions I stumbled upon.
Perhaps as this platform grows and develops over time, things will change.
What Do You Think About Zwerl? Please Leave Your Comments Below!
How Much Does Zwerl Pay & How Do You Earn Rewards:
This was a bit lost on me when I arrived, so I had to explore the platform before I got to understand a bit more.
You can earn rewards for giving *helpful answers.*
You can be rewarded by earning badges, by building up your reputation and via money bonuses.
You can gain points if another user agrees that you have provided the best response…
However, I see this as extremely biased.
As other so-called *experts* become friends on the platform and then simply recommend their friends answers.
It is also pretty subjective – I regularly saw completely incorrect and ridiculous answers being agreed with and liked.
Apparently the more helpful answers you give, (which again, seems subjective and biased) the more money you will earn.
You need to ensure you vote at the end of a chat, to select who you believe gave the best answer, (you can't vote for yourself).
Of course, as I suggested, it seems friends will vote for each other and you can build up these friendships on the platform.
There was one vocal young woman I saw who repeatedly answered with the same sort of answer constantly throughout the whole 10 minutes.
The answers were just nonsense, but I had no doubt people would be voting for her answer at the end.
At the end, you need to vote for the most helpful response…
If you vote "I don't know," at the end of the chat, you won't be eligible to get any payment.
How much you can potentially earn, will depend on how helpful your answer has been deemed to be, (how others have voted) and how high your reputation score is.
You can see the maximum you can earn per chat in the grid below, but take note – that's the absolute maximum.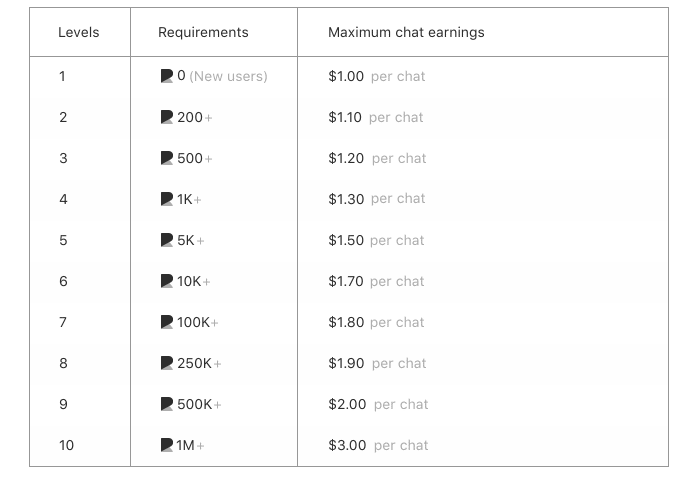 It's highly unlikely that you'd ever receive the maximum, as it would mean that you'd have 100% endorsement from everyone in the discussion!
If you only get 5% endorsement, you'd only get 5% of that maximum amount.
So, 5 cents if your max amount is 1 dollar.
Or, you'll do what others appear to do and try and become very popular to other members, so that they're voted for no matter what nonsense answer they come up with.
Are Good Answers Rewarded…. Or Is This A Popularity Test?
A lot of these users have been on the platform a while and know each other.
Do you think they're going to vote for YOUR answer, or one of your friends?
That's right, they will vote for their friends answer, no matter what!
So, to have any chance of getting your answer voted for, you basically have to make friends with other people on the platform, make others like you, or probably suck up to other people in the chat and hope they like your answer!
Or, you may get lucky and be with someone else new in the chat… In which case, you could get lucky and they may vote for you.
In other words, it's a completely unfair system and because there is some potential to make money here, people are trying to game the system to make as much as possible.
The only other hope you have of earning money – is via the Daily bonus, (see below) or by referring others to join, (also see below!).
Important Tips:
In order to have even a chance of earning money…
You need to stay in the chat for at least 30 seconds…
You need to vote for what you consider the best answer, outside of your own.
Do not vote, "I don't know," at the end of the chat.
In addition, if the original user votes "no-one," at the end, then their question remains unanswered and no one will make any money.
If the user sends no messages and doesn't vote, users will not receive payment.
Daily Bonus:
This is actually a really good feature of Zwerl.
You can make between 10 cents and $2 for your first chat of the day.
You can receive this only if it's 24 hours since your last one.
To be eligible, you need to vote at the end, (don't vote, "I don't know").
Also the user must vote at the end of the chat too.
I was told I would receive $1 for my first chat of the day, so I went ahead and completed a chat until the end.
I didn't have to stick around, but I just kept chat open in another window.

As you can see above, my balance changed right away to $1.
The minimum payout amount is $20… Which is quite high, but I am going to continue with this and see how long it takes me to get there.
Do you have Zwerl experience? Let me know in the comments!
Zwerl Referral Program:
If you can refer 3 friends, you can make $30 – which is pretty cool, but they do all have to reach 500 reputation points first.
Your referral will also make $5 when they reach 500 reputation points.
If you do choose to sign up and found this review helpful, you can use my link here!
Alternatively – you can input my code: 54L2GV
But…. How Does Zwerl Make Money?
I actually asked this question myself on the platform, as it was something I couldn't understand!
When you're in a survey site, (for example) you know the owners are paid via companies, to get survey responses.
In the case of many Apps, they get paid from paid Ads on the App, which they then share a portion of their earnings with you.
But when I was on Zwerl… I saw no advertising, (unless it's on the App and not on the main site).
Anyway, apparently it's against the rules to ask about Zwerl on the actual platform!
So, I had to end the chat session and go to customer support.
However, when I went to "contact us," it directs me to an FAQ/popular questions section and there doesn't appear to be any way to directly contact Zwerl.
So, where is customer support……. search me!
Hey, if you do happen to know…. Let me know in the comments!!! I couldn't work out how to actually contact a real person.
Zwerl User Reviews Online:
I wanted to see what other people had to say about Zwerl.
I figured there may be tonnes of positive reviews, because they have a referral program, (which can lead some people claiming it's amazing, even if they have never used it!)….
But actually, there were still some mixed reviews.
It only has 3 stars on itunes right now, but there aren't that many reviews at the time of writing!
The main negative points here is that the App is buggy and lags.
Obviously, there aren't any issues like this on desktop, so I'd suggest you try that if you still have trouble accessing the App and want to try it.
It's doing much better on Google Play
A lot of people have said they have been banned without reason.
Although, I imagine they could have been violating some of the rules without knowing.
Zwerl seem to be trying to crack down on people trying to game the system – such as by creating fake questions and getting their friends to set up questions and so on, just so they can get a vote and make money.
This is ultimately going to be a problem for a site with this structure – if people can find a way to abuse the system to make money, that is what is going to happen.
Unfortunately, it ruins it for people who are sticking by the rules and legitimately trying to give good answers.
Not Safe For Kids!
At various points, I saw men who were looking for women on there.
Some would make comments, asking where women lived and for their details.
I also saw questions posted asking for sex with women and so on.
I imagine these may have been taken down, but definitely not quickly enough… bearing in mind, this is meant to be OK for children 13 and up!
In my opinion, it's definitely not a safe environment for young teens.
Zwerl Review Conclusion… Is It Legit?
I think it's legit, for now… Although, I still don't know how the company actually makes money.
If you're hard up for money and you want to try and make a few dollars here and there, while potentially meeting some new people and having discussions on a variety of topics, then it may interest you.
It's basically like potentially being paid to enter a chat room.
In that respect, you can get paid for chatting online…. Well, at least in theory!
To have the best chance of ACTUALLY making money, you're going to need to get pretty active on the platform and probably make some friends to have a good chance of your answer being selected by others!
Also, like I said… It's biased.
Even if your answer is completely correct… If a majority of people in the chat room don't agree, or don't like your response, then it's not going to be chosen!
So, the actual whole point of this App is kind of lost.
It becomes less and less about getting answers to legitimate questions and turns into a weird game, where the most popular person will probably win, no matter what nonsense they're spouting.
Strange!
In any case, I will probably hang around a while and see if I can make this $20 so I can take it out….
You can sign up to Zwerl here.
Please do share your experience of Zwerl in the comments, I'd love to hear more!
What do you make of it?
All the best,