Hey everyone, I'm Nat – the creator of Rags To Niches!
I'm a stay-at-home housewife & mother to my two boys, who are now 7 & 10.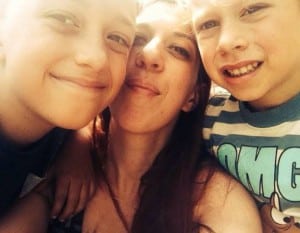 My eldest son has high functioning autism and while I could have gone out to full-time-work outside the home, having a child with an, (often) misunderstood disability – it wasn't the best option for us.
Ultimately, I knew we would all be a lot happier if I could figure out how to work from home – and then I could still be there for them full-time.
My introduction into making money online started over six years ago, when I would enter online competitions and sweepstakes in a bid to make a bit of extra money!
I entered thousands of online sweepstakes/competitions every-single-month!
I did pretty well at it too, winning gadgets, ipads, TVs, breaks away, cash and vouchers and considerably more.
But after several years doing this,  I realised I needed to focus on something that would be more reliable for me!
After all, even with all the wins, it wasn't a proper income and there were no guarantees with it.
After literally stumbling around online for months trying to figure out what route to take, I was feeling pretty ovewhelmed by all the info out there.
Eventually I found  a community online that taught me how I could make money online legitimately by creating websites – and it also opened up other doors for me, such as freelance work.
Within a few months I set up a tonne of websites, (not a good idea) whizzed through loads of training… and made a tonne of mistakes in the process.  I went against the advice to focus on one thing.
I made my first sale online with a niche website after a few months and that gave me the confirmation I needed that there was potential here – and the rest is history.
I set up this blog to share my experience along the way initially – but I enjoyed writing for this site so much, that it became my primary website.
So, What Is Rags To Niches About?
Helping people create and build their own blogs/websites.
Helping people find legitimate training programs and platforms for helping them making money online – whether that be a small amount on the side or eventually replacing their day job.
Reviewing the Good, the Bad and the Ugly when it comes to online money making opportunities – sifting through the scams is much easier when you know what to look out for.
Helping people discover ways they can grow income streams online.
Helpful "how to," or tutorial related posts to help get started with your blog or website.
This website is also just an opportunity for me to write about topics that I'm really passionate about – and rant about products that I think are rubbish.
I'm always on the look out for great quality products…. and I do hope to see more of them in the future.
If you have a program you've created and think it great, or you think you know of a great way to make money online that I haven't covered yet – let me know about it!
If you have any questions, I'd be more than happy to answer them.  You can contact me via this contact form.
All the best! 🙂