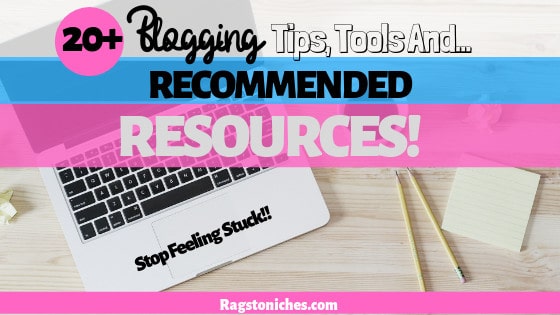 This page contains affiliate links. Thank for you supporting Rags To Niches! Full disclosure here.
Welcome to my valuable tools and resources page!
Where I would like to share with you, some of the top courses, tools and services that have helped me build my online business.
I know that when I first got started myself, these were some of the things I wanted to know!
I wanted to know what other people were using & what they'd recommend…
So, here it is!
Let me know if you have any questions at all… Feel free to contact me here!
Recommended Training For Beginners:
the online community where I learnt how to create websites, SEO, keyword research, marketing skills and everything affiliate marketing related.
It's also where I host my websites and even purchase domains.
It's an all-in-one platform – from training, to hosting, domain names, keyword research and content creation.
Pinterest Courses & Tools:
Pinterest scheduling tools make Pinterest SO much easier!
This is one of the new ways I'm experimenting with traffic and can be a great one to go for, with quite different results to Facebook, or Twitter!
I've been using the below tool for a long while now & I believe it's the one essential tool, when it comes to Pinterest.
Tailwind – There are various levels you can pay for.  At the moment, I have a standard membership and can schedule 400 pins a month, but if you want to upgrade to pay annually, you get unlimited pins. You can get a month free with this link.
I also highly recommend the following PINTEREST courses!
Anastasiablogger.com – Pinterest SEO Traffic Secrets!!
Anastasia has such a genuine and gentle way of explaining things and is engaging to listen to.
I bought her course recently and shortly after using some of the strategies in the course, I had my first viral pin on Pinterest and this led to hundreds of visits to ONE single post in a day.
She has some unique methods, that I'd not heard of prior to completing this course and she is also passionate about keeping up to date with ALL the Pinterest changes, (she also keeps her course up to date!!!).
All in all, this is one of the best courses I have ever purchased and one that you can keep referring back to again and again.
HouseOfBrazen.com – Paid By Pinterest!
This is a great course, created by Elise of House Of Brazen, which shows you how you can start affiliate marketing without a blog.
Elise also shares some really good Pinterest advice in general!! So, if you're a beginner on Pinterest and want to learn more about affiliate marketing, this is a good choice.
I really love how Elise teaches – she's really engaging and fun to listen to . But laid back and down to earth at the same time.
The course is really well taught, the course is also very affordable and good value.
I also love watching Elise do Live Streams on Facebook – she has tonnes of great advice about money mindset and manifestation, if you're interested in that area too!
Website Creation, Domain Names And Hosting:
I have an extremely in depth and step-by-step guide – showing you how to build a money-making website, here!
Keyword Research:
Jaaxy – the keyword research tool that helps me find great keywords that rank in google. Full review here.
Email Marketing
Aweber – I'm currently with Aweber for all my email marketing stuff!
I highly recommend them because, they're both simple and affordable.
Many email service providers these days can get very expensive and have quite a learning curve.
If you're after a basic solution, Aweber is a good place to begin.
I suggest you do start email marketing ASAP… I waited a ridiculously long, long, LONG time… Start as soon as you can building a list.
Affiliate Networks/Programs:
On-Site Ads:
One of the highest paying options if you would like Ads on your website and they're great for bloggers!
You do need at least 25,000 sessions per month to apply!!
Design And Themes:
The GENESIS framework – My theme is currently the Genesis Lifestyle Pro theme, which is simple to set up.  Genesis themes are highly regarded by many as being some of the best wordpress themes available, (great for SEO!).   You can find all the Genesis themes available here.
CANVA – where I create a majority of the blog post banners on my site, all of my Pinterest graphics and even create covers for KDP and designs for Merch By Amazon.  Visit them here.
Get Stencil – a great site where you can easily create cool banners and graphics for your site or social media accounts, that are super easy to share.  Full review here.
Freelancing:
If you're interested in Freelancing to boost your blogging income, this is a popular route to take. 
I have heard of many bloggers who actually earn more from freelancing in the end.
I recommend the course, 30 days to freelance success, by Gina Horkey. 
It's a course I've taken myself and Gina is a great teacher, who presents things in an easy-to-digest fashion. 
Gina went from zero- $4000 a month freelancing, in just six months, (with a full time job!).
Outsourcing:
Fiverr – awesome site where you can purchases for as low as $5.
 You can purchase a huge array of thins, writing, art work, editing, copyrighting, seo work, ebook covers.  
But quality varies!  I've found ebook covers are good quality.  Read about Fiverr here.
Upwork – Where you could outsource things such as VA work, article writing, ebook formatting, website design work and much more.  Visit Upwork.
Blogger Outreach:
My Top Recommended Posts:
Below are some of the posts that I think are the most helpful, if you're looking to start an online business, or just start generating an income from home.
---
Do you have some tools you want me to review, or just that you recommend?  Contact me here and let me know!  
PIN ME FOR LATER! 🙂