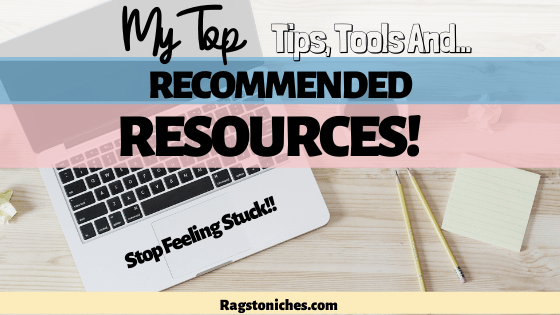 This page contains affiliate links. Thank for you supporting Rags To Niches! Full disclosure here.
Check out some of the courses, tools and services that have helped me build my online business.
Yep these are all tools that I ACTUALLY use and courses that I have ACTUALLY taken.
I know that when I first got started myself, this is the kind of info I looked for myself.
I wanted to know what other people were using & what they'd recommend…
So, I've done the same here.
Let me know if you have any questions at all… Feel free to contact me here!
Self Publishing On Amazon KDP:
Not sure what Low content publishing is? This post explains it!
I use several tools that have helped me on my publishing journey. These are ALL of the tools that have helped me the most to date:
CANVA – I spent my first year purely using Canva to create my covers AND my interiors for KDP. I still almost exclusively use it, but sometimes also use affinity publisher.
Creative market – this place has some absolutely fantastic art work. It can cost a little more but is worth the price if you want to make your books stand out. You will find far fewer books using the artwork here than on other sites.
Tangent Templates – An incredibly useful tool. I do not use the ready made templates, (aside from simple lines/basic planners) because I believe you should always create unique interiors. However, they do have a design builder, a great listing helper and a book builder which makes creating your books incredibly easy. This is one of the first tools I ever purchased and still one of the best!
Publisher Rocket – I use this to help with keyword research and finding categories. I do not use this exclusively, but I use it along with direct research on Amazon itself.
Affinity Publisher – a high quality program that can help you to create professional looking interiors. There is a learning curve here but plenty of free training available online.
Midjourney – Where I have started creating Ai Art & graphics.
Lets Enhance – where I enhance all the images I download from Midjourney.
ETSY
Having recently started on selling on this platform and I use these tools right now to help me specifically on ETSY.
ERANK – help to find products, tags and keywords that have low competition and a high search volume. I love this tool!
ALURA – a great tool for analysing your competition but also for improving your own Etsy listings via SEO and ensuring your listings are the best they can be.
Recommended Course For Selling Digital Products:
SELLING DIGITAL – A great course to help you get started with selling digital products, including on market places like Etsy. There is also a monthly drop of PLR templates that you can sell to customers. Courses included ones on – how to sell planners on Etsy, how to set up a shopify store, how to set up Facebook Ads and more!
Recommended Training For Building A Website & Affiliate Marketing!
Where I very FIRST started to learn how to make money online and where I got my very first website started. It was the training here that led to my first several thousand dollars online, before I ventured into other avenues.
it is an online training community and is where I first learnt how to create websites, SEO, keyword research, marketing skills and everything affiliate marketing related.
It's an all-in-one platform – from training, to hosting, domain names, keyword research and content creation.
Website Creation, Domain Names And Hosting:
I have an extremely in depth and step-by-step guide – showing you how to build a money-making website, here!
Keyword Research:
Jaaxy – the keyword research tool that helps me find great keywords that rank in google. Full review here.
Affiliate Networks/Programs:
On-Site Ads:
One of the highest paying options if you would like Ads on your website and they're great for bloggers!
You do need at least 50,000 sessions per month on your blog to apply now, (sessions are different to pageviews). Other alternatives to Mediavine include – Monumetric and Ezoic.
While many bloggers to start with Google Adsense, you need a tonne of traffic to make much with Adsense and once you DO have that much traffic, you're better off applying for a higher paying network.
Outsourcing:
Fiverr – awesome site where you can purchases for as low as $5.
 You can purchase a huge array of thins, writing, art work, editing, copyrighting, seo work, ebook covers.
But quality varies!  I've found ebook covers are good quality.  Read about Fiverr here.
Upwork – Where you could outsource things such as VA work, article writing, ebook formatting, website design work and much more.  Visit Upwork.
---
PIN ME FOR LATER! 🙂