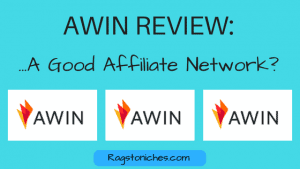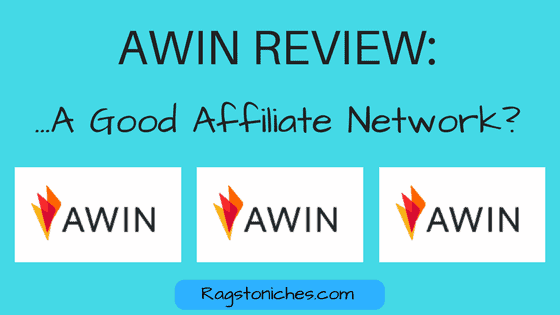 In my AWIN review today, I'm going to share my own personal experience with this affiliate network.
AWIN (previously known as Affiliate Window) was one of the very first affiliate networks that I ever joined.
Primarily, this was because I had a niche website I was building, within the home decor space and there are plenty of affiliate programs connected to AWIN that were relevant to me.
One of the main affiliate programs I wanted to join initially was ETSY and this can make a complementary affiliate program to sign up to alongside Amazon.
That is because ETSY tends to have a large number of unique items; things that you wouldn't be able to find on Amazon.
Etsy also has the big advantage of having 30 day cookie, (in comparison to Amazons short 24 hour one!).
That means, affiliates have a full 30 days to make a sale, after potential customers click through their affiliate link.
But what about AWIN itself as an affiliate network?
Is it worth signing up with them and how reliable are they?
I have been an affiliate on this platform since it was affiliate window, for several years now.
So, let's get started with this review & let me know in the comments if you have any experience that you would like to share!
Want Some Free Affiliate Marketing Training? Start Here!
So, What Is AWIN Anyway?

AWIN is a global affiliate network, that's most well known in the UK and Europe – although it is a global network and growing.
They were previously known as "Affiliate Window," but then connected with another affiliate network called "Zanox," and AWIN was born.
You can see a short video explaining how AWIN came about below:

Since the transition, AWIN is steadily growing and believed to now be gaining good popularity in the United States.
As far as Europe, the UK and North Africa goes however, they are already one of the leading and most well-known affiliate networks.
They're known as one that caters for big brand names, as well as smaller advertisers.

What is also quite interesting about AWIN, is that they have many companies offering CPA commissions.
CPA stands for cost-per-action and means that, affiliates can often earn in a variety of different ways, depending on what actions are taken.
For example; you may earn a commission for a direct sign up, clicking on a link, or filling out a form.
It will vary depending on the affiliate programs T&C's, (always check through these prior to registering) but this can offer more variety to affiliates than simply being paid a set fee when a purchase is made.
If You're interested in CPA programs, you may also be interested in the Panthera Network.
Who Should Join AWIN?
The people who should join AWIN, is really anyone who is interested in Affiliate marketing.
AWIN has over 6,000 advertisers, so you can be sure to find an affiliate program within your niche.
It's a good one for bloggers, as it houses many big brand names in a wide variety of niches.
Related post: the best affiliate programs for beginners*
Registering with AWIN is simple and quick to do.
Once you've signed up as a publisher, you can spend some time browsing through the affiliate programs available.
When you do apply to become an affiliate, just make sure that your website compliments the products you're looking to promote.  Otherwise you're likely to be turned down.
For example; if your website is about baking and you apply to a company that sells TV's and electronics – they may feel that your website doesn't compliment their brand.
So, keep it relevant.
That being said, you will occasionally get companies inviting you on to their affiliate programs that have zero to do with your niche whatsoever…
Some advertisers will really take any opportunity they can for the exposure and potential sale; others are far more selective.
Related Post: How to make your first affiliate sale*
AWIN Tools:
Awin has a decent selection of tools that makes promoting products easy.
I personally find direct links convert far better than banners or widgets and AWIN makes creating links easy – either by their link-building tool, or their convert-a-link option, (which I explain further below!).
You can find a list of the tools available in the image below.
An AWIN Plugin Makes It Easy!
One feature that I love about AWIN and I highly recommend you take advantage of, is something called convert-a-link.
You can easily take advantage of this by downloading their free plugin.
Once the plugin is installed, you no longer have to worry about adding affiliate links manually to your website.

Every time you link to a regular link to a product on your website, the convert-a-link plugin will automatically convert regular links into your affiliate tracking links.
Better still, If you link out to a product of a company that you're not an affiliate for but COULD be via AWIN, they automatically sign you up.
If you're then approved, you'll automatically earn money from them too.
This is such a useful tool, because AWIN is partnered with thousands of advertisers and this is only going to grow.
If you're in a niche that can be supported by this network and the plugin, it will make creating your content so much simpler.
How Much Does AWIN cost?
AWIN is completely free.
However, when you initially sign up, you will need to make a deposit of $5.
This is merely a safety payment while the process your application.
As soon as your application is approved, your $5 is refunded into your account.
Although, annoyingly, you won't be able to withdraw until your first payment.
So, if you're not confident of making affiliate sales soon, it may be worth waiting a while.
Personally, I made my first sales within a few months and I wasn't in any hurry to get back $5!
I signed up with AWIN right at the start, when my website was practically brand new.
If you wait until you're generating some traffic, the wait will be less for you.
I guess it depends how important $5 is to you… for me, it was more important to get signed up and get started and it didn't bother me.
PROS VS CONS OF AWIN
PROS
In comparison to other affiliate networks, AWIN is simple to understand and use.
Applying to affiliate programs is easy and quick.
Various tools and widgets available, that are simple to use but still high quality.
Their convert-a-link plugin means you don't even need to convert your links anymore manually!
All of your affiliate stats are clear to see and understand in your dashboard area.
Extensive range of merchants to choose from.
CONS
Sometimes your payments can be pending for a long time, prior to them being approved.
Some complaints surround staff not having an experienced enough knowledge of the affiliate marketing industry.
Some people have complained about their customer service – I cannot speak from experience here, because I've literally never had a single problem to contact them about.  Everything has ran smoothly and payments have been prompt.
AWIN Review Conclusion: Is It Worth Your Time?
AWIN is a well established affiliate network, with thousands of affiliate programs to choose from – they continue to grow year on year.
If you're interested in affiliate marketing, they're definitely one that you should check out.
With extensive tools and so many niches to look into, you'll be spoilt for choice.
If you're already an affiliate on other platforms, (such as Amazon, or Clickbank) then AWIN can offer you something different.
Check out AWIN here and let me know in the comments what you think.
If you're looking to learn more about affiliate marketing, this training helped me.
All the best,
Other Posts You May Find Useful….