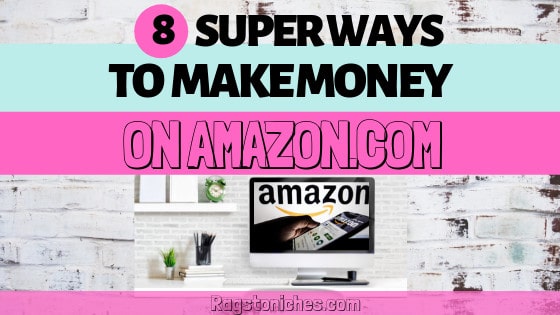 There so many legit ways that you can make money with Amazon these days, (and they're growing year on year!).
Amazon appears to have somewhat taken over the internet – with people now being able to buy, pretty much anything on the platform.
But Amazon has also provided huge opportunities for entrepreneurs and continues to do so as it grows.
In this post today, I'm going to explain ways that Amazon can potentially help you to make money online.
This list may not be exhaustive, but includes the ways that I personally know of right now – some of which I also participate in myself!
#1 The Amazon Affiliate Program
The Amazon Affiliate Program was responsible for me making my very first sale online and I absolutely love it.
As a blogger, it's certainly one you should jump on if you haven't already.
There are a bunch of reasons why Amazon Associates rocks – but here are a few of my top reasons:
When you link to a product on Amazon, you don't have to sell THAT product to make a commission.  You'll make a commission on anything bought within a 24 hour period.
Amazon is great at selling, just get people through the door and Amazon do a superb job at converting potential customers into buyers.
Amazon is huge and growing all the time, there are just so many products to choose from that most niches would not struggle to find some related product or other they could promote, or simply link to via a relevant post.
If you'd like to become an Amazon affiliate, learning about affiliate marketing in general is the best place to begin.  So, here are some useful links:
#2 Merch By Amazon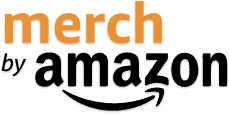 This opportunity has been around for a while now and as it's grown, so has the competition – but it's growing all the time & incorporating new products.  I first wrote about it here.
Merch by Amazon is a print on demand opportunity, but with the major added advantage of being connected to Amazon.
You create, (or pay for) designs – simply upload them to Amazon via their site, choose your price, write your product description and upload on to various items, (mainly clothing at the time of writing).
From this stage, Amazon deal with printing your designs on products and shipping them, they even deal with customer service.  
Creating and uploading your designs, is as hard as it gets.
Many people also make their money solely from organic traffic, they're not paying for traffic.
This may change as the platform becomes more competitive, but for now – trying to target low-competition search terms and adding them to your bullet points and even your brand name, can help your tshirts be found on Amazon.
You then just need to ensure your designs are decent enough that people want to buy them.
But you don't have to be an amazing designer.
 I've made my first sales on the platform now and the designs were pretty simple and all the ones that have actually sold, I created myself.
I'm in no way a graphic designer, but there are free programs you can use.  For some, Pic Monkey is popular.
I've gone with CANVA, because I'm very comfortable with it already from creating blog related images.
Personally, I first heard about Merch By Amazon when I listened to a podcast on the sidehustle show – which you can hear here.
That certainly sparked my interest.
Then I read a lot of content over at the Merch Informer blog – which is a great place to pick up tips and info on getting started.
The only issue with Merch by Amazon is  – that there is a wait! (At least, at the time of writing!).
You need to apply and just wait… for some people it's taken a couple of months to be accepted, but some have waited over a year.
No one really seems to know why some people get accepted more quickly than others.
In my own case, I didn't put forward a particularly in depth application – but I did include the fact I had a website.
What I love about Merch, is that all you need to do is upload designs and work on your keywords and research – everything else is taken care of.
Once you have a tonne of designs out there, you can generate passive income in a way that's far more passive than anything else I've come across before.
There is the other thing though…
This is a bit of a numbers game and you need a lot of designs out there to start making a good amount, in most cases.
But you're limited with how many you can upload initially.  At first you can only upload 10 and you must sell 10, before you will be tiered up to 25.
Then you need to sell 25, before you're tiered up to 100 and so it goes on…
Some people now have thousands of designs life and there is a big income potential there.
You could just sell 10 of the same design, you don't need to sell 10 of different designs.  But it is difficult to get out of those initial first tiers.
If you're interested in selling your designs online, you may also want to check out Redbubble.
Apply To Merch By Amazon Here!
#3 Sell Products On Amazon:
This is probably the one way that most people are familiar with.
You can start off buying and selling items for profit on Amazon, (you may hear it called retail arbitrage) or for selling some things you already own, like your old books!
However, once you have got your feet wet selling on Amazon and you want to branch out, many people then turn to Amazon FBA – or, "Fulfilled by Amazon."
This is where you send Amazon all of your products, or get them sent to Amazon from your supplier.
Amazon then store your items in their warehouse, until a purchase is made. Amazon then package and post the item for you… They even deal with returns!
Of course, you'll need to carefully research the potential products you're going to sell and assess the competition.
You will also need a bit of money behind you, in order to purchase the stock to send over the Amazon and then there are fees for using Amazon FBA.
The rewards can be huge though, Amazon FBA does have many impressive success stories.
Amazon FBA is not an opportunity that I have personally experienced, but if you're interested in learning more: the selling family have a free 7 day bootcamp here!
Join The Selling Family Free Bootcamp!
#4 Amazon Kindle:
It wasn't so long ago that Amazon Kindle was a great opportunity to make your first sales online.
The problem was that the platform quickly got saturated with people trying to sell trashy books of limited, (or no) value.
That aside, I love the idea that some people have become self made millionaires with kindle publishing!
Not only from becoming self-published authors themselves and writing their own books, but some through hiring others to write books and putting them out on a large scale.
And there is still potential there now, even if you may need a different strategy than in the past.
Amazon self-publishing put the power back in authors hands.  Amazon pays you a decent profit, (up to 70%) – which varies depending on what you price your book.
This goes way above and beyond any commission you'd get via the traditional publishing route.
Amazon also provides plenty of tools to help you create your book, such as the kindle kids book creator.
The first program I took, as someone who knew zero about kindle publishing at all, was this one.
It was a really easy to follow course and is packed full of useful content – whether you're looking to write your own books, or outsource the process.
Ultimately, if you've always dreamed of having a book out there… now you can!
It's so easy to self-publish on Amazon and it's a great option for people who already have a platform – such as bloggers, who already have an audience.
I Took This Self-Publishing Course!
#5 Amazon Homemade:

So, you've heard all about Etsy a million times…. But maybe not about Amazon Homemade?
I only recently heard about this myself, it wasn't something I new existed.
Well, a problem with Etsy is, (you may have noticed) a lot of their "homemade," products are not ACTUALLY homemade at all.
While they've tried to crack down on sellers who claim they're making homemade goods, but are actually buying in bulk from platforms like aliexpress – it's been an ongoing battle.
By contrast, Amazon say they have an application and audit process that ensures ONLY handmade goods will be accepted.
Also, you won't encounter any costs at all by creating your shop, or uploading your products, (Etsy charges 20 cents item listed, every four months + additional fees per sale).
However, they will charge you 15% of every sale you make.
Seems fair enough for having your product listed on the Amazon platform, (seeing millions of searches every day….)
If you're able to create a bulk load of your items in advance, you can even send them off to Amazon FBA, (which will give you the added benefit of PRIME delivery!!!).
#6 Amazon Flex:
Amazon Flex is a self-employment opportunity – where you can set and work your own hours, delivering parcels for Amazon.
Tracking your earnings is easy, with the Amazon Flex App.
You can earn $18-$25 per hour in the US and if you're in the UK, you can earn £12/£15 per hour.
However, some people have suggested that, when all is said and done, many people don't actually make that much.
As with anything, some people have enjoyed working for Amazon Flex and others not so much, I'm currently reviewing the platform and will link back to it when I'm done!
Read More About Amazon Flex Here!
#7 Virtual Jobs With Amazon:
Amazon also have plenty of virtual jobs online, that you can access from home.
These aren't positions that you can just apply for with zero experience, (from what I've seen browsing the positions).
They're looking for qualified individuals, but it's worth checking to see if you can fulfill the criteria for some of these positions.
Some jobs roles in areas such as….
customer service positions, (where they require you to speak more than one language in opportunities I've seen.
Sales and advertising positions,
Training specialist positions,
Software development,
Tech roles,
Marketing & PR,
Writing/Editing and much more!
Human resources and more….
#8 Mechanical Turk:
Amazon Mechanical Turk, provides a way for people at home to earn a small amount of money, completing micro tasks.
I have to admit, when I read about how one guy made over $21,000 on Amazon Mechanical Turk, I was skeptical!
Especially when I went on the platform as saw some of these micro tasks going for $0.01!!
However, to get the work that pays DOLLARS per task, (rather than cents) you have to complete a lot of tasks and reach certain qualifications.
The more experience you have, the better tasks you will be accepted for.
If you're in the US, or India, you can get paid cash straight to your bank – but other countries have to make-do with gift cards!
So, if you want to join a site where you make a smaller amount of money faster, you're better off joining a survey panel.
It's going to take time to make money here and this site has mixed reviews overall – but it is free to try, so you may want to check it out.
Read My Amazon Mechanical Turk Review!
How Are You Going To Make Money With Amazon?
So, there we have it for today –  8 different ways to make money with Amazon!
But how are you going to make money on the platform — or maybe you already do? Is there a way that I've missed out?
Let me know in the comments below!
I'd suggest going for one method first and putting all you have into that, before you branch into anything else.
The top way that I make money with Amazon, is still via their affiliate program.
It's one of the first ways I ever made money online and probably one of the easiest, because who doesn't like to shop on Amazon?
It's a trusted brand so, whenever you send someone to Amazon, they're not going to hesitate to make a purchase if they want something.
If you're interested in how you could make money with the Amazon affiliate program – I recommend the free training here!
It's how I got started!
All the best,

Pin Me For Later!!! 🙂