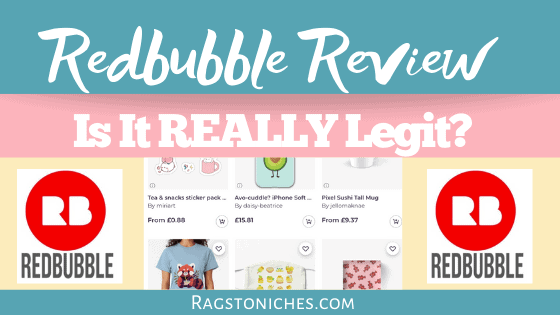 Is Redbubble legit… Can you really make money uploading and selling your artwork?
Spoiler alert… Yes! Redbubble is one of the best print on demand platforms out there today.
Edit: Well, it USED to be one of the best platforms. Unfortunately, in 2023, they have introduced a tiered system meaning that people in the standard tier will lose massive amounts of their profits.
Redbubble has said that what tier you're on has something to do with how often you upload/the quality of your items/ your brand etc…. Yet many artists on Redbubble have found this to be false information.
I also find this to be false.
I have two accounts and it was the account that I haven't uploaded to in MONTHS than got put into the premium tier.
Whereas, the ones I've put the most effort into branding wise and upload wise, has remained in the standard tier.
Therefore, rather unfairly, it appears that people have been randomly allocated into tiers. Which makes ZERO sense.
below I continue with my original post that I wrote PRIOR to these changes. I'm unsure if Redbubble may do a U-turn with their decision, because it has upset a lot of people.
You can get more information about these changes here.
---
In my Redbubble review today, I will share with you my own recent experience on the platform & how you can get started.
Since starting with Merch by Amazon several years ago, I've been interested in other POD platforms I could try………. but simply didn't get into it until now.
So, how does it work?
You simply produce the art work and upload it to Redbubble and they do all the heavy lifting work.
They print out your artwork on various items and ship them to your customer. They also deal with any returns & complaints.
One thing I've been particularly impressed by with Redbubble, is their advertising strategy!
See, once someone has looked at your artwork – Redbubble will start showing your work to that potential customer while they're browsing online.
For example; I even see my own work advertised on my website, because it's what I've been looking at recently on Redbubble!
So, while advertising and promoting your products is a good move, Redbubble are also doing this for you.
Personally, I've recently made my first four sales on Redbubble, with zero promotion and all in the first couple of weeks of signing up.
Unlike some POD sites, Redbubble does have it's own traffic source. They also get a lot of traffic directly from the Google search.
Review In Brief:
Company: Redbubble
Website: http://www.redbubble.com
Price: free sign up
Money Making Opportunity: Most artists will be making a supplementary income, some can do much better than this.  A large number of artists and designers will be on more than one print on demand platform.
Overall Verdict: Legit!! Redbubble is regularly talked about being one of the best print on demand platforms out there. (update… meh… not so much since the updates!).
They have a huge range of products that you can upload your designs on to, (from clothing items – to shower curtains and bath mats!!!).
You can generate some traffic just by targeting certain keywords so people can find your work.  Join for free here.
What Is Redbubble And How Does It Work?
Redbubble is like a huge online marketplace that holds a wide variety of products – many clothing items, from leggings to tshirts, to tanks.
But also a variety of other items – such as mugs, duvets, pillow cases, stationary, phone cases, stickers! 
There isn't much you can't get your artwork printed on….  They even have wall tapestries.
In my experience looking into print on demand so far, this variety of products is impressive to say the least.
Uploading your artwork is as easy as clicking the upload button and waiting a few moments. 
You will then see your artwork displayed on all the products they currently have available and you can go from there.
You choose what products you want to sell and input information about that product and Redbubble print your work on the items. 
They then ship them off to anyone who makes a purchase and you make a percentage of the sale price.
Can You Make Money If You're NOT An Artist On Redbubble?
Make no mistake, if you're a talented artist, Redbubble is a good option and you will be in good company among other talented artists.
In fact, it can be a little intimidating looking at what is available on there and that's what put ME off from getting on there for so long.
However, I'm not an artist or a designer really…. I am learning now and am even creating some of my own artwork, but I'm only just learning.
That said, if you're good at keyword research and know what to put in your title/tags and description in order to show up in Google — then people can find your designs.
Many people are not automatically looking for a work of art – sometimes they may be after something really specific and could literally be a text based design only.
So far on Red Bubble, I have sold 1 face covering, (mask), 1 pair of socks and two different styles of T-shirt!
One thing I love about Redbubble is they also email you when you get a sale so, it's quite exciting when you see that email pop up.
So, ultimately, if you're not an amazing designer or artist, don't let that hold you back…. You can still make some money on Redbubble.
Uploading Your work To Redbubble:  
Step 1. 
Your first step will be to Sign up to Redbubble here.
Once you've logged in and confirmed your email address – you can start adding products right away.
On the main homepage go to the little red icon to the right-hand top side of the screen – scroll down to "Add New Work…"
Step 2.
Next you need to upload your design image to Redbubble.
You simply click on the link to upload and it will very quickly upload your designs on to multiple items – see below a snippet of the selection.
In some cases, the design is just not going to work.
For example, looking at the travel mugs above, you won't see the text and the mugs don't show the full design.
While the leggings are snippets on the design, they still look pretty cool.  Anyway, it's completely up to you which products you choose to sell.
There is also the option to place your image in a grid like pattern – which can look really cool.
If you think the design doesn't look right on the product, you can simply click the "enabled," button and it will disable the design and it won't be shown on Redbubble.
You can also click the edit button to adapt things like, what colour you want to product to be and where the image is placed on the product.
Step 3.
Scroll down past all the products are available and you will come to your product description section.  Here you add your title, description and tags.
Be sure to have your main keyword in the title & description and use as many tags as you can that you think would be relevant.
You can use up to 50 tags and these tags will help you be found within the search – so, the more relevant to your design the better.
Take some time over this section, as it could make the difference between your product being found organically – or not at all.
If you speak another language, there is also the option to add your description in other languages – but otherwise, they have automated software do the job.
Some people have suggested you look up a similar design on Etsy and scroll down to the bottom of their sales page to see what tags they're using.
This can be good for ideas – however, I've found most sellers on Etsy seem to be really bad at adding good tags! Many are really generic and they miss out on vital niche keywords.
Try and think up as many highly relevant terms that someone could be searching for in Google, that would lead them to your design.
Step 4.  
Choose your media.
I would put design and illustration and digital art, in my own case.
You also have the option how to display your work – as an image only, or as a t-shirt etc.  In my case, as the focus is on t-shirts, that's what I clicked on.
However, I recently thought the design I did looked best on a dress and so, I selected that option.
Step 5.
Select whether you want your design to be seen by the public… or only by you.
Click upload …. wait….. that's it!
I was wondering where to put in the price, as that's what I'm used to on some other platforms but this happened automatically. 
I discovered later than you can adjust the pricing, if you're looking for a higher profit.
I talk about price in more detail, slightly further down.
All in all, I found uploading my first designs to Redbubble a breeze and it was refreshing to be able to upload such a variety of products at a click of a button.
With some platforms, you have to upload each different product individually and manually – which can be incredibly time-consuming, (for example; upload a tshirt… then start again for a long sleeve… then start again for a hoodie… and so on!).
Important Step!
Before you can get your designs life, you do need to make sure your profile has been completed!
There should be a little message that pops up telling you to complete your profile and billing info, (whether directly to PayPal or your website),
Once your profile is all set, you are good to sell.!
Redbubble Pricing:
When I was at step 5, I thought I'd missed something… the price!
I'm used to putting in my price but there wasn't an option right there. 
At first, I thought Redbubble just set the prices and that was it, actually it's a little different to that.
Redbubble have a base price to cover their costs and they then add on 20% to that price, which will be your profit.
While you cannot go and switch up your profit margin for individual shirts, you can go and change the mark-up amount for each type of item if you choose.
So, you could change it from 20% to 30% for hoodies, for example.  Or 20 to 25% for T-shirts.
See an example below….
As you can see, the profit you're getting here is pretty low.
Only £2.11 profit on a t-shirt,  (I'm in the UK, but this is around $2.80) and it's not like their main prices are cheap either, they're fairly expensive.
One of the problems on the Amazon platform right now, is some people having their prices far too low and earning practically nothing per sale.
They may copy a design almost exactly, (sometimes exactly, but usually these are taken down eventually) and then they will just price it tonnes lower than the original design.
While this could happen here as well, I somehow think it could be less likely – because if you lower your margin, you have to do so for ALL of your products in a category.
This does have pros and cons however.
For example; you think you'd price a simple design cheaper than you would a design that took you a lot longer to create and you don't have that level of flexibility.
Go To The HELP section for training!
At first, I wasn't sure where to access some how-to training on the site.  It was only when I ventured into the help section, (to try and work out how the pricing element works) that I realised.
You can access the help tab at the lower right hand of your screen, on the Redbubble homepage.
Redbubble Community!
Another great aspect of Redbubble is, they have a community that you can participate in. 
There are various groups,  (often based on what sort of art you're interested in creating, for example), challenges, forums and there is a Redbubble blog.
What Do Other People Say About Redbubble?
Redbubble has a good reputation online, (DID have – prior to this change) and many people love their products.  You can download the Redbubble app as well, if you want to check out what stuff they have available.
Redbubble on Appstore – has 4.8 Stars out of 5.0.
Redbubble on Trustpilot – has 3.8 stars at the time of writing, (down from 4.0 stars!)
Some negative reviews seem to be from people who don't quite understand the marketplace. 
That is, that it is individuals selling their own designs and not all controlled by Redbubble.
Consequently, as artists upload their own designs, there are times when quality will vary, depending on a variety of factors – including the quality of the images the artist uploads.
Some people have also complained about slow delivery – however, some people did note they had been compensated when delivery was delayed.
PROS VS CONS
PROS
Free to join, sign up here.
Redbubble will regularly email their list with promotions and offers, consequently, they do have a traffic source full of people looking to make a purchase.  I do know of people making sales through Redbubble completely organically, without running their own promotions.
So many different products, it's really quite exciting to see your own work in this way.
Redbubble sets the initial price for you, however, you can adjust these if you wish.
If you're a talented artist, this feels like the place to be.  Browsing the products, there really is some stunning artwork on display.  It's a great way to showcase your work & your talent.
So fast to upload your work – to so many different products!
Simple to edit your products available and make changes.
Some great feedback online.
Check out the Redbubble blog for tips, inspiration, exercises to do, featured artists and much more.
50 tags available to help people find your work!
A help centre that actually does what it promises… to help!  Also, great customer service, should you require any additional information.
You don't have to wait until you reach some payment threshold, you can be paid from any minimum amount – whether you choose to be paid straight into Paypal, or your bank account.
CONS
If you really want to make a lot of sales on Redbubble, you will either need hundreds/thousands of designs…. Or, you will need to do some promotion.
Browsing through the products on offer, some of the prices certainly seem on the high side.  Although, that is common with sites of this type.  Also, people are often willing to pay more for something that they consider to be unique, or original.
If you're used to some of the other print on demand sites, you may have to up your game here.  There are some excellent designs, so yours will need to stand out and stack up against them.
Some Redbubble Alternatives.
I still feel like a relative newbie when it comes to print on demand myself and still have lots to discover and figure out. 
However, below is a large handful other Print on demand services and platforms that you may want to look into.
Merch By Amazon,(if you haven't heard of this yet, it's been a massive even in the POD world.  However, it's now much harder to be accepted, (so I hear) and the competition is getting pretty fierce.
Etsy – with printful integration. You can also upload your designs to ETSY via Printful and some other platforms. Printful will print your designs on various products and ship them.  I made some sales on Etsy in this way – but found the extra step of using Printful too much of a hassle for me. You can check out some other platforms below.
Update: I recently uploaded a post talking about some of the best print on demand platforms, that you can start on today.
Pin Me For Later:
Redbubble Review Conclusion:  Is It Legit?
Redbubble is one of the best print on demand platforms on the internet today. 
It attracts some seriously good artists, but it also open for anyone to give it a go.
It is also completely free to sign up AND to showcase your work on the platform, so there really is nothing to lose.
If you're not a designer, but are interested in design shirts, there are a few tools I suggest you check out:
Make Merch– a software you can use to make simple designs very simply.  They include some images that you can use legally and you can change how your text looks in a variety of ways.
Canva– A design program where I make a lot of the graphics for my blog, but I also create t-shirt designs in there as well.
Pic Monkey – while I haven't personally used pic monkey to design, I do know some people that solely use picmonkey for their designs.
People often like really simple designs, so not being an artist or a designer is no real barrier to entry here.
If you're looking at starting a print on demand business and are looking for worthwhile platform to showcase your art work, or are simply interested in creating designs to sell online – then yes… Redbubble is a great choice.
There are so many different products for you to put your designs on and you may find they work on things you would never have thought of.
It's also very easy to upload your designs and because Redbubble is an online marketplace, you will get people coming on to the site and searching for designs…
If you are careful writing your title and make use of as many relevant tags as possible, then you should potentially get people finding your designs.
Beyond Print On Demand – Other Ways To Diversify Your Income.
I discovered print on demand after I was already beginning to make money online in other ways.
That's the great thing about online business, it is possible to build up little income streams in various ways and scale them up over time.
I make the most online right now from self publishing on amazon and via affiliate marketing on a couple of websites.
What I love about having my own website is that it's your own piece of internet property and you can generate an income from that in various ways.
Such as via sponsored posts, affiliate marketing, advertising, your email list and selling your own courses/products and services.
If you'd like to learn how to generate an income from scratch Start over at this platform for free.
It's where I first learnt how to get started & I really knew nothing when I did.
How about you…  Have you been making online for a while, or is this the start for you?  Le me know in the comments.