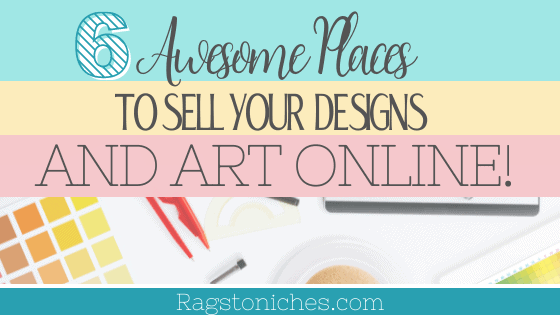 Looking for a way to sell your t-shirt designs and art online? There are many places to do that!
So many people out there don't realise they're missing our a great opportunity for selling their t-shirt designs and art via print on demand websites.
Plus, there are so many items you can sell your designs on these days, (not just t-shirts!)…. Things like, mugs, bags and various apparel, pin badges and even face coverings.
The best part is, you can join these print on demand websites for free, get a commission on every item sold and have ZERO input when it comes to printing and shipping.
Print on demand provides a great opportunity, because you don't need to put up any money upfront, or spend money on inventory. You also don't need to store items anywhere.
All you need to do is upload your artwork or designs digitally to the platforms. You won't always even need to promote, although promoting will help.
Personally, I'm not a trained designer and although I'm improving my graphic design skills, I'm not a natural at it.
That said, I've still sold hundreds of my designs via print on demand and you'll discover that many people making money on these platforms, are not designers either.
Therefore, if you are from a design or artistic background, you can really have the edge over the competition.
Today, I'm going to share with you 7 of the best print on demand services online – that you can join for free and start generating an income from.
These are just my choices, there are other options out there, but I'd say these are some of the top options that can help you get started.
1) Merch By Amazon
Everyone went a little bit crazy when Amazon opened their print on demand platform – Merch by Amazon.
Unlike other platforms I'm going to mention, you can't just hop on and upload hundreds of designs.
With Merch, there is a tiered system, whereby you can only upload a certain amount until you've matched it in sales and first, you have to get accepted on to the program.
The application process is simple, but it can take months to get approved.
So to get 25 designs live, you need to sell 10. To get 100 designs live, you need to sell 25. To get 500 designs live, you need to sell 100…. to get 1000 designs live, you need to sell 500…. You get the idea!
This completely makes sense to me, but it can be a long process getting out of those lower tiers.
Also, Amazon has become increasingly crowded – despite the tier method. Many people use Ads to help them gets sales these days and not everyone is approved for Ads.
As far as products go, they are expanding gradually. They do have various types of t-shirts, long-sleeved tshirt, sweatshirts, hoodies and popsockets.
Without a doubt, I am sure more products are on the Horizon. Currently you can sell on Amazon UK, US and Germany.
This has been the primary platform I focus on and started on too… It's only now that I'm trying to branch out.
PROS VS CONS Of Merch By Amazon:
PROS
Amazon is the biggest online store on the planet.
Millions of views a month, crazy organic reach potential.
It is possible to make good sales, without advertising.
They're improving their product ranges, providing additional opportunities.
CONS
Their upload process is a bit clunky and needs to be more user friendly.
The competition is high.
You get tonnes of copycats if you get best seller.
Invite only – you can't sign up immediately.
Not everyone can run Ads.
2) TeePublic
At the time of writing, Teepubic still has over 6.5 million viewers every month and a 55% organic reach.
This is good news, because it means that you should be able to make some organic sales, without driving traffic to your products.
They have a super quick upload process – which means you can upload your designs to multiple products all at once.
And tweaking the info on each product is simple as well. It amazes me that Amazon haven't improved their own print on demand platform Merch By Amazon – to be able to match these other companies yet.
Of course Amazon wins hands down for organic sales but while their upload process has VASTLY improved since it began, it's still pretty clunky by comparison.
Pros Vs Cons Of TeePublic:
PROS
Lots of choice of products – from mugs to t-shirts.
A decent organic reach.
Good customer service.
Good at driving traffic to products.
Less easy for copycats because you can't see the best sellers.
CONS
Not the organic reach of some sites – such as Amazon or Redbubble, (see below).
Royalties are around $4 for a tshirt, but can be as low as $2 if a sale is on.
3) Redbubble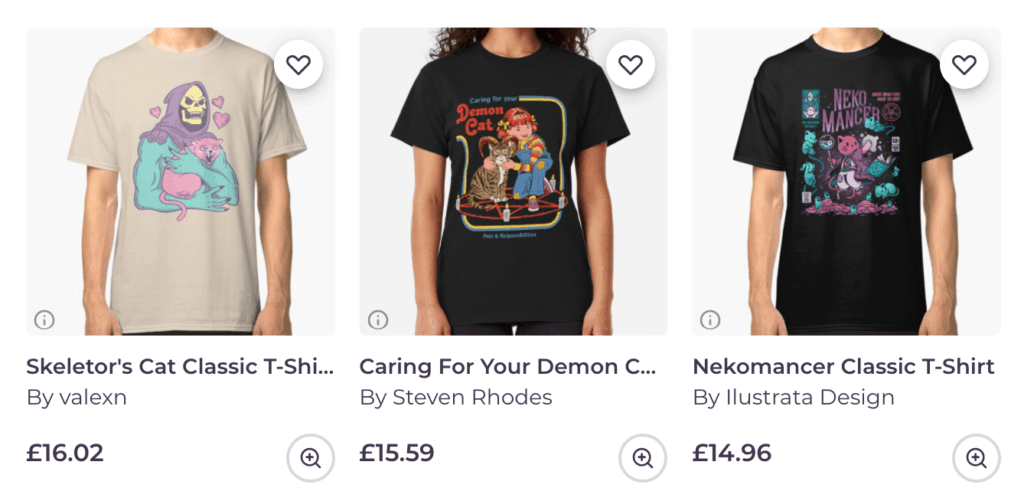 Redbubble is the next site I've very-slowly been branching on to, in addition to Merch by Amazon.
I decided on this platform, as it seems to be the one that other Merch users earn the most from after Merch.
Also, they have tonnes of products that you can upload on to. Even shower curtains!
The upload process is pretty smooth and overall, I like the platform so far. Although, I have yet to make a sale.
This is a great platform for artists, because they have some amazing products on there.
However, because Redbubble are so good at advertising, it's also a good platform for those who are simply keyword and research savvy.
That's because you will frequently see Redbubble designs in the Google search results.
Redbubble also has a large organic reach of nearly 20 million per month!!!
PROS VS CONS OF Redbubble:
PROS:
Large organic reach – you should be able to generate sales without advertising, with the right keywords & design.
Huge number of products.
Quick to upload, (if you follow the tip below!).
Flexible margins – so, you can target buyers prepared to pay more, but this is going to depend on the competition and quality of your design.
Branding – you can create your own shop page.
CONS:
Plenty of copycats here, but not like Merch by comparison.
Difficult to find out what's selling – but one way is to search for the shirts on other platforms like Etsy and Amazon.
You can link up Google Analytics, great for figuring out which keywords you should be targeting more of!
This is more of an artistic platform – great for artists – but if you're not, you may find your usual designs just don't sell well here.
Want a Redbubble shortcut? The reason why I personally find Redbubble quick to upload on… is because there is a shortcut.
I found this tip in the YouTube video below and it sped up the upload process massively.
REDBUBBLE UPLOAD TIP!
4) ETSY
Etsy isn't *really,* a print on demand platform whatsoever, but is is somewhere you can still sell in demand products.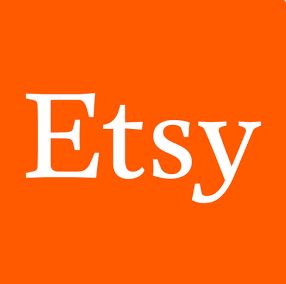 I have some experience selling shirts on Etsy and I made some sales – but I just personally didn't like having to use an integration for printing & shipping.
Etsy itself doesn't have any printing houses. Because of this – you have to use a third party to do all your shipping and printing.
I think this is going to be fine if you're very organised and making plenty of sales, but otherwise it can get a bit confusing.
The integration that I used personally was Printful.
Printful takes all the money from each sale on Etsy from your credit card immediately, prior to you ever being paid by Etsy.
This means you're going to have to do some calculations at the end of each month and ensure you're paying all your fees and paying back the debt on your credit card.
Having a credit card solely for your business is important in this regard, for keeping track.
I decided at the time that Etsy was just one thing too many I was trying to juggle at the time and stopped.
Partly this because I was only making a few sales here and there and the hassle didn't feel worth it at the time.
I have to say I regret that decision though, as now there are some really established shops doing amazingly well.
There are lots of reasons to NOT disregard Etsy and one is that it has a growing and already sizeable organic reach of many millions every month.
PROS VS CONS OF ETSY:
PROS
Great organic traffic reach.
A good platform to conduct research.
Some great analytics tools you can use, both free and paid. The paid tool erank is really helpful as well.
CONS
Isn't really a print on demand platform – integrating with another platform on top can be a bit annoying.
Can be slow to upload in comparison to some.
Some products can be really expensive and the profit margin small.
5) Teespring
Like many print on demand platforms, Teespring does have some negative reviews online and I prefer to stick to companies with a 4+ star rating….
However, in this case, I'm including Teespring because regardless of this, there are very many good reviews too & many people selling have also had a lot of success selling on this platform.

Teespring is an old player in the market, but still looks modern and has an easy-to-use attractive layout.
Like the big competitors to Teespring, this platform also allows you to upload your designs on to multiple products.
This includes pillows, socks and mugs – as well as the usual t-shirts and apparel.

Teespring does have less organic reach in comparison to platforms like Redbubble or Etsy… But that doesn't mean you can't make sales!!
Actually, the video below gives you 5 examples of t-shirts that made over $100,000! Not bad, eh?
PROS VS CONS of TeeSpring:
PROS
You can actually design some basic designs on the platform.
You can donate some of your profits to charity.
Plenty of products to choose from.
Some useful tools & analytics.
A YouTube integration – for those of you who have a YouTube channel, you can advertise your products below your content! You need to already be part of the YT partner program for this.
CONS
Less organic traffic potential in comparison to some.
Some negative feedback online.
6) Spreadshirt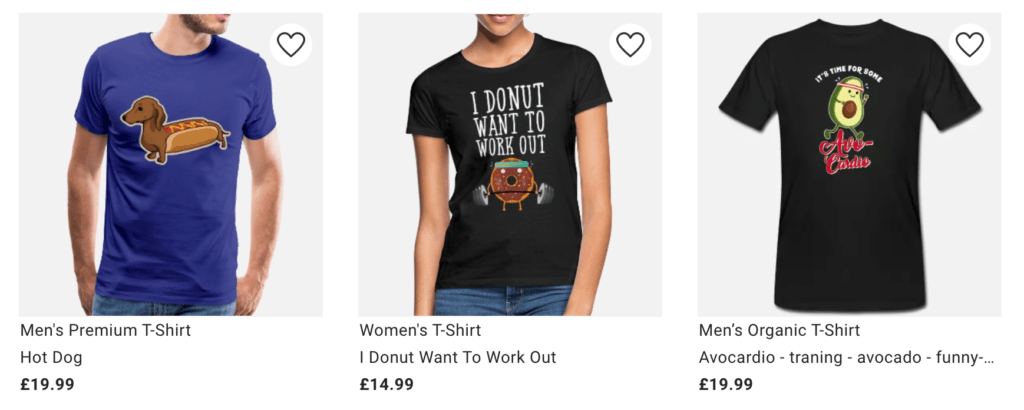 Spreadshirt is a nice looking site, where you can sell your own designs, but people can also create their own ones on the platform itself.
Like Redbubble, they have a vast amount of products that you can add your design to.
I even saw a Dog bandana … Which was very cute.
They also give you the option of either selling directly on their marketplace, or actually creating your own shop to sell on.
If you want to build a brand around a particular style or niche, then opening a shop could be a good idea.
Spreadshirt still gets over 2 million visits per month, with over 50% being organic.
Of course, not as big as these other platforms, but with the large variety of products and ease of use, it could still be worth your time.
PROS VS CONS Of Spreadshirt:
PROS
Easy to use tools, uploading simple.
Multiple products you can upload on.
You can either add tshirts to their marketplace, or have your own shop. Which is great if you want to build a brand around your designs.
CONS
They do have some pretty good ratings, but some have complained about the quality.
If you want the best quality, stick to a small number of colours in your design.
It's not as popular as the big players.
PIN ME FOR LATER! 🙂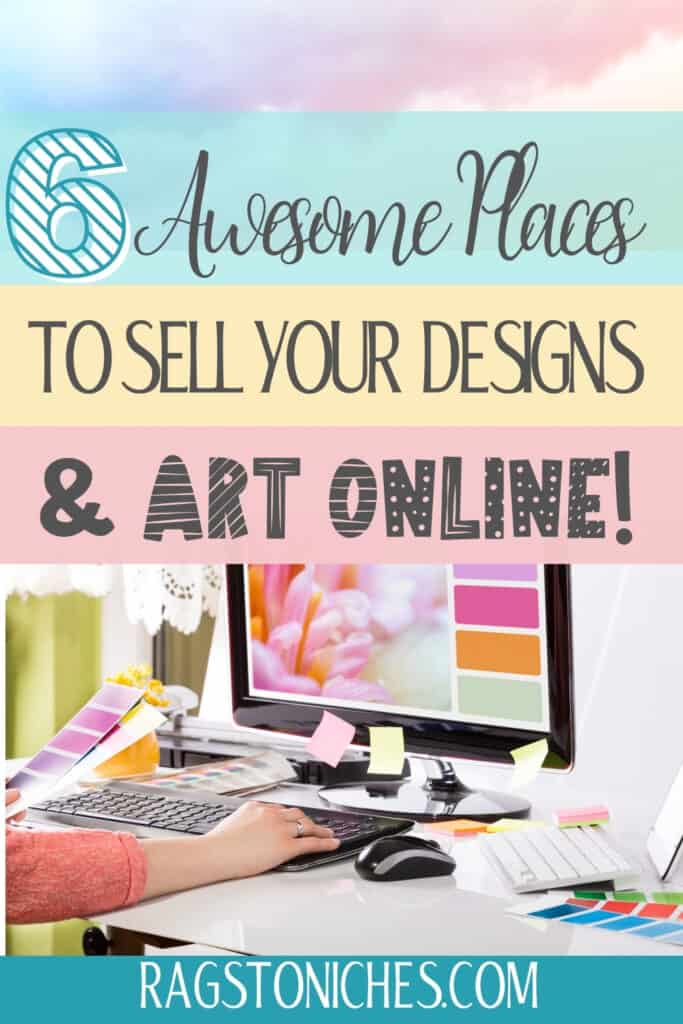 Conclusion – Where Will You Sell Your Designs & Art Online?
Where you start first on your print on demand journey, may depend on your background and skills.
For example; if you're a talented artist, I'd probably recommend checking out Redbubble.
But I'd also recommend ensuring you're clued up on keyword research and creating products that people are actually searching for.
If you're more from a marketing type background, with limited design skills – then I'd recommend you try signing up with Amazon and even join Etsy while you're waiting to get accepted.
You will find plenty of simple text based designs on Etsy as well, because many of the Merch designers also branched on to Etsy when it became possible to do so.
Over time, many people have branched out on to multiple platforms and this can really pay off during the forth quarter of the year.
Actually, I have a friend who made over 10k on amazon in December and over 6k on other platforms… PLUS another 9k on Amazon KDP! but that's another story.
However, this person does have around 6,000+ designs available on multiple different platforms. So, it's something they have grown over quite some time now.
But I know that it's sustained efforts consistently over time that make results like these possible.
Plus, of course, in the case of print on demand, you need to be creating products that people actually want to BUY and are looking for.
Interested In More Side Hustles?
I love the idea of having multiple income streams online and not entirely relying on just one.
It can be tricky to achieve, as it can be easy to become overwhelmed if you have too many things going on at once.
This is a delicate balance and something I certainly struggle with on a regular basis! (eeeiiiiikkkk!!!).
Check out these 10 side hustles that have worked for me.
Have you had any success with print on demand? I'd love to know! Let me know in the comments.