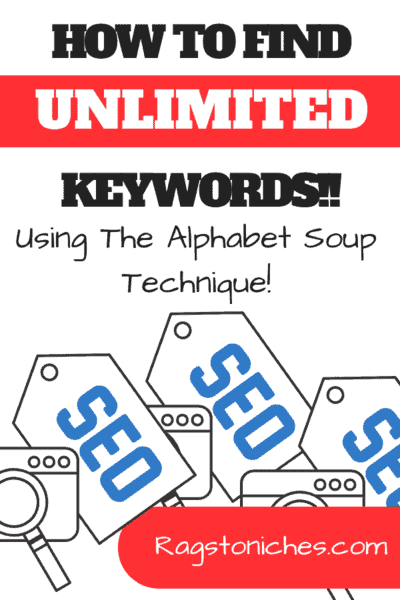 Do you struggle when it comes to keyword research?  Maybe you aren't sure where to look, or maybe you run out of ideas. 
Well worry not!
Today I'm going to be showing you how to find great keywords, using the Alphabet soup technique!
If you're new to building websites and attempting to make money online, then the idea of certain things, can at first be overwhelming.
One of the things that most certainly worried me as a beginner, was the concept of keyword research.
I had in my mind that it would be really complicated, but it isn't.
 It just all seemed a bit mysterious before I understood it.
It's just a reality that a many people in the "real world" have no idea what things like keyword research, affiliate marketing or SEO really mean.
Thankfully, it is actually much more straight forward than I thought and there are plenty of tools out there that can make it far easier too, (my tool of choice is Jaaxy)
I used the free Google keyword planner tool briefly, but quickly moved on to Jaaxy for the additional features and overall ease of use.
Update in 2018: The Jaaxy keyword tool is now available, FOR FREE for Wealthy Affiliate members… which is awesome.
However, there is another really simple way to generate a whole list of great keywords, that will be relevant and targeted to your niche
It's called: the "Alphabet Soup Technique."
What Is Alphabet Soup Technique?
"Alphabet soup technique," is a term I first heard used while I was training over at Wealthy Affiliate.
Essentially, it is a keyword research technique that makes use of the "google autocomplete" feature of the search engine.
You know when you go to a search engine and begin to type in any term or phrase – that Google with automatically try and predict what you're about to type?
Why does Google specifically predict what it does?
Well, this will be based on what terms are most commonly being searched recently.
Therefore, you can be sure that any of the long-tail keywords that emerge from this, will be ones that have recently been searched for.
By simply typing in a basic search term into the search engines, you can generate a whole bunch of long tail keywords.
But Alphabet Soup Technique takes this basic idea a bit further, because if you go through the alphabet next to your basic keyword, it gets even more interesting….
Using letter A.

Using letter U.

And you can also try it by adding letters at different points within your keyword, for example….  See what happens when I add a letter before the K in "keyword."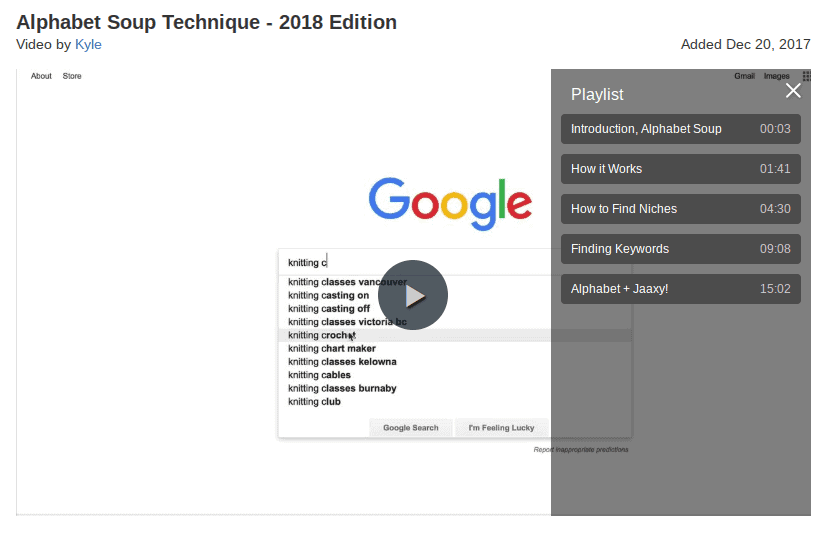 By adding longer tail keywords, you can experiment more still and you can really get an never ending supply of good keywords that are currently being searched for.
Click here for video training.
Generate Unlimited Content Ideas:
When your aim is potentially to write hundreds of posts on your websites, coming up with ideas week in and week out can be challenging – especially if you're quite new to writing your own content!
It's no wonder so many of us get writers block from time to time.
For months when I started, I actually completely didn't look into using this technique.
But now I realise that, it really can give you tonnes of ideas that you never would have considered otherwise – and it's more enjoyable to experiment with it than I first imagined.
Plugging Your Keywords Into A Research Tool…
So, once you've generated a list of interesting an relevant keywords that have potential, you can then go and plug them into your keyword research tool of choice.
In my case, I use Jaaxy and you can see the results of one of these keywords below.
I plugged in the keyword "how to do keywords work in SEO," –  while the traffic is low according to jaaxy, the competition is also very low, so could be worth incorporating.
Take note:  Sometimes the competition is low, it's because the top page is dominated by high authority websites and it can actually be harder to rank than you think, so always go and check the results out too.
In jaaxy:
The "Avg" = the predicted times this exact term is searched for monthly,
"traffic," = is roughly the amount of traffic you'd get per month if you're on page 1,
"QSR" = the number of competing pages for that term.
(see my Jaaxy review for more details here).
The SEO score of 95 is very good, (with 100 being the best you can get).
However, in the process another keyword is also revealed, "how to do keyword research for seo."  
Which is a longer tail keyword with more traffic and still a reasonable SEO score, so could be worth opting for instead.
The idea is now, that through using the Alphabet Soup Technique we can come up with all sorts of ideas for content, which we can then fine tune later by plugging in potential keywords into a keyword research tool.
Alphabet Soup Technique In Jaaxy:
To make things even easier, the Jaaxy keyword tool also has a section for the alphabet soup technique and does it all automatically.
I just pop any keyword in the search box and it will come up with suggestions – not all of them will make sense, just the same as if you plug them into google itself, but you can easily bypass those.
And it goes through the entire alphabet too – the above image is only just a fraction of the letter A!
It certainly saves a lot of time.  You can also immediately research each keyword individually for competition and traffic volume potential.
As you can see, this technique has plenty of potential and will really help you with content creation ideas and research.
I hope you found this post helpful and you may find the following posts useful too…
Have you tried the Alphabet Soup Technique before – how did it go?  
Leave me a comment at the end of this post!
All the best,