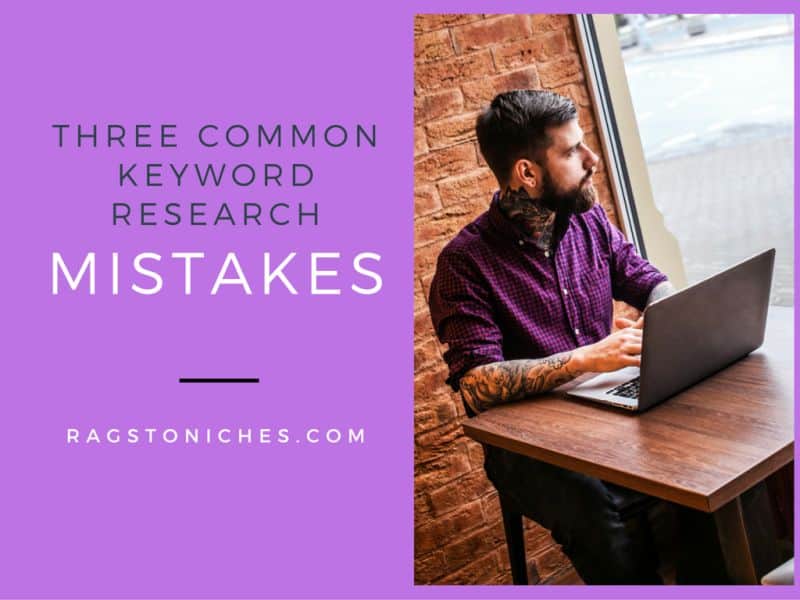 Have you been guilty of any of these three common Keyword research mistakes?
Mistakes are very common when you're starting out in internet marketing.
It's easy to get confused initially with SEO in general.
But with keyword research being one of the first stages in your efforts, this is one thing you really want to get right the first time.
If you're not confident what you're doing and what means what, you could end up creating a lot of content that is just never found.
I've made mistakes myself in the beginning and it can be quite frustrating when you realise you've targeted the wrong keyword after making such a big effort with your content.
At the same time, you may not want to target keywords for every single post, but have ones where you write freely – they will be ranked for keywords that you didn't even intend to target.
In this post, I want to highlight a couple of issues I've recognised recently that newbies tend to make with understanding keyword research.
Sometimes these issues have also seen addressed by others on the platform where I am a member, (Here) – and sometimes people get offended.
Well, there's no reason to get offended – ultimately being informed about these issues will help you down the road and enhance your understanding about keyword research.
Issue one – Misunderstanding Your Ranking
I happened to come across a post on a website by an internet marketer who was trying to explain how you can rank for keywords, by targeting keywords found using the jaaxy keyword research tool.
He actually showed that they had many keywords all ranked on page one – which he showed via a screenshot.
A majority of everything he was explaining was 100% correct.
But there was a problem.
All the keywords he was showing were indeed ranked on page one, but would have had next to no competition for them and no traffic for them.
Because no one would have been searching for the exact phrases that he was plugging in.
For example, a keyword that someone MAY be searching for is… "how to do keyword research."
In the above image, we can see using jaaxy that this keyword has 377 searches a month and is in the red, meaning it would be difficult to rank for.
Better options are below that… such as "how to do keyword research for free," which, while it has much lower monthly searches, (80) it will be far easier to rank for because there is less competition.
But something that someone is far less likely to be searching for is… "how to do keyword research – full explanation right here!"

Do you see the difference?
Here we can see this search term has less than 10 searches a month and – understandably – zero competition.
The first example is something that someone would very likely type into google, the second one is not.
This is a crucial difference that you need to be aware of.
So, ranking for the second phrase is irrelevant, because no one would be searching for that in Google.
You need to see if you've ranked for the main keyword in that phrase, not the entire title of your post.
The mistake this guy was making was that, he was essentially plugging his entire title into jaaxy to see if it was ranking –
rather than the keyword that he had actually targeted.
Had he put his actual keyword in, he would have discovered that he was not actually ranking on page 1 at all.
I'm not sure if this was done purposefully to appear to others that he was ranking on page one for all these phrases…(someone who didn't understand keyword research may not have realised the error) OR if he just misunderstood the process himself.
Now, sometimes the whole title IS the keyword, because you don't have any extra fluff you've added to make it more appealing.
That's fine – in that case, your title is your full keyword.
But often people will add a bit extra to the title and this shouldn't be confused as part of the keyword you're targeting.
Issue two – Surprise That Your Website Is Ranking On Page One!
Another common mistake I see is that people put in the title of their website, (or even type in the full url) and are amazed to find it ranking on page 1 of google.
They think this is some great sign that they're doing something right and that a tonne of traffic will soon be on its way to them….
Well, this really will depend on the title of your website – but if it is not a commonly searched term, naturally once you're ranked, it may very likely be found on page one.
Obviously if your title is massively searched for term, ie; " make money online" (163956 searches per month for that keyword according to jaaxy) and you're in page 1 of 1, this is going to mean a great deal.
But starting out, this is also not going to happen.
However, if your title is something obscure and would never normally be searched for,  it will mean very little to you.
If no one is searching for the title of your website, no one is going to randomly find you.
Just take a look at Rags to niches when you type it into Google…  obviously, it is not a massively searched term, (less than 10 per month) and so, I'm not at all surprised to see my website right there in position one.
On the other hand, if your title is quite a generic one or includes some very popular searched for terms, then another authority site – or several – or hundreds – may well be there on pages prior to your site.
Ultimately, the more unusual the title of your website, the more likely it will be found in position one of Google early on.
The more authority your site has, the more likely it will appear for a more competitive term.
Issue Three – If It Doesn't Make Sense, Don't Use It!
A final issue I'd like to point out – is when people try targeting grammatically incorrect or nonsensical keywords, just because they find they have a high search volume on Google.
Sometimes you find keywords that people type in short hand or spell incorrectly and some people thing this is a good idea to target such keywords.
In the past, this could work because Google didn't correct it – whereas Google has smartened up a lot more and will often redirect you, by suggesting the correct spelling or phrase.
But even if this approach was to work, having a title or keyword that doesn't make sense or is grammatically incorrect just doesn't look professional and if you're trying to build up your reputation favourably – you'd be wise to give this approach a miss!
So, there are just three common keyword research mistakes that I have seen popping up recently.
Did you make any mistakes starting out when you were learning about keyword research?
Leave me a comment below!
All the best… 🙂
If you'd like to know more about using a keyword research tool, you may be interested in the following posts….