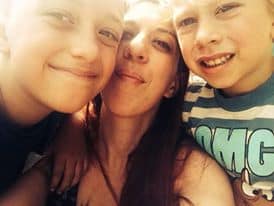 Hello, I'm Nat! The creator of Rags To Niches.
I'm a blogger…. Self Publisher… "Designer.." (in loose terms!)…
….And general side hustler!
I'm also a wife & mother to two boys, ages 10 & 13.
I started off looking online for income opportunities when my youngest son was a newborn!
I started off entering competitions and sweepstakes online, entering thousands a month and won some amazing prizes.
But it was very random and not something I could rely on long term, so I started to look into OTHER ways I could make money.
Now I'm trying to build up several income streams, which I hope will one day turn into several full time income streams!
You can take a look at some of the side hustles I am into here.
I've had lots of downs on my own journey with making money online and am still very much on that journey of discovery!
Right now, I make the most online via affiliate marketing & paid advertising….
But I hope that my print on demand efforts could match that income in the future, or even exceed it, (I'm very much enjoying that right now!).
If you're interested in starting a website that makes money, I wrote a step-by-step guide here.
I hope you find my blog useful and if you have any questions, feel free to contact me!
All the best,