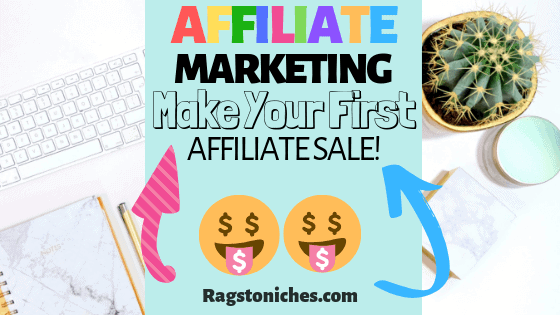 How To:  Make Your First Affiliate Sale Online!
If I was going to start again with affiliate marketing from scratch, there were some things I'd do a little differently.
So, during this post, I will explain what I would do if I had to make my first affiliate sale again, from scratch.
Both of the initial niches I decided on, were aimed at using the Amazon affiliate program and I would choose that route again, if I was going to start over.
Why Choose Amazon Associates?
Because, as a beginner, Amazon is one of the simplest and quickest affiliate programs to make a sale from.
Amazon is hugely popular.
Amazon is trusted by millions.
Amazon is great at selling and up-selling to customers.
All you need to do is get someone over to amazon – what they buy doesn't have to be related to what you send them there for.
However, a big mistake I made initially was basing my sites around products with low value.
In my case, that meant I'd often only get a dollar or less per sale and rarely more than $5.
It's important to remember that Amazon pays fairly low commission wise, so the higher the value of the item the better.
Now both Amazon USA and the UK pay a commission based on what category your item is in.  Until recently, the USA paid more depending on how many items you sold.the
Amazon will no doubt change the commission structure again at some point, so it's worth keeping up to date with them.
At any rate, say your starting commission rate is 4%: you'd need to sell a $100 item to earn $4.
While it's true that you would have to make a lot of sales to make good money, Amazon is still a great place to get started.
The priority here, is making your first sales online and I think the amazon affiliate program is one of the easiest ways to do it.
Have You Chosen Your Niche?
Presumably, if you're looking into affiliate marketing, then you have already thought about your niche?
If you're unsure, this will be your absolute first task.
If you want to become an Amazon affiliate, (for example) it's worth you going to check out some of the products on offer.
Remember, you want to be looking for higher value items… is there something there that could fit in with your niche?
When choosing an Amazon niche, I think you could go one of a couple of ways…
choosing an area where you think you'd easily be able to write plenty of product reviews and rank well for them,
(searching in jaaxy for relevant keywords will help you decide – 30 free searches here).
OR choosing to tap into an area, which has the potential to provide social sharing on a viral level.
For example, in the case of the affiliate site this is why I'm broke, they don't write in depth product reviews, but showcase products on their website that people LOVE to share.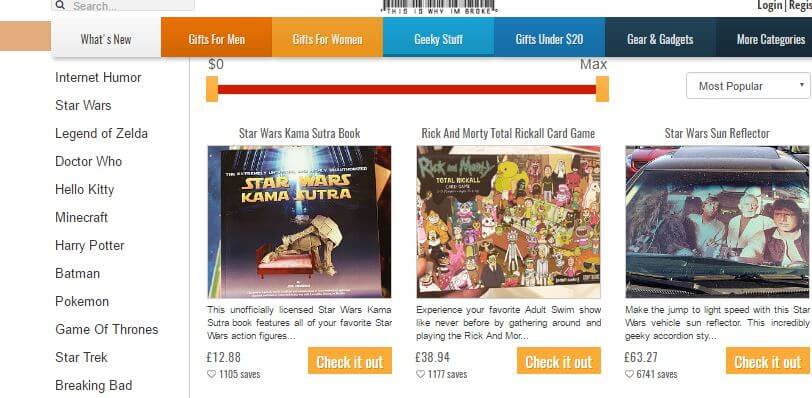 Typically, the site focuses on geeky, quirky and unusual products in general – and a large chunk of their profit comes directly from Amazon.
There have been plenty of copycats for this type of site though, with varying success.
That's not to say you couldn't create something with a unique spin, that's inspired by this sort of website.
The difficultly is getting that momentum on social media and getting enough exposure initially.
The site converts well because there are calls to action everywhere and without very much info on the products, there is always a temptation to check out more.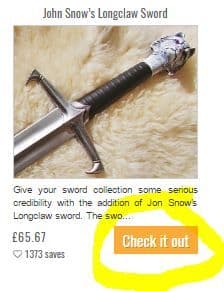 The problem with this style of site is, you won't be relying much on organic traffic, you need a lot of people sharing your content to generate this much success.
But this site did take off and they rely almost entirely on people sharing their site in order to get traffic, (source) 
At the time of writing, they generate over a couple of million visitors per month.
This just goes to show how a simple idea, can transform into a very successful website.
Useful posts for starting your Amazon Niche site…
One way you could get a lot of social shares is via Pinterest. 
Some bloggers and website owners drive hundreds of thousands a visitors to their website – using Pinterest alone!
Update: I highly recommend this course, if you want to master Pinterest!
Sussing Out The Competition:
Before you go running into setting up your niche website, you will want to check how competitive your niche is.
There are all sorts of in depth technical ways you can do this, but if you're new online, some of the jargon could overwhelm you as a beginner.
For many people, this can put them off and they get stuck in the niche selection phase.
Let's say you're looking to review electric scooters –
A simple way you could initially check out your competition, is by searching for the sort of keywords you may be targeting in the search engines.
So, one might be, "best kids electric scooter…"  will be something people are searching for in Google.
You can simply search out keywords via jaaxy, or you could also use the google keyword planner tool as a completely free option.
You will be able to see what websites are ranking in the search engines for all your initial potential keywords on page 1.
If page 1 is completely dominated by high authority websites, targeting your exact keywords, you may want to have a rethink.
On the other hand, if the top results are not actually using your exact keyword phrases, or there are sites on page 1 under a year old, you could hope to outrank the competition.
(you can check the domain age using a simple domain age checker tool).
Sometimes the big authority sites are less specific with their keyword phrasing and placement, so it does give smaller sites an opportunity to outrank for particular terms.
A useful tool that I use to assess the competition on page 1 is the MOZ free extension bar.
One of the most important things, is just to ensure that people are actually searching within your chosen niche.
If no one is searching within your niche, you're not going to make any sales.
For some people, they will choose to target niches when their core keyword has at least 3000 global monthly searches, or 5000 – or considerably more.
From your core keyword, you can seek out related long-tail keywords with low competition and create a list of keywords that you can target.
Just bear in mind, that the more competitive your initial niche is, the longer it may take to make that that first sale.
Next Up – Setting Up WordPress:
Now that you have your niche, you need to set up your website!
If you have a website already, you could go and skip this step.  If not – read on.
Personally, I always set up websites with WordPress – for so many reasons including:
WordPress is Versatile and flexible, you have the ability to create any type of website, with an endless amount of free and paid themes and plugins.
WordPress is beginner friendly, they make it very simple to create professional looking websites, with no need for coding ability.
WordPress is SEO friendly and there are various SEO plugins that can improve this further.
WordPress ensure their sites have a good loading speed.
Themes are largely optimized to work on all sorts of devices – mobile, ipad and so on.
WordPress is supported by all the big hosting companies, making WordPress installation as simple as a click of a button.
I won't write an endless list, but those are just a few reasons.
If you don't have any experience setting up websites yet, it is really simple to do and I will demonstrate how by sharing a training video with you below.
If you'd like to set up a website now, sign up for a free WA account here and check out the video below, which shows you just how quickly you can set up your site.
You'll need to sign up for a free starter account to access the following training, but you don't need to provide any card info and you then get access to a free course…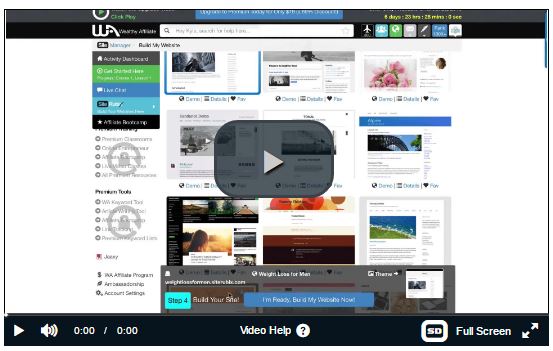 Click Here For Your First Free Lesson…..
While the video above is regarding a free siterubix site, you could also follow along in the same way with a domain that you own.
If you're planning on building an online business, you should definitely have a domain that you own as soon as possible – but it's also easy to transfer your free siterubix site, over to a domain that you own at any time.
Once you're signed up, I do recommend checking out the free training, which will give you a good insight into affiliate marketing for beginners.
First Pages & SEO Plugin:
Before you start creating content, you will need to set up a few initial pages and plugins.
Ensure you have an "About me," "contact us," and "privacy policy," page.
(Just google "free privacy policy templates.")
You can check out other sites "About me pages" and "contact pages," within the niche you're targeting and see what they're doing to get ideas yourself.
For my contact page, I use a simple plugin called "Ninja Forms."
It's really straight forward to set up.
You will also want to install an SEO plugin, such as the all in one SEO plugin for WordPress.
There are various plugins that can help you moving forward, but make sure you set up these for starters.
All-In-One SEO plugin tutorial:
Creating Content:
Once your website is up and running, content creation is the next phase.
How you go about this will vary depending on your niche, but you'll want to have decent a blend between product reviews and other informational posts, or useful posts that give your site value.
For example, with this website I will have product reviews, mixed with "how-to," posts, popular questions answered and anything I get inspired to write about at the time that's relevant!
With an Amazon site, lets say your niche is running watches…
You could have a content mix between:
Reviews,
Comparison review between more than one product,
Interview related posts where you invite other blogger runners, or runners in general, to talk about their running watch.
Training related posts, tips how you can use particular tech to get better results,
General running/training inspired posts, but with some connection to running watches.
How you split this is up to you.
Some important tips and tools:
look for long tail-keywords with a low-competition when you're starting out.
Useful posts:  keyword is SEO explained and Jaaxy keyword research tool reviewed.
Make sure your posts are in depth, but not full of fluff.   Check how many words your highest ranking competitor has written in their post via word counter.
Share your articles via your favourite social media channels, but don't get bogged down.  One idea is to conquer one channel at a time, (whatever is the best fit) and figure out what works.
Ninja Outreach is an awesome tool that helps you seek out others in your niche and reach out to them.
Check Out Others In Your Niche!
It's a good idea to check out what other people in your niche are doing.
Who are ranking for the keywords you're targeting on page 1?
Don't spend too much time overly comparing, they're going to be a lot further down the road than you and everyone starts at square one.
But by studying what sorts of sites are ranking well in the search engines, we can improve our own sites and own ranking in the long term.
Useful content posts:
Sometimes creating content is going to feel like the LAST thing you want to do, you will hit roadblocks.
But the more you can overcome those feelings and stick to a posting routine, the easier it will become to stick to.
You probably will suffer burn out at some point, (I know I have!) and sometimes having a break can make it even harder to return – (see: how to start blogging after a break) but the quicker you get back to it the better.
Applying To Affiliate Programs:
Once you've started building up your posts and pages, you can start applying for affiliate programs.
Remember, there really isn't much point applying to affiliate programs, until you have some traffic coming in.
That being said, I did make my first Amazon sales when I had a very small amount of traffic, at around 20 visits a day and it is at least a boost to get a sale, even if it's a small one!
So, if you're going for an Amazon niche site, applying to join the amazon associates program will be your next step.
Now, while I'm based in the UK, I get a majority of my Amazon sales from the US.
So, it's worth checking your google analytics to find out where your visitors are coming from.
Unsure about google analytics?  See: how to set up google analytics for beginners.
You can sign up to any of the Amazon affiliate programs worldwide, but you will be thrown off if you don't make sales within a few months, (it's simple to reapply though).
One way you can still get sales from multiple Amazon countries and help improve the experience for your visitors in general, is by using a link localization service.
This means, when someone clicks your link from your website, they will be directly sent to an Amazon depending on their location.
If you're signed up for that particular Amazon program, you will also then gain commissions if they make a sale.
The service I use is genius link and they provide a free service up to 1000 clicks and from there it's $10 a month.
Pin it to your "Affiliate Marketing," board!
The Affiliate Sale Waiting Game Begins…
So, you've chosen your niche, set up your website, studied others in your niche and started writing content that has a good chance of ranking well in the search engines.
Now comes a bit of a waiting game if you're relying on organic traffic for your fitst sale, as Google takes a while to start trusting your website and pushing your content higher up in the search results.
This is when you could use additional methods to start driving traffic to your site, such as…
Being everywhere you can on social media, sharing your content – or having a strategy to excel in one or two platforms and growing your audience.
If it works for your niche – create YouTube videos, they can be awesome at driving additional traffic to your site.
Finding forums within your niche and helping out others, without spamming your links.
Going to question and answer sites such as quora and answering questions related to your niche.
Guest post:  Seek out other sites relevant to your niche that have some decent traffic and pitch a guest post idea to them.  You can benefit from an additional traffic source.
Mention others and link to others within your niche in your content, then reach out to them and let them know you mentioned them, (they may just share your post – or if you're brave you may even politely ask them to). 🙂
If you try and push outside of your comfort zone, it will help you progress faster.
For example, you don't like the idea of going on YouTube!?  If it could work for your niche, do it anyway!
You don't need to actually film yourself directly, you can use something like Screencast-o-matic to record your screen.
Alternatively you can get animated videos recorded really cheaply now, such as via Fiverr.com.
Just to be clear, I stayed within my own comfort zone for a long time and only push it now and then, I know it's hard…
But generally, you will get better results from branching out and trying to diversify your traffic.
That pretty much wraps up this post regarding how to make your first affiliate sale online…  was there something I missed out?
If you have any questions at all, please leave me a comment below!
I wish you the best of luck getting your first sale online :).