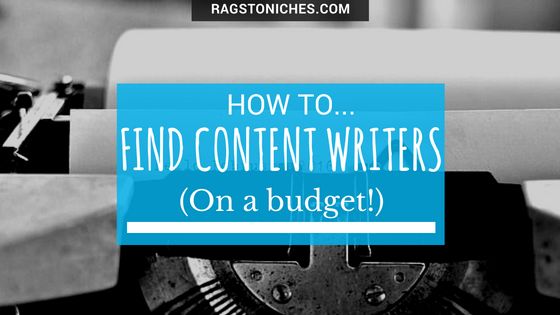 So, you're looking for way to find content writers on a budget?
Once a week… a few times a week… every day?
Several times per day?
How much content do you want to produce?
Blogging can be extremely time consuming and it is certainly one of the key reasons that so many bloggers will quit prior to having any success with it at all.
I recently read a post from a blogger who had well over 200 blog posts on their site … and had not made a single dime!!
Now, while there will be a large number of reasons that contribute to WHY that is – but you can imagine how hard it must be to spend so many hours plugging away at something and see absolutely zero reward for your efforts.
That is not an unusual story – it's no wonder so many bloggers quit before they've made any money!
In any case, at some stage many bloggers or website owners will consider outsourcing content to lighten the load and free up some time.
Once you may have a bit of income coming in, outsourcing can be a way of taking your blog to the next level.
If you're largely relying on content writing and SEO efforts to generate traffic, then you are going to need a tonne of quality content.
The more content that you produce, the quicker you can expect to grow.
No… it's not going to happen over night.
Google rankings take their time, especially in the beginning if you don't have any authority.
But the more content you do put out, the more visibility you will gain over time and the more traffic coming to your blog.
There is a problem though.
How do you find quality content on a budget…?
You're trying to make money after all… not spend it, right?
Well, the saying you need to spend money to make money, is still true in many respects.
Too many people look to make money online without spending anything at all and they want it to work quickly – which isn't mindset going into it.
Ultimately, it's a good idea to invest something into your online business, just as you would in a regular business offline.
I have certainly had plenty of negative experiences outsourcing though.
The first article I tried was from Fiverr.
I was unable to use it at all, it was that bad.
And this was from a supposed five star seller!
While Fiverr is certainly a good place for some things, it is not great for content – from my own experience.
So, don't expect much if you go down that route.
There are a few websites that you may want to give a go -some better than others – so I will focus on a few I'm familiar with in this article.
I'm going to start with my favourite place to outsource content.  This is currently my go-to platform.
My #1 Choice: HireWriters:
If you're looking from making a living FROM writing, then writing for content mills isn't a great option, because the pay is very, very low.
But when it comes to getting content written cheaply, it's an option that many blog and website owners go for.
The trouble is, the quality is usually very poor as well!
HireWriters is the only platform where I have been impressed by some of the content written.
I got the best content when I paid for more experienced writers, (for sure)…
But even when I paid less, the content was still of higher quality that other platforms I've tried.
You can purchase a 300 word article for as little as $1.85.
I usually go for at least the 1000-2000 word option and the cheapest you can purchase that word count for is $8.25 for beginner level and up to $32.40 for expert level.
The best quality content I bought, was after I ordered from skilled level writers.
I haven't tried the expert level.
However, if you do choose to opt for beginner or general level – it is sometimes skilled or expert level writers that pick up the work anyway!
The great thing is, once you have found a good writer, you can add them to your favourites and also send them job proposals directly.
If you like, you can read my full review here.
PROS VS CONS Of Hirewriters:
IWriter
The first article I got from IWriter I paid for, but did not end up using.  It was not great quality at all.
However, the good thing is you can reject the articles if they're very bad.
So, the next time I tried them, I rejected the first article AND the second article…
BUT the third article was actually really well written.
$12 for 1000 words and while I had to do a bit of tweaking, I can now save this writer for future reference.
The best advice I can give is that you really need to be incredibly specific about what you want – and be prepared to pay more for better quality.
Some things you may take for granted as obvious and you will end up disappointed with the result.
You can also ask for different 4 levels of writer, ranging from basic, to elite plus.
For a premium writer, you could charge $10 or less for a 1000 word article – but at the upper end you'd be paying over $60 or more for a 1000 article.
At the most basic, English/grammar can be poor and the content does not appear original or in depth.
The good news is, you can test this website out very affordably and get a feel for it.
Even if you don't always use the article as it is, it can be used as a starting point – as a basic outline to work from for example and that could still potentially save time.
Whatever articles you receive make sure you check articles for plagarism – something like copyscape is a useful tool.
Upwork
Upwork is a really easy to navigate site and it's easy to post up jobs – when
I've posted jobs in the past, I have received a large response.
It's helpful to be able to look through a wide variety of applicants.
You can state on your job post how much you're willing to charge  – so there is rarely any confusion on that front.
You will also be able to see examples of their work and reviews for their previous work completed.
If you'd like to build an ongoing relationship and find writers that can write content more frequently, this could be a good option.
Like I mentioned previously, You really do need to be specific about what you want your article to contain, in order to get the best results.
Outline exactly what you want, linking to examples that you want them to research, mention how you'd like the tone and whether you'd like a particular conclusion in mind.
For example, I once forgot to tell a writer that, having already researched a topic, I was looking for an unfavourable review – but they wrote quite the opposite.
That wasted a lot of time – clearly, this is vital info that will completely change the entire article.
So, be very clear in what you want and you'll get the best result.
SEO Clerks
I discovered SEO clerks via another blogger in my niche.  While I haven't used any of their other services, I have purchased content.
They have plenty of freelancers there – where you can find jobs for anything relating to your website, including writing content and pay can be very reasonable.
Again, you need to be specific and provide examples of the sort of thing you may be after and places they can research the topic.
Check out the freelancers rating and experience.
Often freelancers may provide a variety of services, so connecting with someone on there could become beneficial in more ways than just content writing.
They also have an online community, where you can participate, post relevant discussions and engage with other people on there.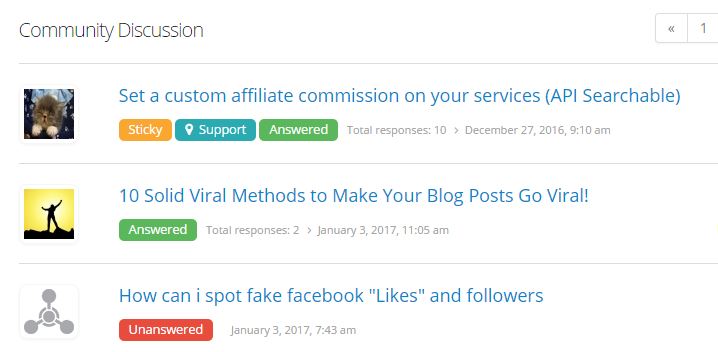 Ultimately, it can be a good place to network and build relationships long term.
Other Ideas…
Another idea and one that I haven't personally yet explored, is to seek out other bloggers in your niche, who are just starting out.
You could use something like ninja outreach for this.
You could find really talented writers this way, who may be more than pleased to get a backlink from a blog more established than their own.
You could also seek out writers by posting your guest post as a job.  For example, some Fiverr gigs are for posted looking for guest posts.
The only problem here is, you'd need a thick enough skin to be able to reject a whole lot of people if you're only looking for high quality!
For both of these last options, you're going to want to have a blog that is somewhat established already.
It's doubtful someone will jump at the chance to contribute to a blog that only started a couple of weeks ago.
So, what has your experience been outsourcing content?  If you haven't taken the plunge yet – what's holding you back?
Leave me a comment below!
All the best,

PIN ME 🙂