What is Low Content Publishing… Is it a legit business opportunity, or just a bunch of hype that will get phased out?
I got first got really into low content publishing around September/ October 2019, via the Amazon Kindle Direct Publishing Platform, (known as KDP).
It's been quite a roller coaster of a ride but something I am continuing to benefit from…….. Even in these uncertain times during 2020!
Yes, even in April 2020, I managed to make over $1000 with this side hustle… So, what's it all about?
Edit – now in 2023, I've made over $238,000 in royalties on KDP!
Low Content Publishing Briefly Explained:
Low content books may include the following types of item…
Planners,
Diary's,
Notebooks,
Activity books,
Colouring books,
Log books,
Blank recipe books,
Guided journals,
Sketchbooks,
Blank journals…….. and so on.
Sometimes people also distinguish between LOW and NO content… Some low content books would be classed as books with no content in them at all.
No content would include products such as… lined notebooks, journals or sketchbooks.
When I first started, I purely relied on creating no content. I just uploaded lined notebooks with unique cover designs ……and that's it.
I would recommend this for beginners because, it's a good way to learn the basics.
A little later on, I started creating low-content. This included products such as different types of planners/log books and niche guided journals.
This is when I started seeing a lot more sales.
Edit: Amazon KDP now recognises and has a classification for low content books, which is great. Amazon KDP now defines all low content books as things like: Notebooks, planners, journals and log books. Most activity books and coloring books are not classed as low content in KDP eyes. You now have to tick the "low content," tick box when you upload those types of books to KDP today.
Today, a majority of my sales are coming from one particular niche and one of my books often accounts to close of half of my sales.
The frustrating thing is, I have created MUCH better books since this best seller!
But because the best seller has sold so much and has a lot of reviews… it continues to outsell and outrank my better books.
I'm hoping eventually some of my better ones will overtake it and start becoming the bigger seller, but this will take time.
At this point, I have just over 300 books live – But it's only a small fraction of these that account for a majority of my sales.
Many people think you need to upload thousands of books to see any success, but this is not the case.
Being more concerned with quality, keyword research and niche research can ensure you're successful with less books published.
Identify which books are doing well over time and simply do more of that!
What's Merch By Amazon?
Merch is another platform by Amazon – where I first learnt all about print on demand.
This platform allows you to upload designs on to clothing items for sale on Amazon.
Primarily, this is t-shirts, but you can now upload designs on other items too, (like hoodies/long sleeved tops etc).
When you make a sale, Amazon prints & ships your item for you and you earn a commission per sale.
There was tonnes of opportunity on this platform when it first started and people were making serious money, with some very simple designs.
However, as the platform grew, so did the competition and I personally found it harder and harder to make consistent sales.
I got a little bored with it to be honest too and I got lazy… I was frustrated by my limited design ability.
ANYWAY…. I heard somewhere on YouTube, that people doing Merch could upload their designs on to simple notebooks and sell them on Amazon KDP.
I then started seeing people publish impressive income reports, showing they'd made many thousands of dollars in a month, just from selling plain lined notebooks.
It seemed too good to be true to me… Especially as it seemed that most people would only make $1-2 per sale.
I didn't have high hopes, but I decided to figure out how to create a simple lined notebook interior.
I then added some of my Merch By Amazon designs to book covers that I created in CANVA.
At first, I only uploaded around 6 books. I just left them and forgot about it for a while.
But one day, I logged into my KDP dashboard to see that I'd made a couple of sales.
I'd been doing pretty badly on Merch and yet, I had hundreds of designs live on there, so this seemed different.
I decided to upload some more.
Meanwhile….. So did everyone else.
What happened was that, over the short space of several months, many more people also caught on to this opportunity.
There was also shady advice from internet marketers that suggested using multiple upload tools and flooding the KDP platform with terrible, bad quality books.
By bad quality I mean, the designs look terrible and there will often be multiple uploads of an identical book – with minor changes to the design or title.
I'm no designer, but over the years, I've definitely improved to a point where I can create something that looks relatively decent.
KDP Started Having Issues:
Over time, KDP started to increase the time it took to publish your books… it started to take weeks to publish.
People started speculating that new rules would soon come into place, that would put an end to these multiple uploads spamming the system.
Not only were the good quality low content books losing visibility because of these spammers – but so were other categories of books.
In addition to the vast amount of uploads, many low content books were also ending up in categories where they didn't belong.
Edit 2023: Amazon KDP have since changed their catergories to combat some of these issues.
This caused a lot of publishers to get frustrated by the situation.
There was lots of fear and dread being thrown around and people felt that a change was imminent.
But then another change happened that overshadowed everything else on the planet. 2020 happened.
I can't write the name, as apparently some bloggers are penalised by Google for mentioning it!
In any case, suddenly – Merch was shut down in the US during this time… no more T-shirts were going to be printed for the foreseeable future.
The Amazon associates commission rates were slashed, making many affiliate marketers lose a vast amount of their incomes overnight.
The US Amazon also cut back on anything other than essential items, shipping times went right up.
I noticed many of my books had a lot less visibility, or were harder to find on the US platform.
Thankfully for me, I made many of my sales in the UK and that appeared less effected…… Although shipping went up from 1-2 days, to 6 days!!!!
My royalties in April went down to 50% what they were in March, (which was my best month to date, with over $2000).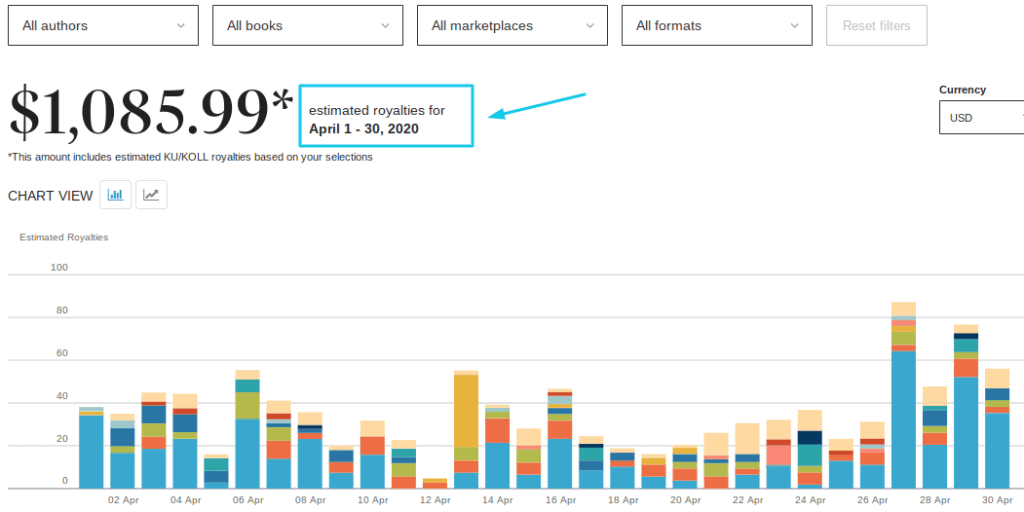 But still…. Over $1000 in April, with all this going on!?!? I am both grateful and happy to have achieved that.
You can also see a screenshot of my March earnings below.
There was a massive spike of sales mid month….. I'm not sure why this happened whatsoever, but I made almost $400 in a day.
Towards the end of March, sales started to dwindle down and I thought April would continue on this trend, but thankfully it picked up and I still had a decent month.
See a more recent income report here.
Is KDP Going To Change Too?
Amazon Merch is temporarily closed, but hopefully this will be restored in future.
The Amazon Associates program has made drastic changes to its commission rates.
Is KDP next? Will new rules come into play that effect everyone…. Or just the people who are abusing the system?
I have no idea and I'm trying not to worry about something I have no control over.
However, I am going to PLAN for this eventuality, by trying to diversify my income further.
I'm already looking for my next side hustle and hopefully I will be writing more about that in future.
What do you think? Do you have a different favourite side hustle & have you ever tried self-publishing? Let me know in the comments.
Pin Me For Later? 🙂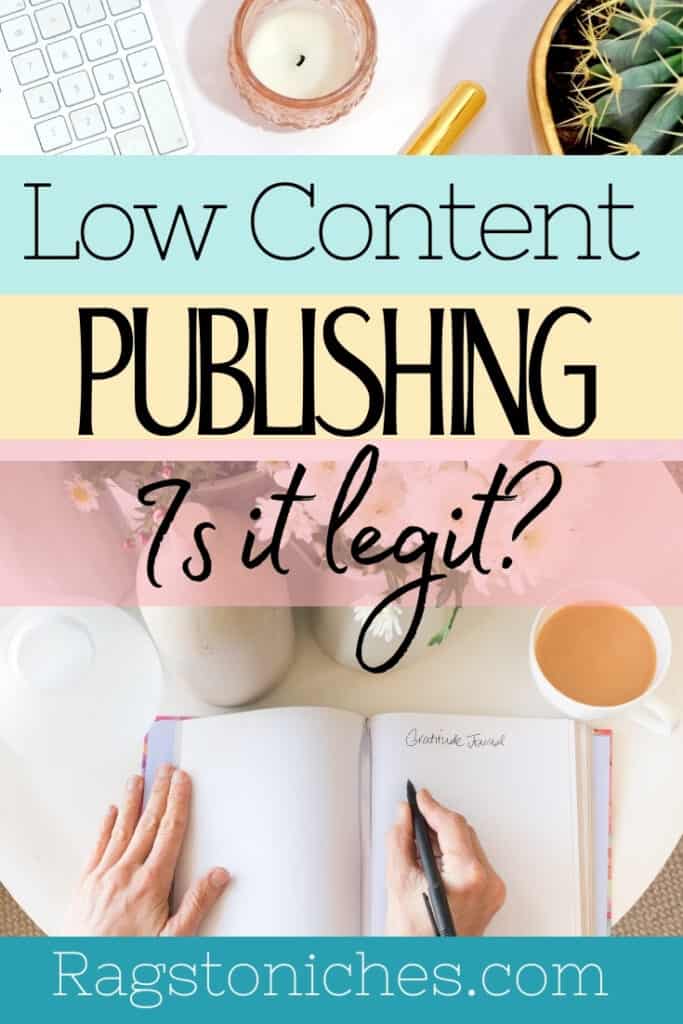 Getting Additional Help:
If you're interested on getting started on KDP but you don't know where to start, I have created a free mini course that can help you.
There are many other resources that have helped me with KDP – You can find my full list of tools here.
The KDP platform has become a lot more competitive over the last several years and I imagine that will continue.
But I still believe there is always room for new books. The amount of niches and subniches out there to explore is immense and still growing all the time.
If you have any other questions, please feel free to drop me a comment below! 🙂