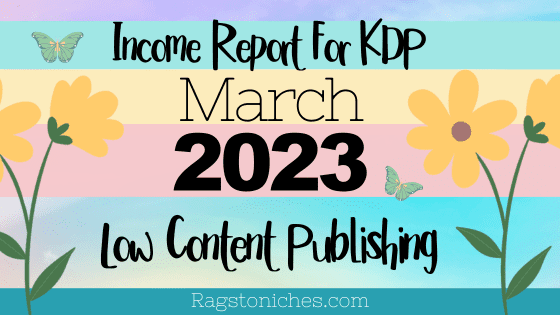 Welcome to another Amazon KDP income report for March 2023.
March was not as productive as I wanted. After really focusing on Etsy in Jan and then opening the shop in February, I slowed right down in March!
Unfortunately, I tried to start uploading to Merch & Redbubble and I think I just gave myself too much to do, (more on that in a second!).
I also applied to Creative Fabrica and have been accepted for a store, but I've yet to upload anything.
I've also been quite distracted by things going on in my personal life, (possibly moving house in the near future is the major thing…. My teen taking exams and many other things).
Currently it's also the Easter school holidays in the UK too, which means I'm pretty busy at home and have a couple of trips away as well.
During the school holidays, work generally slows down and sometimes I do get frustrated trying to fit everything in.
But then I remember that this is one of the reasons I wanted to work for myself to begin with, so that I was able to take time off when I wanted to and spend time with my family.
My March Print On Demand Challenge:
If you watched my February income report, you will see I gave myself a challenge in March to upload 5 designs per day on both Merch and Redbubble.
This was primarily using designs part created using Midjourney and then put together using Canva.
I started off well but kept ending up missing days and then having to upload three days worth at a time, which could take hours and overtake everything else.
Even though it was really too late to do so, I uploaded some St Paricks Day designs and one of them took off.
But after that came and went, sales dwindled to practically nothing.
Only a couple of the designs had a sale at all and I started to question why I was doing it.
Yes, if I focused on uploading hundreds of designs, maybe I'd get somewhere. Or maybe if I actually put much more time into the research, I could get somewhere.
But as far as I was concerned, it seemed that the ROI for my time was far better just spend on Etsy or KDP!
So, why give myself any more to do right now?
Even focusing so much on Etsy has very much taken my attention off KDP.
However, I felt I could do this because I would really like to build another good income outside of Amazon.
It feels like the sensible thing and as I have hundreds of books already on KDP, I feel this is a good time to focus on a second business.
What I wouldn't recommend, is to focus on more than one business BEFORE one is already fully established.
Your time is far better spent focusing solely on one thing initially.
March Income Report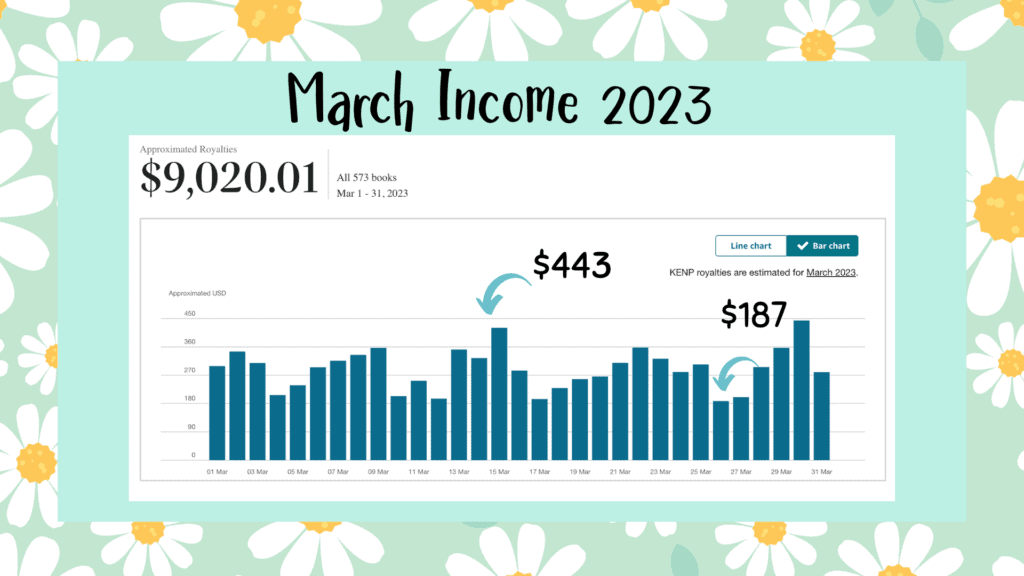 So, as you can see – I made $9020 in March.
Which, when you consider my income report for February, is way above and beyond anything I'd expected.
Generally, March has been one of the higher months, but if you check out March 2022 below, you can see that this March presented a considerable leap.
I still haven't worked out what makes March a higher month for me. All the usual main sellers are the ones selling – they just sell more than usual.
I can't really attribute it to Mothers day. Although, I guess it's possible that *some* of my books could be bought for this purpose.
March 2022 Income By Comparison: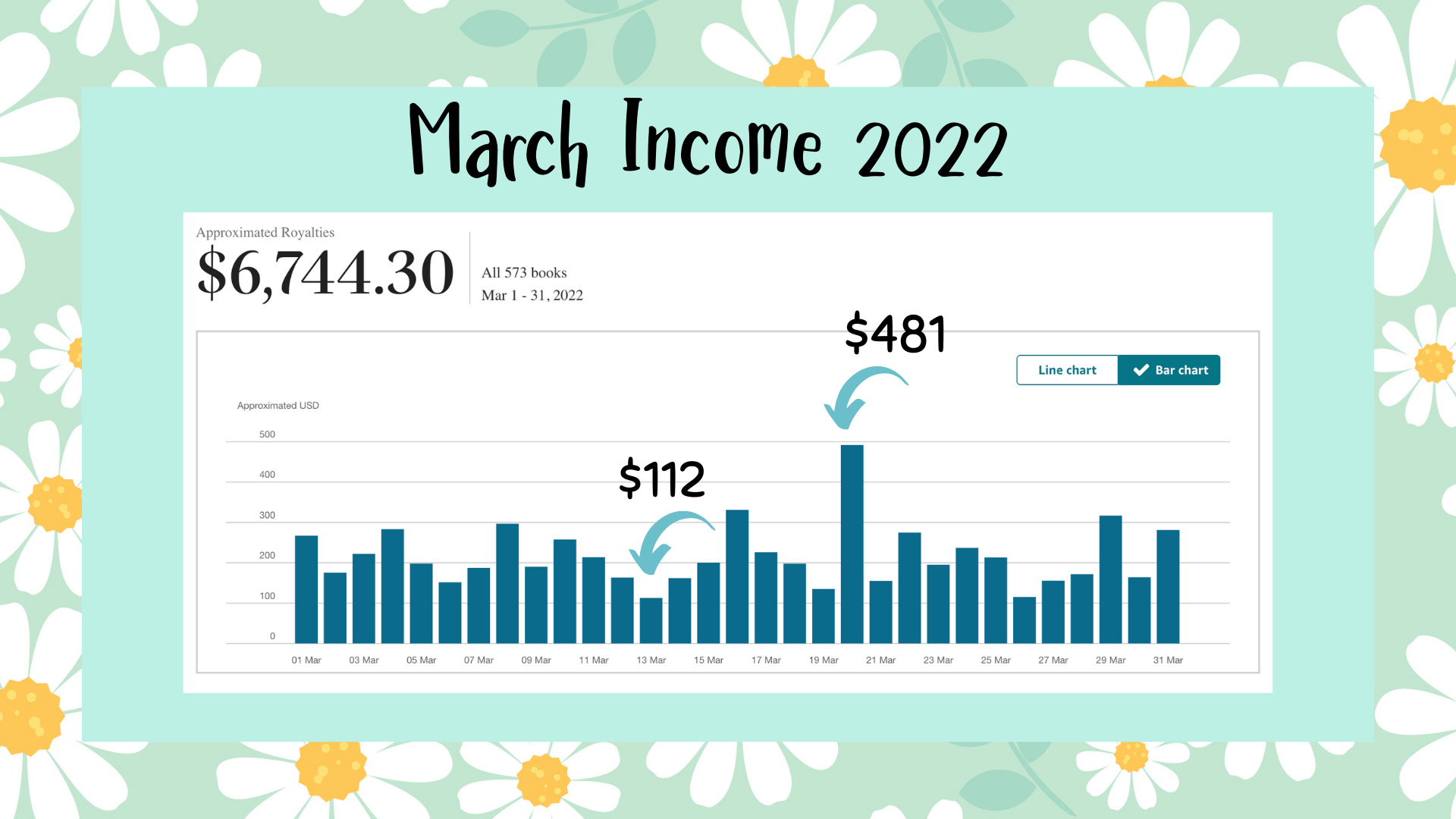 Last March was still a good month – with the highest day being $481.
March 2023 AD Spend:
I really didn't check in much to my Ads account at all this month!!! This has been a bit of a running theme recently :/.
But Ad spend was pretty low! The ACOS was also good across the board.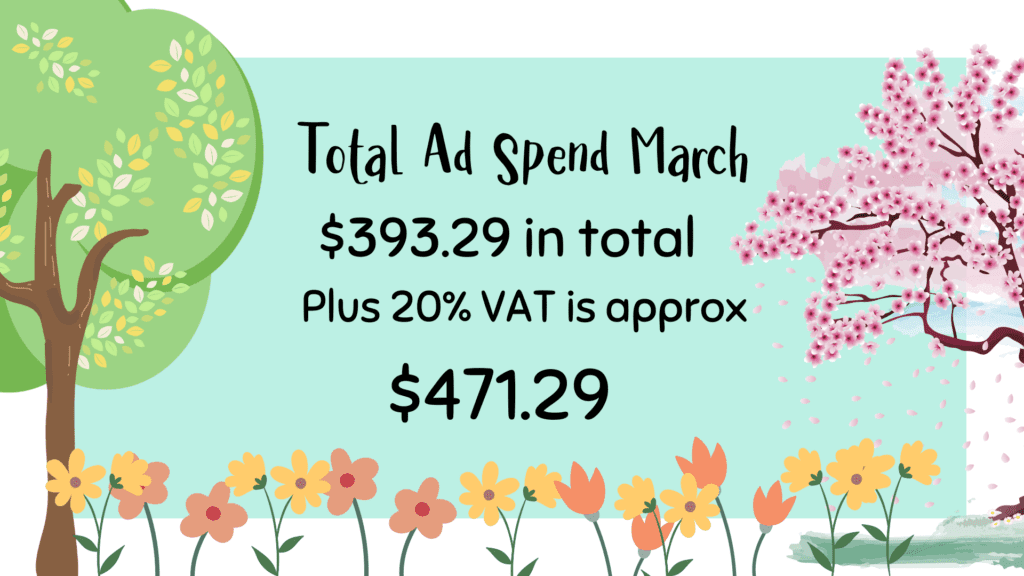 Ad spend platform by platform:
You can see the UK below at £172.
Canada at $55.
The USA at $139.

My Expenses:
My expenses haven't changed since the previous month.
My highest monthly expense right now is Midjourney, but I do feel that it's worth it right now.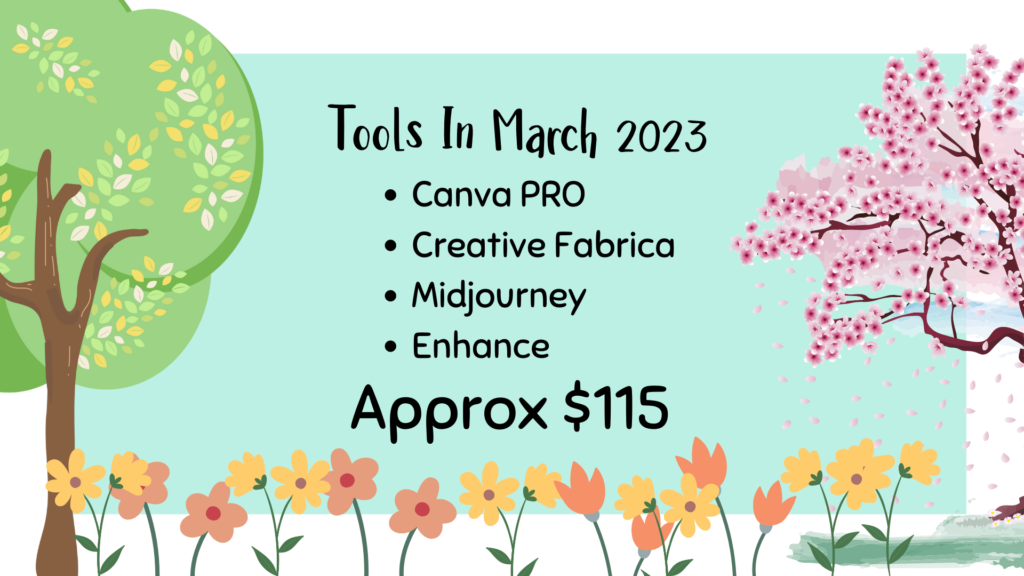 The lowest monthly cost right now is Creative Fabrica – as I'm actually paying yearly now. I'm still working it out as a monthly cost so that I can include it in these monthly reports and you can get a good idea about the average monthly cost.
Creative Fabrica currently have a great new price on and you can also get the first month for free.
I'm in the process of looking at some of Creative Fabrica's new AI tools. They've really expanded on this since I first compared them to Midjourney back in January.
I've been trying to get some clarification on a couple of issues that I have found with the tools however, but I still hope to have a video/post out about it in the near future.
Pin Me For Later!