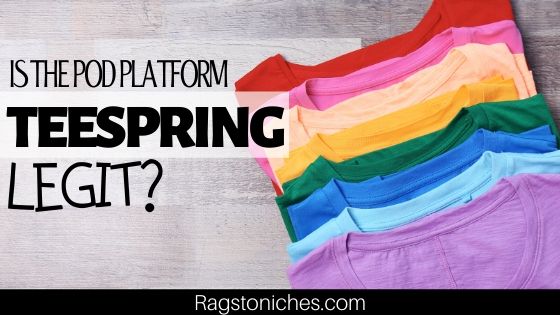 Is Teespring Legit… Can You Really Make Money Selling T-Shirts Online?
Despite the title of this article – if you join Teespring, you can actually sell more than just T-shirts.
However, T-shirts are what Teespring (and other print on demand services) are known for most.
There are various other items that you can sell too, such mugs, socks and pillow cases.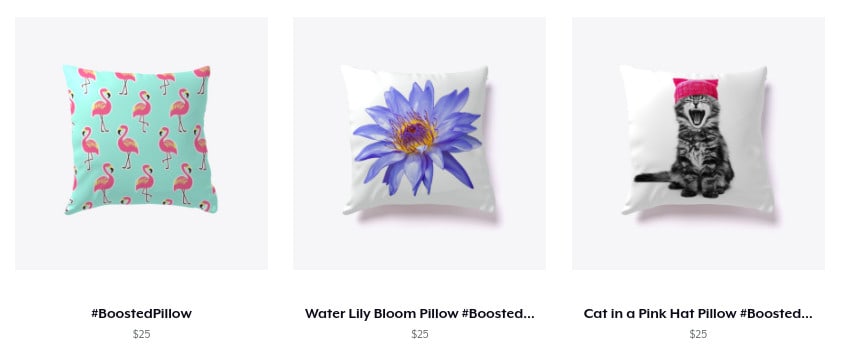 So, What Is Teespring About?
The concept is simple.  You upload your artwork and designs on to the Teespring platform – and they will deal with the printing and shipping of your products.
Your job will be to create the designs, (or have them created for you) and drive traffic to your t-shirt links.
Whenever someone buys your product, you make a certain percentage of the profit.
Generating enough traffic to sell a decent amount of t-shirts is the most challenging aspect.  Especially if you have no experience in paid traffic.
However, you can upload your designs on to Teespring easily, within a matter of minutes and there is zero cost to do so.
You can see their promotional YouTube video below, which explains the basics:
How Does Teespring Work?
The steps to making money with Teespring are straight forward to understand.
1 – Sign Up For Free.
Thankfully, joining Teespring is completely free and only takes minutes to start an account.  You can get started here.
2 – Upload Your Design:
Teespring makes it simple to upload your design, or you can create one right then and there with their easy-to-use online editor/design builder.
3 – Decide On A Price And How Many Items You're Going To Sell In Your First Campaign. 
The minimum amount that you can sell is 3 items.  You must select a minimum amount of items that you're going to sell before your item goes live.
However, you must bare in mind that if you are unable to sell that number, Teespring will not print anything at all.
For example; if you select a set amount of 10 for your campaign – but only get 9 orders in the allocated time, Teespring won't print your design.
So, if it's your first campaign, you may want to start low and get an idea of how easy, (or hard) it is for you to make a certain number of sales.
While Teespring automatically sets a suggested price, you are able to adjust this.
Again, be aware that by changing the price, you will also be adjusting your profit.
4 – Write Your Product Description.
You'll want to spend some time coming up with an appropriate product description, something will stand out to your customers.
You also have to select the duration of your campaign – which could be up to 21 days.
5 – Promote Your Product And Make Sales!
Once your product is live, it's your job to promote it.  Teespring has training that can help you do this more effectively.
It's not wise to jump into paid advertising, (such as Facebook Ads) with zero experience.
Start small, spend some time learning about what works and experiment without spending vast amounts of money.
I've heard many times about people ploughing money into Facebook Ads with no experience – and having terrible results.
6 – Collect The Profits!
Once you've reached the minimum order requirement – Teespring will print and ship your products and pay you the profit you've generated via Paypal.
You can now get going on another campaign.
TeeSpring First Impressions:
When I first arrived, I presumed you just had to upload your own designs.  But actually they have an inbuilt program that shows you how you can create and upload a variety of designs.
You can see my own quick attempt below!!!  This took around 10 seconds and it shows, I know ;).
But you can quickly make basic designs here, even if you have zero design experience.
If the design aspect really isn't for you, you can also outsource the work to designers on somewhere like Upwork.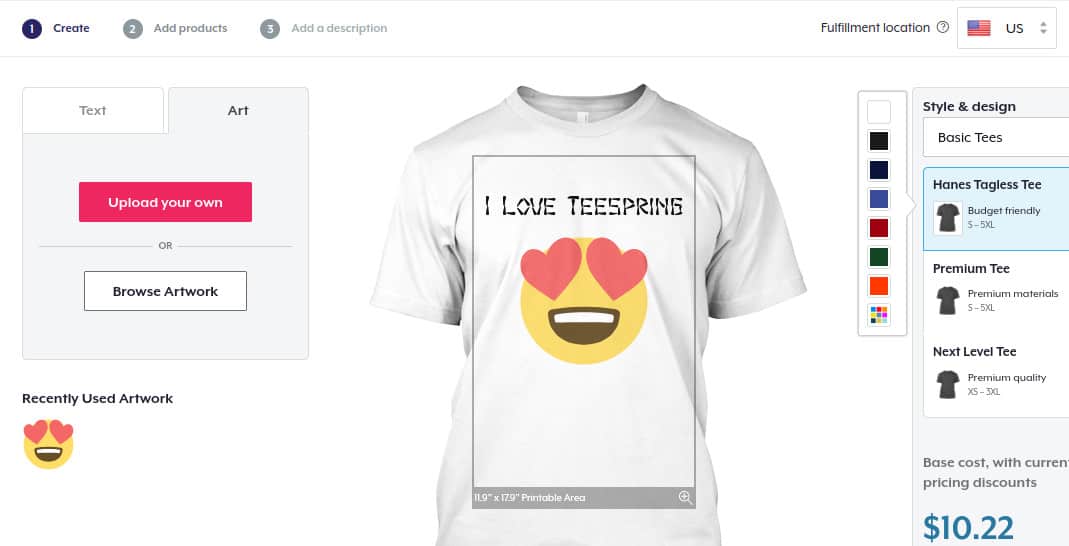 The program was incredibly simple to use and contained some free images that you could use also.
There is also the option for you to upload your own artwork and see how it looks – you can move the image around for the best fit.
How Much Profit Will You Make?
I was surprised by the amount of profit you can generate per item, considering Teespring deal with the actual printing and delivery.
If your t-shirt is priced at $21.99 – then you will generate $11.77 per shirt… which sounds like a really decent profit to me.
However, $21.99 will be pricey for a t-shirt for some and to have a lower base price, you need to sell a larger number of shirts.
There is a bigger problem though – and that is that you will be eating into your profits paying for advertising.
So, you need to be cautious with your campaigns when you're starting out – you don't want to be paying out more than you're getting back!
Teespring Training:
Thankfully, if you want to make a go of it with Teespring, they do have a bunch of useful training available – and it's absolutely free too.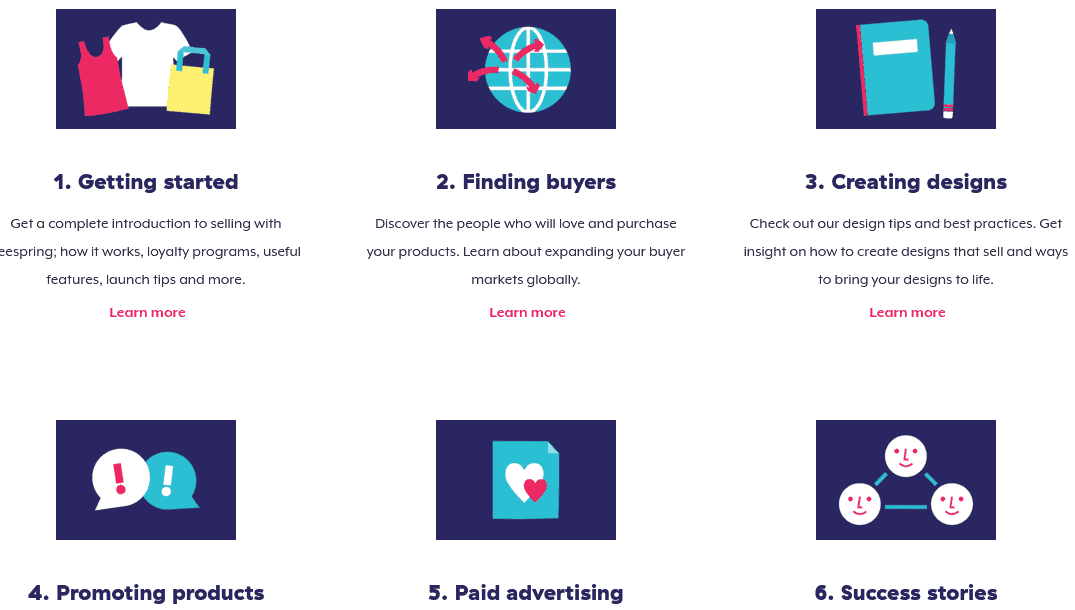 I recommend going through all of the training thoroughly, before you even upload your first design.
By digging into the training, you will see what you're getting into and think may think more carefully about which niche to target.
I spoke a little bit about this over at this post – which talks about how you can make money with Facebook.
You're going to have the best chance of making a sale, if you can target a specific audience who will be already be interested in your niche.
Teespring Reviews:
One thing to check out too, is the quality of the t-shirts themselves.  Thankfully, as far as quality goes, there are plenty of good reviews out there.
Although, you're never going to escape some bad reviews with a business of this size.
Teespring Complaints:
When it comes to complaints, people have various issues – but certain ones seem to pop up more regularly than others.
Many people complain about not getting paid, or payment being delayed for too long.
Another complaint tends to resolve around delivery issues, such as arriving late, or items showing up in the wrong size.
Thirdly, there are complaints about the quality of their tshirts.  Although, there are plenty of positive reviews about this too, so it's  a bit of a mixed bag!
Conclusion – Is Teespring Legit?
Teespring is definitely legit.  In fact, it's thought to be one of the better print on demand services available online today.
I've only just started to dip my toes in the world of print on demand and have just started making my very first t-shirt sales over the last couple of months.
It wasn't with Teespring though!  It was with Amazon.
The difference with Amazon is, you don't have to drive traffic to your t-shirts, (unless you choose to) because as long as you choose the right keywords, you can attract free traffic directly from the Amazon Search.
Amazon's print on demand service is called Merch By Amazon and it's still very early days for it.
It doesn't have a fancy editor on there and you can only print tshirts so far – it's also only available in the US, (although anyone Worldwide can sign up).
However, there are many people having success with it.
Related: Merch By Amazon over here.
If you're interested in turning a niche idea into a long term business, there are various ways you can earn money from creating a niche website – you can even promote your own t-shirts on your niche site and attract free traffic.
If that sounds confusing, it's easier than you may think.  It would be a good long term plan to consider, while you work on starting your t-shirt business.
If you'd like to know more about that – this is where I first got started.
You can check it out for free.
Have you had any experience online with print on demand websites?  Let me know in the comments below!