So, you love reading and you have so many books that they're starting to take over your entire house.
You're wondering – can you make money selling books on Amazon?
Well, not only can you make a bit of extra money in this way, some people have made it their full-time occupation.
No, not just by selling their own books of course.  But by buying books at a low-cost, (or even getting them for free in some cases) and then reselling them.
I recently reviewed an App called "bookscouter," which made me think more about this.  
The great thing about this side hustle is, you can start completely for free – by selling your own book collection.
Therefore, the risk of getting started is pretty much zero and you can learn a lot about this business model by getting started selling your own stuff.
Plus, you may choose later to sell other things on Amazon and branch out – creating a book selling side-hustle could be a way to fund this and create enough profit to buy inventory of other products.
So, what I'm going to cover in this post, are the following:
Getting Started Selling On Amazon, (FBA Vs FBM?):
Individual Seller Or Professional Seller FBA Account?
What Kind Of Books Sell Well?
Advice From An Amazon Seller On YouTube.
Where To Find Books To Sell?
Amazon Scanners.
Other ways to make money with Amazon.
Making Money Online Long Term.
Getting Started On Amazon – FBA VS FBM?
If you're wondering what all those random letters are, they all stand for ways that you can fulfill your order via Amazon.
One of the great things about Amazon, is they do give you the opportunity to have quite a hands-off business.
Because, if you ship them product in bulk, they can deal with postage and packing, storage and even customer service.
Let's have a look at the options:
1. Fulfilllment By Amazon, (FBA).
This is probably one of the most well-known ways to fulfill your orders and also one of the most newbie friendly options.
With this option, you can ship your product off to the Amazon warehouses.
Then, whenever you get an order, AMAZON will do the shipping and packing for you.
Another perk of doing it this way, is your books will have the "Amazon Prime," option. 
This means that your customer can get their book delivered as early as the very next day.
There are lots of great benefits to FBA, but there is also, (of course) additional fees – such as monthly storage fees.
Since generally books are not going to be high-cost items, you may find your profit margain is small.
In this case, FBA is generally the best for sellers selling in high volume and not concerned about having a low-profit margain.
However, if you're looking for convenience, nothing can be better than FBA.
Also, many sellers say that having Amazon prime available, drastically boosts your sales anyway and therefore, you will earn more with this method.
Another benefit of FBA, is that they deal with customer service…  However, this can also be a downside, as you don't have the control over it!
2. Fulfillment By Merchant, (FBM)
This is more all hands on and down to you.  In this case, you store all your product and you're also responsible for shipping.
The benefit here is, you're in control and there also aren't the fees associated with FBA. 
As you don't have the fees here associated with FBA, there is also room for higher profit margains.
FBA Individual Seller Or Professional Account?

As an individual seller, you can set up for free with Amazon FBA – but you have to pay $1 for every single unit you sell.
As a professional seller, you don't pay $1 per unit – but there is a $39.95 subscription fee.
Therefore, if you're only going to be selling 20 books a month, you should go with the individual seller plan for now.
If you're going to be selling over 40 books, then you should go with the professional seller account.
If you're the UK, fees are a little different – you can see the full details regarding fees in Europe here.
What Sort Of Books Sell Well!?
Well, all sorts of books sell well on Amazon. 
Naturally, text books can be expensive and also sell well at certain times of year – it may be something people think of first, but there is a lot more than just this.
Personally, I have an ever growing number of (unused) cookbooks gathering dust. 
It looks like I could certainly get a decent profit for popular cookbooks that are in good condition.
The best way to tell how well a book will sell, is by checking the BSR.
The BSR stands for best seller rank. 
Take a look at the image below to see where you can spot it.
Just scroll down to the product details, where you can find the BSR, (see image below)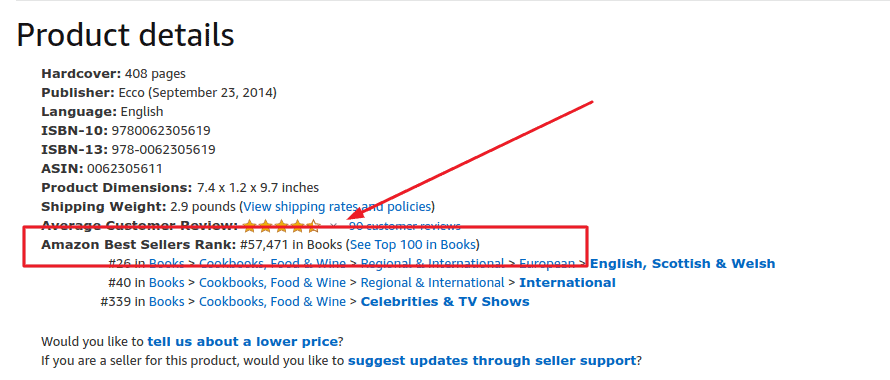 The LOWER the rank, the better.  So, a book with the BSR 1, would be the highest.
How high you will go, is really up to you and there seems some conflicting advice regarding this.
For example; some people will say the lower the better – whereas others will say they prefer to go for a medium BSR because, with the highest ranks, comes more competition and more books on offer.
Advice often suggests to look for books under the 200,000 BSR mark.  
But there are other sellers who will go over this.   
Especially those who are using FBA, who may seemingly go up to the 1000,000 BSR mark!
The brilliant thing is, it's not going to break the bank to experiment with this.
Get started scanning the books that YOU own. 
Make a note of the BSR and follow the guide on Amazons website to ship your product to them, (if you choose to try Amazon FBA)
From here, see how well your books sell in comparison to their BSR.
What niche were they in?  What was their BSR?  How were they priced?  And so on.
Simply gaining experience will give you a good insight into what to do next and what direction to focus on.
Amazon Seller Shares Advice:
If you'd like to know the step-by-step process for uploading your books to Amazon, this video has  plenty of infomrative info. 
The video below gives a good insight into how to get started selling books on Amazon FBA.
Certainly, he far prefers the FBA model, even when it comes to checking out books.  You can give it a watch and see what you think.
How to find books to sell?
You need to find books that you can buy for super cheap, (such as $1 or less) or even for free.
For example; some people are happy to just offload their books to someone to get rid of their things.  
You could start hustling asking friends/family to take books off their hands. – you may be surprised how quickly people will take your offer to declutter!
Essentially the places you're going to be looking at are Yard Sales, (bootsales UK!), Thrift stores (Charity shops in UK!), library sales and second hand book stores.
You an scan books as you go, (scanner suggested below) to give you a good idea about how much profit you can make on the book.
Another method is simply to buy a whole load of books in bulk, for total peanuts.
One place you could do this is somewhere like Ebay.  
Regularly, people may sell whole bulk loads of books that they don't want and you may be able to get them for very little.
Although, naturally there are going to be plenty of hustlers also looking on Ebay for these deals, so it's easier to pick up these deals at local events, (like yard sales/bootfares). 
You may see someone selling books and just take a whole load in one, without scanning any of the books.
This would only work if you get an awesome deal on the books, as you're going to have ones that you can't sell.
A good time to pick up a book bargain is at the end of a sale… This is because many sellers just really don't want to take books back home!
Consequently, they can be open to selling the books for next to nothing – or even for FREE.
Prior to ever thinking about selling books, this happened to me!
We had a tonne of books left over as we were packing up and someone swooped in and offered next to nothing for the whole lot…
By then we were tired and just wanted to get rid of the stuff. That guy definitely got a bargain.
Another way you can buy or sell books is via onine arbitrage – this means buying from one place and selling to another.
For example; you find books on Ebay and resell on Amazon. 
 However, as this can involve plenty of research and more effort, you may want to only do this on books where you CAN reach a high profit per book, (text books are a good example of when this could work).
Scanners -Scan Books & Assess Potential Profit!
Having a scanner can be an essential componest to scaling your book selling business.
Because, it means you can scan a book anywhere and see how much it's selling for on Amazon.
When you have a book in front of you, you can quickly work out how much profit you can make, (or not).
Using a portable bluetooth barcode scanner is far faster than using a phone scan and using the camera.
You can find a selection of those here.
Also, you can get scanning Apps and one that's recommended frequently is the ScoutIQ app. 
You can try it out for free and after the free trial there are two memberships – starting from $14 per month.
You get a whole two months free and this app too, which is a good deal.
By the time the two months are up, you will have a good idea about whether you really want to make money selling books seriously!
 Other ways to make money with Amazon?
Selling books on Amazon is just one way to make money on this platform and there is an ever growing number of ways.

Of course, you can move on from books, to selling other products on Amazon.  There are many course online that teach you how to do this.

One of the most popular online is the Proven Amazon Course and it has many success stories.

Some other ways include:
Print on demand, selling your tshirt designs on Merch by Amazon, (Post about Merch here).
Being an Amazon affiliate – promoting any number of products on Amazon, for a commission.   
This is one of the very first ways I started making money online, I talk how to make your first affiliate sale here.
Affiliate marketing is one of the main ways I make money from this website – I learnt about that here.
I love the affiliate marketing model, because you don't have to deal with any physical products at all.
As affiliate programs go, the Amazon program is one of the most beginner friendly options.
No doubt, as Amazon continues to grow, additional money making ventures will start to emerge too.
Some other posts that you may find useful:
Making Money Online Long-term:
I always loved the idea of having multiple side-hustles – but you also don't want to spread yourself too thin!
Personally, I recommend choosing one path and dedicating all your time to that one thing, until it's successful and you can understand how to scale it.
If you automatically jump into many different things at once, (which I have done myself many times) you're going to find it difficult to give any of them enough attention.
Consequently, you can end up getting overwhelmed and having disappointing results.
So, choose a path and just put everything into that – it is so easy to be distracted and it's a challenge a huge majority of us have to deal with.
For me personally, I started several affiliate websites at one time and it just got too overwhelming. 
I then started with Merch by amazon designing Tshirts, but found that was taking me away from my website.
So, now I'm primarily working on my website, that brings in money via affiliate marketing, (mentioned above) and also paid advertising, (those Ads that are around my site).
I do recommend having your own blog or website,because there are so many ways that you can profit from it down the road and it's something that is yours to grow.
If you'd like to learn more about affiliate marketing and making money online in general, this training really helped me.
If you have any other questions, feel free to leave me a comment!
All the best,