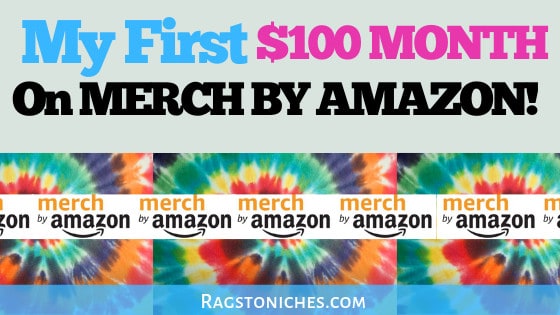 Merch By Amazon..  Yes, My First $100 Month!
Last week was half term, (kids off for a week) and I took the week off from working on this blog, but was still working on trying to grow my Merch By Amazon side hustle.
Since then, I've moved into the 100 tier, (which means I can have up to 100 tshirt designs live at any time).
Unfortunately, you can't just upload a tonne of shirts in one go.  In the 100 tier, you can upload two designs per day right now.  So, I have made sure to do that each and every day.
In any case, with ONLY 25 designs live, I managed to reach my first goal of $100 in a month – actually, it was slightly over this.

While this is just a small amount, this is just the start and I know that if I can make $100 with this in a month with 25 shirts live, then I can certainly scale it up from here.
I guess my next milestone goal will be $500 a month!
Update from the future: Is Merch By Amazon Still Worth It?
Entering The 100 Tier:
You need 25 sales to enter the 100 Tier – but I think I had over 30 by the time I was tiered up.  You often will be waiting for several weeks.
Once I went into the 100 tier, everything pretty much slowed down to a halt.
The two shirts I'd sold most of were Halloween related – now, the sales had stopped!
Most of the sales were actually from one single shirt in particular, that just took off.
This has alerted me to how up and down this whole thing can be. Which is why, it's not something I'd want to rely on 100%….
But as an additional source of income, I am really enjoying the whole process.
Once I started uploading in different areas, none of the new designs sold.
I now have 52 shirts live as I write this and the the only ones that have sold since Halloween, are STILL the same Halloween related shirts, (yes, even after Halloween).
However, even though those shirts were intended for Halloween, they are not exclusively Halloween related – so I can understand why they're selling.
They're also ranked really highly for various keywords.
Lessons I'm Learning:  right after Halloween, I thought I could replicate some success by creating shirts for Thanksgiving…. but while there are so many sub-niches for Halloween, there isn't quite that scope for Thanksgiving.
There is a LOT of competition for these Thanksgiving shirts and – as yet, I have yet to sell one in this area.  I also threw up a couple of Xmas shirts, but they have also yet to sell.
I created various shirts in tonnes of different niches – and that could certainly be a bad thing. After hearing another Merch seller talking about this, I decided to change tactics!  They suggested going after a niche by adding a lot of different shirts and not just chucking shirts out all over the place and hoping one sticks.
I took this advice on board.  I found a little niche I liked the look of and created a bunch of different shirts related to it.
The problem was, after I started uploading them – I realised they probably weren't the sort of shirt people would buy at this time of year!   Doh… stupid mistake.  So, it's back to the drawing board again.
Some other advice I'm looking at is to – is to identify what shirts are selling and make some other shirts in this niche.  For example, there is a way I could create more shirts in this Halloween sub-niche to make them evergreen and not just seasonal.
Merch Plans Going Forward:
I need to reach 100 sales to move into the 500 tier.  I realise this would make a lot of difference to me.  It would also mean I could move up to four uploads a day, which could really boost things for me.
I need to do more niche research and find a niche that I can really all-out go for and make a tonne of different shirts in.
I've really enjoyed focusing on one niche in the last week and even if it was, (potentially) a bad choice for this time of year, it's still taught me some valuable lessons.
So far, this month isn't looking good sales wise, but it's very early days!
By the end of this month, I will have 100 designs live and it only takes a couple to take off to start making money, so I am sure this will pick up.
Also, tonnes of sellers have complained of a sales slump online since Halloween. 
Apparently, the same thing happened last year and started to take off again around the second week in November.
Raising Prices:
When I was in tier 25, I was keeping my prices very low just so that I could tier up.
Since I've tiered up, I have raised my prices somewhat – but it really depends on how other shirts are priced in the niche.
I have tried raising my prices to the magical $19.99, (which many claim they're selling fine at) but I didn't sell for a few days, so I brought them down again.
I guess that's probably really not long enough at all to tell!
I will be experimenting more with price points as I go on.
Update: My current tactic is to try putting the shirts up at a very low price, until I get a sale. Then increasing the price.
What About Other POD Platforms?
So, I'm a big believer in not keeping all your eggs in one basket and there are many other print on demand (POD) sites out there.
The difference with Amazon is, you get to benefit from their traffic and with most other platforms, you need to direct traffic to your shirts.
There are a couple of exceptions and the newest one around right now is with Etsy!  It's called Printful.
Basically, you just connect your Etsy store with printful and you're then able to upload your designs directly to your Etsy store.
Printful create the product for you and ship them off.  They then take their cut and you make a profit over the top.
It looks awesome, because it's not just shirts here.  There are a variety of clothing items, leggings, mugs, hoodies and so on.
I'm very familiar with Etsy and the sort of thing that could work well on there – I've also been an affiliate with Etsy for a couple of years for another website.
I think this would be an awesome opportunity to expand.  Etsy are also less strict with some of their rules.
So, shirts that would have no chance of getting on to Amazon, could well have a chance on Etsy.
The only issue for me is, I didn't already have an ETSY store…
So, you need to set up a store before you can connect Printful, but you can't set up a store unless you add at least one product uploaded first.
The advice I've received from others is to simply create a fake product listing for a moment, in order to set up the shop and connect to Printful.
Then simply delete the fake product listing and fill your shop with your products!
So, this is something I will be doing within the next week.
As frustrating as it is being restricted with uploads via Amazon, it's also quite nice, because it makes it manageable.
I can't upload tonnes of shirts a day, so I have more time to research and figure out what I'm doing.
It also gives me this time to expand on to other platforms.  The only other platform I've really thought much about is redbubble.… which also has some of it's own traffic.
Update: I found Etsy was taking up too much of my time and I didn't like having to pay Printful upfront for each shirt and being paid separately by Etsy… I decided to focus back on Merch for now!
I'm No Graphic Designer!
I'm not a designer and don't have any real skills in that area at all – I have no idea how to use photoshop, or illustrator.
However, I really wish I did!  Because I have plenty of ideas for designs, I just don't know how to create them.
I would actually like to physically draw designs and scan them in and adapt them.
While I have no graphic design experience, I at one time was going to take a degree in Art and do crave creating my own designs from scratch.
Update: I just got an Ipad Pro and am learning how to create designs in Procreate… it's amazing!
For now, I'm just making it up as I go along.  I use some images that are safe to use and create my own design with them – or sometimes, just go for text based shirts.
Have you had any experience with print on demand, or Merch By Amazon? 
Let me know in the comments below.
One of my main income sources right now, is via my website – via paid advertising & affiliate marketing – You can learn how to make money from a website here! 🙂
All the best,