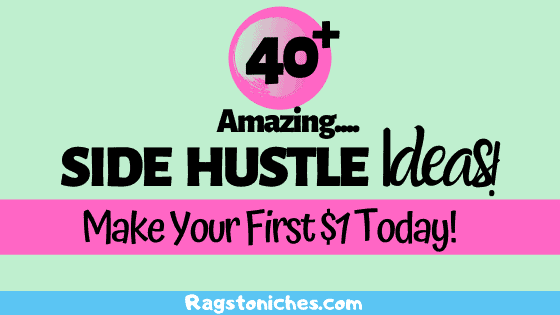 This post may contain affiliate links.  Thank you for supporting Rags To Niches!  Full disclosure here.
Today, I'm sharing with you 40 different side hustles you can make your first dollar online… and scale up from there!
With any of these methods, you can start making money online.
While some opportunities may only make you a few dollars here and there, others could potentially bring you in a full time income online and beyond.
If you can make 1 dollar online.. why not $5, why not $10, $100, $500 and more?
Sometimes it only takes that first dollar to start to "get it", and see the potential.
A great part of making money online, is there isn't a ceiling to your earning potential. It's not like you reach a point and can go no further.
When you have an online business, here are so many ways that you can keep growing over time and additional income streams you can start building.
But making money online is NOT just for people looking to build an online business.
It's for anyone who wants to make a small amount of extra cash, to a part time income, full time income… and everything else in-between.
When it comes to the bigger opportunities, those are the ones where you really have to put a lot of work, focus and energy into them.
But they are also the ones most worth your time and effort in the long-term.
So, let's get stuck into this list!
top tip – this training helped me to create a profitable website & taught me a bunch of skills.
1. Start A Blog/Website – Don't Underestimate It!
Well, I had to put this at the very top of the list…Seeing as it's how I make the most money online right now.
Far beyond making $1 online, there are many bloggers who have completely replaced their day jobs and are making a good money, (some crazy money).
After a tough start, I now have days where I have made several hundred dollars in a day… which has been amazing for me!
But that's just small change for some bloggers.
……There are some bloggers making six figures a month.
While those are in the minority, there are thousands of bloggers making little additional incomes, full time incomes and everything else in-between.
So, just because you may see bloggers writing income reports making five and six figures a MONTH…
They didn't get there over night and everyone starts off small.
Once you're established, there are many ways you can earn money from your blog, whether via affiliate marketing, sponsored posts, or paid advertising.
You can also build profitable blogs and websites to sell, which can be very lucrative as well, (more on that a bit further down!).
Check the links below, for how you can get started building your own profitable blog or website.
2. Completing Paid Surveys Online!
Online paid surveys are one of the most popular ways for people to make a small amount of money online, millions and millions of people are signed up to a mass amount of sites online.
There are literally hundreds of online survey sites that will pay you for answering surveys online and many people have made their first dollars online via survey sites.
They can be frustrating at times, as you have to always fulfill a certain demographic to manage to complete the survey, but generally if you can manage to complete the survey.
Earning between 50 cents and $2 per survey is most common and you will rarely get more.
Stay away from any survey sites that claim you can make thousands a month and never ever… pay to join a survey website!
For a list of some legitimate survey sites online and some of my personal recommendations –  see the posts below!
3. Freelance Writing
If you're a keen writer, then writing for other people could be your gateway to making money online.
It's often said that freelance writing is one of the easiest ways to make your first dollar online.
But when you think about it, it can seem really overwhelming to get started,
If you have no experience online at all, where do you go?  What do you do?  How do you start?
One course I took myself and rate highly recommend, is Gina's, "30 Days To Freelance Writing Success!"
You can also pick up a very Useful Freebie Here!– which will help you get started! 🙂
Other useful posts:
Pin Me For Later! 🙂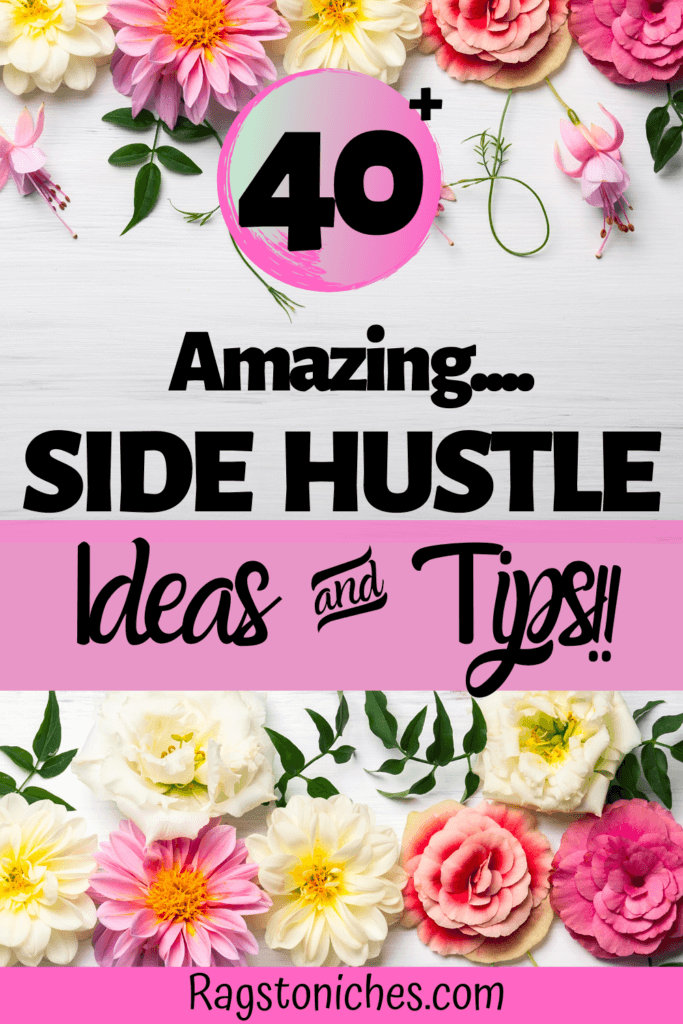 4. Get Cashback Online!
I've reviewed numerous cashback sites and apps on Rags to Niches, so if you're familiar with my blog then you will have heard a fair amount about it already.
But it is one of the quickest ways to make money online and especially a small amount.
This will only work if there is something you actually want to buy though.
Swagbucks – Also offers, surveys and more.
Ebates – is a well known and well reviewed cashback site if you're in the US.
Maximiles – UK, France, Spain, Italy,
5. Cashback Apps
As well as earning cashback directly online, there are also some fun apps around that you can download for free and can save you money.
A few that I've reviewed well include:
6. Start A Niche Website!
Yes, this is similar to starting a blog, or niche blog but it's different as well.
There are plenty of niche sites that are pretty much just review based and there isn't much personality going on, in fact – the actual creator may appear to be anonymous or more of a company or group, (even if it is only one person that started it).
The differences between a niche site and a blog can be quite subtle and there are cross overs in between on many levels.
However, there are certainly certain sites that you could categorically describe as a niche site.  One such site would be thisiswhyI'mbroke.com
This website is a prime example of a successful niche website and it makes a tonne of money from affiliate commissions.
There isn't really anyone injecting their individual opinions on this site, it's just full of weird and unusual products that people love to share and talk about.
I also mentioned this website over at another post I wrote:  How to make your first affiliate sale online.
Some other posts that could help:
7. Flipping Sites – Selling Websites & Blogs For Big Money!
Another thing to consider down the road, is building websites to sell off at a later date – OR purchasing websites to sell for a profit.
This is why building blogs/websites can become EXTRA profitable.
Many people build up a blog or website to a certain income level and then simply sell it, for a massive profit.
If you have a blog or website that is consistently making money each month, things can get very interesting.
How much you can sell your site for, really depends on many factors. But it also depends where you look online!
Some sources claiming you could earn 24 to 34 x the monthly profit, (seems steep, but I've seen it happen!).
Another source claiming that 6 to 10 x the monthly profit may be more realistic in many cases.
Again, you will want to check out Flippa, before you think about selling your site.
Before you even go into this, it's a good idea to check out what's going on.
I was in shock when I first found out how much you could sell a website for!
8. Print On Demand – Design And Sell!
Print on demand companies provide a service whereby, you send them designs and they print those designs on items of your choosing and will ship them for you to your customers.
In the past, this could be a bit tricky to get started, as you would have to generally pay for traffic online to get sales.
But now there are some services online where, you may not necessarily have to pay for traffic.
One of these is Merch By Amazon, which gives you the opportunity to sell your designs on the Amazon platform and benefit from their traffic.
The main issue is, there is now a tonne of competition.
Still, there still opportunity here, but you do need to apply and they have a waiting list.  I'm told it's now harder to be accepted.
Another, more recent opportunity, is with ETSY. 
Etsy has now paired up with Printful, which means that you can print your designs on a tonne of items, (from clothing, to mugs) and have them on the ETSY platform.
Printful fulfils the orders for you and ships them to your customers.
However, it's a little more complicated than Amazon, although there is a lot less competition right now.
One thing that has really helped me get started is a site called Etsyrank.com  – they have really fantastic tools for Etsy sellers and I am just using the free version!
Another platform that has it's own traffic is Redbubble, although to a lesser degree, it's still worth signing up.
9. Become An Affiliate – Promote Other People's Products And Services For A Commission!
Affiliate marketing comes hand in hand with some of the ideas I've mentioned.  Such starting a blog, niche website, YouTubing, or Clickbank.
However, it's such a big thing that it deserves its own spot as well.
You can earn affiliate commissions for promoting other peoples products and those can rise as high as 100% in some circumstances.
Although, anywhere between 1% and 50% are common commissions affiliates can expect.
Affiliate marketing really isn't quick or easy, but it can be lucrative once you reach a certain level.
Wealthy Affiliate teach you all you need to know about affiliate marketing, from scratch.
These posts can also help:
10. ETSY – Get Creative!
While I just mentioned Etsy for print on demand, if you're also a bit crafty and enjoy making your own items, you could also sell directly on the platform.
In this case, you would actually be creating and sending off your items, so it's far more hands on.
However, with the right product that is not too time intensive, you could still do really well.
You can also make money from being an Etsy affiliate, (recommending Etsy products and services on your blog) and this is something I do on one of my other blogs.
11. Clickbank – Huge Digital Market Place.
Clickbank is an online digital market place where you can both create and sell your own digital products, or work as an affiliate in order to sell other peoples products, (affiliate marketing knowledge needed)
If you want to learn how to create and market your own digital product online, you could checkout Spark.
12. Fiverr.com – Sell Various Services From $5.
Fiverr is a great platform with plenty of opportunity.  You can start selling gigs of all kinds from $5.
That used to be the end of the story, however you can now grow with Fiverr and sell your services for considerably more.
Take a look at the links for some inspiration to get you started.
13. Complete Cash Offers – For Profit.
This is where you will typically sign up to something, whether it be a free trial, newsletter or website and you get some money in return.
Often, this may involve spending some money first, (for example; you may have to pay $1 to join a trial and then you get $5 back once the trial is completed).
Typically offers that pay the most are things like, joining online casinos.
There have been various programs online that will claim you can make hundreds or thousands of dollars from completing cash offers alone.
Largely, I wouldn't recommend this.
That's because, you often have to give your personal details and credit card details to complete offers and they don't always go to plan, you can also gen inundated with spam and spam calls.
Make sure you take screenshots and have proof of any purchases you make, in case the offer does not go through.
So, if you do decide to go down a cash offer route, I'd suggest you do it on a temporary basis.
Some common places you can find cash offers include:
14. Get Paid To Walk & Get Fit
There are Apps out there that actually pay you to walk, get fit and partake in various fitness tasks.
This is only something I've recently been exploring.
The App I'm currently using most – is called Sweatcoin!
You can earn sweatcoins every time you walk outside and you can eventually exchange these coins for rewards.
The creators hope in future, is that the Sweatcoin becomes a digital currency – much like bitcoin.  sign up to Sweatcoin.
15. Answer Questions Online.
At Justanswer.com you can use your expertise to help people, in exchange for cash.
The company has plenty of good feedback online and some of their top workers are making good money.
The sheer amount of different categories you can be an expert in is quite large, so it could be worth checking out, (even if you're not sure what you'd qualify to answer questions about).
16. QMEE – Get Paid From Ads & Surveys!
Qmee has a little browser extension that can be downloaded for Google Chrome.
When you search online, Qmee will pop up with suggestions for other things that you may like, related to your search.
For example, if you were searching for a particular type of clothing on Amazon, Qmee will pop up to the side and suggest an alternative.
If you click their add, you will earn a certain amount of money.
Generally each time this may only be a tiny amount – (in the UK about 6p or 8 cents in the US).
But it all adds up and it wouldn't take too much each day to make that $1… as they also now have paid surveys as well.
17. Matched Betting, (UK/Ireland opportunity).
Unfortunately, this isn't available to US residents, but is something I have done myself in the UK.
This essentially involves risk free betting.  Where you use book makers bonuses to make a profit, without risking your own money in any way.
It's a betting loophole, that's completely legal.
There are programs that talk you through exactly what to do, step-by-step.
I recommend a couple of programs below:
Learn More About Matched Betting Here.
18. Listening To Music & Writing Mini Reviews.
With sites like slice the pie and music xray, you get paid for listening to music and sharing your opinion.
Slice the pie also has additional ways you can earn now too  – by writing mini reviews on topics such as fashion and audio branding, (the categories change, I have seen options such as homeware and toys in the past).
You certainly won't earn much and the amount they pay seems to go up and down – but, if you're luck, you can complete reviews when a category is on a bonus and earn extra.
I used to be able to get close to 20 cents for a review at times with Slice the pie.
Now it seems more like 5 cents.  So, you would have to combine this with other activities to get to your $1.
That being said, it's an interesting way to discover new music and brands.
19. Dropshipping.
Dropshipping is a sales model that takes a lot of the hassle out of direct sales.
You don't have to hold any of the products yourself, you simply get the sales and a third party will deal with shipping the item to your customer for you.
It means that your product could be created on the other side of the world, but you can still sell it directly to others.
I'm certainly no expert when it comes to this method of online business, but I can direct you to some people that DO know their stuff….
Profitable Online Store – This is an online course from a guy who REALLY knows his stuff.  Steve made over 100 thousand dollars profit, in his first year of business.  Amazing stuff.
I absolutely love this YouTube Channel – Wholesale Ted – They have some really easy-to-digest videos all about dropshipping and how to get started.
20. Create And Sell Kindle Books.
Kindle isn't what it was a few years ago, when many people had quick success creating and selling e-books, largely ones that they cheaply outsourced.
Amazon was flooded with poor quality books and they had a bit of a crack down.
Even now though, the competition is tough and you'll be wise to already have a platform/audience before you get started, (like a blog or email list already).
Still, I'm confident there is still opportunity here, if you're dedicated and you don't have to stick to ebook – now you can print physical books directly via Amazon too.
If you're a particularly talented writer and have always wanted to put a book out there, there is really no excuse not to anymore!
Authority Pub Academy– A well reviewed course, Steve Scott has been highly successful selling on Amazon, so is certainly worth listening too.
21. HireWriters – Start Freelance Writing.
While you could class this as "freelance writing…"  this is a step down, so I gave it a different section.
That is because, Hirewriters is what is known as a content mill.
You can get content created cheaply, but you can also write content and get paid.
It's a small amount at first, but more experienced writers get paid more.
Hirewriters have some excellent quality writers and I have sourced content from there myself.
If you're a good writer, you can definitely get hired by the same people again and again!
You need to be a native English speaker to write for Hirewriters, (which isn't the case somewhere like iwriter).
Other Content Mills You Could Try:
22. Become An Online Influencer.
This is going to be an option for you if you have a large social media following.
Generally, you will have a relatively successful blog or website, or a decent sized YouTube channel.
You can connect with brands and they will pay you for certain tasks.
For example; they may pay you to write and share a blog post about them, or their product.
One company I'm familiar with in this space is Webfluential.
Some others I haven't checked out, but have heard of are:
Alternatively, I found a great blog post exploring 57 different influencer platforms, over at Stedavis.com
23. Become a YouTuber!
Another long-haul method, much like blogging.  However, there is so much potential in this space for people who aren't camera shy.
There are YouTube videos about everything and anything – but to stand out, you will really want to have a well defined niche and you'll want to target something that lots of people are searching for.
YouTube has considerably less competition than blogging – but a good idea is to combine the two.  Have your blog AND your YouTube channel combined.
Not to say this is an easy route by any means, it's still only a minority of those that give this a go, that see real success.
However, if you're talking about making extra pocket money, or even a part-time income – this is completely achievable for anyone who is prepared to put some work in.
24.  Earn Cash By Sharing Deals And Vouchers.
Dealspotr,is a cool website where you can earn for sharing deals online.  It's a bit like a cross between a voucher site and a social network.
You can earn points for various activities on the platform, including sharing and editing deals.
If you're a blogger online, you can also earn additional money and bonuses by signing up as an influencer.
25. Field Agent – Complete Local Tasks For Cash!
Field Agent is an App that gives people an opportunity to earn a small amount of money by completing tasks locally to them.
You first need to download the App and answer some basic questions.  You then set your radius, that will give you the distance you're willing to travel to complete a task.
You will then see a list of opportunities available in the area.  If you want a job, you must accept it and complete it within an aloted time frame.
Once the job is completed, you follow instructions to send your results to Field Agent.  If everything goes according to plan, you get paid.
How much work is available will vary considerably depending on locaiton.  If you live in a big city, of course there will be more jobs available than in a tiny town, in the middle of nowhere.
Therefore, how much you make – is going to be dependent on location and how many people post jobs in that location.
26. Virtual Assistant Work!
We've discussed freelancing in general, but not specifically for VA work.
Virtual assistants can really do any number of tasks – from writing emails, taking phone calls, doing research, creating content, social media management and much more.
Initially, I thought that VA's hired online would only be earning peanuts, as they're so often hired in locations where the dollar or pound are worth considerably more.
But, then I read this post! Where Gina claimed she earned $34 an hour when she just started out.  So, clearly, there are opportunities for getting a decent pay as a VA.
27. Get Paid For Searching The Web!
Some websites pay you for searching the web online.
You use their search engine and now and then, you will earn a certain amount of points during the search.
The company I use for this is Swagbucks – as they have a browser extension that makes using their search engine very simple.
Also, QMEE pay you to search in a different way.  As, they give you alternative suggestions to your search enquiry and will pay you for going to their alternatives.
28. Making Money With Adfly!
When I have looked into this more in depth, I will link to my review.
But basically, you can make money from linking to websites via shortened links via Adfly.
If you have ever used a link shortener, then you know exactly how this works – except, in this case, you get paid.
The downside is, the people that click your links will be directed to an Ad before they reach your destination.  So, that may annoy people, I'm thinking.
In any case, it seems an easy way to get started making money online and you can even share these links on social media.
29. Mecahnical Turk – Earn For Mini Tasks With Amazon!
After reading this story on Side Hustle Nation about a guy who made $21,000 from Mechanical Turk I figured this was a site I should look into.
Despite the success story above though, most people completing tasks seem to earn well below minimum wage, if you're looking at an hourly rate.
But, still, worth checking it out if you're looking to make a little extra cash.
It's essentially a market place that posts tasks for humans to complete, that current computers are unable to do!  These tasks are described as human intelligence tasks, or HITs!
The tasks are pretty varied.  Anything from a standard type survey that you could expect from a paid survey site, to product descriptions, to choosing which photo is best potential storefront from a selection of photographs.
30. Sell Your Junk, Or Other Peoples!
Ok, maybe you won't sell things every day, but that doesn't mean you couldn't.  What about a really cheap item you could sell on Ebay?
Many people spend their weekends picking up other peoples junk from garage sales and car bootsales to sell on Ebay during the week. Some people make their living out of this.
If you're not sure what to sell, check out this list of weird items that sell on ebay!
If the thought of all that direct selling makes you a bit queasy…
There are companies that do some of the hard work for you, although you won't make as much money.
Music Magpie – (UK)You can sell your old dvds, music and electronics here.  They pay you the day they receive your items and they will even collect your box of stuff from your home!
Decluttr – the US version of Music Magpie.  I haven't checked them out yet, but they do have a five star rating on Trustpilot.

As an alternative, you could also think about selling your old books on Amazon, find out more here.
31. Provide A Service & Get Paid.
There are some freelance platforms where you can offer all sorts of freelance work.
Whether it be graphic design, writing, editing, proofreading, setting up WordPress, market research, virtual assistant work.
Any task that you could imagine yourself doing online, you could hire someone else to do it.
There are a bunch of platforms you could check out.  Some include:
32. Usability Testing – Test Websites For Cash!
Give your opinion on websites by testing out certain features and record your screen and voice as you do so.
If you think it sounds complicated, it's really not.
Each site provides full instructions how to get started and it's actually really easy, as well as fun.
This is a way that I commonly use and it can make you much more than $1 a day.
My favourite site is User-Testing, where you earn $10 for around a 20 minute test and I'm a 5-star tester on there.
The higher your ranking, the more you get invited to tests.  However, you do need to keep looking for tests, as they disappear really quickly.
33. Make Money From Your Pets And Passions!
Plenty of people online are making a good living writing and filming about the things they're obsessed with.
Because, in many cases… if you're obsessed with a certain thing, you will find other people are too!
In some cases though, there are millions of people interested in your passion and the bigger the potential audience, the bigger the profit.
Of course, the most popular passions will have a higher rate of competition, but the rewards can also be greater.
I've written several posts about how you can make money from different interests, hobbies and passions…. here are a selection:
34. Making Money On Facebook!
If you create a fan based page in a certain niche and start building up a giant following, there are various ways you can earn money from it.
As I mentioned earlier, there are influencer programs you could join that may pay you to share things on social media, but you you could also use your page to sell products on, you could use it to promote products you've created using print on demand services, (for example).
I wrote a post about this a while back here – how to make money on Facebook.
35. Entering Competitions Online!
I first started making money online, in an indirect way, by entering competitions and sweepstakes online.
It doesn't come easy!  I used to enter several thousand competitions every month.
Although, I did win everything from trips away, vouchers, ipads, games consoles, every gadget you can imagine really…  I do recommend giving it a go, as you can win prizes that money just can't by!
Related post: How to make money from entering competitions.
36. Buying & Selling Domain Names.
This is a bit more advanced – because you can actually sell domains for a huge amount of money, but you could also waste a lot of time and money.
A domain name is the name of a website and some people spend their time thinking up domain names that people could potentially want to buy and purchasing them.
At times, people could be willing to pay hundreds, or even thousands of dollars, to get a specific domain name they're after.
A prime example of this could be famous people.  If you buy the domain name of an up and coming star, chances are, they are going want the domain .com for their name.
Places you could sell domain names are Flippa and Godaddyauctions.
37. Selling Your Photos Online.
I'm pretty hopeless at taking photographs myself, but if you're passionate about taking pictures, you could potentially be rewarded for it!
Over at sites such as istock, you may be able to sell your pics for profit.
You can find 12 places you can sell your photos online for profit here.
38. Transcribing.
Something I have next on my list to really look into as a method of making money online, but one that is a pretty popular side-hustle for many… that's transcribing!
The sites mentioned below don't tend to pay very much, but could be a way for some people new online to make a little bit of an extra income.
I haven't personally reviewed these websites, but I will link to those reviews when I have.
39. General Knowledge Quiz Apps – For Cash Wins.
Straight up… you would probably need to be a general knowledge genius to regularly win at these quizzes, (which can have over a million entrants in the case of HQ).
BUT, you can make some ok money if you're amazing at quizzes.
If you don't manage to make $1 a day, at least you may just have fun in the process.
40. Become An Online Tutor!
Some people are making good money tutoring online.  It could be as simple as helping someone with their homework, teaching a foreign language, an instrument, or even something like Web Design.
If you're in the US or Canada, you could check out Tutor.com – which has a variety of subjects you could teach remotely online.
At VIP kids you can teach English online, (USA).
If you're in the UK, Tutorful have now launched an online classroom, so that you can teach lessons online from home.
---
So, that's 40+ ways that you could get started making your first dollar online!
However, there are many examples there that could turn into a full-time income over time too.
If your head is spinning and you aren't sure what path is right for you, this is where I first started learning.
I also wrote this really in depth, FREE guide, showing you how you can start your own money-making blog here.
I hope this post has given you some ideas; good luck getting started!