If you've heard of Clickbank at all, you're probably either hoping to make money from promoting them as an affiliate – or you'd like to sell your own product that you can sell via their platform.
Many people do experiment with affiliate marketing initially, before jumping in and creating their own products and this is a good idea, as you get to see exactly how affiliate marketing works.
In any case, it's likely you could have heard some mixed feedback about this company and are wondering if Clickbank is a scam, or a legit affiliate network?
Well, the reality is a bit more complicated!  So, stick with me and I will do my best to explain!
What Is Clickbank About?
Clickbank is the biggest marketplace online today for digital products.
That is, products such as informational products, e-books, online programs, membership programs and so on.
People who sign up will either be vendors, or affiliates.
As a vendor, you create your digital product and if you have put together a decent product in the right niche, you can practically guarantee that lots of successful affiliates will pick up on it and try and promote it for you.
However, there are a vast amount of poor quality products on this platform and the sad reality is, that some of these terrible products actually sell incredibly well.
Many being best-selling products!
Mainly, this is because they promise unrealistic results ranging from making tonnes of money on autopilot, to some miracle cure, to a fast acting diet and so on.
People do take a leap of faith with some of these products, because they want to believe the claims are really true…  Even when their head tells them it's unlikely!
The creators take advantage of the get-rich-quick mentality and there are plenty of people all to willing to part with their money, if they think there is the slightest chance that it could work.
So, there are poor quality products on this platform and this is a key reason  they've regularly been called a scam.
The reality is, that Clickbank do not have any special conditions for people adding products to their site and therefore, many scams, (or borderline scams at best) slip through the net.
As an affiliate, you can choose to promote any product on their marketplace and, if you sign up to the vendors affiliate mailing list, you can also access promotional materials – such as banners and email swipes.
You don't need special permission to promote Clickbank products, all you need is to sign up to the website and you can get affiliate links to any product right away.
If anyone clicks on your affiliate link and purchases a product, you make a commission.
Commissions tend to be pretty high here – with between 50-75% commissions being common.
Clickbank products will also have a money-back guarantee.
This will vary depending on the vendor – however, commonly it tends to be either a 30 or 60 day money back guarantee.
If someone is thought to be abusing the returns policy however, they will be blocked from purchasing any more products.
Want to learn about affiliate marketing? This training led to my first sales with affiliate marketing.
The Products:  The Good, The Bad And The Ugly.
One of the biggest issues that I have with Clickbank, is the lack of good quality products.
Finding a diamond in the rough can definitely be a challenge and, to make matters worse, many of their best sellers are very bad products!
Some of these scams are extremely popular and bring in tonnes and tonnes of cash to both vendor and affiliate.
What's more, the platform sadly appears to do little about it.
Clickbank will know that they have plenty of bad products on their site – but there is no quality control.
You need to make sure you properly research products, before you promote any and be weary of reviews too, because plenty of people will give extremely positive reviews to scams – so long as it's making them money!
Some products on Clickbank also appear to be Phishing scams – once they have your personal information, they will bombard you with Spam and sell your details to third parties.
Finding Clickbank Products To Promote: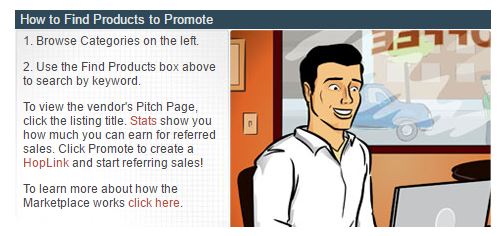 You can browse their marketplace pretty easily – the products are separated into categories and you can search for products via the search bar too.
(You could also check out CB engine for top converting products and simplified search options).
Before you decide to promote a product though, just take a good look at the sales page…
Does the product LOOK trustworthy to you?
Is it full of over-the-top, unbelievable claims and cheesy fake looking testimonials?
 If so, that's a bad sign!
If you think a product does look good, do some research by checking out any other reviews out there, (be dubious of sites that are only full of good reviews, there should be both good and bad reviews on a legitimate review site!).
 You want to look for a balanced review, that shares both pros and cons!
If you still think it could be worth it, you could contact the vendor to give you a review copy to check over, or purchase the product yourself.
When you're in the Clickbank marketplace, make sure you check out the gravity (Grav) of the product, (see image below).
In the above product, the gravity is 37.68 – this roughly means that this many affiliates have sold this product in the last 12 weeks.
This doesn't point to how many sales they've made – for example, they may have made 200 sales, but one affiliate would still just account for 1.
It's worth remembering though, that a products gravity will most likely be low if it's first been released.
What gravity you should be looking for, will depend on who you ask!
Some will say not less than 6, others 20, others 50!
From my perspective, I've had some recurring sales with certain products with a gravity of around 20 or more.
I would never base my decision on gravity alone though – if I think a product is good, I will just go for it anyway.
Another good thing to consider is re-bill sales and average sale.
For example, you can earn from re-bill sales if there is a recurring monthly fee, or if the customer goes for an upsell pitched to them in the back end of the product.
This can make a single sale go a lot further.
Promoting Products Is Simple…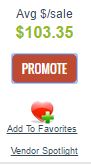 One of the perks of Clickbank is that it is really easy to start promoting products.
You just have to click on the promote button next to the product, add your Clickbank nickname in the relevant space and generate your own unique hoplink for that product.
You can then start promoting the product however you choose – many people may have a review that they drive traffic to, (free or paid) or they promote products to their email list.
You can also track every time someone clicks through to your link, check out order form impressions and track your sales via their analytics section on the website.
Something You May Not Know:
Clickbank have a couple of really crazy conditions for their affiliates and it's something that could really have a negative impact on sales.
The first thing is, in order to be paid by Clickbank at all, you need to have at least 5 sales, paid for by at least TWO distinct payment methods.
You can see the details of this in the image below.
Clickbank do this to try and stop Affiliates going through their own links and purchasing the products – thereby getting a big discount on the products.
But what if all your sales just happen to all be done via one form of payment?
When I think back, every single item I've purchased via Clickbank, has been paid for via PayPal.
So, if you're in the unlucky situation that your initial customers all pay via the same means, you'll be stuck without your payment until that changes!
But there is another rule on here that I think is potentially even worse:
Clickbank have a way of punishing accounts that are not bringing in regular sales, which I feel is unnecessary and wrong.
As you can see via the image above, if you don't have any sales for 90 days, they will start charging you $1 every single day!!
Right up to $50 a day if you have had no activity for 365 days!
So, if you think you're not going to be getting sales in a while, or if you take a break from it, do make sure you withdraw all of your cash earnings.
Who this really targets though, are affiliates just starting out!
As if it's not hard enough to get going, without having to worry about your earnings being taken.
Lets say, you just get going with Clickbank and make a sale quite quickly, but then don't get another sale a few months…
This is when they can start taking your money and you won't have made 5 sales yet, so you won't have been able to withdraw whatever month you've made.
How likely this is, is really dependent on how you got that sale in the first place though.
If you were purely relying on paid traffic and stop – then obviously your sales will stop.
If you were relying on paid traffic, but don't have much experience – then your traffic may not convert.
On the other hand, if you've been building up your website and have been generating free traffic via SEO and you don't stop creating content, then you should gradually see an increase in sales, rather than the other way around.
(make sure the products you're promoting are still live — Clickbank products can often disappear and you won't be informed).
For example, when I got my first affiliate sale on the platform, I got the next one around one month later, the month after that I had a couple of sales, then a few…
So, as long as you keep promoting your products, it is an unlikely scenario to suddenly not get any sales at all for 90 days.
Another good idea would be to not to put all your eggs in one basket, keep on the look out for other decent products that you can promote too and you'll increase your potential to generate sales.
Update: I barely promote any Clickbank products anymore, so I made sure to withdraw all my earnings to avoid the penalty!  Definitely worth keeping an eye on!
PROS VS CONS
PROS:
Anyone can sign up and promote Clickbank products.  There is no need to apply to be accepted and no special conditions you need to reach.  You don't even need a website.
There is a wide selection of products – in a variety of different niches.  Chances are, you should at least be able to find a couple of decent ones.
With the right products, you may receive recurring commissions over time.
You have the freedom to promote products however you like, there are not many restrictions placed on you, (unlike many other programs).
Products have a money-back-guarantee.
CONS:
A large amount of poor quality products that don't deliver.  You really need to carefully research the products.  You don't want to lose credibility by promoting bad products to people.
Thankfully Clickbank does offer a money back guarantee – BUT this also leads to high refund rates, which isn't great for vendors or affiliates.
Clickbank does not screen products properly for quality – therefore there are many terrible products that may remain there for years.
Conclusion:  Is Clickbank A Scam, Or Legit?
Clickbank is not a scam in itself, it's a legit business that does have a good reputation as far as paying their affiliates on time, paying out their commissions, producing refunds and customer service….
But due to the lack of quality control, plenty of the products on there are not very good and do not deliver on what they promise.
If you do want to sign up to these guys as an affiliate – just make sure you check out products thoroughly before you jump into promoting them.
Having some guidance and support when you start out is so important, in my opinion.
When it can take months to start seeing results, (when you're relying on free traffic methods especially) it can be hard going to stay motivated!
Do you have much experience with Clickbank products?
Or are you part of any other affiliate networks?
Let me know in the comments!
If you want to learn more about affiliate marketing & start for free – the training here helped me most of all.
I'm still there today!
All the best…