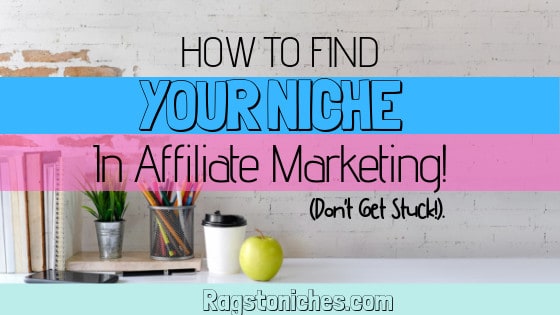 I've seen many, many people get stuck when they're trying to learn about affiliate marketing – because they get stuck in the niche selection phase!
In theory, affiliate marketing should be one of the easiest ways to make money online…
There aren't direct sales involved, you don't have to deal with things like shipping, customer service, or holding inventory.
So, while it is straight forward in some ways, it's not as easy as many people make it out to be, nor as quick.
But how do you find an affiliate marketing niche & what is a niche anyway?
I will focus on answering these questions as simply as I can.
Tip: Start Learning Affiliate Marketing For FREE Here!
What is A Niche?
People often become confused about what a niche even is.
Well, if you Google what a niche is – this is one of the definitions that fits pretty well:

Notice how it says, "specialized section of the population…" That part is key,
Because you will be focusing on a subset of the population interested in related products or services.
There are broad niches and there are narrow niches.
In general, the more narrow your niche is, the less competitive.
However, certain niches are competitive for a reason – generally because, there is money to be made.
When you're just starting out, choosing a narrower niche can be a good idea, because you can generate sales more quickly and at least see some results from your efforts.
For example…. when I started, I went into the toy niche.
But not just anything in the toy niche… it was actually about one toy only and one that wasn't even popular anymore haha…
Looking back it was a bit crazy and I didn't stick with it for long after I started to get pretty bored.
BUT the competition for long-tail keywords was SO low, so I got on the first page quickly and even generated sales.
Unfortunately, the traffic was also pretty low, so it's not like the sales rolled in by the bucket load at all.
I still make the odd sale each month from that site today and I have posts ranking on the top of page 1, despite barely touching it for years.
I just can't bring myself to delete it.
You get weirdly attached to the websites you work on, it's hard to let go! :/
Anyway, Why Am I Telling You All This?
Well, partly because I want you to make a decision and just run with it…
This first site is HIGHLY UNLIKELY to be your one and only site!
You may have several experiments before you find something that you feel fits and that you enjoy working on.
AND THAT IS OK!!!
Take money out of the equation for the moment. You are learning.
Every single thing that you do, every website that you build and every sale that you make…. Is a learning experience!
If you're in a desperate for money RIGHT NOW, then please… Do somthing else; (Get a job!).
Having an income coming in, will take the pressure off.
It will make all this far more enjoyable, (speaking from experience here!).
I'm not saying go out and work 60 hours a week in some job you hate, (if you don't already do that)…
But find something that will mean you're making just enough to get by and still have time to work on your online adventures.
Then you will be able to breathe. You will need plenty of time and patience to make it work.
So, How Do You Choose A Niche?
I've actually already written a couple of useful posts about this, so you may want to check them out.
The first post above – has a couple of mini exercises you could try, to really figure out some potential niches.
But probably one of the simplest ways of figuring it out would be to ask what you can imagine writing about for the next several years.
This is really important.
I've abandoned sites previously because I just couldn't muster up the enthusiasm to work on them!
No matter how much potential you think a site has, it's incredibly difficult to spend day after day working on something that you find boring.
If it doesn't inspire you in even the most minute way, it will be a challenge. Some people can do it, but I would guess that most can't.
Literally, if you start hating what you do, it will feel like you're pulling out teeth every time you try and write a post.
While it's true that once a site starts making good money, this could inspire you to continue, I wouldn't rely on it.
I've seen website owners neglect and abandon their sites, even when they were making good full-time incomes with them!
Because they just were not motivated to work on them anymore and they lost the drive.
Also: Just Because You Like It, Doesn't Mean You Want To Write About it….
So, I know I just said to potentially write about something you're interested in, but hold on a sec!
Not everything you're interested in, you'll want to write about.
For example; I'm a runner and I strongly considered creating a site in that niche.
But when I started to think up content ideas, I figured out that while I do have an interest, it's just not something I want to write about!
I'm quite a keen cook too…. But again, writing recipes and creating foodie videos and so on, it's just not something I'm interested in.
I could go on.
So, when you're thinking of an idea, it's wise to think of content ideas at the same time.
When you think about some of the topics you could write about, does it make you feel eager to get started?
If it does and you feel like it's something you could write tonnes about without getting stuck, you're on the right track!
Research Your Idea!
You're not looking to reinvent the wheel.
If your idea is profitable, you're probably going to find some people that are already doing it.
Don't think that just because you find some people in your space, that you shouldn't go into it.
Think about how many variations on keywords you can target in most niches you can think of.
If there are people doing well in your niche of choice, you can too.
One place I go to find niche ideas, is Pinterest.
Just by adding content ideas into the search bar, you'll find tonnes of blog posts and potential competitors.
You can get an idea of how much traffic they're generating online using an online calculator such as Siteworthtraffic.com
The online calculators tend to be pretty inaccurate, but they can still give you a good idea as to how popular a website is.
Once you've targeted some of the best and ones you can relate to most, save those blogs in a file and take a close look at…
What affiliate programs they are using,
How they're building their email list & generating leads,
What other methods they may be using to add to their income, (e.g. their own products/paid Ads and so on.
What sort of content they're creating and which is most popular.
What social media platforms they're concentrating on, if any.
By seeing what others have done before you, you can learn methods that work.
Another Thing! You Don't Have To Be An Expert!
Just another little side note here.
That is, I know I said your topic needs to be something you can envisage writing a lot about.
However, that DOES NOT MEAN, that you have to be an expert right now.
For example; I'm a big animal lover and I also love Cats.
However, I don't actually know a very much amount about Cats and I'm definitely no expert….
But I can definitely imagine being interested enough to BECOME an expert in a cat-related-niche.
I would be happy to spend the time researching and learning as I go and I know that I wouldn't get bored and would have plenty to write about.
Over time, you get to know more intuitively what would work for you.
Partly, this is practice and as you develop the ability to create content more effectively – you'll also learn what sort of content you enjoy creating most.
Niche Blog Or Niche Website?
There can sometimes be a fine line between a Niche Blog and Niche Site… But, they can also be extremely different.
Bare with me though….
In general, a Niche blog will be more personal, the blog owner will write their own content and there will tend to be a broader scope of content.
Even though the niche blog is primarily in one area, they may branch out into various areas that are related.
For example; imagine you find a niche blog about Marathon running – this will have a variety of content, including reviews, how-to posts, perhaps healthy recipes and so on.
Whereas, a Niche website is usually more narrowly focused. A website in the running shoe niche – will likely only have content that is only running shoe related.
Niche website owners are more focused generally on finding low-competition gaps in the market, as they'll rely heavily on SEO and organic traffic.
Blogging tends to be more broad in general and therefore, while you have more scope in terms of what you may write about, ranking in Google can be slower and more difficult.
Bloggers tend to rely more on networking and social media to generate traffic to their blogs prior to breaking through in the search engines.
However, you do get a cross over.
You could say that Rags To Niches started out more like a niche site, but has become a niche blog over time.
I write about quite a variety of topics – although all fit under the making money online niche.
Despite the cross over, at either extreme of the spectrum, it's easier to say which is which.
For example. A website purely reviewing the "best three wheeler prams," on the market…. Is definitely a niche website.
But, I'm sure you can see how a cross over can occur and the lines become blurry.
I would class my site as a Niche Blog.
My website is personal to me, and the content on this site is quite broad.
But if I decided to just start outsourcing content and making it a website purely reviewing online paid survey sites and nothing else, then it would become more of a niche site.
Personally, I see Niche sites as more narrow & anonymous and niche blogs as more personal & broad.
So, Which Do You Want To Be?
Going into the affiliate marketing space, it's a good idea to think about what sort of website you would like to create.
Typically, having any sort of niche blog will take you far longer to grow than a niche site.
With a niche site, the keywords you use are super targeted.
So, Google will start to see you as an authority in that area faster than if you write about all sorts of things.
Related Post – How To Do Keyword Research!
I would love to find creating niche sites interesting, but I find it difficult to stay within those confines.
I like the freedom of being able to blog about a lot of different things – but for other people, they prefer creating niche sites.
So, which way you go is up to you!
Again, part of the fun with all this is experimentation.
You may try something and figure out pretty quickly that it's just not for you, other things will just feel right and you'll want to continue to work on them.
Often, the only way you can really know for sure, is to try it.
Your Niche, Should Solve A Problem:
If you look at a popular website or blog in a certain niche, they will always be solving a problem for their audience.
A blog about natural/raw dog food – can provide information for those people interested in changing their Dogs diet. Maybe their Dog has on-going health issues, gastro problems and allergies and their looking for a solution, but don't know where to start.
A Yoga website for beginners – is helping newbies get started learning Yoga on their own, without the need to join local classes or gyms.
A clean eating blog – could be the solution for multiple people wanting to improve their health and lose weight – but who need further info , recipes and step-by-step plans.
A blog in the make money online niche – could help those who are looking for ways to top up the present income; or get ideas for how they can quit their 9-5 job and become a digital nomad.
So, when you think of your niche topic – try and think in addition, what problem you are trying to solve?
Who is going to be searching for your content, why are they looking for it and how are you going to help them?
What About Untapped Niches With Small Competition?
Some people do make a full time living creating small niche sites, that can rank easily in Google.
As I mentioned previously, this can also mean that the traffic is small.
But if your traffic is highly targeted towards purchasing at item, you can actually still do really well.
A perfect example of this comes from a niche case study training I watched a while back – which you can find here.
Within the study, Jay creates a niche site based on Football Snack helmets.
There was basically no competition for it at the time, (naturally, after the case study, other sites popped up!).
When it was going well; he was making $300 a DAY in peak season!
The core keyword itself didn't have much traffic, but remember, it's not just one keyword you're targeting.
As every post you create will have another keyword, (plus others that you will naturally rank for).
I use the Jaaxy keyword tool for all my keyword research, (where you can get 30 free searches).
But, I now get it for free, as the lite version is included within the premium Wealthy Affiliate membership.
The snack helmets example is an unusual one; as it managed to rank with minimal content.
Most of the time, you'll have to write a fair amount of content before you start seeing results, let alone rank on the first page, (but again, the lower the competition & more targeted your niche is, the faster you can rank).
If you go into a competitive niche though, expect to work hard for months and months before you start making any sales…. at all!
Lastly – The Golden Niches….
It's often said that there a set of broad areas that will always make money.
Broadly these include:
Weightloss/dieting,
Health,
Self-development,
Pets,
Relationships/Dating,
Fashion/Beauty,
Parenting,
Food,
Obsessive interests/hobbies,
Sports,
Making/Saving money.
Of course, these are the broad areas.
You wouldn't just start a niche site on Pets… But you might start a niche site on luxury cat beds.
Any website purely on speaking about various diets would be unwise – but a niche site specializing in the keto diet could work.
Concluding Thoughts:
So, there are a bunch of different ways to choose a profitable affiliate marketing niche and there is no ONE right way.
There is a lot of experimentation and trial and error involved in picking a niche; because no matter how much research you do, it's never set in stone.
To round up, what could you do to help yourself choose a niche?
You could….
Get ideas initially from your passions/hobbies/interests,
You could go after a narrow niche with low-competition,
You could choose a broader or more competitive niche, just know in advance that it's probably going to take you longer to get anywhere if you're relying on search engine traffic alone.
If you do go after a small niche; consider how much you can write on the topic prior to starting it – could you write 100 posts on the topic if you had to?
ALSO…..
Choose something that you can imagine writing a lot about, or working on for a long time.
Think about how people may be feeling when they visit your website -what problem do they have and how will you solve it?
Search for potential affiliate programs – find some potential affiliate networks/programs here that you can look at.
If you'd like any help getting started – following a step-by-step program can make all the difference and make everything less overwhelming.
If you have any questions at all – leave me a comment below!
All the best,
Save Me For Later – Pin Me To Your Affiliate Marketing Board! 🙂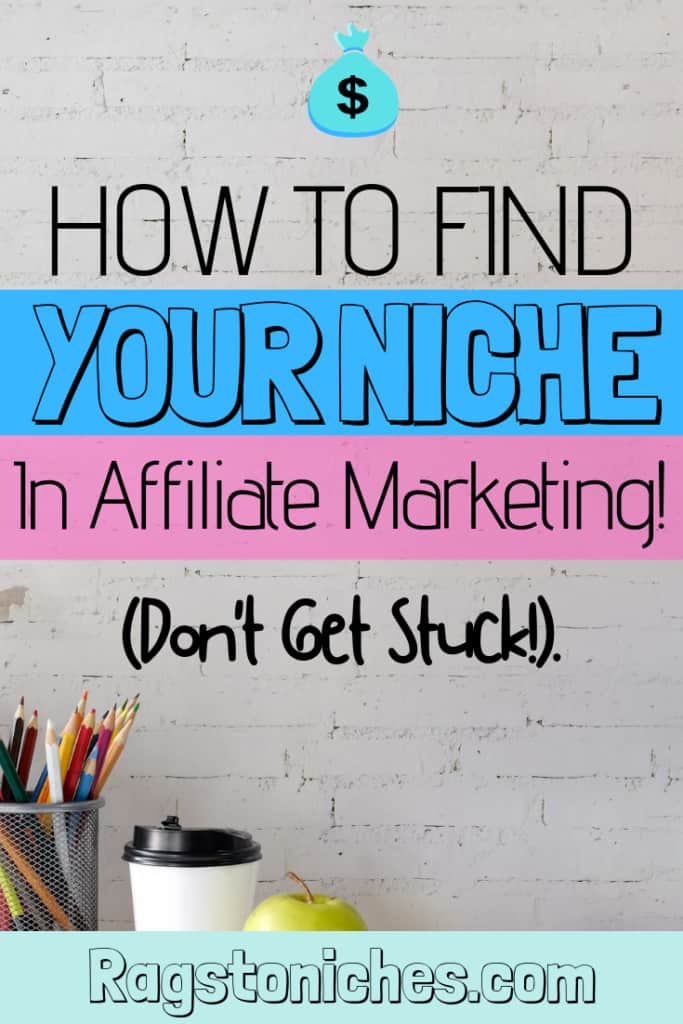 Learn more about affiliate marketing here – you can join a FREE 10-part course & much more! 🙂