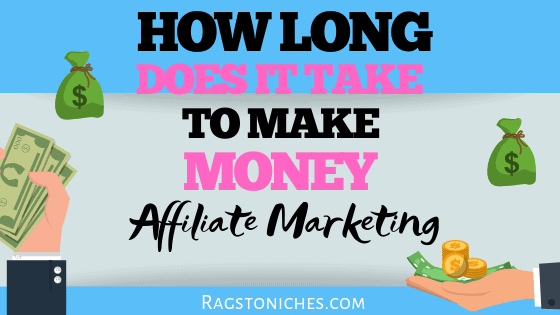 Maybe you're either considering going into affiliate marketing, OR you've been doing it for a while and haven't made any money yet.
So, you're wondering….  How long does it take to make money with affiliate marketing?
It's one of the most frequently asked questions, when it comes to making money online.
So, I thought I'd tackle it today!
Affiliate marketing is one of the main ways that I often suggest people to make money online – but why?
Is it fast?  Is it easy?  Is it quick?
Well, no, it's none of those things.
I recommend affiliate marketing to people brand new online- partly because there is such a low cost of entry.
However, it's not something to go into if you're desperate for money right now – it's a slow burner and something you need to dedicate a significant amount of time to.
Before I go into more details, know that it will usually take several months before you make your first sales from affiliate marketing.
It would then take (usually) more often a minimum of a year and could be several years before you make a full-time income.
Think of it like this….
A majority of people quit affiliate marketing before they make any sales at all.
Out of that minority that continue, most will quit before they make a full-time income.
Out of those that don't quit, a minority will make a full time income in the first year and a majority will take several years.
This is all pretty general, but it's what I have observed personally since starting all this several years ago now and mixing with hundreds of other affiliate marketers and bloggers.
Why do so many people quit?
When people realise the effort involved, most just don't really want to do it.
People are looking for a quick fix most of the time, (which is why online scams and get-rich-quick schemes are so rife and successful!).
If most people genuinely had the drive and dedication to run their own business, everyone would be an entrepreneur.
But, on top of that, affiliate marketing and creating websites is just not for everyone!
Want to see if it's for you?
Join Some Free Affiliate Marketing Training Here*
What's So Good About Affiliate Marketing?
From my perspective, learning about affiliate marketing provides you with a solid foundation, from which you can grow and learn other internet marketing skills.
For example, before you even start making money as an affiliate, you need to learn how to set up a website, how to create good content, you need to learn SEO techniques.
There are many things that you will learn in the process of building out your website and these are important and valuable skills to have.
One day, these skills can also help you earn money in various other ways should you choose.
For example; with these skills you could generate an income doing…
Local SEO work for businesses/websites.
Setting up WordPress websites.
SEO services online.
Content creation/freelance writing,
Traffic generation,
Keyword research for bloggers and business owners,
Web design/creation packages.
That's just for starters.
But affiliate marketing is something that you build on gradually.
You need to take massive action with your website and building it out consistently, but you also need time.
As counter intuitive as it may sound, you need to forget about the making money aspect in the beginning.
Rather than just thinking about how you can make money, focus first and foremost on building something of value.
If you provide people with information and solutions that they need and value, the money aspect follows on from that eventually.
If all you're thinking about is making money from the get-go, it's quite easy to see through this and it's likely that you won't be successful, or it will just take longer.
Affiliate Marketing – Is No Get Rich Quick Scheme.
…  But it can often be marketed that way.
If you're absolutely desperate to make money coming in: get a job, or go for something more immediately profitable online, such as Freelancing.
Have the affiliate marketing side, as the long term goal to work towards.
But do not look at it as a quick route to cash.
The time and effort that you put in now though, will be rewarded in the future.
If you're interested in building a niche website, or monetizing your blog with affiliate marketing, that's a great idea – but it is a long-term investment.
I remember being told this so much in the beginning and, while I took it on board to some extent, part of me still thought otherwise.
Most people go into this online world full of enthusiasm…
but it takes a lot more grit and determination to keep on pushing on, once several months have past and progress is slow.
All that aside, learning about affiliate marketing and all that comes along with it, has so many great PLUS points to it and will reward you in the end.
I linked you to some free training above, on a platform where I'm a member, (review here)… It's like a second home to me now.
Anyway, it's full of people sharing their own stories, creating training and just offering support – so, it's a positive place for beginners.
You can see via the post below what one of the creators has to say about making money online and how long it takes….

Like Kyle says, when and whether you make money online, is entirely up to you – your hard work and your perseverance.
From what I've witnessed, many people who are writing 3-4 posts per week, often make their first sale in around 3-4 months.
It took a few months to make my first sale, with my first niche – and the same with my second niche.
But it took six months to make my first sale with this very website, even though it had considerably more content.
I've seen some people who have been dedicated enough to publish content on their site EVERY day and I have seen extraordinary results from this!
It's not something everyone is able to do though.
But, upping your publishing frequency can definitely speed up results, there is no question about that.
Potentially Speeding Up Your Progress:
In my opinion, what will speed up your progress sales wise can be the following…
Narrowing down your niche, So it isn't too broad – this can help you rank faster in Google.
Writing plenty of reviews, (reviews rank well in Google).
Being in a less competitive niche, (if you're relying heavily on free search engine traffic, you will be able to gain traction faster in a less competitive niche).
Focus on a niche where buyers intent is high, (not just people looking for information).
Seek out product launches within your niche and review them.
As I just mentioned, upping your publishing frequency.
Connecting with other bloggers in your niche, (such as by joining group boards on Pinterest) and having them share your content.
The competition aspect is controversial really, as some people will say that competition is good, as it means there is money to be made.
While I think that is true to a point;  I believe that if you narrow down your niche in a competitive area, you will do much better and rank much faster!
My very first niche was incredibly narrow – it was too narrow actually and there was not much competition at all.
Consequently, I ranked on the first page of google fairly quickly for the keywords I targeted.
But, I quickly realised that people were mainly seeking out my website for information only, not to buy anything.
This is where buyers intent can also be important to factor in, before you choose a niche.
With Rags To Niches, it took a lot longer to start ranking on page 1, but I started to see big improvements from the 6 month mark and it very gradually improved from there.
So, if you're hoping to quicken things up, what niche you choose can certainly be critical.
As I mentioned previously, product reviews tend to rank well in Google, so having a niche where you can review products relevant to your niche is a good idea.
Of course, from a buyers intent perspective, reviews are often also good.
As by the time a reader reaches your site, they're often already interested in purchasing something and it's up to you to make up their mind.
Don't Spend Too Long Choosing Your Niche!
I'm not saying you should rush it, choosing a niche is really important.
But don't get analysis paralysis.
Many people get stuck at the *planning phase,* and never take action.
Literally, people freeze for weeks, months, or eternally because they don't know what niche to pick.
It's much better to just choose something and risk it not working, than to choose nothing.
Want to know a secret?… your first niche will probably not be your last!
Many people find they have some false starts, before they find something that works for them – OR you might get lucky and pick right first time!
Whatever the outcome, that's in the future – the important thing is just to get started.
Many people worry about putting a tonne of time and effort into something and it not working.
OR they're desperate for money and they feel like it HAS to work first time.
(Which is why I said, don't do this if you're desperate for money…  Get a job to take the pressure off and do this part-time).
Worrying about these things isn't a good way to approach things.
Think of it like you're in school.
Every website you create and every niche you go into is a LEARNING experience.
Every single thing you do will help you to improve.
Every single thing you do, will teach you something new every time.
Experimenting and trial and error is all part of it, so just embrace it!
Take a look below at one of the training videos within WA, this video specifically talks about finding a niche.
Click Here For The Video Training.
How long will it take to make money Affiliate marketing?
….  how long is a piece of string?
This really depends on a vast array of factors including:
How much content you're writing, (aim for at least 3 posts or more per week 1000+ words each and ideally longer!).
How well you're targeting your keywords, (you want to be aiming for low-competition keywords).
How well optimized your posts are for SEO.
How competitive your niche is.
How targeted your niche is.
Whether you're using other methods to bring in traffic aside from SEO, (e.g. paid traffic, guest blogging, social media, YouTube, answering questions in forums and so on…).
It boils down to how much action you take and how much time you can commit to it.Someone writing one post a week is going to find their progress much slower, than someone writing 5 times a week and making some effort to promote their posts.
As well as creating posts or pages that convert well, getting sales is also a numbers game.
Therefore, the quicker you can bring in quality traffic to your site, the higher your chances of making sales.
Still not sure about affiliate marketing?
there is some free training here, which explains what it's all about, so you will have a better idea whether it's something you want to do in the long-term.
What's been your experience of affiliate marketing so far?
Leave me a comment below!
All the best…

Other posts that may help!
PIN ME 🙂