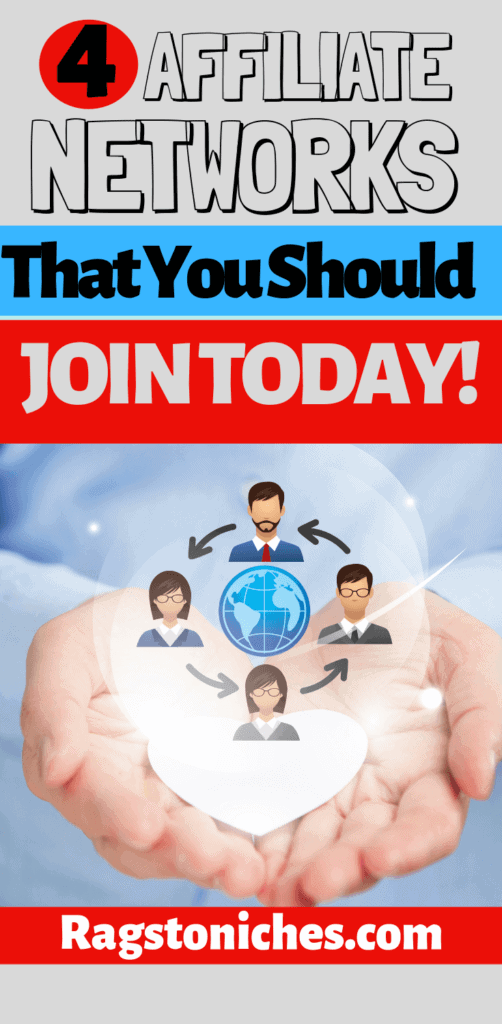 What are some top affiliate networks that I've joined – and you should too?
Today I wanted to let you know some of the affiliate networks that I use right now and that I recommend you check out for yourself!
Why Join Affiliate Networks? 
An affiliate network works like a home for many different merchants affiliate programs.
So, being part of one makes it easy for you to browse hundreds, or thousands of different affiliate programs that may be within your niche.
It also means you can get paid by all of the different programs in one place, which can be useful, as you can end up signing up to more affiliate programs that you can remember half the time.
Even though you may join several different affiliate networks, you may be join many affiliate programs within each one.
There are also still plenty of affiliate programs that are not housed within a network; so it's a good idea to keep track of all the programs you join.
For me, I have an affiliate program folder in my bookmarks, so I can keep track of any programs or networks there.
When should you start affiliate marketing on your blog?
People can have completely opposing views on this and from my perspective, it really boils down to a personal preference.
I started adding affiliate links almost right away.  Certainly, after around a month.
Initially, you'll probably be obsessed with checking your affiliate programs and, in a way, it's good to get that over with early on!
Also, you learn a lot from applying to affiliate programs and using affiliate links, so I see it as a good reason to get started early and learn fast.
Also, even though you may not make very much at all, making those first sales – however small – can really give you a boost to keep on going.
On the other hand, when you go for weeks and weeks, (or months) seeing zero sales, that can also get depressing and may end up getting too much and encouraging you to give up.
If you have built up traffic prior to having affiliate links, you'll obviously have a much higher chance of making a sale.
So, I think it really depends on you.
For me, I did find it depressing not seeing any sales… but that can happen for a long time, so I guess it helped to get used to it too!
At the same time, every time you get a sale, it can be such an uplifting boost and you feel great again for a while.
Yet again, there are pros and cons from both sides.
How should you promote affiliate links?
As naturally as possible, I find just linking to things within your content, (plain text links in a different color to the main text) works well.
It's a personal thing too though and can depend on the niche too.
Generally I don't like big flashy buttons.  I do use some buttons, but I prefer them to be quite subtle.
Again, what route you take with your call-to-actions can depend on your niche, but also your own personality and what fits in with your blog or website.
OK, so now we've covered a little bit about getting started, what affiliate networks have I joined?  Well, today I'm going to talk about just three main ones that I have joined.
AWIN Affiliate Network:
AWIN is one of the very first affiliate networks that I joined.  I initially joined it because one of my sites is in the kids home decor niche and I wanted to join the ETSY affiliate program.
While this is a global network, it's most popular in the UK and Europe right now and growing in popularity in the US.
They have over 6,000 advertisers at the time of writing, so there are certainly a lot of programs to choose from, in a broad variety of niches.
They also have some CPA offers; meaning you can get commissions not only for sales, but sometimes just for people signing up to a website, or handing over their email address.
One downside to AWIN is you need to pay $5 to activate your account – it's not a payment, because they refund you with your first commission.
However, it's still an annoying factor for some.  Their justification is that it's for verifying your identity and protecting their advertisers.
Well, it's only $5 – I've had no problem being paid by AWIN, so it didn't bother me personally.
Shareasale Affiliate Network:
Shareasale is a brand new one for me.  It's one that I'd intended to join for a long time, but just hadn't gotten around to it.
Then recently I went for it, because I wanted to join the Tailwind affiliate program housed there.
Later on, I also discovered the Studio Press affiliate program was housed there.  I use a Studio Press Genesis theme at the moment., so it made sense for me to join their program.
The platform itself feels a little less sophisticated and more old fashioned than some, but it's still simple to use.  It's also free to join.
On the plus side, there are plenty of advertisers to choose from and decent support.
Panthera Network:
The panthera network is also a new one that I joined fairly recently.
This program is for people with more established websites.  That is because, if you don't have enough traffic, they won't accept you.
I actually have no idea how much traffic you actually need for them to accept you, but I personally was rejected twice before I was accepted.
They basically want to know that you'll make them some money.
What attracted me to the Panthera Network, was that it's a CPA affiliate network.
That means, you're paid for certain actions your visitor makes, rather than having to purchase anything.
While your commissions are typically lower than a regular affiliate program, it's oviously much easier to convert people to a FREE offer, than to something they have to buy.
My main motivation to join, was to sign up for a Swagbucks offer.  
Swagbucks have an affiliate program and I had hundreds of referrals. Yet, despite having all these referrals, I wasn't making much at all from the program.
The reason being, Swagbucks only pay you 10% of whatever your affiliate earns, (once they earn over 10 SB in any given day).
So, not only do they have to earn 10SB before you get anything, but you also only make 10 percent of what they make.
What I found over time is, that a huge majority sign up and don't do anything with the platform at all.  You then end up with a small group that are quite active, but still won't make you much.
The Panthera Network were offering $3.60 every time someone signs up via your affiliate link to Swagbucks.
To me, that would potentially be more profitable over time for me.
It means you'll ultimately get paid whatever happens, even if that referral does nothing more than sign up.
The downside of this platform, is that it largely caters for people in money making/saving niches.  If you are in that area though, you should be able to seek out plenty of offers.
The platform itself also takes a bit of getting use to to navigate.
Another network I'm a member of, that has similar offers is called Maxbounty – so you could check out that as well.
Amazon Associates:
OK, so not a network as such, but arguably the biggest affiliate programs online today and so huge, that you can really make use of them within most niches in one way or another.
If you're brand new and your website doesn't have much content, you will still probably be accepted on to this program.
I had hardly any traffic to speak of and not much content when I applied and had no trouble.
I made my first sales online with the amazon program and I can't recommend it enough.
Yes, the commission is low, but Amazon is such a household name, that people trust this platform and are far more likely to make a purchase here than pretty much anywhere else.
If you're a newbie online, I would certainly recommend signing up.  If you're not new, but you haven't signed up…  why not?
The only reason when it may not work so well is your niche.  For example; I don't really use the affiliate program for this blog you're on.
The Amazon program also makes it incredibly easy to use for affiliate.  There are easy-to-use tools to create your tools.
I also use genius-link – which is a tool that detects where your visitor is from and will direct them to their Amazon depending on their country.
You can then sign up to various Amazon affiliate programs around the world and collect commissions when you make a sale.
Concluding Thoughts:
I really like signing up with affiliate networks, as opposed to individual affiliate programs, as it's so much easier to keep track of everything.
I am also a member of many other individual affiliate programs, (many of which I have never made a sale with) and I often just forget that I ever signed up with them!
One of the best things though, is being notified of an affiliate sale out of the blue – when you'd forgotten you had even signed up.
I'd advise you to start organising yourself early with a system.  I organise everything now online.
Although, I'm quite sure I haven't remembered them all.
I had a surprise just the other day when I had an email come through saying I'd made a sale.  So, I went and had a look and I'd made $30 from an affiliate program I hadn't checked on in a YEAR.
While it's nice to get surprises, many affiliate programs don't email you when you make sales. 
So, you need to go and check up on them to see if you've made anything.
While affiliate networks are my preference, I'm not saying to not sign up to individual ones as well.
Some of those individual ones could end up being some of the most profitable.
Have you signed up to any affiliate networks? Which ones do you use?
Let me know in the comments!
By the way, if you need help setting up a money-making blog, I created an in depth step-by-step guide here.
If you're new to affiliate marketing and blogging – it can be really tough to figure everything out. 
If you need some additional advice and support, I recommend this training platform. You can check it out for free!
All the best