Is Clickbank University a scam? Clickbank University Review.
Clickbank University started up in 2014, at which time there was a $1 trail week available, but it cost $97 per month to join.
Would this monthly fee be a worthy investment for you to start your own online business?  Here are my thoughts.
Clickbank University Review In Brief:
Product name: Clickbank University
Product owners: Matt Hulett, Adam Horwitz
Current Price: $47 per month, (30 day money back guarantee).
Current upsells: $297 per year, (website builder), $97 (advanced masterclass)
Overall rating:  Legit
Clickbank University is a solid and well crafted program for people wanting to create and promote their own digital product.
However, for people who simply want to learn about affiliate marketing in general, there are better programs out there.
Because this programs just focuses on selling Clickbank products and using paid traffic methods.  Therefore, by just following this training, you'd be missing out the infinite amount of ways that you could potentially profit via affiliate marketing.
Who Is Clickbank University For?
There are two main people that Clickbank University are attempting to target for their program
Someone who either already has an idea for, or who is wanting to create, their own digital product in order to

sell on

clickbank

and to find affiliates to promote their own product.
Someone who does not want to create their own digital product, but is looking to work as an affiliate, promoting other people's products on clickbank.
This distinction is important, as clickbank university is definitely more suited to people wanting to create their own products and I will explain why later in this review.
The Clickbank University Sales Page:
Clickbank has a well created sales page, with an engaging video.
Ok, It is pretty hyped up, showing the wealth that people have attained down to Clickbank and their success stories, which I'm generally not a fan of.
However, it's not promising over night wealth by any means.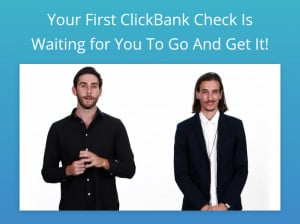 They clearly state in their video, that this is not a "get rich overnight scheme," and that it will take time to grow your business.
They suggest working slowly, as little as just an hour or two a day in the beginning, which is sound advice.
It's promising to see that Clickbank University are not trying to sell you on over inflated claims of wealth and success.  Sure, they say that can be possible, but you do need to work for it.
Clickbank University Training
There is some decent training available at Clickbank University for people who would like to create their own product.
If you have built up a dedicated following, or manage to build up decent traffic to your site and your product is a good one, creating your own product can be incredibly profitable.
What's more, if you have a decent product that converts well into sales, you'll have plenty of affiliates wanting to promote your product too!
The videos are fairly straight forward to follow and well done.  Check out the screen shot below of all the training available:

Training ranging from how to package your product, build an email list, pricing your products, creating sales funnels and much more…
The training is in the form of short videos, (many people find do find it easier to digest shorter videos) and there is also a PDF to accompany video training.
Clickbank Upsells:
Unfortunately, there are some upsells you'll have to deal with – but this is common with a majority of internet marketing products!
As soon as you join clickbank university, you find your first upsell, which is for a website builder.
This website builder makes it incredibly straight forward for a vendor to create a website that integrates well with Clickbank.
The website builder itself actually sounds awesome, I was watching a webinar a while back where they were including it within a package and it did look impressive.
Considering the effort that can go into creating a website and a sales page, as well as setting up your sales funnel – this makes everything a lot simpler.
For those people hoping to create and sell their own digital products, it could be a worthwhile investment for your business.
As a newbie online, you may find it a struggle to get started without the website builder if you're deciding to create your own product.
While they give you the general concepts and knowledge of what you need to get done – it's not step by step enough for some people who will really benefit from being hand held along the way.
The rewards for creating a successful digital product can be plenty, but if you're just starting out online, becoming an affiliate first will not only be cheaper, but it will give you the opportunity to learn how everything works.
It may also be beneficial before creating your own product to learn how to build a website and generate traffic to your site, before you dive into the product creation sphere.
If you go into product creation with some prior knowledge already of what your prospective customers want and already have some success within affiliate marketing, you will be starting from a more powerful position.
In addition, building up an audience within the niche you're hoping to target, means that you'll already have prospective customers when you finally decide to create your own product.
If you do decide to take advantage of the website builder upsell though, just be careful to find out whether that means you're locked into Clickbank, or whether you could move your site in the future elsewhere.
It would also be better if they were just transparent about any upsells from the start.  People may even be more likely to sign up from the start if they knew they could purchase this website creator, for example.
Traffic Generation: Paid All the way.
The Clickbank University training focuses on creating squeeze and sales pages and building email lists, generating traffic will be through social media or you tube.
By using this method though, getting natural, organic traffic to these sites, without using
methods such as keyword research or blog posts may mean that generating adequate traffic to these sites will be an uphill struggle.
That said, generating traffic in an organic way takes plenty of time too.
The bonus with organic traffic from the search engines is… it's free.  Whereas ploughing money into paid traffic can become insanely expensive.
I think the problem is, that the sort of sites you'll be taught how to build won't rank highly in the search engines, so you will have to rely on paid traffic methods.
This is because they'll be thin content wise and completely sales orientated – therefore, they may not rank at all in Google.
One way you will be generating sales of course, would be through affiliates, (if you're creating your own product).
So, as long as you have a decent products and your affiliates have successful websites that are generating decent traffic, then you'll be able to gain traffic from that angle, as well as social media and you tube if you decide to do so.
From an affiliate marketing perspective, training is largely based on email marketing, but there isn't SEO training for creating content.
Again, this wipes out the opportunity of generating organic traffic from the search engines.
Clickbank University Support:
Some people have reported that support is a bit thin on the ground, questions missed or unanswered in some cases.
However, they do now have a new weekly Q and A session, where people can raise any concerns they have and this is certainly a step in the right direction.
The program has changed over time and I get the sense that the creators are genuinely motivated to keep the program up to date and try and improve any potential issues.
Clickbank University Extras: 
One extra feature I really like is the "university talks" section, where they have weekly talks to successful vendors and affiliates.
I always find those sorts of talks pretty inspiring and motivational.
There are also regular live and recorded webinars, so you get further training available than what is just in the membership area.
Pros Vs Cons
PROS
Decent video training, accompanied by PDF
Great for people who want to create their own product
Live and recorded webinars
Great web building software otption, although it is at extra cost
Weekly live Q and A sessions
University talks with successful vendors and affiliate marketers
60 day money back guarantee
CONS
Immediate upsell of the web builder, which wouldn't please people who don't want it
Additional advanced class upsell
Lack of SEO training, makes vendors reliant on getting traffic via social media, you tube or affiliates promoting their products, (or potentially paid traffic later on).
Affiliates are in even more need to learn SEO tactics, as they will need to drive traffic to their websites in order to promote the clickbank products.
You're only taught how to sell clickbank products as an affiliate – when there are are an unlimted amount of products outside clickbank that you could promote.
Conclusion:  Is Clickbank University A Scam?
I can confidently conclude that NO, it is not a scam.
It is a solid membership program, with some decent training available.  It is also very reasonable value for money, for the training they provide.
This program is best for people wishing to create and market their own product on the Clickbank platform.
So, if you have some expertise in your field and you think you have a product in mind that you'd love to produce – go for it!
In my opinion, the training itself is also most suited to intermediate marketers rather than complete beginners.
Ideally to those who already have some basic understanding of SEO, such as how you can drive organic traffic to your site via (e.g) low-competition keyword research and creating quality content on your website.
Purely because, this prior knowledge means you won't miss out on anything that Clickbank won't teach and you will be able to apply this knowledge to your business if you choose too, while still benefiting from the training at Clickbank University.
As an intermediate marketer, it would also mean they will be more likely to get along ok without the additional Website builder.
If You Don't Want To Create Your Own Products….
If you are not ready to produce your own product and were hoping instead to learn about affiliate marketing, then there is a better program that would suit you.
Wealthy Affiliate is a training membership program that I've been a member of for several years and still continue to learn from.
It has a tonne more in depth, step-by-step training and a large supportive and active community, you can also personally contact the owners directly if you have any problems.
It ideal for newbies and experienced internet marketers alike.
You can trial it out for free in your first week, (in that trial period you can also take advantage of 10 free lessons, get started with two free websites, check out the community and get a feel for the place).
This program will also teach you how to promote any kind of product that you want – most products you can imagine have an affiliate program attached to them.
So, you are in no way limited to learning about Clickbank products.
What's been your experience with Clickbank University?  I'd love to know!  Leave me a comment below!
All the best… 🙂