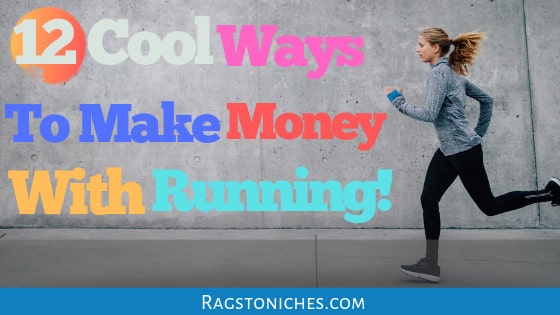 In this post, I'm going to share 12 ways that you can make money with running – including both running related jobs and online opportunities.
I will readily admit that I used to be a couch potato…. but running changed my life.
When I was a kid, I was a figure skater and often got up at 5am to go to the ice rink and train before school.
But once I got into my teenage years, getting up at the crack of dawn started to lose its appeal… and I gave up.
I did zero exercise for years and it stayed that way until I was in my 30's and… long story short…
I went from non-runner, to Marathon runner in less than 18 months.
So, I can completely relate to wanting to find ways to make money running!
Not just physically running, but doing some sort of work that involves running in general.
Because, who wouldn't want to make money from their passion?
Running can make you feel like a different person – it can vastly improve your mental health, as well as your physical health.
So, let's dig into the list….
1/ Become A Running Concierge:
Yes, until I started this post, I had no idea that such a thing as a running Concierge even existed.
Apparently some hotels are hiring people to help guests keep up with their running while they're away.
Sometimes including running tours of cities – giving guests who run a unique way to get acquainted with a city.
They can also lead groups of runners on scenic routes, exploring the local area.
But if you can't find any jobs available, what's stopping you setting up your own service and offering this to hotels in your area?
Create a route locally to you that includes some important landmarks and create what is basically… A guided tour that includes a run!
2/ Park Run Work!
I've noticed that Park Run often advertise for paid positions.
Obviously, if you're already a member of Park Run, you can speak to them directly and keep an eye of any opening positions.
If you're not already a member of Park Run… Why not?
Park Run is a free organised event, usually once a week, at a local area near you.
They now have Park Runs in countries across the globe and growing all the time.
Each run is 5k… and they cater to all paces and abilities, from the fastest, to walking at the back and some people bring their dogs along too.
It's a timed event, so you can check if you get a PB and also compare your time to others.
If you have never tried a Park Run before, I urge you to give it a try! The atmosphere at my local Park Run is amazing…..
And it can certainly make you run at a faster pace than you would normally manage.
It feels more like a race atmosphere to me at the top end, (the slower you want to go, the further back you'll typically start from).
3/ Write About Running:
If you're both a runner and passionate about Running, what about writing about it in some capacity?
One way of doing this, is through Freelance writing. You can set yourself up for free on a platform like Upwork and pitch for jobs relating to running….
Build up a portfolio of work and you could pitch to private clients as well.
If you'd like to learn how to start freelance writing from scratch, I recommend Gina's course here – which is a course that I took personally.
There are going to be many blogs and websites looking for people with some running knowledge and expertise too, so this is a way to combine a passion for both running AND writing in one.
You could even extend into writing into books or novels, one book I really enjoyed was written by an amateur runner called; "Keep On Running." by Phil Hewitt.
Phil Hewitt also wrote; "Outrunning Demons,"and "In The Running," both of which look good too.
Now there is the option to self publish so easily on Amazon, you don't necessarily have to get Published traditionally anymore!
4/ Dog Running Services:
You didn't misread that! Of course, we're all aware of Dog walkers, but apparently now Dog running companies are a thing too!
I guess it's no wonder this would pop up, with running becoming ever more popular and some breeds of Dog requiring a vast amount of daily exercise.
It must be tough for some owners to give their dogs the exercise they need! Then there are some crazy over active dogs, that never seem to tire.
Perhaps a daily run, rather than walk, will let them blow off more steam and be a bit more relaxed later in the day.
While you could look to join an established business, this is also something you could set up yourself.
Check out Milo's Dog Running for some inspiration – there is a great video there, showing some Dogs having an amazing time!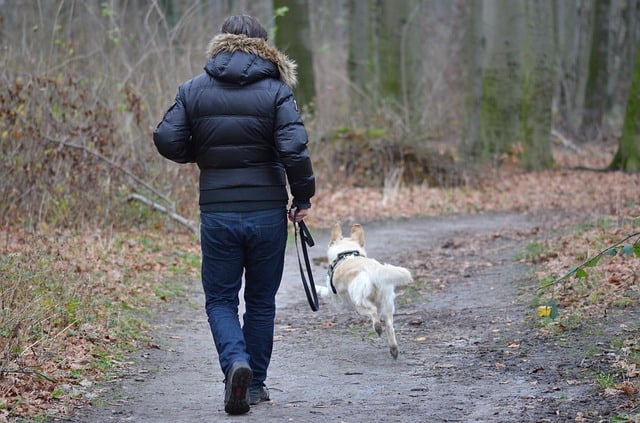 5/ Running Coach In School Or College:
Many kids can recall cross country running as some sort of torture…
That seems to be how I recall it at the time, (I preferred the 100 meter race at school, that was about my distance limit back then!!!).
However, being in this line of work gives you the opportunity to witness brand new talent arise and evolve.
Whether cross country or track running, this could be a great opportunity to inspire young runners develop a lifelong love of the sport.
While you're not going to be rolling in cash being a running coach in schools, if you love running and love the idea of teaching others, this could be a rewarding career.
Pin Me For Later! 🙂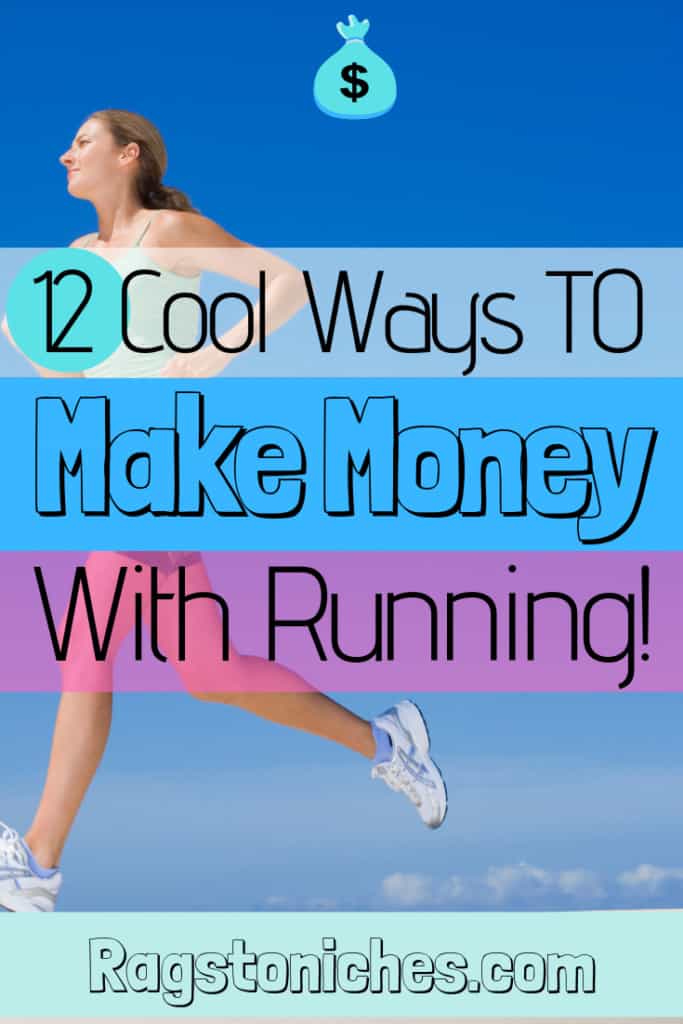 6/ Become A Personal Running Coach:
You don't have to just teach in school or college – why not set up your own running coach business training adults?
You don't have to be some sort of running superstar to help other people to run.
Let's say you already have a marathon or two under your belt, or regularly run 10ks or half marathons….
Why not help beginners on their journey?
Running with those to reach their first 5 or 10k for example; helping them to construct a training plan, teaching them how to stay safe running and what stretches they need to do and so on.
You can create personal packages depending on what each runner is looking to do, (increase distance or speed, for example) and you could also do group training sessions.
7/ Running Shoe Store:
When it comes to running shoes, I like to try mine on in person and get fitted properly.
While there are big brand stores out there, there could still be a place for a smaller retailer that provides great customer service and shoes at a decent price.
You could also provide running advice and even training programs or services.
One way to get your name and brand out there, would be to reach out to local running groups and provide all members a discount if they shop in your store.
This is something that was offered to me when I joined a local running group… and guess what? It worked!
Why not even set up your own running group too, while you're at it. Find out more about opening your own Running store here.
8/ Start A YouTube Channel:
YouTube is becoming more and more popular with people trying to find out tips, advice, tutorials and inspiration on YouTube.
And you really don't need to be an expert! All you need to be, is a step or two ahead of the person who is watching.
People often want to follow a personal journey on YouTube and experience the highs and lows with you.
People obviously talk a lot about making money from paid advertising on YouTube, but honestly, you need SO many viewers and an engaged audience to make good money with that.
That doesn't mean you can't make money with a smaller audience though – as you can also make affiliate commissions and do sponsored videos without having hundreds of thousands of followers.
I also recommend you have a website at the same time, as this can be an additional income stream and YouTube can be a brilliant way to get traffic to your blog/website.
There are clearly beginner runners looking for help via YouTube, has you can see that the video below has over 6 million views….
9/ Brand Ambassador On Instagram:
If you're someone who already posts photos relating to their daily workouts and runs and races, you might be someone who would enjoy being a brand ambassador.
You would be using your Instagram account to build brand awareness, test products and provide feedback.
You may not get cash directly, but free gear, gadgets and free entries into races would be common.
One way to make more money, would be to offer advertising space and sponsored posts on your Instagram account.
However, you're going to need many thousands of followers and a highly engaged audience to make good money on Instagram in this way.
10/ Make Running Related T-Shirts & Clothing.
One of my side hustles is designing and selling T-shirts and related clothing items on the Amazon platform, known as Merch By Amazon…
And I've personally put out some running related shirts myself.
The good thing about Amazon is, you simply create the designs and upload them.
Amazon prints and ships the product for you and deals with any customer service and returns.
You then earn a commission on each item that you sell. So, you could potentially start making money, with zero investment.
I am not a graphic designer, but I am currently working on that one.
While you don't need to be a graphic designer to do well, (some simple text shirts still sell, you don't need an over complicated design!) of course having some design skills is a huge bonus.
So, if you have any artistic ability, or graphic design skills – you could have an additional edge on the competition.
Many people who originally got into Merch, were not artists or designers.
I wrote an in depth post on Merch By Amazon here and also wrote another post recently, asking whether Merch was still worth it for beginners!
There are also other Platforms you might like, such as Redbubble, or Etsy combined with Printful.
As you can see, the design below – is pretty simple, but selling pretty well at the moment.
11/ Start Your Own Niche Blog Or Website:
This is going to connect to the writing aspect as well. Plus, if you do choose to go down the freelance writing route, I highly recommend that you also have a website or blog.
This could be a Running based blog, or a just once that showcases some of your Freelance work – but it's a good idea to have a platform, which can look professional and appealing to new clients.
As far as the niche blog goes – there are many different areas of running you could go into…
You could go for example it could be a foodie blog for runners, marathon, or ultra running, running for beginners, running for the over 30s, running for mental health and so on.
It's a good idea to have a well defined niche, as this can help you to rank your content faster in the search engines and will be less competitive than simply writing about running in general.
If you want to learn step-by-step how to create a niche webiste, I recommend the training here.
The training is extremely beginner friendly and it is where I built my first website too!
12/ Make A Running Bet!
There are some Apps out there that will pay you a small amount in points to walk, (but you could also run) like Sweatcoin and Lifecoin.
However, you don't get very much, although it can encourage you to get out more.
However, a better App that encourages you to reach your running goals is called Runbet.
This is where you compete in running challenges and make a bet on you completing them.
For example; the challenge may be to run four days a week and cover at at least 12 miles.
If you manage you achieve your goals, you win a share of the pot. It means you will at least win your money back and can make a little profit on top.
Many people find that the risk of losing their money is enough to keep them motivated!
How Will You Make Money Running?
So, that concludes my list for today… What do you think? Did I miss something out?
Let me know in the comments how you'd like to make money from your love of running.
There are many ways you can make money from your hobbies & interests – check out these 10 side hustles that have worked for me!