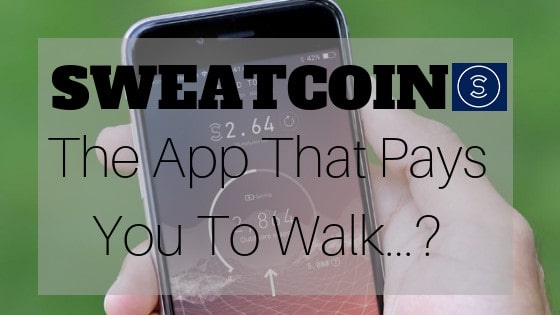 Is Sweatcoin legit…  Can you really get paid to walk?!
Well, Sweatcoin is a new App that I've been enjoying playing with recently and I was keen to share my experience with it.
In my Sweatcoin review today, I'm going to explain exactly what this App is about and how it can help you.
I will share my take on the Pros vs Cons of this App and whether it's really worth your time. 
Is Sweatcoin a little misleading and what exactly is the Cryptocurrency connection that people have been talking about?
Let's find out….
What Is Sweatcoin & How Does It Work?    Here Is The lowdown….
At its most basic, this is an App that pays, (a small amount) to walk, or generally be active outside…
For example; you can run or skip if you want, it's still going to count your steps! 😉
You're paid for your steps in *Sweatcoins,* and these are virtual coins that you can save up to spend on gifts and rewards.
For every 1000 steps you take, you can make 0.95 Sweatcoins, (known as SWC).
Save up these virtual coins and you can eventually exchange them for deals and rewards.
What makes it all a little more interesting, is that you can gift your coins to other people; as others can gift to you. 
So, you could actually purchase sweatcoins from other people if you wanted to, in order to use them on high value rewards.
For example; right now I could get $1000 cash for 20,000 SWC.
So, what you could then do is gradually purchase Sweatcoins, (rather than simply earning them yourself) and get enough for the big rewards.
You'd need to purchase them at a good price obviously, to make this all worth it.
Also, there is nothing wrong in doing this… 
The creators of this App are fully supportive of others using Sweatcoin in this way.
In fact, Sweatcoin hope that they could become a legitimate Cryptocurrency one day, like Bitcoin.
But before you rush out to purchase thousands of SWC's, know that although you could describe Sweatcoin as a digitial currency right now, it is nowhere near to being a Cryptocurrency. 
Sweatcoin does not run off Blockchain and is not restricted in any way – there are more and more Sweatcoins being awarded to people every day and a potentially unlimited number could be created.
That said, it is the intention of the founders is to eventually have Sweatcoin listed on an exchange and say that one day, there will be a sort of blockchain attached to it.
Only time will tell if that will ever become a reality, but for now, it's still an enjoyable App and it also encourages you to walk more and get outside more too… 
So, it's a WIN-WIN App in my eyes.
As I run several times a week, it's also an added incentive to run a bit further, (which is definitely a bonus, as I've been slacking off for some time with that!).
Plus, if by chance Sweatcoin, (SWC) does become a legitimate Cryptocurrency some day…  I think it could be quite interesting to be part of this in the early stages and see how it evolves.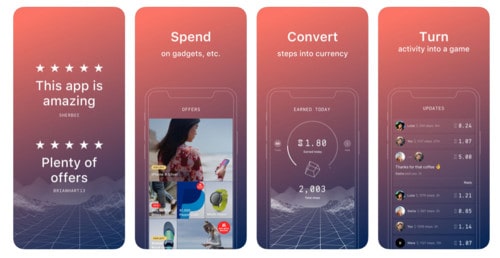 Gifts, Gift cards, Cash etc….  What Rewards Do You Get?
I'm in the UK and the actual gift section is REALLY sparse.  At least right now.
I have heard from a friend that the US version is different and you seem to have a lot more to choose from.
Plus, I have also heard that you get rewards coming on for a very limited time and they run out REALLY quickly. 
So, the advice seems to be, that you check out the gift section several times a day for the offers worth having.
That is, if you have enough Sweatcoins to actually exchange for anything.
See some of the standard offers below….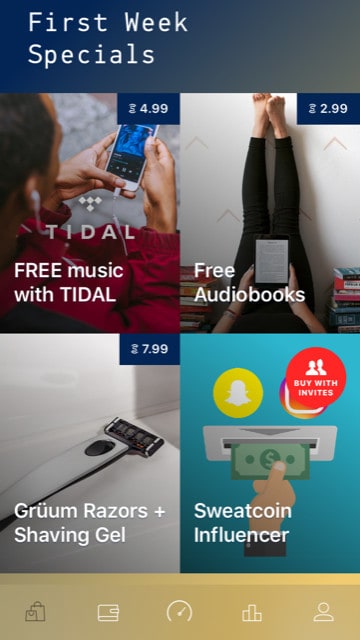 And the "Marathon Offers"….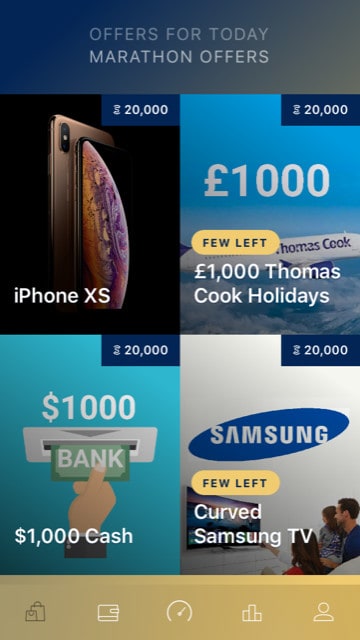 Obviously the Marathon offers look impressive. 
But how long would it take you to make 20,000 Sweatcoins?
Well, if you just tried to do it via walking alone, you'd have to save for years.
On average right now, I've only been walking 3,400 steps a day.  
Sweatcoin only counts the steps you take outside and some days, I may not even go out!
But, let's just say I made 3 Sweatcoins a day, every single day.  That only makes 1095 per year.
So, it would take me over 18 YEARS to make enough for that $1000 cash.
It seems a little misleading don't you think?
As having those marathon rewards there, seem to suggest it's attainable by the average person, (that is, aside from purchasing SWC).
Even at much higher numbers, if you're a big walker outside, it would still take an exceptionally long time.
At the moment, the most you can earn is 20SWCa day, or 600SWC per month at the highest level. 
That's at a higher Sweatcoin level, called "Breaker."  (you pay 30SWC per month for this level).
There is another level coming called, "trouble maker," but there aren't details about that yet.
I'm currently a "shaker…"  which means I can earn 10SWC a day and it costs 4.75SWC per month at this level – although it's free for the first 30 days.
At this level, I can only earn a maximum of 300SWC per month.
How Does Sweatcoin Make Money?!
You may wonder how Sweatcoin actually makes money… 
How do THEY have the money, to be giving you SWC in the first place?
Well, if you take a look in the offer/gift section – some of those are actually things they will earn a commission on.
They advertise the product on their App, they earn a commission.
Some of these offers are a discount or more like a trial, where Sweatcoin will earn a commission too.
Also, there is a daily chance to make an additional Sweatcoin daily, by watching an Ad. 
The company will get paid for having these Ads in place.
So, there are various ways Sweatcoin will be earning money.  As long as people are using the App!
Who Is The Sweatcoin App For?
The Sweatcoin App is going to be ideal for people who either walk a lot outside and want a little added bonus/incentive to do so…
OR
People who don't do very much walking and need a little bit of a push to get out there and walk more.
While we do regularly go for long walks as a family and I also run several times a week, (usually) you may think I get out a fair amount….
But actually, because I work from home, there are some days where I may not leave the house, or go out for a very short period of time.
So, having this has made me think more about how much I walk and has encouraged me to get out more. 
I've also found it fun looking at how many steps I've done.
PROS VS CONS
PROS
Get rewarded for doing something you're going to do anyway!
Incentive to get out more and have more of a healthy lifestyle.
Sweatcoin say a Blockchain is being developed…  So, perhaps you will be able to your Sweatcoins to purchase things online in future, time will tell.
Great looking App that's easy to use and well designed.
You can gift coins to others and some users also sell their coins online.
CONS
Many people complain that it can drain your battery.
Limited rewards, (esp in the UK right now).
Rewards come and go very quickly and be in limited supply – so, you have to check regularly if you're looking to exchange your coins.
Right now, there is only a low-earning potential here.
You can't get unlimited SWC – there is a cap on what you can earn and to earn more SWC, you need to pay to access higher levels.   Although, you only ever pay in Sweatcoins that you've made, never in cash.
Sweatcoin Review Conclusion – Is Sweatcoin Legit?
Sweatcoin is currently one of the best Apps I've reviewed this year – not because it has a big income potential, but just because I enjoy it and love the idea behind it.
It provides a great added incentive to walk, or get outside regularly and you can also compete with your friends and share how many steps you've made and so on.
I also liked how smooth the App was to set up, there are step-by-step instructions and the App itself just looks pretty cool.
What would make me even more encouraged to walk more however, would be more rewards available.  
Right now, the rewards are a disappointment for me. 
Sure, you can get $1000 PayPal for 20,000…..  But why can't I get just $10 for a certain amount?  Or $50?….  Hopefully this will happen eventually.
Again, I have heard there are far rewards available in the US and this is just my experience from the UK.
Overall, I think this App has a lot of promise and I look forward to seeing how it progresses in the coming year.
Sign up to Sweatcoin App Here.
Beyond Apps Online…  Making More:
I've now reviewed many Apps that claim to help you either make, save, or even win money.
In every case so far though, I've found they are all low-income opportunities.
They aren't something I would do just for money, but more just because they're a bit of fun and the added rewards are just a little perk.
I make the most online right now from having my own website; you can learn how to do the same here.
Check out my 40+ ways to make money online, for lots more ideas!
Other posts you may like….
All the best,
PIN ME 🙂