So, What Is User Testing?!
Usability Testing is an interesting way to make money online, that not that many people seem to know about.
It involves getting paid to do small and simple tasks and producing feedback, while browsing websites.
Today, I will be looking specifically at one company that offers this service; called User Testing.
So, is User Testing legit, or is this just another online scam?
If you found this post, you're probably already worried about usability testing in general, or perhaps just this particular website.
Well, worry not, this is a legitimate company that pays you for completing tasks while browsing and testing websites online.
They will record your voice and your computer screen during each test, while you complete simple tasks and answer questions about websites online.
In my User Testing review today, I will explain everything you need to know to get started & accepted.
update oct 2018: I am a five star reviewer on this platform.  I followed the same tips I've outlined and shared in the videos below, so they're definitely worth checking out.
Review In Brief:
Product: User Testing (www.usertesting.com)
Price: Free
Earning potential: pocket money.
Overall Rating: Legit!   As an extra income opportunity, this is one of the better ones you can find online.  It pays much better than something like online surveys, is fun to do and doesn't take long!
The main issue you will face, is managing to get enough tests.  You need to keep the application open and keep checking for tests to pop up.  Because, once they have enough takers, the test will be gone!
Looking to make MORE online?  Stick with me until the end of this post!
User testing is a site that website owners can go to, in order to get feedback from the public about their sites.
You, (the public) are then paid in order to complete short tasks and give feedback on these websites.
You must be over 18 to register and you need to be able to communicate clearly and effectively, as your voice will be recorded.
You will be scored out of five stars for each review, so getting a bad rating can effect how many reviews you're able to do in future.
How To Get Started With User Testing:
To become a tester, you first just need to go to the main website and enter your email address.
You are then emailed right away, asking if you'd like to complete a sample test.
As you click back through to the website, you're then asked to download their screen recorder.
Downloading it is as simple as clicking a couple of buttons and you are then ready to go.
From here, you now record a sample video and once this sample video is approved, you can go on to do paid ones.
The sample test is only a few minutes long.
Prior to doing your test, you can watch a sample test example and also watch a brief training video.
During my test, I had to imagine myself in a scenario.  In this case, it was visiting a museum and trying to find out key bits of information.
The floor plan to the museum.
Which single holiday the museum was closed on.
You have to speak out loud as you navigate the website and explain how easy or how difficult it is for you to complete the task.
You need to keep talking out loud and make sure everything that's going through your mind is actually said, so that the testers can get a real idea of what it's like for you navigating the site.
After you've completed that section of the task, you need to type out the answer to a couple of questions, including some feedback about your experience on the site.
You then need to upload your testing session for them to review, again this is just via a click of a button.
It does take a while to load, a few minutes in my case, but otherwise was very simple and hassle free.
Due to the high number of applications, they warn you that it could take up to a week to hear back.  Although, I heard back within 24 hours.
Once you're accepted you'll receive an email like the one below and then you can go ahead and fill out your profile.

Related Post:  My Top Extra Income Sites!
Example Of A 5 Star Review:
How Long Will Each Test Take?
Each test will take no longer than 20 minutes.
There are also shorter tests (peek tests) and longer, (which are paid accordingly) – but the regular tests are around 20 minutes.
How much you can make overall, month on month, is not possible to accurately answer.
How Much Can You Make With User Testing?
Since, this will depend on many different factors – including how available you are to take the tests, how many tests you're invited to and how many you're actually accepted on to.
(how much do you make with User Testing? – Comment below!)
For example, I've heard from some people who have managed to get a few within a single day, whereas others may not qualify for a test for weeks.
I like the fact that User Testing are completely upfront about this!
(As a little update though, I made $20 on User Testing today… Not bad!).
For the standard 20 minute test, you're paid $10.
For shorter "peek" tests, you get paid $3.
$10 for 20 minutes is certainly considerably better than many of these lower paying opportunities online.
For example, for plenty of survey sites it's not uncommon to get $0.20-$0.50 for a 20 minute survey, (if you're not screened out) and if you're on a PPC site, you may get $0.001 each time you click on an Ad…
Even with some freelancing work starting out, it's not uncommon to get less than $10 for 20 minutes work.
Especially as there are people who may be happy to work for a few dollars an hour.
So, as a little side opportunity, the pay is pretty good.

PROS VS CONS
PROS:
Unlike many survey related sites that screen you out after you have already spend a considerable time on them, User Testing has a short screening process of just a few questions.
You get paid via Paypal, which is quick and easy and you will wait up to 7 days – which while isn't perfect, is certainly better than many survey sites that ask you to wait up to a month!
When they do pay – they pay on time, no messing around.  User Testing is a legitimate company, that carries itself well.
Support is also very good.  I've often been contacted within an hour or two from emailing and at the most 24 hours.
You can make a real difference to website owners and the experience of others, by offering them important insights into their sites.
The work is actually interesting in fun – way better than doing monotonous surveys!!
CONS:
Screening out problems – the actual questions may be short, but you still have the issue of not qualifying for many of the tests, just as with survey related sites.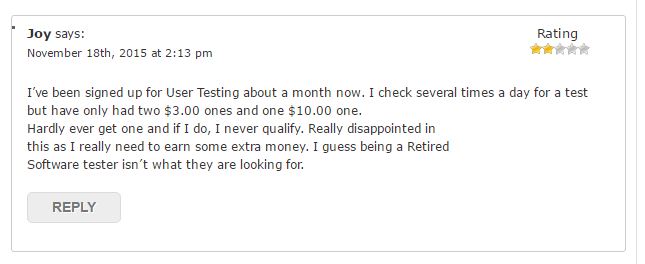 Tests can be slow to upload, so you need a decent internet connection.  If your connection is too slow, this could be problematic.
How To Do well With User Testing Video – Great Tips!

 Tips To Keep In Mind:
Your voice needs to be clear, make sure you have a microphone as the standard built in microphone is often not very good.
Make sure you speak clearly, don't mumble.
Speak throughout the review whatever comes into your mind related to the task & website.  Talk through everything that you do.  Don't leave any periods long of silence.
Be descriptive but concise, don't ramble on about something unrelated to the website or the tasks at hand.
Carefully read the questions and complete the tasks asked of you, don't veer off the task at hand and take your time.
Where possible, stay logged into the User Testing site while you're online, then you can grab the tests as soon as they become available.
Conclusion – Is User Testing legit?  YUP!
My experience with User Testing has been really positive, I find the tasks fun to do.
My first test was a mini one for $3 and I qualified instantly – after that, I attempted to join around 7 tests and was either too late or didn't qualify.
Then I did!  And got my first $10 test on the site, which felt very simple really.
To have the best chance of being accepted, being there logged in as soon as a test comes in really gives you the best chance.
Also, you can download the mobile App, to be able to be accepted on to more tests, (I've only just done this recently, so I will see how it goes!).
The main issue is the screening out process.
There's little you can do about this because the website owners will be looking to test a particular demographic.
If you don't fit within that demographic at the time, you may find it hard to get accepted onto tests.
Generally, there are many happy users making a little money on the side from this.  Your best bet is just to give it a go.
Don't get disheartened if they ask you to do your sample test again – I messed up the first one myself!
The second time, you will be more prepared!
Keep the tips in mind that I mentioned and you will be fine.
Making More Money Online – In The Long Term:
Doing a few tests on User Testing, can make you a little money on the side – and I'm really pleased with that, for what it is.
However, it is never going to add up to any significant income on its own.
If you're interested in making more than that online, maybe with the aim of one day working online full-time or just building up a second income from home, there is more you can do.
At the moment, most of my income online comes from affiliate marketing.
But once you own a website, there are many different ways you can earn money from it.
*you need to check out this free training.
I hope you found this review helpful, please do leave a comment below if you've had any experience with User Testing!
All the best,

Other posts that may interest you….