Get paid to walk Apps… I recently heard about one of these, (the top of the list) and I had to check it out.
Then I discovered there were various Apps that pay you to keep fit in various ways.
As a kid, we used to go on walks most weekends around the English countryside.   
In fact, we ended up in some fairly perilous situations at times, by going off route and exploring – but it was an adventure.
Then I became a moody teenager and I stopped going on walks 🙁 …  UNTIL, I had my own children.   
Now we regularly go on long walks as a family and love it.
We've been walking since my youngest was still in a pram and if you don't walk as a family, I highly recommend you try it out.
Not only does it really give your family a chance to talk and reconnect, (away from computers, games consoles and mobile phones….) but it can be great fun and, of course, is really good for you.
But even though walking can take you away from technology, there is a way you can combine it without being antisocial and it can make you a bit of extra money at the same time.
Of course, if you prefer to go on long walks alone, the antisocial bit won't effect you anyway! 😉
Maybe you already know there are huge benefits to walking….  If not, check out this post sharing 7 health benefits of walking 30 mins a day.
Now, I'm in the UK and unfortunately, some of these Apps I can't even experience because they are only available in the US!
But all of these have good reviews on the App store, or Google Play.
All but one have over 4 stars on App store… aside from the last one with 3.7 stars right now, (still pretty good!). 
They aren't all about walking either, some of the Apps allow you to earn points for various activities.
If you have experienced the benefits of some of these Apps, (or if you know of some others that aren't on this list, please leave me a comment below!).
Now, none of these Apps are going to make you very much money, but they can make you a little extra incentive to get moving and experiencing the outdoors!
#1 Sweatcoin – My Favourite So Far!
Sweatcoin has over 4.4 stars on App Store at the time of writing, with well over 12 thousand reviews.
You can sign up to Sweatcoin for free here. 
Once you're signed up, you will earn Sweatcoins for the steps you take outside, (so indoor steps won't count!).
You make 0.95 "Sweatcoins," per 1000 steps.   
There are various rewards you can claim, once you've accumulated enough coins.
Some of these rewards include – money off workout clothes, subscriptions to fitness App memberships, free music, audiobooks, jewellery, holiday vouchers and much much more.
For those in the UK, I saw there was a £1000 voucher to Thomas Cook Holidays available…
However, you would need 20,000 Sweatcoins to buy that!!  
That being said, you can swop Sweatcoins with other members and I have read that people do buy Sweatcoins from other people, in order to get bigger rewards.
Interestingly, Sweatcoin is hoping to become a full fledged currency some day.  So, one day you may be able to use Sweatcoin to pay for things online; much in the same way you would with bitcoin.
I just downloaded the App today and I've been really impressed by how simple it was to set up and by the overall design and ease of use.
So far today, I already made 3 Sweatcoins and didn't even think I'd walked that much. 
Suddenly, I'm feeling an extra incentive to get out and walk more.
The great thing is, it all goes on behind the scenes and you don't need to sign into it all the time for it to work.
I will write a review once I've accumulated some more points and experienced everything it has to offer.
Try it out and share your experience with me in the comments below!!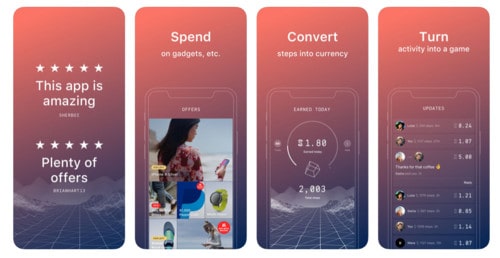 #2 Achievement App:
Achievement is a free service with 4.7 stars on App Store right now and over 12k ratings.
link Achievement up with whole host of fitness Apps and earn points for the activities you do.
This doesn't just include walking at all, so you have a lot of scope to make points in different ways and to simply connect some of the fitness Apps you already use, (such as myfitness pal, runkeeper, fitbit, AppleHealth and much more!).
You can earn $10 for every 10,000 points you generate.  
Considering you simply link this App to other Apps that you are already using... there is nothing to it and you can earn points for just doing what you'd regularly do.
Except, perhaps this will give you an added boost to actually do your workouts more regularly!  
#3 Stepbet App:
Stepbet has 4.8 stars on App store right now and a little over 2k reviews.
This is more of an interactive App, as you can make a bet on achieving certain goals with others.
For example; you could make a bet on walking a certain amount of steps within an allotted time.
Your money is then combined with other people who have joined in this challenge.  Who ever then manages to complete the challenge, splits the money.
Now, I guess this won't work very well if everyone is amazingly good at sticking to and reaching their goals.
But that can't always be the case, or else I doubt the App would have such good reviews.  
Even if you don't win very much money though, it's still going to be a great motivator to ACTUALLY reach your goals and have a big incentive to do so.
#4 Charity Miles:
With this option, you're not making money directly for your own pocket, but for charity.
The more miles you walk, run, or jog, the more money your can make for your chosen charity.
There are over 40 different charities to choose from, so you're bound to find one that resonates with you.
So, not only will you be motivating yourself to keep fit, your motivation will also be a good deed in itself.
Now you could feel even BETTER after your long walks.
#5 Map My Fitness:
Map My Fitness has  a 4.7 star rating on App store and not far off a whopping 30k reviews.
This isn't one where you're going to guarantee any earnings though, as you only have the opportunity to WIN prizes by competing with others.
There is also a grand prize at the end of the year.  
There are various uses to the App, which go way beyond tracking your walks.  
You can also connect with others, compete in challenges, create training plans, count calories, discover new routes to take on your runs or walks and share your goals and achievements with over 40 million other members.
As a family, we spend a lot of time trying to seek out new walking routes online, (many of which tend to be v.bad written directions) so being able to find new routes via GPS would be really useful.
#6 Better Points, (UK/Europe):
Better Points is another App that can reward you for keeping active.
Earn points for logging your activities, save them up and then exchange your points for gift cards to spend on the high street.
Alternatively, you can also donate to charity.
As well as Better "points," you can also get "tickets," which will give you tickets into a prize draw.
If you share your activities via social media, you have the chance to earn additional points too.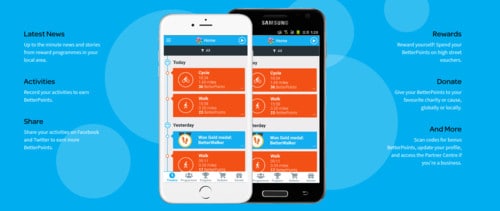 Get Paid To Walk….  Why Not?
I love the idea of earning rewards for doing things that you'd already be doing anyway.
All the better, when there is an additional incentive to do it too, (like keeping fit).
No, none of these things are going to make you tonnes of cash, but if this added incentive encourages you to get out and walk or exercise more…  That has to be a good thing.
If you're looking to make more money, check out my 40+ ways to make money online.
If you're interested in making money from a website or blog, check out this post.
Some other posts you may like….
Other posts you may like….
All the best, 
PIN ME 🙂