There are tonnes of genuine ways that you can make money online and earning with smartphone apps is possibly one of the quickest and newest ways that you can.
So, in this post I'm going to share with you a bunch of smartphone apps that can make you money!
There are many apps that pay you to carry out a simple and fun tasks, at your leisure and get a small cash reward for doing so.
All you need is your Smartphone and a bit of time and you can earn a little extra cash on the side.
Just be aware, using these apps will not make you very much – but that doesn't mean they're not worth using for some extra pocket change.
So, although these payouts aren't going to allow you to quit your day job – they could end up covering a few extra bills in time, money towards a break away, or simply a night out with friends.
After all, you only do it at your leisure – maybe when you're on a bus, travelling to work, or in your lunch break.
By the way, I don't make the most using Apps! I learnt to make my first 10k+ online, after following this training.
So, let's dig into the list….
1. Swagbucks

Swagbucks is something I regularly use anyway, outside of the App.   Mainly as, you can gain Swagbucks by using their search engine.
Available on iOS and Android platforms, this fun app, pays you to perform small tasks, such as complete surveys, shop online, or search the web.
You can earn Swagbucks when you:
Complete surveys,
Search the web,
Watch videos,
Complete special offers,
Refer your friends,
Gain cash back from shopping online,
Partake in fun contests on the Swagbucks blog or social media handle,
Pote in daily polls,
Find swag codes.
You can then redeem the points for cash via PayPal or for gift cards from stores like Walmart, Target, and Amazon.
Swagbucks has paid out over 100 million dollars in cash and gift card rewards so far and are one of the most well-reviewed and popular companies of its type.
You can get a $5 sign up bonus, via the link below.
Free $5 Swagbucks sign-up bonus here.
2. Inbox Dollars & Inbox Pounds
Inbox Dollars is another survey app that pays you to complete surveys; you can also earn more by playing games or browsing the net.
The survey suggestions are emailed to you. You would be notified of the time required for each survey and how much you will earn.
However, there is a big chance you won't qualify for the surveys, as that's just a problem with paid surveys in general.
Inbox Dollar has a payout mark of $30, (£20 in the UK) which is definitely pretty high – but have paid out millions of dollars to their users.
The app is available for both Android and IOS platforms.
Sign Up To Inbox Dollars or Inbox Pounds.
3. Clashot
With Clashot, you can make money by taking photos of life art, food, cities and other photo-worthy scenery and selling them on Depositphotos.
If you're a keen photographer, this might be a good way of generating a little extra income.
The app is available on the Android and iOS platforms- after downloading the app, you would be required to register an account at Clashot, complete and verify your profile to start selling.
These photos can be traded for $0.50 to $80 each, with a royalty average of 44% per sale.
4. Ibotta
The Ibotta App allows you to earn cash back on your online shopping, (this App is USA only).
All you have to do is to download Ibotta on either Android or iOS device and complete some simple tasks to earn cash rewards.
After shopping at a store, you would need to verify the payment by either submitting a receipt or linking a loyalty card.
When using a receipt, you only scan the barcodes for the product as you shop and then send a photo of the receipt – while for a loyalty card; you just scan the card and enter your phone number.
Some people are saving hundreds of dollars with this App – but at the least, you can definitely build up a little extra.
You get things such as 20 cents cash back on basic items such as milk, pasta, eggs, cheese and so forth, even if you're buying the store own brand.
That's the great thing about this app – it isn't just brand specific items you have to buy, so you can buy the cheapest store brand and STILL make money.
However, they do have more rewards on brand specific items as well, up to several dollars an item in some cases.
5. Field Agent
With Field Agent, you can make approximately $3 to $12 by performing simple tasks, (or £2- £8 if you're in the UK) and that isn't too bad at all!)
Tasks may include taking a picture of a particular product at your local  store and verifying its price, checking how many items are on a shelf, or completing a survey.
Jobs are only available until they are snatched up, so you have to be quick.
In addition, you're likely going to have far more tasks available to you if you live in a city, as opposed to somewhere remote!
Once you have completed a task, you should be able to withdraw any funds after around 48 hours, via PayPal.
You need to download the app to your Android or iOS device and complete your profile to start earning.
6. Slidejoy
Slidejoy is another interesting app, unlike most apps; you rarely have to do anything to get paid.
The twist here, is that Slidejoy place ads and news on your lock-screen, and you earn "Carats" which can be redeemed for cash via PayPal or gift cards.
The number of Carats you make daily may be determined by the ads placed.
You would earn 20 Carat when you signup. 1,000 Carats equals $1, and you would need at least $2 or more to check out.
You can quickly earn a considerable number of Carts provided you can endure ads on your lock screen; you also don't need to engage the ads as there are no additional Carats for that.
From what I can gather online, it seems some people make around $6 or so a month, for having this lock-screen downloaded, (some people claim they now earn less than this).
It certainly isn't much – but, there isn't actually anything you have to do after downloading!
The app is currently only available on the Android platform.
7.PACT
Pact is a fitness app that dares you to maintain your fitness goals.
You are required to pay some cash, and then you would set your fitness goals.
If you stick to them, you would keep your money and will also be rewarded a small amount. 
If you don't stick to your "pact," then you lose out.
This isn't so much of a money-maker, than a motivator to keep you on track with your fitness goals and potentially earn a mini-reward if you stick to them.
You are rewarded about $2 each time you stick to your goal – these funds are gotten from other persons who failed to stick to the pact.
The fitness goals are linked to your fitness tracker for accurate results and you need to connect your PayPal account
8. AppTrailers
AppTrailers pays you to watch few seconds video on your iOS or Android devices.
The videos are mostly trailers of new apps, and you earn points for each video watched.
These points are then redeemed for cash via PayPal or gift cards for various stores.
Users can also earn points by uploading videos and attracting likes. I don't tend to recommend these sort of Apps, unless you REALLY enjoy watching these videos.  
As you'll only add a minute amount. However, there is a low payout threshold, as you can cash-out from $0.50, (around 500 points). 
You need 5000 points in order redeem a $5 gift card. It looks like a pretty fun app and has some decent reviews, so you may want to check it out.
App Trailer Via Android & App Trailer Via IOS.
9. Ipsos App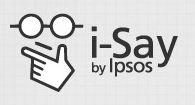 Ipsos is one of the more legit and long-standing survey sites to earn with; but again – you should be aware that you won't always qualify for the surveys.
But at least the questions you're asked are just about simple things – basic questions like the soft drink you like, the hotel you love most, what restaurant you last ate at and so on.
You can earn up to $5 for 30 minutes, but it's more likely to be something like $1-$2.
Ipsos is currently available for both iOS and Android devices, but it has had some negative reviews, so be on the cautious side.
10. Google Opinion Rewards App
Ahh the masters of the internet GOOGLE themselves have an App where you can earn cash… well, of course they do :).
This is a simple app where you essentially answer surveys for cash.  You won't be sent them that often, around once a week or so.
You will be sent a notification when I survey is available and for every one you complete, you earn $1, (or £0.60 in the UK!).
They're short and sweet too, so you won't be spending hours of your time filling in surveys for next to nothing.
This App has some decent reviews and has been downloaded millions of times – so, it's gotta be worth a go.
It's available to download both via IOS and Android.
Download Google Opinion Rewards
11. Receipt Hog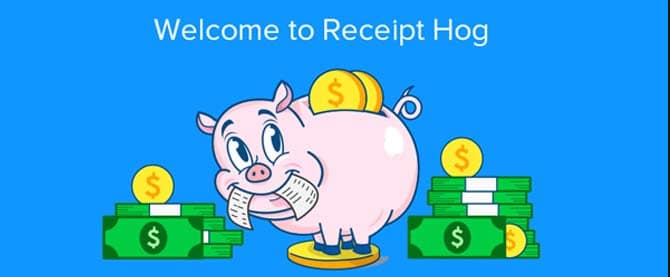 Receipt Hog is a fun app that I recently reviewed, that allows you to upload photos of your receipts, in exchange for points.
Gradually, you can save up your points and then cash them out.  For some receipts, you also earn "spins," on a cute piggy slot machine.
With the slot machine, you can win extra points.
What I like about receipt hog is, you can upload a huge variety of receipts – even receipts from restaurants, or clothes shops.
The only thing is, you need to remember to upload your receipts!  I was quite surprised at just HOW many receipts I got day to day, once I started saving them to upload to Receipt Hog.
12. Ebates
You can earn up to 40% cash back, anytime you shop in any of the 1,800 participating online stores.
US only, for the UK – you could try QUIDCO
You can also make big with referrals, with up to $50 when you refer two friends.
You would receive payments every three months through PayPal, or paper check.
Download the app on your android of IOS device to start.
13. Job Spotter App
This is an interesting app, where you can get paid of uploading those job notices that companies post on their windows?
You simply snap a photo of the job notice, (following their guide for doing so) and earn up to around $1 for each job post that's accepted.
You can then exchange your earnings, into Amazon gift cards.
It goes without saying, that you're going to have a lot more success with this, if you live in a large city.
I doubt there will be much point if you live in a tiny remote village somewhere!
In any case, the app is simple to use and has some pretty positive feedback online too.
Learn more about Job Spotter App.
14. Music Magpie

Music Magpie is a great App and website that allows you to easily get rid of your old, unwanted junk and get cash in the process.
You simply scan your dvds, CDS, games and books via a scanner on your app to find out what price you'll be paid.
You can also sell old Lego and electronics!
You can search your electronic devices and find out how much they're worth, and this will vary, depending on their condition.
Although even faulty phones/laptops/tablets are accepted too!
Whatever stuff you want to get rid of, you bundle it all in a box and a courier can even come and collect it for you, (free of charge).
You're normally paid the SAME DAY that the delivery gets to Music Magpie.
They have some of the best reviews I've seen for an App and while you can usually get a lot more for selling on ebay; this is a hassle free way of making money if you have a lot to get rid of.
Learn more about Music Magpie!
So, those are 14 Apps that pay you cash.  If you really want to give it a go, your best bet is to download a bunch that you think you would enjoy most and maximise your earning potential.
If there is any app you think should be on this list that's not listed, please share with us through the comment box below!
Pin Me For Later! 🙂
Want To Make More Than Pocket Change Online!?
Apps can be a fun way to make a little extra pocket money here and there, but what about more substantial money?
I came online looking for a way that I could support or family from home & start paying off some accumulated debts – but most ways seem to offer small change.
That's why I eventually started my own blog and learnt how to build websites.
Because I soon figured out that you can earn from a blog or website in a variety of ways.
I surprised myself too, because I'm not a naturally technical person.
If you'd like to learn how to start an online business, that will pay you long into the future, I recommend this training.
If you'd like to start a money-making blog, I wrote an in depth tutorial here.
All the best,