What Is Quidco About? Quidco Review & Explanation Right Here.
Quidco is the UKs #1 Cashback site online.  If you're not sure what cashback is and how it works, this post will help you understand it all.
In a nutshell, Quidco can help you make savings online, by giving you a percentage back on purchases that you make via Quidco.
Quidco are partnered with thousands of big brand stores online and these stores will pay Quidco a commission when you shop via them; it's basically a "thank you," payment for sending business their way.
Quidco then shares some of that commission with you, in the form of cashback. Therefore, a percentage of your purchase returned to you and you make a saving.
There are SO many ways to earn cashback online these days; whether it by website, App, or even some online survey related sites have their own designated cashback section.
What makes Quidco special? Is it worth your time signing up?
Quidco Review In Brief.
Website: https://www.Quidco.co.uk
Money Making Opportunity: Saving/Cashback.
Cost: Free for basic membership; premium membership is £5 off your cashback that you get within a year, (no upfront payment).
Overall Rating: Legit – this is one of the most well-established cashback sites online and certainly one to check out if you're in the UK. With over 4,500 retailers to choose from, at the time of writing, there should always be some cashback offer available – no matter what you're trying to purchase.
How Does Quidco Work?  Getting Started:
1. Sign up with your email address/user name and password. Quidco will ask if you want to be a premium member, or regular member. Premium members have access to other features, (I outline this below!).
2. Once you're signed up, you can go and browse all the offers available. You can either search for specific retailers in the search box, or look via category. For example; electricals, fashion, insurance and so on. You also have the option to check out Quidco's top deals on the main homepage.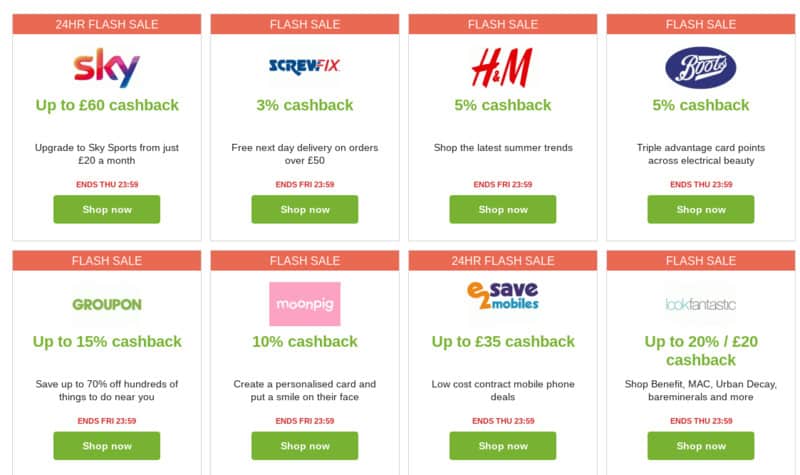 One thing I noticed while browsing was that they certainly have some higher paying offers. While I'm used to seeing between 1-5% commonly; some of these offers were 15%, 10%, 12% and this is higher than I'm used to seeing.
Free Vs Premium Membership:
I was surprised to find that there is a premium membership available at Quidco. Surprised because, most cashback related sites or apps I've come across are entirely free.
That said, this is a little different, because you don't pay anything up front….
The extra things you get included in a premium membership are:
All the cashback offers you already get with the free membership, (of course). Plus:
No adverts.
50% higher top up bonuses when you exchange for gift cards at particular retailers.
Exclusive access to extra bonuses/promotions/cashback rates.
Entry into £250 a month giveaway.
Access to super draw, with £25,000 of prizes each year.
To access premium, there is nothing to pay upfront, but Quidco will retain £5 from your annual earnings.
If it was any more than that, then I'd probably say it wasn't worth it. But if you use Quidco regularly, it isn't going to take that long to make that £5.
Once You're Signed Up… Get Browsing…
Once you've decided on your membership option and your account is active, you can get browsing and shopping right away.
On their main page, they will have some of their top current offers.

But you can also choose to browse via category; some of the categories you can check out include:
Electircals
Fashion
Telecoms
Insurance
Finance
Home & DIY
There are also tabs running along the top of the page that can help.
If you click on the "offers tab," it will take you to a page where you can see some of their hottest, most popular offers and other deals, such as "hidden gems -" which can introduce you to deals with lesser known retailers that have good deals on at the time.
You're also able to use the search bar at the top of the page, where you can just search for a particular retailer and see if they have any cashback on at the time.
What Do Other People Say About Quidco?
Largely, Quidco has good feedback online but there are some mixed reviews.
Quidco has an app on iTunes; which currently has 4.8 stars from over 23 thousand ratings.
Quidco has 4 stars on Trustpilot, with over 50 thousand ratings!
Quidco has a lower rating here; although only 35 reviews. Here some people have complained about cashback being declined and not receiving adequate help from customer service.
Unfortunately, there are times when companies decline to pay cashback, for a variety of reasons. But on the whole, when you look at the thousands of positive reviews; Quidco does largely have good feedback.
What is your experience with Quidco? Feel free to leave a comment below!
Referring Quidco:
You can also get rewarded for sharing Quidco with your family, friends – or via social media. You can get £10 cashback, but also get them £10 cashback too – so, both sides are rewarded.
Who ever you refer will need to generate £5 in cashback, before you get that reward. But it's a pretty decent reward.
PROS VS CONS:
PROS
Generally positive customer feedback.
Large selection of retailers available.
Some large cashback rates.
Several ways to withdraw your cash; including amazon vouchers, PayPal, gift cards.
Low payout threshold, always a bonus!
Simple to navigate.
CONS
Not specifically a Quidco con; but do ensure you follow instructions carefully, or your cashback may not be tracked, or valid.
Some customers have complained about the customer service team and having trouble resolving cashback issues.
Some companies do take a long time to actually pay you the cashback.
Conclusion: Is Quidco Legit?
Quidco is a legitimate cashback site, currently rated the #1 cashback site in the UK. They have a large variety of offers to choose from and a decent reputation.
It's possible for you to save hundreds, or potentially thousands of pounds a year from shopping online with them, (depending how many purchases you make online!).
It may seem a small amount of cashback in some cases, but you can leave this to mount up over the year and essentially use it as a little savings account.
Want To Make, As Well As Save Money Online?
While plenty of people are interested in how they can make extra savings online; they're not always aware that they could be making money as well.
There are so many ways to make money on the internet and I'm not talking about get-rich-quick schemes, (there are more of those online than you can even imagine) but creating an actual long-term-income. Something than could grow over time.
If you're interested in figuring out some ways that you could make money from home; check out my 40+ ways to make money online.
All the best,

Some other posts that may interest you: