Hey everyone; today I will be taking a look at Music Magpie – which is currently available in both the US and the UK.
This is a website where you can both buy and sell second hand items, (such as books/dvds and electricals).
But is Music Magpie worth it, can you really make good money: or is it just a scam?
In my Music Magpie review, I dig deep into exactly what Music Magpie is and how it works; as well as the PROS Vs CONS of using this website for selling purposes.
I also take a peak into what some other people say about this company and will share some tips to help you get the best out of the experience!
If you've ever looked at a cupboard full of junk and winced at the thought of having to list it all on Ebay… this could be an alternative option for you.
I don't know about you, but I can't stand clutter and yet I seem to live in a never ending accumulation of junk.  It piles up pretty quickly doesn't it?
Get started with Music Magpie Here!
How Does Music Magpie Work?
You can simply download the Music Magpie App and scan your goods, or you can key in the barcode for each item in a section provided on the website.
Obviously, if you're going to be selling a lot of stuff, it makes sense to download the free App.
However, there may be things you have that don't have a barcode, (for example; Ipads, or Lego…) that's ok, you simply go to the related section on the website and follow the instructions.
You can check out how much you'd be paid by either scanning/typing in the relevant barcode; or finding the related product on their website.
For example; I have an old faulty Ipad 2nd generation, 16GB and I can see that I would potentially be paid £14.50.
Not much, but this ipad doesn't switch on and has been just cluttering up the place for the last six months.
Obviously, if you're in the US, the price would be different but the process is the same.
What Can You Sell At Music Magpie?
This list may well grow over time, but at the moment, Music Magpie will accept the following items:
CDS, DVDS, BLURAY and GAMES.
BOOKS and TEXTBOOKS.
MOBILE PHONES, (various brands).
APPLE GOODS,
KINDLE,
TABLETS,
SMART WATCHES,
LAPTOPS,
CONSOLES,
GO PRO,
LEGO,
VARIOUS UNWANTED GIFTCARDS.
How Do You Send Your Stuff?
This is the bit I really like about Music Magpie and what actually led me to finding them.
Because I have had tonnes of stuff in the cupboard under the stairs now for maybe… two years.
All of which I intended to put on Ebay, of course.
But the thought of having to list all the things individually, work out the prices and get all the shipping sorted, just puts me off.
Then there is always the chance something goes wrong.  The customer finds a problem, the item gets lost in the post, or mysteriously never arrives.
In any case, while I was planning to one day put stuff on ebay, even more junk built up.
At some point, it just became too overwhelming to deal with and I ended up not doing anything about it.
But with Music Magpie, you can just scan all your stuff, or find it via the website.
You will get an idea of how much you're going to get, stick it all in a box and have it COLLECTED.
This is a bonus too, you don't even have to leave the house!  A courier can pick it up for you!
So, while I would personally recommend that certain items are still put on Ebay, (good quality tech items for example; you're generally going to get more on Ebay from what I can see, but you may want to check it out yourself)
Music Magpie is still a great alternative.
While I can't validate these complaints as true, some people have complained that they've sent in perfect tech, only to be told it's not and have been presented with a much lower price than they'd hoped.
So, that could be a reason to avoid selling in brand new items – just to be on the safe side.
There are many places that you can go in person to sell your top notch tech.
Because, if you have tech items in great condition, you may feel more comfortable taking these items somewhere in person, rather than selling online.
I know I feel nervous if I send off anything of high value in the post, although I have done it many times.
Even in the case of Ebay though, I've sent something in perfect condition, only to be sold by the buyer, that there was a problem.
Then I either need to refund them in part or pay to get it sent back to me.
There are certainly plenty of scammers on Ebay, so it's not the best place to sell high value items either, in my opinion.
So, it's up to you whether you go for the tech stuff, but for me it's books and dvds all the way.
That being said…. I have a small collection of electrical items, (laptops, netbooks, ipads) that are faulty and cluttering up the place, so I may well send these.
The great thing is, you can still get cash for faulty items as well!
Sending Your Stuff To Music Magpie:
Before you send, you'll need to make sure you're following some simple rules.
Firstly, make sure your box is full of stuff adding up to at least £5 worth.
However, you can send off up to 500 items in each box.  That's a lot of stuff!
You don't have to stop there though, if you have more than 500 items, just add them to another box.
It doesn't matter what type of box it is; just get your stuff in any box you can find that fits the items nicely and package it up.
Once you've added all your stuff to an order on either the Magpie website, or the App – they will send you a guide detailing everything you need to know in terms of packing your items.
How Much Can You Make?
Well, that all depends on various factors… including, what the item is, how in demand it is, what sort of condition it is in.
I scanned tonnes of dvds and the lowest price was only 1p!  The highest was £2.50 so far, for a boxset.
It did feel like a waste of time selling dvds for 1p!  Some of them had never been watched.
I noticed that the dvds that cost more, were rare ones.  Things you may not find so easy to get.  Blurays and my exercise dvds also cost more.
So, you're probably not going to get tonnes of cash for your regular dvds, unless you have plenty of rare editions, or fitness dvds.
By contrast, some of my cookbooks were £2 each, all the ones I scanned were over £1.  So, they're more profitable for me so far.
From an electrical perspective, if you're trying to sell a good quality phone or ipad and it's in good condition, then you could be paid hundreds.
If you check out their website, they actually show you exactly how much you could get per electrical device, depending on the model and the condition.
Astonishingly Good Reviews!
I'm not sure I have ever experienced a company to date with quite such glowing reviews.
Considering the amount of people they're dealing with now, you would think there would be more customers having issues.
But, while I was researching this company – 5 star reviews were coming in every 5 minutes or so, on to the TrustPilot website.
It's rare that I see reviews updating, literally as I'm typing a review.
Comments tend to point out the positives such as:
How easy/effortless the experience is.
Prompt payment.
Good prices.
Stress free.
Great barcode scanner.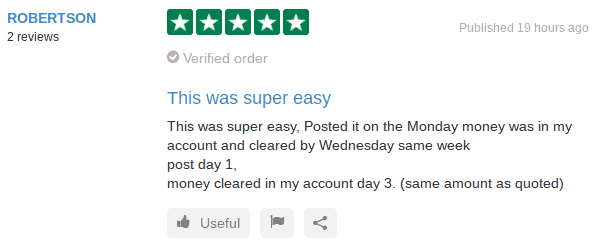 (image source – UK trustpilot)
(image source – UK trustpilot)
What I Love About Music Magpie!
– Finally, a hassle free alternative to Ebay!
– Music Magpie pays you on the SAME DAY that they receive your items, this has got to be a mega perk.
– Free courier service… you don't even leave the house, or worry about getting a massive parcel to your post office, you can just hand your box over to the courier and you're done!
– It's free to use, you don't have to worry about seller fees or anything like that.
– The app is simple to use.
– It's not just about selling, you can also purchase so great quality second hand goods, for a decent price.
– You don't have to deal with direct issues with buyers, like you would somewhere like ebay.  No disgruntled buyers demanding a refund, or asking a multitude of questions.  It's very hands off.
What I Don't Love…
– I wish you could send off more items, (perhaps with the introduction of Lego, more could be in the pipeline).
– For some items, you may wonder whether it's worth it, (1p for a dvd for example, when you may have bought it for £15).
– You will make more money selling stuff on Ebay or Gumtree – you may even make more selling at a bootsale, to be honest.
(But who ever really wants to do a bootsale!?!  Last one I did cost me £20 JUST for the space to sell, I had to wake at the crack of dawn and stand around in a field for six hours….  No thanks. :-/ ).
Conclusion: Is Music Magpie A Scam Or Legit Selling Opportuntiy?
Clearly Music Magpie is not a scam, it's a legitimate way that you can both sell your old unwanted stuff for a profit, but also to buy second hand items at a reduced price.
They take out all of the hassle of online selling, that can often be time consuming and frustrating.
I can't count the number of times that something has gone wrong either buying or selling something on Ebay.
Ebay is great and certainly has it's place.  But sometimes, when all you want to do is get rid of a BULK load of stuff, this is a good alternative.
It's also a great way to get rid of some of those old or faulty electrical items you have gathering dust in your home.
Hey, you could even ask other people if they have any books or dvds that they don't want anymore and you can take them off their hands and sell them on.
I actually know someone who used to offer a service whereby, he would list their old junk on ebay and take 50% of the profit.
You could do a simlar thing with this, although some people may not even be interested in the money aspect, some people are more than happy to offload their unwanted junk on to someone just to clear the space!
…. I'm already thinking about how many books are gathering dust on my mums bookshelf…. 😉
Get Started Selling Your Stuff Here!
Have you made any money with Music Magpie? I'd love to hear from you, leave me a comment below!
Beyond Selling Junk: Making More Money Long Term?
While I think this is a great way to make a little extra cash, it's not going to make you a tonne of money in the long term.
Years back now, I came online looking for ways that I could make a little extra money, in the hope that I could boost our income and reduce our debts.
I learnt how to build a website/blog, to rank content well in the search engines and to eventually earn some money from affiliate marketing and other methods online.
I didn't think I'd be able to make money online, because I didn't have any technical knowledge.
But guess what?  I learnt a tonne very quickly and amazingly, you really don't need any technical knowledge now to start making money online.
Anyone can learn, pretty much as long as they know how to switch a computer on!
If you're interested in learning how you could start making some extra money online, like I did – you can access some awesome free training over here.
All the best

Some other posts that may interest you: