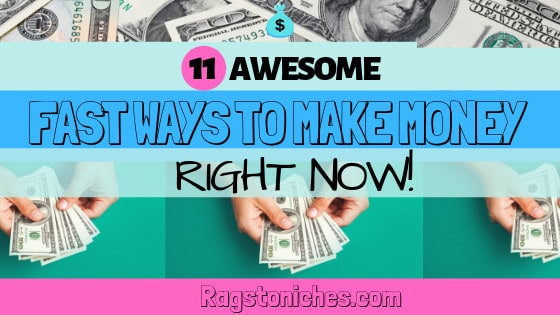 It's difficult when people try and search for ways to make money online FAST… because that desperation leads to many falling for scams.
Because, some products, services and programs seem to promise they can make you a lot of money, in a very short space of time.
In reality, most ways that you can earn good money online can take months and years to start seeing results.
So, if you want to know how to make money fast online, in most cases it's not going to be life-changing money.
However, there are some definitely some ideas here that CAN make you money quickly and are worth you checking out!!!
So, why is it that you need money NOW…..  ? 
Has a friend has asked you for an evening out and you're broke?  You just broke your budget?  You have an unexpected bill? You're in massive debt?
Well, while I can't promise you will make hundreds of dollars in the next couple of days, try and do a combination of these things and you will definitely help to boost your budget!
Also, don't forget to check out the final section about making money in the long-term! 🙂
Want $5 Free? Join This Rewards Site & Make Money From Cash Offers, Games, Surveys & More! Click Here To Join Now And Get $5.
1.The Most Obvious, (But One Of The Quickest)…. Sell Your Stuff!
It might be the most obvious, but you may not know the extent of the weird junk that you can actually sell online!!
You may be thinking that it's only going to be things that are in good condition and working order – well kept clothes, faultless gadgets, or Toys.
It could be worth taking a good look on Ebay and seeing exactly what sort of things sell on there.
I wrote a post a while back – weird things you can sell on Ebay – and that may enlighten you to the kind of thing I mean.
You know that some people even buy empty toilet rolls?!
Also, don't just throw out your broken gadgets, you can sell broken gadgets for spares and repairs.
Some broken gadgets still reach a  a reasonable amount of money, (as there are people out there capable of fixing these items and reselling!).
I know it's a bit of a hassle going through all your old junk – but you could be looking at plenty of cash there!
If you don't want to sell on Ebay, then more local options are going to be things like having a Yardsale, or Bootsale, or adding a listing to Gumtree or Craigslist.
There are also Apps where you can sell your items these days – such a Shpock and Let go. 
If you want to eliminate the work of actually selling anything directly, then you might want to try something like Music Magpie, (for electircals, dvds and lego).
You will get less than paying privately, but they will come and collect your stuff directly from you and pay you the same day they check and receive your goods.
ALSO…. do you have anything gathering dust that you suspect could be worth something?
I recently wrote a post about selling old coins online… But maybe now is the ideal time to check out what you've got in storage – it could be worth much more than you think!
2. Make Money… Helping Others!
As long as you have time to spare, people are looking for help and will gladly pay you for your time.
One option for this, is something like Taskrabbit – you can only make use of this in certain locations, but you are able to list things that you are willing to do such as cleaning, delivering things or gardening tasks.
You will have to be verified before you're able to do tasks, but it could be a great way to earn extra cash.
3. Make Money…  Doing Mini Tasks Locally!
There are various Apps now that pay you to complete particular tasks around your local town and they can be quite fun too!

For example; the job spotter App will pay you to find job Ads in your local area, (in shop windows!).

You snap a photo of the Ad, upload it to the App and get paid for the ones accepted, (you have to follow certain criteria).

There are other Apps that will send you on little missions to local stores and businesses.
You may think of it a bit like mystery shopping, or being a secret agent!
Often it will involve some sort of product check, where you will have to take a photo of a particular area and upload it to the app.
However, how many tasks you actually get, is highly dependent on your area, (e.g. bigger towns and cities will have more work available!).
However, if you download any of these Apps, you could start making money today.
Some popular Apps of this kind include:
4. Deliver Stuff!
It seems as though the whole service industry are going through massive change since the introduction of services like, Deliveroo and Uber.
Now, people are able to get casual work delivering anything from packages, food and alcohol.
For example, you can join Uber Eats as a driver very quickly and, as they say, "earn on your own schedule."
You just need to be over 18 and have a driving license – although, you're able to choose to deliver by car, scooter, or even bicycle.
You're not going to get rich from being an Uber Eats driver though – typically, you could expect to make between $8-$12 per hour, (once you've accounted for your expenses!).
If you're in the US, another option is Postmates.
Unlike Uber Eats, or Deliveroo – Postmates can deliver more than just food, such as alcoholic drinks and even your groceries.
By signing up with them as a driver, again you have total freedom over when you work, and when you don't.
It's been suggested that some Postmates workers earn up to $25 per hour.  
Which isn't bad – when you consider this is just working in your spare time.
Again, in the US or Canada, there is also an App called Instacart – which can essentially pay you to be a personal shopper for people.
You sign up and loging via the App – you can then make yourself available to shop and then you can pick up and deliver other peoples shopping direct to their door.
You could potentially make up to $15 per hour doing this.
5. Check Out Websites & Give Feedback For Cash!
With sites like User-Testing – they will pay you to visit websites and complete simple tasks.
The tasks you complete, help the website owners to make improvements – such as issues with navigation or ease of use.
They pay $10 for each test, that take around 20 minutes to complete.
All you need is a microphone, their software will record your screen as you complete the tasks – you can even complete tasks via their App too!
The great thing is, they pay you exactly 7 days after completing each test!
So, if you manage to complete 4 tests one day, you will get $40 exactly 7 days later.
I love Usability testing and it's one of my top side hustles.
While User-Testing is my personal preference, there are other ones you could check out below as well…
6. Look After Pets!
If you're animal lover why not look into something like pet sitting, or dog walking?

Apps  like Rover  make it easy to start making money walking dogs…   (and earning as much as $1000 in your spare time, or over $3000 part time!!  Pretty lucrative looking after pooches…).

If you're in Europe, you also may want to check out a similar App called "Dog Buddy!"
If dogs aren't your thing, there are similarly other work for pet sitters in general.
So, there are plenty of options there and again, something that you can do in your own time.
7. Get-Paid-To Offers Online:
Offers involve signing up to a product, service, trial, or website and getting a reward for doing so.
Many of the highest paying offers, you need to pay something for.
However, you can get all your money, plus a lump some more.
They typically pay far more than survey sites – but there is a risk with some offers of getting spam mail and calls, so I recommend using a separate email account.
Some legit sites that have offers include –
8. Earn Cashback Online!
This isn't going to be something where you make cash and withdraw tomorrow….
But cashback services are a really good way of saving money.
The main cashback service that I personally use is Via Swagbucks – because they have an easy browser extension download, that notifies me whenever there is a cashback deal available to me.
However, there are also various Apps now that allow you to earn cashback on your purchases. You may want to check out some of these below…
Things That Will Take Longer… But Are Worthwhile:
9. Get On Airbnb!  Rent A Room!
Ok, this will not be immediate, but Airbnb is really one to consider.
It's pretty easy to get set up here and things get booked up so quickly!
People are always looking for good value places to stay, (think of students travelling, for example).
If you're not concerned about opening up your home to people you don't know, there are always people looking for a room to stay on Airbnb.
Of course, if you want to get on-going guests, you need o provide a decent service.
If you can provide value for money and over-deliver on service then, you can be in good stead for a good reviews.
If you're just letting out a single room, then little touches like tea and coffee, (even better – a bottle of wine!) and some information about the local area is always welcome.
Perhaps most importantly… keep it clean!  You can check out some additional tips here.
10. Earn $100 For Writing A List Post:
I just recently wrote about a website called Listverse –  that will pay you $100 for writing a unique list post.
While it's something you could knock up in a day, (once you've carefully read all the conditions) it may take a while to get paid.
This won't be a crazy quick turnaround though, as you have to wait until your list is accepted and then wait up to 30 days for your payment.
If you're interested in websites that pay for quality content, there is a great list of websites here.
11. Freelancing Long-Term:
There are many ways you can start freelancing – there are many platforms like Fiverr, or Upwork – where many people start out offering all sorts of services.
If you're interested in Freelancing writing – I highly recommend this course, (the creator went from ZERO – $4000 per month in just six months!).
Plan Ahead…. For The Next Day You Need Cash Fast!
It's worth mentioning that, before you get to the stage of needing money right nowwww… you could plan ahead next time so that you have a little bit put by.

Now, obviously this could mean saving in the traditional sense, but it could also just mean having a jar where you put all your odd coins.

One thing that we always have now, is a Terramundi saving pot….

Each year, we get a new Terramundi pot in order to save for the year ahead and you can't break into it without smashing it.
So it takes away that temptation – but is still there if you really need it.

One year we saved over £750 in those little pots, ($954!!!).   However, we do put notes in there when we are able, (it wasn't just coins!).
The thing with these pots is, it doesn't feel like an effort, that's a nice chunk of change by the time that pot is full.
If you want to check them out; they have a good selection of Terramundi's  here (USA)  or here, (UK).
Other Posts That Could Help You Make Money:
Making Money Fast Online… Or Slow?
While making money online fast is an attractive option for many, making it slowly and steadily is actually how you'll end up winning out in the long-term.
All the ways to make big money online do take a time investment and long-term effort and generally, require learning some skills.
But learning skills is what will set you above everyone else, who can't be bothered to put in the effort.
Some people make month from their online efforts.
But how?  
One way is through having a blog or website that generates an income – I have a step-by-step guide here showing you how to do that.
One key thing you need to start making money online, is a good training program. 
This training helped me the most!
Do you have any other suggestions for how to make money FAST online?
Let me know in the comments.
All the best!
Pin Me For Later 🙂