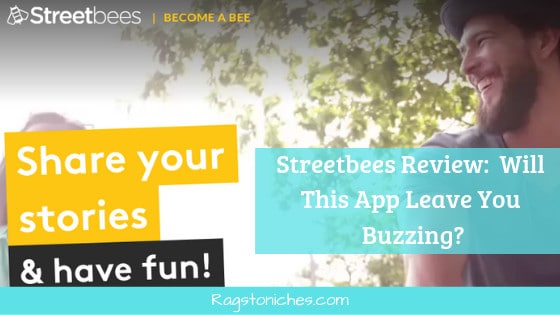 I recently downloaded the Streetbees App. I'd already enjoyed checking out Apps like, Field Agent, or Job Spotter, where you can do mini-tasks for cash.
However, I hadn't found so much luck with finding enough tasks to do close to me…
Job spotter is a little different, as involves looking for Job Ads in shop windows.
In any case, would Streetbees be different and would there be enough opportunities for me? Let's find out.
In My Streetbees review today, I will outline:
What Streetbees is About,
How you get started,
Who Streetbees is For,
How Does Streetbees Pay?
My Problem With Streetbees,
PROS VS CONS,
Is Streetbees legit?
Alternatives to making money via Apps.
Try My Top Rewards Site – $5 Sign Up Bonus! 🙂
What Is StreetBees About & How Does It Work?
This App will pay you for participating in what they call "stories…" Really, what they mean by this term is, "mini-tasks."
The tasks may include taking a photo, completing a survey, or even upload a mini video.
Some tasks may include you visiting a location, such as a shop, or a restaurant and then taking a photo of something.
Other mini tasks will be things you can complete directly from home.
Streetbees is currently available in 87 countries, but your ability to access tasks and surveys is going to vary depending on location.
How Do You Get Started With Streetbees?
Streetbees was easy to download and sign up to – simply download from the App store, or Google play.
Once you have signed up and access the App, you will see what tasks are available to you.
For each one available, the pay available for the task will be clearly visible. Some surveys are just free though and you don't get paid for them all – these are like screener surveys.
Screener surveys will assess whether you fit the demographic for paid surveys and tasks that they have available at any time.
So, the more you do of these, the higher the probability you will get paid tasks/surveys.
Many surveys pay around the $1/£1 mark – which isn't bad for Apps like this!
Some tasks will pay much more and you'll likely get paid quite a bit more for things like, video uploads.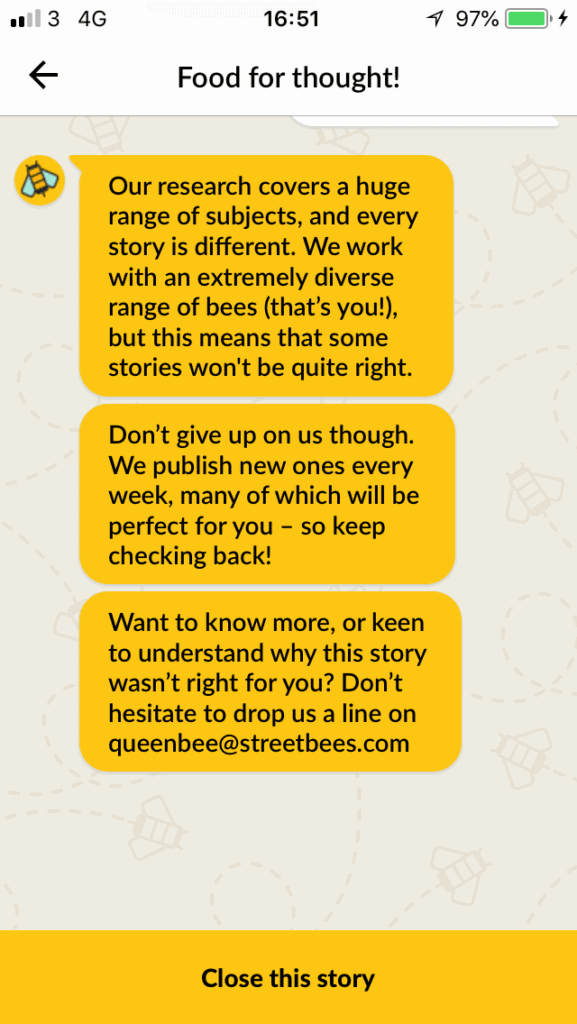 Who Is Streetbees For?
Streetbees is for anyone who enjoys the chance to complete mini-fun tasks, for a small reward.
This App is likely going to be popular with students and young people, but also just people trying to make a little extra coffee-money in their spare time.
There are also prize draws, so you do have the chance of winning bigger prizes – although obviously the chance will be slim!
How Does Streetbees Pay?
There is one simple way that this App pays and that's via PayPal, (if you're not able to use PayPal, then unfortunately this App isn't for you at this time!).
Unlike many Apps and money-making opportunities, this App has no minimum payout.
Therefore, they will pay you as soon as a task is approved and it may take a couple of days.
While this is a good thing, I personally prefer getting paid more of a lump sum.
Who wants small change going into their PayPal account?! Not me.
On the other hand, it's obviously more preferable to having a big threshold you need to reach, (that perhaps never will!).
My Problem With Streetbees:
I really liked the idea of this App… I loved the design and how easy it was to navigate and simple to get started.
But there was a major issue for me……. There has been ZERO for me to do!
I have had this App uploaded on my phone for well over a week now and I haven't been offered a single task or survey!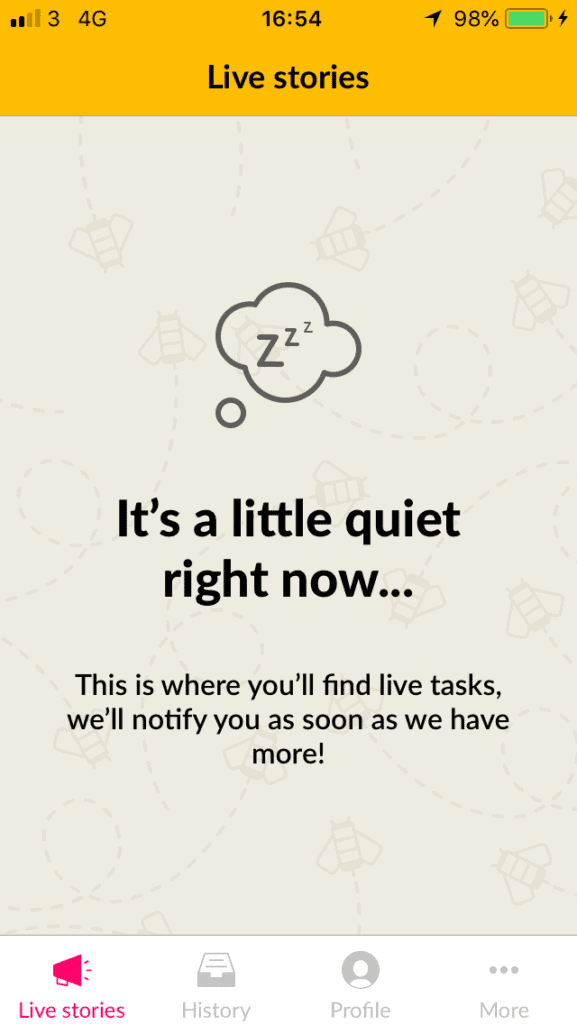 Consequently, I went to check out what some other people made of the App, (presumably many people had a lot more luck getting tasks!)….
What Do Other People Make Of Streetbees?
There is a decent amount of feedback for this App online and a lot of it is good!
Streetbees has the most reviews presently on Google Play, with over 22,000 ratings and four stars on average.

But while it has four stars on average, it's definitely not perfect.
One star reviews complain about total lack of surveys or tasks, or not qualifying from surveys available.
Some people also complain of there being too many "freebie," surveys – that you don't actually get paid for at all.
So, it seems it's not just me that has experienced a lack of tasks.
Streetbees also currently has 4.5 stars and way over 300 ratings on the App store.
Again, plenty of good reviews – with the odd negative experience thrown in.
PROS VS CONS
PROS:
Get paid for doing simple tasks.
Perhaps end up in locations you wouldn't normally/seek out new experiences.
Nice looking App/easy to navigate.
No payout threshold.
Get paid directly into PayPal.
Good feedback online.
CONS
Lack of tasks, (depending on location).
Still a low-income opportunity.
Some people complain about too many free surveys, (where you don't get paid anything).
Is Streetbees Legit?
Yes it is.
While my own experience with this App has been really disappointing so far, I really love the idea of this App and it has an attractive design and is simple to use.
More importantly, it does have a lot of good feedback and many people enjoy the surveys and tasks… when they actually get them!!!
If this App is available in 87 countries… I just wonder how many of those are really getting regular opportunities.
Unfortunately, there is zero available to me – but I will keep it loaded on my phone for now and see how it goes.
I would say it's definitely going to be worth checking out to see if you have any tasks and that you're far more likely to find tasks if you live in a large town or city.
Some other posts you may like:
Making More Money Online – Beyond Apps:
I love exploring money-making Apps and some have been a lot of fun.
But for the most part, you're going to be lucky to make a little pocket change, they aren't serious income opportunities.
If you want to make more in the long term, I suggest you look beyond Apps and consider learning skills that can bring you an income in the long term.
That's exactly what I did personally and it's so brilliant to be able to make money from writing about things that interest me on my blog here.
But whatever your income goals, there are so many ways you can learn to make money online. Here are a bunch of ideas.
If you'd like to understand how I make money online, I recommend the training here.
That wraps up my Streetbees review… What's your experience with this App?
Let me know in the comments!
All the best,