Did You Know There Are Some Really Weird Things, That You Can Sell On Ebay?
Ebay…  Maybe you love it, or you hate it.
Personally, I have gone through phases of being an Ebay selling addict, where I sold whatever I could get my hands on.
Followed by periods when, even the thought of creating yet another listing….
Made me want to run for the hills and far away!
But…..  The time has come again, when Ebay is calling.
Frankly, I just want to ignore the call…
But the tonne of stuff stored under my Kids bed is growing and these things need new homes.
I'm worried the growing mound of junk, may be getting out of control and I can ignore it no more!
I say "Junk.."  Some of this stuff is brand new.
I need to sell it.
Sad but true.
So, this got me thinking … What weird things sell on Ebay anyway?
Am I missing a trick?
It turns out I am!!
Browsing Ebay, I see an original Furby in its' box.  It has a buy it now price of $175.
Gulp.  You can make reasonable money selling these, but you want them to be boxed ideally.
It goes far beyond Furby of course… Retro toys are a great one to sell on Ebay.
Retro Toys, You May Have Forgotten About:
My son went through a Furby phase and we have tonnes.
But we have the modern ones and they're not boxed anymore.
We did the Furby collecting thing all wrong.
Do you remember those awful cabbage patch dolls?
I had one of those.  I loved it.  You can now sell them on Ebay for stupid money.
Some of the toys of the past, that you may think were hideous, could now be sought after.
Retro toys can really be profitable and you can often still pick them out, if you're lucky, at garage sales, or in charity shops on the high street.
Related – awesome legit ways to make money with Amazon.
Empty Toilet Rolls?
For a much bigger dose of weird, I found out that empty toilet rolls sell.
People want them for craft projects.  We usually "collect," many toilet rolls on the floor of the bathroom… before they're eventually added to the recycling.
Maybe it's time to stick them on ebay instead?
Dirty Old Socks!? Really!?!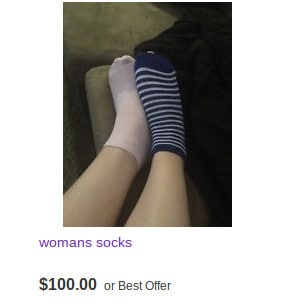 Here is a creepy one.  Women are selling their used/worn socks online.  Which are in turn bought by individuals with a foot fetish!
I really wouldn't recommend going down this road though, as you're not totally anonymous on ebay.  Usually your address can be found – via the paypal transaction for example.
I would say there is some risk involved in this.  What do you think?
The same thing applies here to well worn shoes as well!  Just look at the bids on these WELL WORN flip flops.
The seller even has pictures of her dirty feet.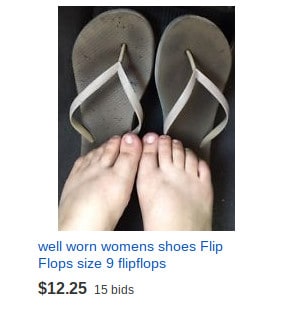 The amount of well worn shoes and flip flops I have laying around the place, I could open an online store!
But….  No….  No….  No…  Too creepy.
Broken Electronics: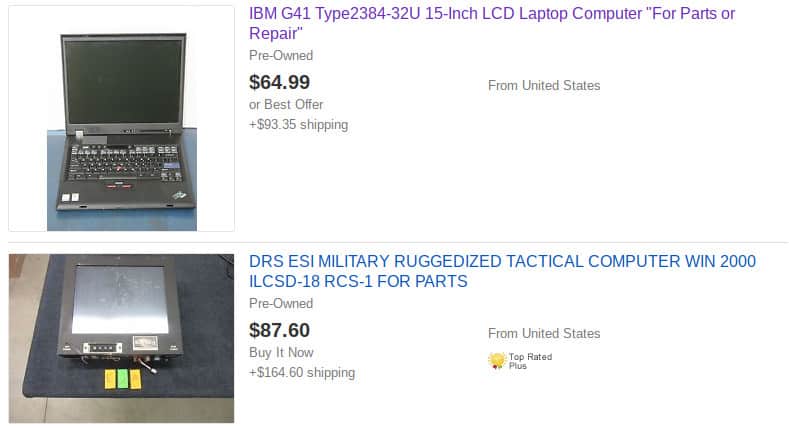 Don't throw away your old broken PC's, Games consoles, Laptops, Gameboy's and so on.
Broken electronics sell surprisingly well.  We actually once bought a Nintendo DS on ebay, which was broken.  However, they'd stated the problem and my husband thought he could fix it.
A few YouTube tutorials later and we had a DS that looked and behaved just like a new console.  But for just a fraction of the price.
Therefore, don't always assume that something which is broken cannot be fixed fairly easily, but also don't assume that just because something is broken – that you can't sell it!
Don't just leave your old electronics in a cupboard somewhere to gather dust, you know you're never going to use them again!  Put them on Ebay!
You could also offer to sell other people's junk and stick it on Ebay for them… for a cut of the profit of course.
Weird Items… That Look Like Something Else?
This just made me laugh.  Apparently, this is a cheeto that looks like Donkey Kong.  Do people really buy this stuff?
Or what about a Strawberry that looks like Patric Star sitting down?

If you have no idea who Patric Star is… you must have never watched SpongeBob Sqaurepants, (where have you been?).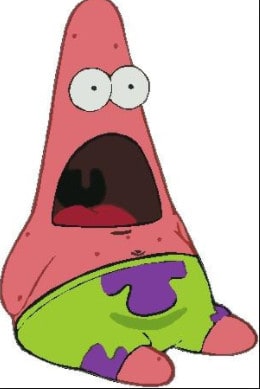 To add on to the junk list… you can also sell:
Old Tin Cans!

How hard is it to just wash and keep your tin cans?  We have to do that anyway for the recycling.  I had no idea people bought these.
Empty Perfume Bottles:
Perhaps not something you're going to be able to do often, but it's good to know that you can sell empty perfume bottles.
Old Magazines:

I have a growing pile of magazines, so I get on subscription and there are quite a bunch that I just never end up reading.
Little did I know that I could be selling them on Ebay and getting some money back for them.
There really is quite a large amount of potential money just laying about the house that you could profit from.
Retro magazines sell well too, but so do just regular current ones.  If there is a demand out there for them, people will buy them for a discounted price and that makes sense…
Also Worth A Mention…
Coupons/Giftcards:
Coupons do well on Ebay.  Often you will come across, or aquire vouchers or coupons for random money off  stuff- don't throw them away!
Buying coupons on Ebay is pretty popular, these things are in demand.  If people can buy a giftcard at a discount, it makes sense to do so.
You may think a coupon is worthless, but somebody else may pay good money for it.
So, if you're definitely not going to use it, get it on Ebay for a profit.
Instruction Manuals:
While you can find many instruction manuals online these days, you can't for some older things and sometimes people just want t solid copy anyway.
Personally, we have a whole drawer of instruction manuals of things we don't even own anymore!  So, it's likely somebody somewhere may want one.
Old Remotes:
This is another thing we seem to collect in our home… old TV remotes.
I didn't realise that this is another thing people look for on Ebay, so round up the old remotes and see what you can get for them.
Junk Drawer:
You know that random basket of drawer of useless junk that you'd normally just tip in the bin?  Some one wants that.  So, let them reward you for it!
I literally just threw away the contents of a couple of junk drawers last week. This is definitely something I am going to do next time.
Pin Me For Later: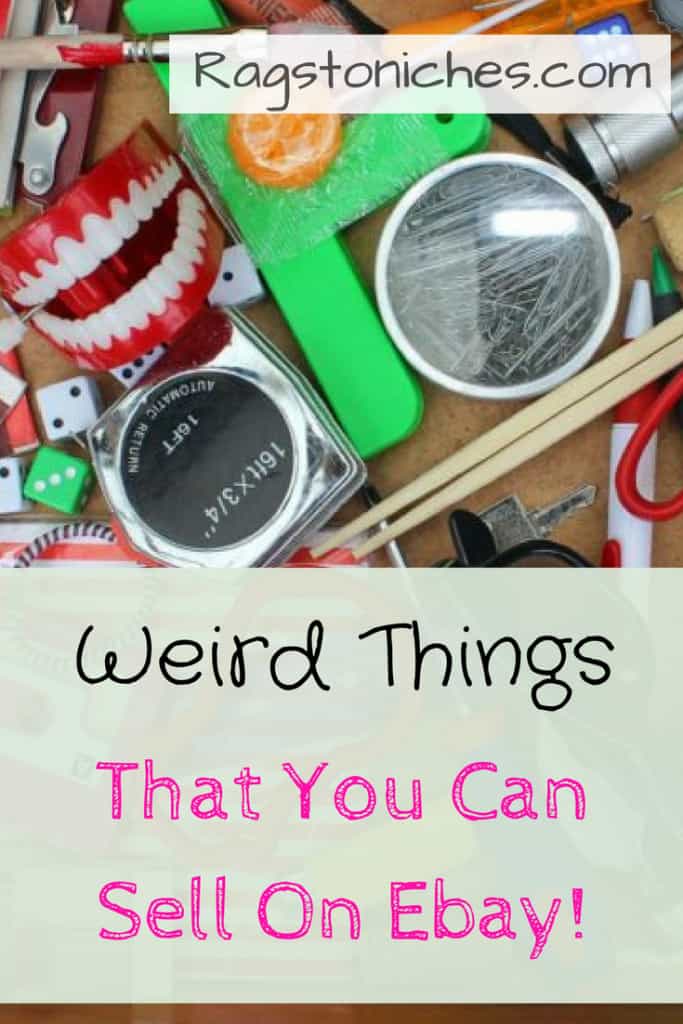 So, there are a whole bunch of weird things you can sell on Ebay for cash.
Do you think it would be worth your time and energy selling some of these things?
For me, the hassle comes with posting and packing.  Often the effort barely seems worth the effort, for what can often be a very small profit.
But if you're selling a whole bunch of items, the profit does mount up.  Plus, you could always make your listing collection only – although obviously this could reduce your chance of making a sale.
To avoid selling for peanuts, you could also set a minimum price.
Something you'd be comfortable selling it for.  Then anything else you get on top, would be a bonus.
I'm not really that keen on direct selling as a prime income source.
I make the most online via having websites, primarily from affiliate marketing.
I first learnt about that here, (you can start learning for free).
What sort of weird things have you sold on Ebay before?
Leave me a comment below.