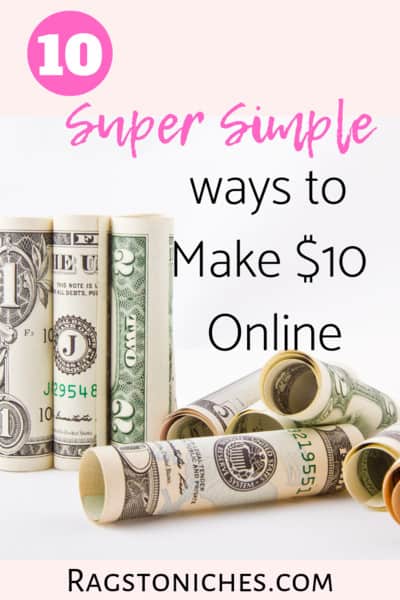 So, You're looking for a quick and *EASY* ways to make $10 online?
Well, everything in this world worth doing, requires some amount effort.
But if you're only looking to make $10, there are some pretty easy ways to do it.
That being said, you can also make much more than this, if you're prepared to put in some extra effort!
What I'm saying is…  There is no need to limit yourself to earning a low amount, there are so many different ways you can build an income online…
That is, if you are prepared to put the time & work into making it happen.
Hint:  Most people aren't!
Some Ideas For You To Make At Least $10……
So many people are looking for ways to make and save money online, but unfortunately most people aren't really willing to put that much consistent effort into it.
That means you end up having tonnes of very small-income opportunities doing extremely well.
But it's important to remember, all these are small-time opportunities…
BUT, if all your looking for is to make $10, you're in luck…
Any of these options below should get you there fairly quickly.
With any of these options, you can work at your own convenience… sometimes, even on your smartphone.
In this post, I will target 10 easy ways you can reach your $10 target online.
At the end of this post, I will also share with you what I do to make money online and how you can do the same!
1. Survey panels
OK, so the first easy way you can make money online, is by sharing your opinion via survey panels.
You've very likely come across these panels before, as they completely flood the internet in various forms.
Survey panels work with companies to try and find out information, that can help companies improve their business, user experience and profit.
Among some of my top rated survey panels are: Swagbucks, Prolific and Prize Rebel.
However, please check these more detailed posts below:
Try My Top Survey Panel Here – For $5 Bonus!
What amount can someone make?
The price of a single could be from around, $0.20 to $5…
Although, most of the surveys I've ever completed have been between $1-$2.
So, if you're doing a survey for $1, you'll obviously need to do 10 to make it to your $10.
Some people will complete online surveys every day and generate a small additional income from it, but it can be frustrating to do them for long!
Especially when you get thrown off for not qualifying so often, (one where you don't get disqualified, is Prolific.ac).
Many people serious about completing online surveys, will sign up to a bunch of them and that way, always have surveys to complete.
It doesn't take any time to get started, you can sign up within a couple of minutes and some platforms will also provide you with a sign up bonus.
Just remember to never pay for a survey site, they should always be free.
You can also get paid for referring others to join your favourite survey sites.
Not all survey sites have referral programs, but many do.
Referral programs are going to be more worthwhile to you if you have a blog, or YouTube channel – because you need a lot of referrals to make it worthwhile.
Related Post:  Survey Sites That Pay To Refer.
2. Fiverr
Fiverr online Freelancing company started in 2010 where there are buyers and sellers of particular services.
As a Freelancer, you will be a seller and selling a service online to buying customers.
The services offered on this site include: graphic design, video editing, translation, writing, editing writing, programming, SEO services and much more.
Each service one offers in Fiverr, is known as a gig.
Take for instance you are a graphic designer; you can create a "gig," to create a logo design.
If you're a writer, you may have a "gig," for a 500 word blog post.
Therefore, it gives you an opportunity to showcase your talents, (or lack of…  there are some really weird gigs on Fiverr that STILL make money!).
Useful Post:  Is Fiverr Legit?
The number of gigs one can have is limited to the level status which is determined by how many badges one has.
A beginner is allowed to have a maximum of seven gigs.
Depending on the badges, the number of the maximum gig will increase.  Depending on the badges, the number of the maximum gig will increase.
How much can someone make from Fiverr?  Well, simple gig will go for a minimum of $5…
However, there is no limit for the maximum amount one can make now and this can even be several thousand for a simple gig.
It's simple and free to register with Fiverr. 
Follow the simple instructions to set up your gigs and get started!
You'll be notified if someone purchases your gig and you can go from there.
Fiverr is very competitive these days and you could stand out by doing something a bit unique.
Doing something a bit original, could be the quickest way to make your initial first couple of sales.
Do you have any special, or unusual talents you could share with the world?
For example; The Jesus Impersonator here creates funny video messages and has sold well over 400 gigs.
Their basic gig costs just over £8/$10 – So, that's around $4000 even if they all purchases the most basic of gigs.
Not too shabby!  🙂
 3. Selling DVDs, (And Other Stuff) On Music Magpie:
Another way you can make money online, is by selling those unwanted DVDs in your house.
There is an online company that makes this process possible…
 Magpie will help you make money by selling some of those unwanted items in your house that you do not need anymore – without even having to leave your house.
Some of the items you can sell are:
Dvds,
CDs,
Games,
Books,
Blu-Rays,
Tech,
Lego.
Considering you don't even have to leave your house, it's a pretty hassle-free way to make $10.
How does it work?  Well, first, you must be registered on the site.
This is super quick to do and after which, you can be able to sell your products online.
The quickest and easiest way way to sell, is via their App.
If you scan each products bar code, you will immediately be given a price for that product and be able to add it to your list.
Therefore, you will know as you go exactly how much you will make per item.
If you'd like more detail of exactly how to get started, check out my Music Magpie review here.
You can create as many orders as you wish and you can even get your boxes of items collected directly from your house, via a courier for free!
You don't have to be overly careful packaging the product – you can put the items in any box that they'll fit into!
Music Magpie will send you a pack and a send guide when you submit your order, which will contain all the packing and sending instructions.
Remember, they also pay as soon as they receive the product!  So, there is minimal waiting time.
The sooner you send the product the quicker you receive your money.
They pay by means of PayPal and a bank account.
4. Selling on EBay
EBay is another site that you can sell unwanted products.
Still, you can use it to trade too.
There are two types of accounts you can open a personal account or a business account.
If you're just looking to sell the odd item here and there and aren't planning to start an Ebay business, you'll only need a personal account.
To create an account, you got to the registration page, choose which type of account you want (personal or business account) then fill the required details that follow.
To start selling select your item then create a listing for the items you would like to sell.
It's certainly not hard to make $10 by selling on Ebay!
If you don't already have an account, it's still one of the best ways to get rid of lots of unwanted stuff in your home.
You may be surprised at some of the things you can sell.
In fact, you'd be amazed at some of the unusual things that really sell well on Ebay.
Useful Post:  Weird Things That Sell On Ebay!
5. Freelancing on content mills
Content mills are a term used by freelancers to refer to those websites that provide cheap web content.
They pay a little amount of money to writers below the market rates.
This is the kind of sites that beginners are encouraged to join as they give a good experience to writing and they are among the easiest writing jobs one can make online.
The low rates can be a turn off for many writers, however experienced writers can be paid higher amounts and can also charge more to be directly hired on site.
These sites are usually characterized with a high turnover, this could be due to the low pay writers will tend to work for long hours to get billing amounts.
Why choose content mills?
1. First, as a beginner, these writing sites will help you improve your resume as a writer.
2. Although the pay is little, it's always regular work. You won't have to wait for long to get work.
3. There is an opportunity to earn more from these sites over time.
4. You don't have to pitch for jobs, you just accept a job and get to work.
However, on the downside, your work doesn't have to be accepted.  Therefore, you can end up putting in hard work for nothing.
If you're a competent writer however, you will be in demand and can end up meeting clients that you can have a long-term relationship with.
Simply take these platforms as a starting base for your writing career, rather than a long term career option.
Useful Related Posts:
6. Sponsored blog posts
If you are thinking about creating a blog, having sponsored content can increase your reach, connect you with brands and income too.
A sponsored post has some features of a regular blog post, but will also be specifically talking about a product or service and that and you will be paid an agreed rate for the post.
How much you make really depends – for a small blog, the company may approach you with a rate.
But once you have some decent traffic, you should start having some rates in mind and you can have a variety of different rates depending on what you offer.
For example; you could have a premium rate where, you could mention the company in your newsletter, or share them various times on social media.
In order to connect with brands and companies and find sponsored post opportunities, there are many websites that you can sign up to.
Here are some examples of sites you could check out:
You should be earning plenty more than $10 – but if you're a blogger, this is definitely an opportunity that you should not pass up!
7. Transcription
Transcription is the act of putting an audio into text.
While some work like this can be achieved using software alone, many times you still need human beings to put in the work… As software is often not 100% correct.
How much can you earn as a Transcriber?
Working as a Transcriptionist can be reasonably well paid, but far more so once you're experienced.
If you're just getting started, you could potentially make between $8- $15 per hour.
If you're a slower typist, your earnings will be on the lower end of the scale.
However, even this amount can change, as companies which are willing to accept beginners who will accept less.
Transcription companies generally pay a rate per audio hour or a page.
What qualifications do you need to be a Transcriber?
Some companies will request you have a degree and a year or more experience already as a transcriber.
However, for companies that like to hire newbies, they are generally very lenient and while you won't need direct experience, it will take time to learn the whole process and improve as you go.
You will be required to have a fast internet connection and a computer though and you'll usually need to pass a grammar and transcription test before they accept you on to the platform.
Some examples of legitimate sites you can check out are:
Transcribing can be trickier than people imagine, as you sometimes may have to transcribe people with thick accents and poor English.
It can also be quite boring and repetitive.
You also have to be incredibly accurate with your work, so you need to be able to remain focused.
In order to do well, you also need to manage your time well and keep checking your sites for potential jobs.
So, while this not be a super *easy,* way to make $10… It's a way that can potentially bring you in additional income long-term and which you can do from home.
8. Paid & Free Offers For Cash:
There are so many offers online – and they come in many forms.
For example; some will be free offers – where you can earn a certain amount of cashback for signing up to a product, website, or service, (sometimes for a free trial).
Sometimes they'll be paid offers – such as; you need to sign up and join a casino and put a certain amount of money in, but then you may get all of that money + extra back via the cash offer.
There are tonnes of sites that have various offers on their site.
One of the best known and the one I recommend the most, is Swagbucks.
Other examples include:
If you're in the UK, there is also a site called 20 cogs, that has a bit of a different slant on it.
I've also recently joined another new one in the UK that looks good, called Ohmydosh!
How it works is simple – via a site you perform a certain action such as:
signing up for a free trial,
joining a website,
downloading an App,
Signing up to a membership or service.
After you've performed the certain action and it's been verified, you'll make a certain amount.
The downside is, the paid offers require you to pay something up front, although you will usually get more than that amount back in return.
Also, the pay is more for paid offers, in comparison to free.
Nevertheless, it won't be hard to make $10 with completing offers, you can sometimes get that much from a single offer – or even more in some cases.
However, for some offers, you may have to wait a while before your transaction is verified and you actually receive payment.
9. Freelancing on Upwork
Upwork is an online freelancing company that offers many types of opportunities – whatever your skill may be.
It is one of the biggest and well known freelancing starts in the market.  Here you can bid for jobs on the platform, by directly applying for jobs posted.
You need to apply to jobs directly on the platform and this may also include showing example of your previous work.
It can be difficult to get started on Upwork, prior to you having any reviews.
So, it could be worth offering to complete jobs for a very low fee, in exchange for a review.  Once you have some positive reviews behind you, you will find it much easier to get work.
Signing up is simple to do.
Simply follow the instructions online, list all your skills and the Upwork team will review your application.
Once you manage to get work and are paid, you can cash out either via PayPal, or directly into your bank account.
It's possible to get regular work on Upwork, once you have a few clients.
This is the way you can really start to do well, by building up a solid contact list of clients who order repeat work from you.
10. User-testing
User-Testing is one of many Usability Testing sites, but is my personal favourite at the time of writing.
They have clients that want to find out things about their websites, in order to improve their customers experience and other factors that could influence like, their sales conversions.
You will need a microphone to partake in this activity.
It involves having your screen recorded, (not you) and hearing your voice.
You're given a series of instructions to follow while visiting a website.
Generally, the tasks given will involve you navigating the site somewhat and perhaps giving your impression on appearance.
You may be asked initially, what you think the website is about and your first impressions.
Signing up is simple to do, but you will need to do a practice test for free.
Don't worry if you don't pass it the very first time, (I didn't).
They give you precise instructions about how you can improve your test… I followed them and now I also get 5 star ratings for tests.
Each test shouldn't take longer than 20 minutes and you will be paid $10.
There are also sometimes smaller, mini tests and you make $3 for these ones.
There is also a mobile App you can download, for additional opportunities.
Some other sites you may want to check out are:
To name a few!
This is a good way to make $10 online… Seeing as, that's exactly what you make from one test.
It's also really not hard to do, there are plenty of tests and it's enjoyable too.
Beyond How To Make $10 Online… Why Limit Yourself?
I'm not sure why you may specifically looking to make $10 online – but there are opportunities to make far more than that.
Many people make a living online and it always surprises me how little time and effort people will invest into making this a reality.
Most people really don't want to step out of their comfort zone, which is understandable.
But if you're someone that has always wanted financial independence and not ever wanted to settle for a 9-5 job, maybe you're different!
Learn How To Make More Online Here!
You may also want to check out – my ultimate guide to starting a money making blog!
if you have any questions, let me know in the comments below!
All the best,