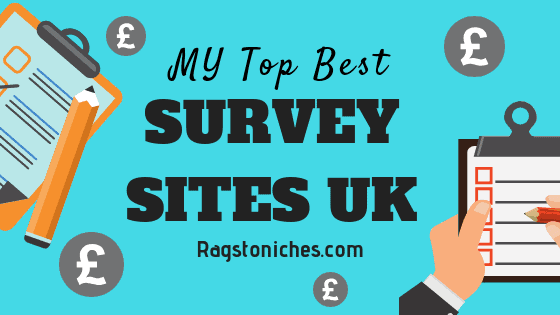 My Top 10 Best Survey Sites UK – What Are Yours?
This has been a difficult post to write, because there are so many pros and cons to survey sites.
Also, personal experience really varies from person to person.  One person may love a platform, while another person experiences the site negatively.
Some things I'd like to say before I write this list and I think it's important to mention! 
Some bloggers/websites and survey providers post an unrealistic picture about how much you can earn.  For the most part, you're talking about an extra few pounds here and there.
It's extra income, it's not a part-time income, or even a full time one!  So, bear that in mind before you sign up.
If you've never joined a survey site before, it's worth bearing this in mind:
Almost all survey sites will have a high screen out rate.  That means, it could take you several attempts to complete a survey, before you manage to do it all the way through.
Be really careful to answer consistently!  Survey companies are strict about this.  If they feel you have been randomly answering dishonestly, or that some of your answers seem to contradict each other – they will throw you off the platform and will keep any money owed to you.
Don't rush through the surveys, as this can increase the liklihood you make an error.  Ideally do them when you're not too tired and read the quesitons carefully.
Check out if the company runs an affiliate/referral program, this way you can little extra if your friends or family join, (or others via social media, for example).
Before you join a survey panel – be cautious of any crazy earning claims.  If a site claims you can make hundreds or thousands a month completing surveys….don't trust them!
All survey panels should be FREE TO JOIN!  Never pay to join a survey panel.
I don't readily give glowing reviews and all of these sites will have pros and cons, (which I outline below!).
No survey platform is perfect, but my favourite one is still #1 on my list, which you can find below.
Also, these sites are not all UK only. Some of them you are able to join from around the world.
If you actually want to make £100's or £1000's a month rather than just pocket change – this is the platform that helped me get there!
---
#1 My Favourite All-Rounder: Swagbucks!
Payout Options: PayPal & tonnes of gift card options.

Payout Threshold: £3
Review: Swagbucks Review
This is the main site I've recommended for a couple of years now and that's because, it's the one I continue to use and go back to and it's the platform where I have made and saved the most money overall.
PROS
A variety of ways to earn.
Lots of fans online/ 4 star trustpilot rating.
Lots of payout methods.
Low payout threshold.
Fun site, easy to navigate.
CONS
Many still get disqualified often from surveys.
Cashback can take a while to register.
You may have to wait a few days for giftcards to come via email.
Because surveys tend to be so low paying and tiresome, it's a much better idea to join a website where there are more ways to earn.
With Swagbucks you can get cashback on your purchases, there are paid offers, free offers, games and, my personal fave, their paid-to-search option.
With their search engine, you can earn swagbucks just for using their search engine.
In order to get the most from Swagbucks, downloading their browser extension is an absolute must.
The browser extension will notify you immediately whenever there is a cashback offer available on websites you're on and also, if there is a free swag code you can claim.
The other great thing about them is they have a low payout threshold.  You can cash out from as low as £3 for an Amazon voucher, or £5 if you want PayPal. 
#2 Prolific Academic – Interesting Surveys!
Payout Options: PayPal

Payout Threshold: £5
More Info: Review Here
This is only a platform I recently reviewed but it has some unique qualities that I was pleased to see and ones that set is apart from other UK sites.
PROS
Interesting surveys!  These studies are created by students, so the topics tend to be far more interesting than standard survey sites.
Low payout threshold – £5 is good going.
Limited screen outs!  Let me know if you are ever screened out, but as far as I know this is one of the rare survey platforms that will be eligible to complete!  Massive bonus here.
You're told roughly how long the surveys will take.
CONS
Unfortunately, surveys may be limited.  I got lots at the start and then nothing for a few days.
Prolific Academic is a legitimate website that gives you the opportunity to answer interesting surveys, (without being thrown off) and to help students with their research at the same time.
You can also get paid pretty well if you're lucky – possibly up to £4 per survey in some cases!  But between £1 and £2 is more common.
The longest survey I completed was 15 minutes so far and most were shorter.
#3 YouGov – Good For Qualifying!
Payout Options: Cheque at the moment, or prize draw entries. I think this will
change in time, to match the US.
Payout Threshold: £50 – ouch.
Review: YouGov Review.
I wouldn't normally recommend a site with such a huge payout threshold.  For some reason, it is £50 in the UK, but less in other countries.
However, one of the biggest problems with survey sites is not being able to qualify and this is one of the few survey sites where that isn't an issue.  PLUS the surveys are also more interesting.
PROS
More unusual surveys.
You don't get thrown off for not qualifying.
Surveys don't tend to be too long.
CONS
High payout threshold.
Surveys can be infrequent.
Payment only by cheque right now.
Not qualifying for surveys is the worst thing about doing them, even worse than the low pay. Because, if you can't even qualify for a survey – you can't make any money at all.
That is why I am adding YouGov to my top list, even though their payout threshold is so high in the UK.  I do hope this will change in time though!
#4 Inbox Pounds – Some Good Paid Offers!
Payout options: Check, Amazon, Gift Cards 

Payout Threshold: £20
Review: Inbox Pounds Review
While this site has a high payout threshold & plenty of mixed reviews, it still maintains a 4 star rating on Trustpilot.
PROS 
Various ways to earn.
Some higher paying surveys.
Referral program.
More rewards when you reach payout.
CONS
£20 payout threshold – unnecessary!
Some mixed reviews online.
May take a while to receive payment.
I have managed to cash out with them with no problems at all and reached my first payout quickly, largely via doing paid offers rather than surveys.
You will also get a £1 bonus when you sign up.  
#5 PrizeRebel – Good For Variety:
Payout Options: PayPal/Gift Cards 

Payout Threshold: $5
Review: PrizeRebel Review
PrizeRebel is similar to Swagbucks, in that it has a variety of different ways you can earn.  It has a good reputation and millions of active users.
It's not only for those in the UK, but around the world too.
PROS:
Various ways to earn – paid surveys/offers/mini tasks/referral program.
Earn 20-30% of what your referrals earn, (no extra cost to them).
Good reputation.
Low payout threshold.
Various cash-out options.
CONS:
I felt there were less offers available to me in the UK, in comparison to the US.
You need to be careful that your cashback is tracked, check the T&Cs to make sure nothing on your computer will disturb the tracking.
Ultimately, this is a good all-rounder and worth checking out.
#6 Branded Surveys – Plenty Of Surveys!
Payout Options: PayPal/gift cards 

Payout Threshold: $10
Review: Branded Surveys Review
This site is available in UK, US and Canada. 
It's a recent panel that I have discovered and it switched over from being Mintvine, to Branded Surveys in 2017.  It caught my eye, as it had a high positive rating on Trustpilot.
PROS:
Lots of surveys & the addition of free/paid offers.
Easy to navigate site and nice layout.
Good incentive/referral program.
$10 cash-out.
Good feedback online.
CONS:
If you're just going to do surveys alone, you won't make much.
This is a decent option to check out & it's quick and easy to sign up.
#7 PanelBase – £3 Just For Signing Up!
Payout Options: Bank transfer/gift cards.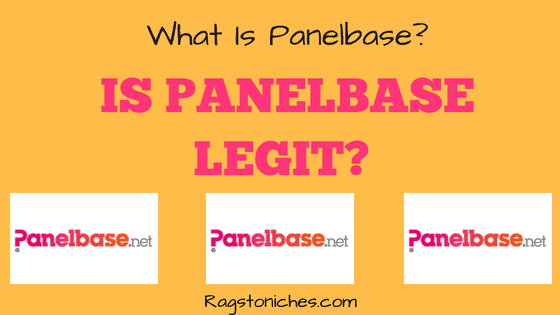 Payout Threshold: £10
Review: PanelBase Review
A survey site with a solid reputation online and a variety of ways to earn.
PROS:
£3 on sign up.
Nice layout/easy to navigate.
£10 payout threshold.
Variety of ways to earn: surveys/mini-polls/focus groups.
Various rewards.
CONS:
Some have complained that surveys are infrequent.
Screening out is still a problem here.
This site has plenty of good feedback, a fairly low payout threshold and good £3 incentive for signing up… worth a look!
#8 OpinionPanel – Best For Students/Graduates!
Payout Methods: Gift Cards. 

Payout Threshold: £25
Review: OpinionPanel Review
OpinionPanel is unique, as it's aimed at students and graduates aged between 16-30 in the UK.
While the payout threshold is £25, they give you £10 just for sigining up. Also every time you cash out, you get a further 1000 bonus points, (which makes up £10). So, you never actually begin at zero.
PROS:
Good feedback online.
£10 just for signing up.
Up to £60 for focus groups.
Write for their blog, you could make £50.
Prize draws entries if you are screened out.
CONS:
Some have complained about lack of surveys.
Screening out is still an issue.
£25 payout threshold – although you never actually start at zero.
This is a good option to check out if you're aged 16-30, the chances of being paid more for focus groups could boost the income potential.
#9 Rewarding Ways – Another All-Rounder/Low Payout Threshold.
In some ways, Rewarding ways looks quite old fashioned in appearance.  But I decided
to include it because, it actually has plenty of positive aspects here.
Payout Methods: Paypal/Bitcoin/Gift Cards
Payout Threshold: $1
PROS 
$1 payout threshold.
Various payout option, with PayPal included.
Many ways to earn, including surveys and offers.
Earn 25% of whatever your referral earns for life.
V.positive feedback online.
CONS
Still low income potential.
Can't use via mobile.
I've only recently joined this site, but I was impressed by the positive feedback online and decided to add it to my top 10.
#10 InstaGC -Good For Payout Options & Paid/Free Offers.
Payout Options: Loads of gift cards, PayPal, Bitcoin, direct deposit, prepaid card and
more.
Payout Threshold: $1
Review: InstaGC Review
InstaGC has a lot of different cashout options and with the threshold only being $1, you can quickly find out how quickly they cash out and how smoothly that goes.
PROS:
A high rated site with many different ways to earn – including paid surveys, paid to search, watch videos, offers, downloading apps, Pay-to-click.  So, there is likely something you may want to do.
You only need $1 to payout.
Various ways you can cash-out.
CONS:
Some people have claimed there is poor customer service.
There may sometimes be a delay of points added.
Another GPT site that offers a variety of different ways you can earn and doesn't make you wait forever to cash out!
So that concludes my Top 10 best survey sites UK…  let me know if you think I should add another to the list.
Which is your favourite survey panel?
You may also be interested in….
All the best….
P.S.  Don't forget to pin the image below, if you'd like to save this info for later! 🙂
PIN ME 🙂