Is iPoll Legitimate?  iPoll App Review…
I actually reviewed iPoll sometime ago, but I hadn't downloaded the App at that time.
Interestingly, while the iPoll has some mixed reviews.
The actual App has far better reviews on Google Play and App Store.
After downloading it, I can understand why.
It's a pretty neat little App and you also get the opportunity to complete mini missions, which earn you a lot more than the surveys do, (I will explain more further in the review).
Also, I'm far more liking survey panels that have created Apps – because it means you can complete surveys when you're out and about – rather than stuck on your PC or laptop!
Considering the really low-pay of most survey panels, it's not the kind of thing you should waste tonnes of time on.
But is something you could do when you're stuck for something to do anyway.
So, I finally got around to downloading this App and this is what I made of it….
*Fed up of making peanuts online…  You could try this instead!*
Downloading The iPoll App:
Downloading the App is really simple, whether via Google Play, or The Appstore.
Once you have downloaded, you just need to register a few details and login.
You're then able to complete your profile & set your password.
You'll need to provide them with the same info most of these sites ask you about – such as, your age/location/race.
iPoll Surveys & Missions:
As soon as I'd completed my profile, there were some surveys available.
I'm in the UK and all of the surveys were for 25p!
After I'd completed one though, there were more for 50p. So, not very much, but I've seen worse.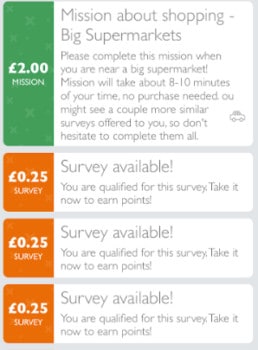 I believe in the US, 50 cents is a common amount – but you can get some higher paying ones as well.
As you can see in the image, you can get paid more for "missions…"   £2 in this particular case.
I will talk more about that in a moment.
Finding More Surveys On iPoll:
If you click to the bottom of the screen, there is a "find a survey section."  If you go here, it will ask you a series of questions to see what you may be eligible for.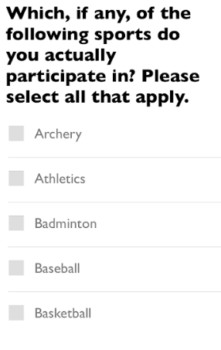 For example; the first time I tired it – it asked me questions about how often I visit the cinema.
After this, it directed me to a survey related to that.
I qualified for that survey, which said it would take 5 minutes and made 25p.
I have to say, I didn't time it, but it did feel like longer than 5 minutes.
Other people have mentioned that they felt the surveys sometimes take longer than expected.
iPoll Missions – Getting Paid More.
iPoll have an additional element to their app, called missions.
You won't know exactly what the mission is, until you're actually at the location.
So, for example, one that I had was relating to supermarkets.
I would need to go to the supermarket before starting the mission.  It would take 8-10 minutes and would pay £2.
Doesn't seem bad, for doing something you'd already be doing anyway.
I haven't completed a mission yet, but will update this post when I do.
You may be sent specific missions depending on your location and what stores are close to you.
Some missions will pay much better than this.   For example; if you're in the US, some people have been paid $10, (and even as much as $15) for a mission.
The only missions I've had on my App so far have been £2, but I will see how it goes.
Have you completing missions with iPoll!?  Let me know in the comments!
Related Post:  My Favourite Extra Income Sites!
Getting Paid With iPoll App:
You will need to reach $25 / £25 in order to cash out.  You can either do via PayPal, or you can cash out with gift cards.
Gift cards available to me were simply Amazon, Itunes and PayPal.
If you want to cash in for gift cards, you can do it directly from the App.
But if you're looking for a PayPal payment, you have to login to the actual iPoll website to redeem.
The threshold is steep, there is no doubt about that – but people are able to top up their earnings far more by completing missions and this seems the best thing to do.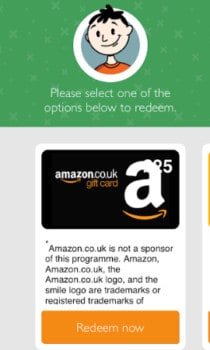 What Do Other People Say About The iPoll App?
There's some really good feedback for the iPoll App online, both on Google Play and the App Store.
iPoll has over 4 stars on the Apple App Store, at the time of writing.
It also has 3.8 stars on Google Play… not quite as good as four stars… But it's still pretty good!
I've been reviewing survey related sites and Apps for a long time now and it's not uncommon to see one or two star reviews!!
So, if a site has three or more stars on review websites, (and have been around a while) then they aren't doing too badly!
On the downside, there have been a large amount of complaints claiming their accounts have been shut down, with money owing and for no known reason.
Survey panels are strict regarding certain metrics – if they feel you've answered contradictory answers too many times, they will throw you out.
I know this very well, as this happened to me really suddenly recently on another site!!
I'd only recently joined and done a bunch of tests — I believe I answered well and was paying attention.
But clearly, it's easy to not pay full attention and go wrong sometimes.
When you go even slightly wrong, you can end up getting thrown off the site.
Even if you really have no belief that you could have gone wrong – it really doesn't take much lapse in concentration.
Other negative issues people have generally, surround the fact it can take a long time to reach the payout threshold, (definitely less if you're completing "missions,").
Or, some complain about not hearing back from customer service.
One other issue, is some people claim that the surveys take longer than the stated time.
On the plus side, some people feel it's much better using the App, (rather than the website) and I would agree with this.
Lots of people find the App enjoyable, good fun and an easy way to pass the time & make money at the same time.
iPoll App Pros Vs Cons
PROS
Simple to sign up and use,
User friendly,
You can earn more through, "missions."
Cash out via PayPal or gift card.
CONS
Fairly high payout threshold.
Can take you a while to cash-out.
As with most survey sites – disqualification rates will be high.
No referral program!
Conclusion:  Is iPoll App Legit & Worth Your Time?
I have enjoyed using the iPoll App and it isn't the first time that I've found an App doing far better than the PC version.
I also found this with the Qmee App – which is also fun to use, although the PC browser extension is also good to use for extra savings browsing the web.
The other bonus to using Apps, is that you can then use them anywhere.
Surveys don't pay much, so wasting time doing them when you could be doing something more beneficial is a waste of time…
However, if you have some time that may otherwise be wasted, (like a long boring journey somewhere) then this could be a way to make use of that time and make a little extra money.
It can also make doing the weekly shop a bit more interesting, if you decide to do a mission.  Another way to make a little bit of a saving on your shopping bill.
Do you have any other survey Apps you recommend?  I'm interested in trying some more out.
Beyond Surveys And Apps Online!?
Most people looking for info on survey sites, are really just happy to make their few extra dollars or pounds and aren't that interested in earning more online.
But a small percentage are!
Many people online are making much better money online in many different ways, (check out my 40+ ways to make money online).
Personally, I make the most money online right now, from running my own blog.
Don't get me wrong… a huge majority of people with blogs make ZERO money from blogging.  But partially, it's because they're don't know how, or quit too soon. Many don't even realise the potential though.
If you'd like to know how I make money online – this place will help*.
If you have any questions – let me know in the comments!
All the best,