Hey everyone – today I'm checking out Inbox Pounds, as a way of potentially making a little extra cash online.
All well and good!
But, is Inbox Pounds a scam, or legit & trustworthy survey panel?
There are literally thousands of survey panels online now and they all have their pros and cons.
Some are a lot better than others.
I can report in this particular case, that this company have paid me more than once, (payment proof below).
But, is inbox Pounds worth it?  I hope to answer that question for you now!  So, let's dig in!
Inbox Pounds Review In Brief!
Company: Inbox Pounds, (£1 cash bonus on sign up).
Price: Free, (some cash offers not free)
Overall rating: Legit – While you won't make a much with Inbox pounds, I did reach the £20 threshold fairly easily and was sent a cheque in the post. I also went on to receive more money from them after this.
Inbox Pounds does have some mixed feedback online, although a lot of it is positive and many people enjoy this site.
Ultimately, reviews will depend on what you expect to earn as well – you will just be earning a few extra pounds here and there; not a life changing income.
While the £20 threshold could be lower, it's easier to reach if you complete some paid cash offers.
You will also get a £1 bonus for signing up, which can get you started.
What Is Inbox Pounds About?
Inbox pounds is another site similar in nature to sites like swagbucks – because it's not just your average straight survey site.
It also includes other ways to earn such as:
watching videos,
reading emails,
surfing the web,
completing paid/free cash offers.
Psssssst: Try This Top Rewards Site – Get A $5 Bonus.
Making money with Inbox Pounds & Cashing Out
In order to cash out your earnings, you need to reach a £20.
This is quite a steep threshold now; as other competitors have a lower earning bracket, (swagbucks is £5, for example and slicethepie is $10 – around £7 ).
Having a lower bracket where people can withdraw makes them more likely to stick to it.
Inbox pounds will have a large number of people quitting the site before they reach £20 — a majority of people get bored very quickly with survey related websites!
The good news is, Inbox pounds only paid by cheque in the past… and this has now changed!
Additional payment options of paid via prepaid visa OR various gift cards, (such as Amazon) are now available.
This will be considerably more appealing for many people and makes it more comparable to other competitors.
At the moment, they're trying out on a test group of inbox pounds members and I was one of them – see below.

Inbox pounds do provide a good incentive to keep going for that £20….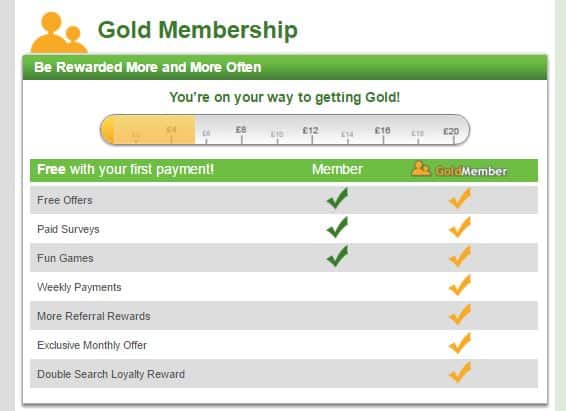 If you reach your first payment of £20, you then become a gold member. You get more referral rewards, monthly offers and double search loyalty rewards.
As a regular member, when you refer a friend you will receive 10% of their earnings.
However, as a gold member – everyone who signs up who is not referred will go into a pool of people who will then be designated to other gold members.
So, you can get referrals and commission without people even going through you directly, which is a reasonably good incentive.
As far as earning potential, it really depends what you are doing.
Regular surveys seem to be around 20-50p, with many being around the 28p mark for a 10-15 minute survey.
At around £1 for an hour, (if you're lucky!) this is a pretty bad going rate.  But this is fairly typical of many survey sites though!
Earning Your First Bonus Pound, quickly!
So, you need to earn £20 before you can withdraw.  If you're planning on just completing surveys, this would take you a very long time.
If you're open to participating in offers, you will reach that target more quickly.
But you should be aware of potentially being spammed!  Having a separate email account would be useful.
You can earn your first bonus pound right on arrival, but simply filling in your email address.
You can then earn more by completing a to-do-list, which includes completing your profile.
The Surveys Available & Qualifying:
I decided to check out the paid surveys first, often with survey sites you get thrown off mid-survey and told you do not qualify…so, I expected no different here!
The survey I went for said it would take 10 minutes.
I spent 6 minutes answering questions, to the point where it seemed as though the survey was coming to an end.
THEN I was told I do not qualify and thrown off.
This is extremely common with surveys and it drives me nuts.
It's not right that you aren't compensated for your time when this happens.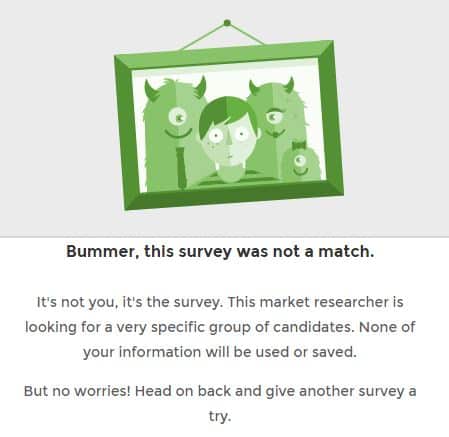 Still, I decided to persevere.  But the second time I was thrown off again.
Third time lucky?
Third attempt and I finally managed to complete a survey – woohooooo!!!!!  This survey only took 3 minutes however and I made 28 pence.
The next one was 10 minutes long and I earned another 28 pence.
From here on I was accepted somewhere between half and two thirds of the time.  Not great – but I have experienced worse.
Peanut Lab Surveys:
In the survey section, there is a particular group of surveys called peanut lab surveys – these often have some slightly higher paid ones, (anything from around 30- 55p or so).
You're only able to do 5 of these particular surveys per day.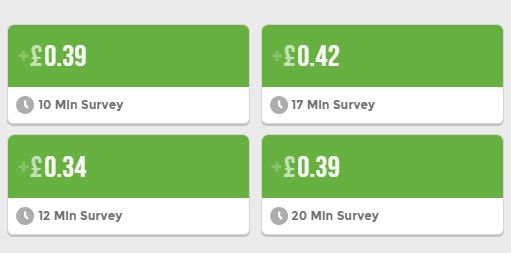 While I did get chucked off several, as per usual, some of them were also very short.  I managed to complete two that were just 2 minutes long, which was good going.
Cash Offers, A Quicker Way To Earn:
Next I decided to check out the cash offers.  This is definitely where you can make much more money.
Be cautious before you sign up to any of these though.  One on offer was £2.50 to join mobile Xpression –
it looks somewhat dodgy, because you have to download software on to your phone and from what I've read, it can cause problems, (such as slowing down the phone speed and draining battery).
The app monitors your online activity for market research purposes – which all seems a bit "big brother is watching" to me.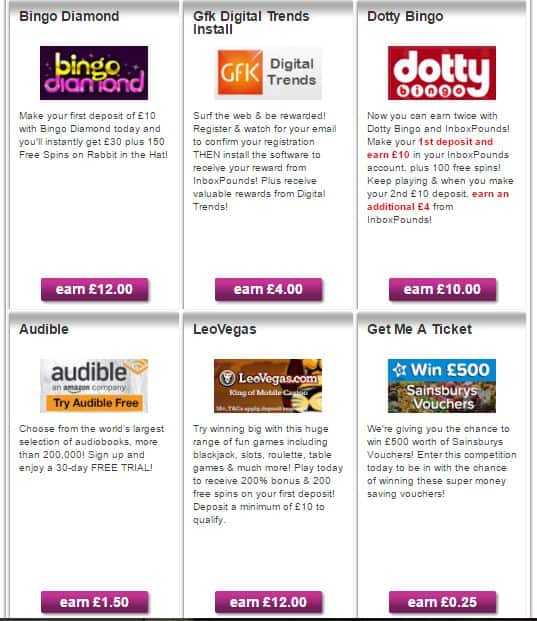 I personally decided to sign up to bingo diamond.
The offer was for £12, I had to deposit £10.  So, it's a £2 profit, with £10 of free play on there.
Once I'd used the initial £10 on the site, I was rewarded to my account — which almost brings my total to £20.  Not much more till cash out time!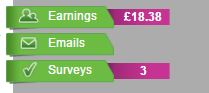 Some issues with paid offers….
Paid offers tend to be based on three key areas of interest.
Sweepstake entries via highly spammy companies, (where even to join the competition, you have to give permission to be contacted by third parties and sometimes via paid texts – you will probably get spammed – read the T&C's!).
Casino/bingo sign ups, (where you have to make a minimum deposit, but then they normally give you back at least this much as a reward).
Free trials, (which you need to remember to cancel, plus you need to hand over your credit card details to sign up).
If you're not interested in any of the above three things, you'll struggle to find a decent paid offer to sign up to.
There is the odd thing, but normally for much less reward wise.
Paid For Opening Emails?  
You can also get paid for opening emails on the platform.  But don't get too excited, it's only a penny for each one!

I also only had a couple of these per day – so those are definitely not going to pay the bills, but are very quick to do if you felt like it.
Other Ways To Earn with inbox pounds?
You can also earn money via using their online search engine – you won't get much, but it is a simple way to earn a bit more.
Alternatively, you can play games or complete certain mini tasks, such as researching an answer on the internet.
But the best ways that I can see are via some of the regular surveys, or for higher sums, the cash offers.
Plus of course the referral program, where you can get 10% of anyone's earnings that your refer – although to do the best out of any referral program, you will really need many hundreds or thousands of referrals.
This is because, most people simply do not stick at sites like this.  Most give up very quickly and so, do not provide you anything in the long term.
What Do Other People Say About Inbox Pounds?
I've spotted some complaints popping up these days with inbox pounds, which I feel it's important to highlight.
Some of the complaints involve credit cards being charged after free offers being taken up.
Although, this is not the fault of inbox pounds!!
This will not be result inbox pounds themselves, but the company related to the offer they have signed up with.
Often you will have to cancel an ongoing membership after a Free trial sign up, (sometimes cards are still charged despite cancelling, always check your credit card bill).
Doing paid offers can be risky for this reason – always check the T&C's.
Another reason is being thrown off for not qualifying for surveys, this is a problem with almost every survey site you will come across – so not unique to this site.
Other complaints revolve around support, there is a live chat option now – I've personally not had an issue with them so far.
Have you had issues with inbox pounds?  Leave a comment below!
further complaints…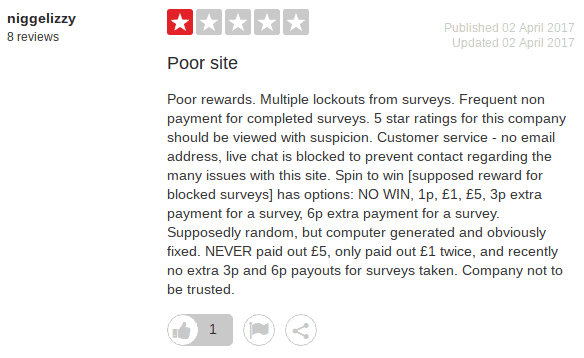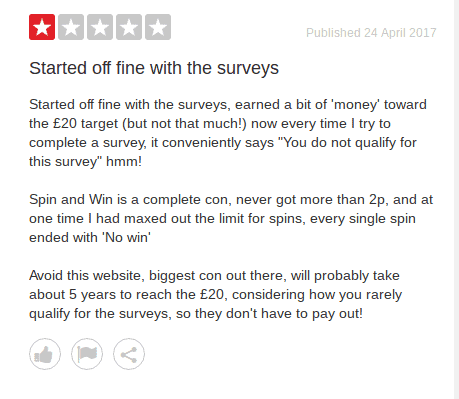 While I haven't personally had issues with inbox pounds, I think it's important to mention that some people have!
On the bright side, Inbox Pounds actually has a 4 star rating on Trustpilot right now.

There will always be a mixture of opinion with sites like this.
Inbox Pounds is still legitimate site though, so you can check it out for yourself and see what you make of it.
PROS VS CONS – The good vs the bad!
PROS
Easy to navigate site.
Reasonable support, (I had a live support chat and they were helpful).
Some surveys that pay a bit more.
A majority of surveys seemed to be between 10-20 minutes, (some as low as 2 minutes)
If you like online casino's, there is the possibility to get cash back for making a £10 deposit – so, it's free play!
Referral program, so you can make money from friends and family too.
Better rewards after you reach your first £20 cash out.
CONS
If you're just focusing on surveys, the income potential is very low, (but that is true of any survey site).
Limited cash out options in comparison to some similar sites.
Cash offers can lead to lots of SPAM – be careful!
You need to remember to cancel any free offers you sign up for.
Be prepared to be chucked off surveys for not qualifying.
Sometimes the timing is wrong – a survey says it will take 4 minutes, but when you get into the survey, it tells you it will take 12 minutes.
Not a great deal of surveys available.
No community chat to talk with other members.
Growing number of complaints.
Sign Up To Inbox Pounds Here & Get £1 Bonus.
Seeing Is Believing – I did reach the £20.
I received a confirmation then letting me know that my cheque would be on it's way.  I was also given a £1 payout for my first cash-out as a bonus.

I did sign up for several cash offers to reach this threshold – one of which was for £12 by itself.
So, cash offers do bump up your profits, there just isn't much variety and you can leave yourself open to lots of spam if you choose the wrong offer!
(Big tip: avoid sweepstake site offers!)
If you're just doing the straight up surveys, it would be time consuming.  Lets say you competed surveys for one hour per day for £1 total, (on average).
It'd then take you 20 days to get to your £20.
Update: My cheque took a couple of weeks to arrive in the post.

Once I'd deposited the money, it was in my bank account the next day.
(update – my £30 Amazon giftcard also arrived with no issues!!).
Concluding Thoughts: Is Inbox Pounds A Scam Or Legit Survey Site?
I hope you're now more familiar with what Inbox pounds is.
In my experience so far, Inbox Pounds is legitimate.
But, like all sites like this… it has a fair amount of criticism against it online.
Just because the income potential is low, it doesn't make it a scam – which is sometimes the conclusion people jump to with survey sites.
Most of the time survey sites are completely transparent about how much you can earn.
Although, there are a bunch of scam survey-sites that try and claim you can make thousands a month – which just isn't a reality.
Ultimately, if you're just after making a few extra pounds here and there, then you may want to check it out.
Alternative Way To Make Money Online?
Many people just like doing surveys to fill up a bit of time and earn a small amount of money on the side and if that's what you're looking for – that's fair enough.
But if you're looking to make more substantial money online, paid surveys are not going to give you a decent side income and you can't quit your day job doing online surveys.
One of the main ways that I make money online is through having a couple of websites.
My main website is this one and I mainly make money from paid advertising and affiliate marketing, (which I knew nothing about when I started).
It's a low-risk way for people to start making money online, because the start-up costs are so low and it's low-cost to maintain.
If you grow a website or blog, it will also grow in value over time.
If you want to learn how to make money in the long term – I recommend you get started here – for free.
Have you had a look at Inbox Pounds?  What do you think?
Please leave me a comment below, any comment you make could help others make an informed choice.
All the best… 🙂