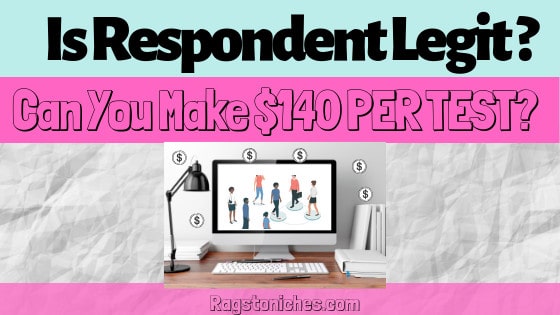 Being interested in reviewing any new side hustles I come across, I was interested when I came across someone promoting Respondent on Pinterest.
The headline stood out to me, as it claimed you could make $140+ per test…
I wasn't sure what they meant by "test," but it seemed considerably higher than any online survey panel or website testing opportunity.
Therefore, I was dubious it was true & wanted to find out what this opportunity was and if Respondent was legit.
I decided to sign up personally, check it out and take a closer look at what they were really offering.
This is my personal respondent review & all thoughts are my own… But have you had any experience with Respondent? Let me know in the comments!!!
I made my first 10K+ online, after following the training here – you can check it out for free.
What Is Respondent And How Does It Work?
Respondent are looking for regular members of the public to participate in research opportunities online, in a large number of fields.
They claim to have paid their respondents well over $2 million dollars to date, say the average job lasts 30 minutes.
They also claim that, on average, you can be paid $140 an hour.
This sounded impressive to me, when you consider that other small-time opportunities pay significantly less and to be honest, I didn't really believe it.
Even the highest paid surveys online will generally pay under minimum wage for an hours work when you work it out.
Or one of the higher paying opportunities, like testing websites, often only pay around $20 per test completed.
But if their claims were true – the issue is going to be how often you can really get matched for these opportunities.
It may be that only a small number of participants can make this money and it's not going to be a good fit for everyone.
But at this stage I hadn't signed up and still had an open mind, so signed up to check it out.
How Do You Sign Up With Respondent?
You can sign up via their website here
The first step, is simply connect either your Facebook or Linkedin profile.
Personally, I'm not on Linkedin – but if you are, it's probably a better option to go with that, as this is going to be closely connected to your expertise, work experience, education and so on.
Once you've linked up your Linkedin or Facebook profile, you will need to answer some basic questions. Things like:
Your field of work,
Your education,
Your address/email/tel number and date of birth.
Once you've answered some basic questions, you will be taken to their main dashboard, which I will explain in a moment.
You will get paid via PayPal, be aware that Respondent do take a 5% fulfillment fee.
You can also refer your friends or family for an average of $50 per referral, which is a decent amount for this type of affiliate program, (more on that further down).
Unsure about affiliate marketing? I first discovered it here.
Respondents Dashboard & Work Available:
I was pleased to find work available that I could apply for right away – unfortunately, none of it was suitable for me at this time.
This is going to be a potential issue that you could come across… That is, some applicants are simply not going to have studies that are suitable for them.
Whereas other applicants may find plenty that they can legitimately apply for.
The good news is, that for every job available, you can double check whether it's relevant to you by completing a small survey.
One job which I thought could potentially suit me at first, was for Task Rabbit – they were offering $65 for 60 minutes to help them improve their product.

The issue for me was, while I'd heard of it, I didn't use it and so, it wasn't suitable for me at this time.
Another job was looking for pregnant women, looking to talk about pregnancy vitamins.
This would have been great for me 10 years ago…. When I was pregnant…. Still, it could be an $50 made if you are!!! 🙂
An additional study available to me – was for people learning English. I'm not sure why this was shown to me, but again, it's not one I could apply for.

This was for $60, for 60 minutes. A nice amount, but still far off the $140 average that Respondent claim people get per hour.
However, I did have one study that matched $300 an hour, (for software developers) and another that was for $120 per hour, (for those involved in trading).
So, how much you can make on respondent, is going to depend on your particular field of expertise and interest,
Still, even though there wasn't anything that could easily match me, I was still impressed by the amount on offer for the studies.
Clearly, there are some individuals out there that can make good money on this platform.
I was also impressed that more studies did keep popping up over time, so it appears that there are regular studies.
However, it could be worth changing some of the categories you ticked in your initial questionnaire when you signed up.
For example; one category I ticked as relevant to my work experience was "internet…."
But as a result, I was getting lots of software developer type offers, which I'm not qualified for.
It may be, that other categories could bring in better offers for me and it is worth experimenting with.
Different Types Of Studies Available:
At first, I thought all these studies were the same and just conducted online, but that's not the case.
There are a couple of different ones available that I can see!
1/ Remote Research Study:
These are the sort I would have expected. For these, you can conduct them from home and you will usually have a 1-1 interview with the researcher, via a webcam.
These are generally the studies I could see on my dashboard and they still paid well… Considering you don't have to leave your house!!
Obviously, if you're really camera shy, then this idea might put you off but generally you'll find your going to be put at ease by the researcher and it's going to be like a casual chat — it's not a job interview!
2/ An In-Person Interview:
In this case, the researcher will likely actually come to your home and conduct the interview in person.
Some people may be even less likely to want to participate in these types of studies, but there could be a decent cash reward for those that do.
These types of studies will appear less frequently and are obviously going to be more common if you're living in a highly populated location.
Who Can Join Respondent?
When I first arrived at this website, I was concerned it was only going to accept US citizens.
However, that's not the case – a great thing about this platform is that you can join Worldwide.
However, take note that you do need to be 18 years of age to sign up.
Does Respondent Have A Referral Program?
Yes it does – once you've signed up to Respondent, you will automatically also have access to their affiliate/referral program.
This means, you simply have a URL link, unique to you, that you can share with other people online.
This could simply be with your friends and family, via social media – or on your blog or YouTube channel, if you have one.
Respondent will pay you $50 per qualified referral that you bring in – this is way better than many other programs online.
For example; many survey-related affiliate programs may only give you a couple of dollars per referral.
Many of the website testing platforms, don't have an affiliate program at all.
So, if you're a blogger looking for affiliate programs you can incorporate into your blog – this might be a relevant one to look into.
When you join respondent, you can immediately become an affiliate.
But wait…. What does a "qualified referral," actually mean?
You don't just get $50 for everyone that merely signs up.
In order to qualify, your referral must be accepted on to at least one study, go through the study and then actually get paid.
Therefore, it's not going to be easy for regular people to make the $50.
In order to make money with this affiliate program, you're going to have to have a way of referring a lot of people.
The most obvious way being, that you have a relevant blog, YouTube channel, or large social media following.
Also, if all your referrals sign up to one particular study only and complete it, you get paid once – no matter how many sign up.
How To Get The Most Out Of Respondent:
With this kind of thing, it's always going to be really easy to forget to check for new studies!
New ones appear all the time and if you don't check regularly, you're going to miss out – as Respondent don't send notifications for new studies, it's up to you to check for them.
So, perhaps set a reminder on your mobile, or your computer to check once a day, or every couple of days.
Also, if you see something that could potentially be a fit, ensure you complete the profiling survey and see if you're a match right then.
If you leave it, the chances are that the spaces are going to be filled and you will miss out.
Ensure you don't just make things up in your screening survey – the last thing you want is to be accepted on to a study that you're not qualified for.
That could be embarrassing! So, answer honestly and only apply for studies you're confident that you're right for.
Is Respondent Legit…. Is It Worth It?
YES! Having looked into side hustle opportunities for several years, I was surprised to have only just heard of it.
No, you can't quit your day job and work full time for respondent – but it is possible to make some decent money with them and make some extra cash.
It's not going to be for everyone – this website definitely has more of a professional business feel about it and you're going to qualify for the most studies if you have expertise in particular fields.
However, even if you aren't highly knowledgeable in a particular area, there is still a chance you could qualify for studies.
Take that pregnancy survey offered to me about vitamins – for example.
It only takes a couple of minutes to sign up and you get access to relevant studies immediately.
So, head over to their website here and see what's on offer!
Beyond Paid Research Studies:
No matter how many of these studies you do, you're still going to be exchanging your time for money.
Which is why in 2015, I wanted to look into ways that could make me money in the long -term… Even when I wasn't working!
One way that I can generate money online, is via affiliate marketing and I first learnt about that here.
If you're not sure how you'd like to get started, here are 40+ different ideas.
I hope you found this Respondent review helpful!
If you've had any experience you'd like to share, you can leave a comment below!
All the best,
Pin Me For Later!