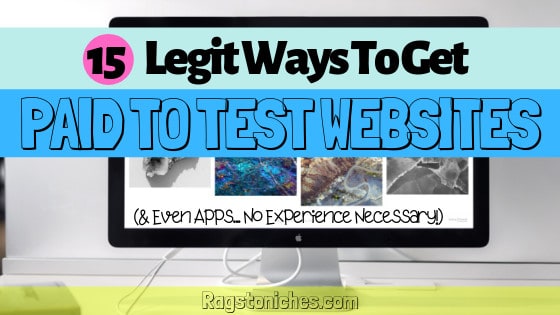 Usability Testing Websites give website and app owners the opportunity to test their new products for bugs, navigational, design flaws and much more.
By getting some fresh eyes on their websites/Apps in progress; they will be able to reveal problems that they could otherwise miss.
That's why companies will pay regular people to check out these things, usually by following simple instructions and completing simple tasks.
Very often, your screen and voice will be recorded while you are completing a test.
In some cases, your face could also be recorded, but it depends on the website.
The great thing about Usability Testing, is that it pays pretty well and they can be an ACTUALLY good way to make some extra cash.
That is, in comparison to many extra income opportunities online. It's also really quite enjoyable to do.
One problem can be, getting enough tests to do to make it worthwhile.
That is why joining a few different ones and being strategic about checking for tests and knowing the best times to be available, can give you the greatest chance of success.
Here are a selection of 15 legit Usability testing websites, that are completely free to sign up with and worthwhile looking at.
Tip: don't make much from Usability Testing alone! This training showed me how I could make more LONG-TERM. Check it out for FREE.
1/ User Testing:
I had to put this one first above all others, I think this was the very first one I tried out and it's still my top choice today.
They do send out plenty of tests, but they do tend to be at the same time.
I'm in the UK and I seem to get tonnes late afternoon my time, which is unfortunately when I'm least able to do them!
To get the best chance of getting a test, keep the User Testing tab open on your browser and check for new tests every now and again.
Seeing as it's a first come first serve thing, you will have to jump on a test as soon as you see it available.
Here is some User-Testing Info:
2/ Userlytics:
This platform is much like User-Testing, except in some cases you do get the opportunity to learn more – up to $90 per test in some cases.
In addition, some tests will require your face to be filmed as well, (in addition to your voice).
Also, in order to be a tester here, you will need a PC, Mac, or an iphone/android phone.
You won't be able to complete the tests via a Chromebook, or a tablet at this time.
You are able to join from all over the world and, unlike many websites of this kind, you don't need to complete a demo test before you begin.
3/ Test.IO:
A bit more of a learning curve in this case, but you can potentially earn up to $50 for some issues you discover. You can gain more specific skills and experience here over time.
However, unlike some other platforms, you only earn money PER bug/issue you discover. So, if you don't find anything, you won't make any money.
While you can make up to $50 for highly critical bugs, it's more likely you'll make between $2/$3 for most bugs you find.
PIN ME FOR LATER 🙂
4/ uTest:
After registering with this company, you will get invited to what they call "test-cycles," and each one will have specific step-by-step instructions.
You can gradually earn more over time here, depending on your skills and experience on the platform.
The higher your uTest score, the higher paid work you can access. You need to earn at least $10 prior to withdrawing money.
5/ UserBrain:
In order to sign up with this website, you need to be over 18, have a computer, iphone, or IPAD and ideally an external microphone, although even the internal one would work.
You're not notified about individual tests here, so you will need to check your App, or your main dashboard.
The amount you earn is going to vary on the test, but some tests can be as short as 5 minutes!
Tests can vary in frequency, so check out other website testing platforms in addition to this.
They also have a handy chrome extension, which I recommend you check out.
6/ WhatUsersDo:
For this platform, you need to be either on a PC or Mac, no mobile phone, tablet, or Chromebook options.
You will also need a webcam and mic. Realistically, you may be sent 3-5 tests per month and this could amount up to approx £25 to (around$32) a month.
Prior to becoming a tester, you need to complete a mini test and it could take 1-2 weeks to hear back that you've been accepted. Potential tests will be sent via email.
7/ UserFeel:
With this company, your screen will be recorded and microphone required, (internal or external is fine).
They also state that you need a relatively fast internet connection, which I presume is usually the case!
Just like User Testing, you will need to do a small qualification test prior to getting accepted.
From this one test, you are scored and this will effect how many tests you will be invited to.
However, you can improve your score, depending on how companies rate your tests.
8/ Testing Time:
This is a little different to other Usability sites, but it looks like the earning potential is also higher than some and the tests are longer & more in depth.
These tests could take between 30-90 minutes and will be done either via Skype, or with the client in person; who guides you through the test.
They say via their website, that you can earn up to £60 per hour, ($75). So, that's a decent chunk of change!
You will need Skype to complete any online tests.
9/ Intellizoom:
This website offers some tests where your face is recorded, and others where it's just your screen and voice.
You do get paid more if you have a test where your face is shown – $10 in that circumstance.
You get $5 for the regular voice/screen tests and each one should take between 10-20 minutes.
However, considering you get much more for when your face is also recorded, I'd recommend going for these ones if you're not camera shy!
10/ Enroll App:
This one has been really quiet with me for a long time and whereas I would sometimes get 50 cents per question, it could be lower than that and I barely get any tests coming through now.
This may vary depending on your location though.
The good thing about this one is, you don't need to record your voice – the tests are also very brief, sometimes only a minute or so.
You can also do them via your phone and the tests I have managed to complete were really quick.
A downside for me is, you can't save up your earnings.
They send you the money via PayPal and if you're looking at receiving $0.50 or even less…. You don't even notice it's in there, let alone withdraw any!
Next up, I want to share with you 5 more websites that you can check out, which are legit, but I just haven't written up a review for them yet!
I will adjust the list to add more details as I do!
11/ TryMyUi – Records your screen and voice, pays via PayPal and you're paid $10 per completed test!
12/ Test Birds – One based in Germany, but is open to applicants Worldwide. General tests could pay between 10-40 Euro, but some more professional tests, (conducted by testers with experience) could reach more. You're paid via PayPal.
13/ Validately – Here you speak your thoughts allowed by testing a webiste or App. You must have a PayPal account in order to get paid. Payments vary but for a live remote research study, you could get $100!
14/ Loop 11 – Here you will need to complete a short 5 minute qualification test. You will need your screen recorded and be able to speak clearly via the microphone. They don't seem to have much info on their website prior to fulfilling the application.
15/ User Crowd – I had reviewed this previously when it was known as Usability Hub, but not since then. You don't need a microphone with this one. In this case, you complete mini surveys get credits. Each credit is worth $0.10 and you may get one or two per survey. While this doesn't seem like much, these credits can add up. You need 100 credits to withdraw via PayPal.
Concluding Thoughts – Is Testing Websites Worth Your Time?
In general, testing websites can make you at least $10 per 20 minutes of work and that's pretty good, if you're looking for an easy way to make some extra cash each month.
Unlike many typical small-time income opportunities, like paid surveys, these tests are pretty interesting and you can make a positive difference to a companies final website or App.
If you're looking for a legit way to make some extra money online, signing up with some of these opportunities can definitely be worthwhile.
Personally, I have had the most experience with User-Testing and I found the whole process from application, to testing, to payment – to be smooth sailing.
Have you tried Usability Testing before? Let me know in the comments.
What Else Can You Do To Make Extra Cash?
The problem with Usability Testing is, you're still exchanging your time for money… Rather than building something that can pay you multiple times over.
That's why, in 2015 I became interested in the idea of passive income… That is, putting work in initially into something, that can potentially pay you many times over in the future.
Some examples of passive income I'm trying to build right now….
Paid advertising – through having Ads on my website, I can make money even when I'm not doing any work at all.
Affiliate marketing – I can recommend products and services via my blog posts and when someone makes a purchase, I make a commission.
Print On Demand – I design and sell clothing items on Amazon. It gets uploaded once and that item can sell multiple times over.
Kindle Direct Publishing – I'm trying my hand at publishing low content books, (journals/notebooks and so on)… Again, you upload once and can potentially make many sales.
Those are just a few examples however, there are many ways you can strive to build up income streams in your life.
However, I don't want to make it sound easy! All these things I have spent considerable time and effort on and am only growing gradually.
What I love about it though, is that you can take little breaks away and know that some money is still going to be building up.
Some posts that can help:
All the best,