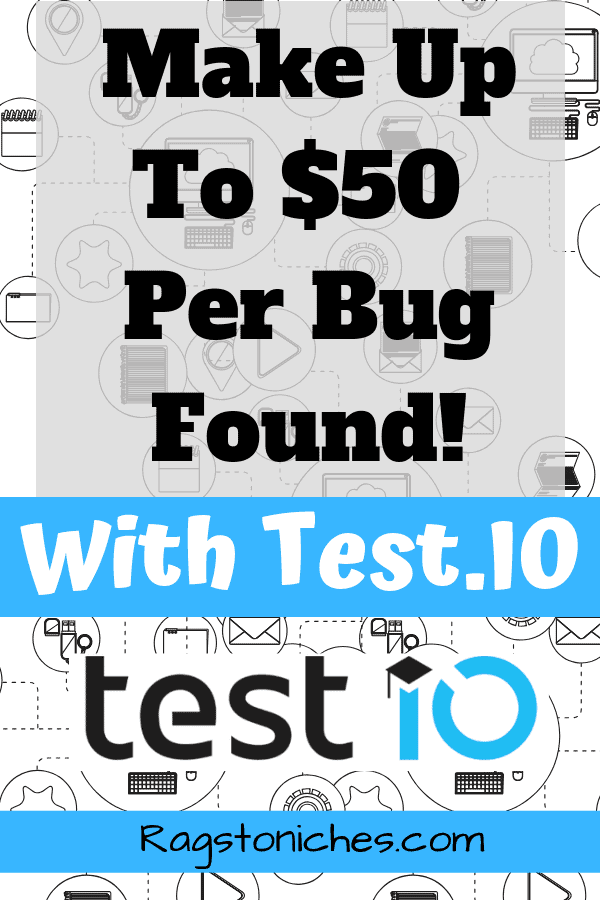 Today, I'm doing a quick Test.IO review for you – another platform where you can get paid to test websites and Apps for potential issues.
(Of course, from the other side, you can also reach out to them as a client and get your App, or your website tested).
Website testing has been one side hustle I have gone back to now and again, although the main platform I've stuck with throughout has been User-Testing.
Testing websites actually pays better than any survey related website, or other small income opportunities I've looked at.
Plus, unlike many of the things I've tried out, it's actually pretty enjoyable.
But what about Test.IO… Is this a legitimate platform and how do you get started? I signed up to find out.
I've struggled to find too much feedback about being a tester on this platform…. What is your experience? Let me know in the comments!
Would you like to make more online? Learn how here.
What Is Test.IO About?
So, primarily Test.IO will help businesses, website and app developers to check out their products prior to launch.
Inevitably there will be things that just don't work as they should and having a fresh set of eyes on things will usually reveal problems they missed.
That's where you come in; as Test.IO recruit regular members of the public to sign up and train to be their testers and you can help discover any problems that need to be resolved.
It appears that Test.IO is a bit different from other Usability related testing sites that I've seen before.
They say that you can test Apps, Websites and games and get paid for each issue, (or bug) you discover.
With other sites I've reviewed, you don't get paid for issues that you find. You get paid per test that you complete.
With other platforms, like User Testing, you get paid $10 per test, lasting around 20 minutes.
With Test.IO, they say you can earn up to $50 per issue discovered.
Obviously this will have pros and cons, depending on what you discover, (if anything) but there is still potential to make some reasonable money.
If you can't find any issues, then you can also get paid for rating Apps. Although, I'm not sure where that comes into play yet, or how much those opportunities pay.
In any case, one perk of doing work like this, is that you may be the first person to see certain new Apps for the first time, while they're still being developed.
How Do You Sign Up?
You can join Test.IO here, where you will be able to sign up within a few minutes.

You just need your name/email and password to sign up initially.
You then need to go and find your confirmation email.
From there you will need to…
Create a user name,
Select your native language,
Experience in software testing,
Education level,
Employment Status,
Social Network experience,
List Your devices, (computer/tablet/phone/streaming).
Lastly, you'll need to complete your full details including name/DOB, address and zip/postcode.
You're then taken to a the main dashboard, where you will find your first tutorial and where you will see all future tests.
Your First Tutorial:
This is basically like a tutorial, showing you the ropes.
They explain how you find and report bugs correctly.
There will be a drop down menu of potential bugs you can report during a test.
However, if the bug can not be attributed to a category in the drop down menu, then it's considered to be out of scope and shouldn't be reported.
They also give you tips about what is a GOOD way to describe a problem and which is a bad way.
Spend some time describing the issue clearly and explain exactly what happens.
This should be a short summary, but still descriptive enough that there is no doubt what the problem is you've encountered.
There are then certain steps you must take to trigger the potential bug.
Lastly, there is a section where you can explain the bug in more detail.
You cannot just claim here that something does not work, you need to explain exactly what happens and what goes wrong.
You also need to provide evidence of the bug in an attachment, which may include a video for dynamic bugs, (e.g. if you click something and something unexpected happens…)…
Or a photo for static bugs. Although, you can submit both too.
Your QUIZ – After The Tutotial:
Once you've completed your first mini tutorial with Test.IO, you can complete a little quiz and see what your knowledge is like up to this point.
They're pretty straight forward, multiple choice questions.
After this, you will go on to yet another section.
However, if you've had enough by now, you can always close down and return to your dashboard at a later time.
If not, continue on.
Onboarding Test:
Now things get a little more in depth and serious.
You need to reach a certain level of knowledge and ability before you can qualify as an active tester and make money.
Until you reach those requirements, you will be asked to join practice tests.
Once you've completed a certain number of requirements, you will be invited to the real deal.
Some of the instructions will likely seem quite confusing at first, it's a good idea to familiarize yourself with the language they use.
For example; with the sort of bug types that you can report.
They have a useful section on the website called the "Test.IO ACADEMY." This is where you can find a bunch of useful info that can help you.
For example; they have a section sharing with you some of the tools you can use to help you with things like; capturing your screen and retrieving crash logs.
How Much Can You Make?
How much you make depends on the sort of bugs and issues you discover.
But you can earn up to $50 for some critical issues found – although, it's more likely you will earn $2/$3 for finding less critical bugs.
Then you have to ensure you report on these issues in the precise way that Test.IO teach you, or else your report will likely be rejected and you will have wasted your time.
Test.IO will pay out once per month and they do pay out via PayPal.
You also have the option to be paid via Payoneer, Skrill or bank transfer.
Referral Program:
You have the potential to earn up to $5 per referral you recommend to join Test.IO
However, you will only get rewarded if your application has been accepted, you've done the onboarding test AND discovered 5 bugs after that.
So, in a majority of cases, it's unlikely you'll make much from the referral program.
What Do Other People Say About Test.IO:
There is a fair amount of feedback online from people who have actually worked for Test.IO – but, oddly, not much at all from actual testers.
I managed to find a comment on Reddit, from someone saying that it was hard to make money, as many bug reports are rejected.

There are some reviews on Glassdoor – some from workers testing, others from actual workers on the platform.
There appear to be a mixture of reviews at this point, which you can find here.
However, 4.5 stars on average at this stage on Glassdoor.
It currently has 5.0 stars right now on Capterra... Although, in this case it is feedback from clients, not testers.
Plus there are only 4 reviews right now!
Have you had experience as a Tester on Test.IO? Why not share your story below?
PROS VS CONS:
PROS:
Anyone can sign up, no qualifications required.
Up to $50 per test.
Plenty of training material and help to support you.
Good support.
You could earn $5 per referral.
CONS:
Some people may find the qualification test challenging.
They only pay out once per month, (although, you may consider this a PRO, you can save up your earnings).
Conclusion – Is Test.IO Legit?
Yes, but unlike other testing sites that will pay you per test – this website will pay varying amounts, depending on what issues you discover.
This means that you could potentially not make any money.
Plus, there is always the chance you won't send your reports correctly; making them void.
Spend some time carefully reading the instructions regarding sending reports, to try an avoid any errors on your part.
If you've had some success with Test.IO – don't be shy, leave your comment below. 🙂
Beyond Website Testing – Making More?
As something to do when I have a bit of extra time, I quite like Usability/Website Testing.
However, that's not how I make the most online.
Right now, the income streams that make me the most are via affiliate marketing and paid advertising.
The great thing about streams of income like this, is that they can be passive.
That doesn't mean I don't do any work. But it means that the work I put in today, could pay me back multiple times over in the future.
If that's something you'd be interested in, you can start learning for free here.
All the best,