USERBRAIN Review – Can You Make Money Online Testing Websites?
For those of you looking to make a little extra cash online, testing websites offers a more profitable alternative to some of the more well-known pocket money opportunities…    like online paid surveys.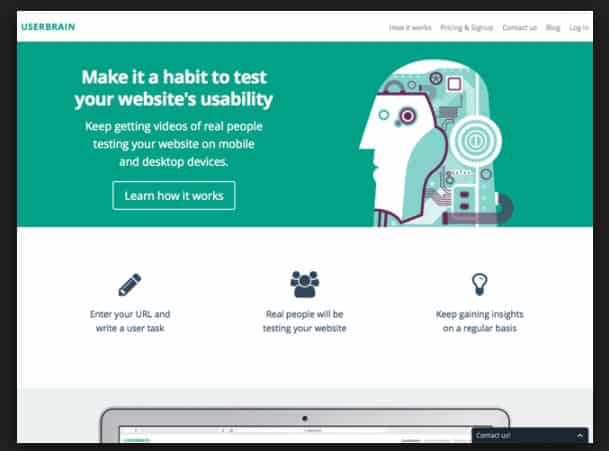 What Is Website Testing?
Website testing, often described as Usability testing; is where website owners pay members of the public to check out their websites online and give feedback.
This will generally involve answering a series of questions, performing set tasks, sharing opinions and generally checking out various features of the website.
Ultimately, the aim is to make a website as user-friendly as possible and your job as a User-tester, is to help website owners do a better job.
Your voice and screen will be recorded as you complete each test and you're asked to chat along as you complete certain tasks, reporting on your experience.
On some platforms, your face will also be recorded, but that isn't the case with Userbrain.
(By the way, I don't make the most online by testing websites, this training taught me to make more in other ways!).
What Is USERBRAIN & How Do You Make Money?
Userbrain is a website testing platform, where you can be paid a small amount to test websites online, or pay to have your website tested.
As a tester, you will be reporting on your user experience and following set instructions.
Often you will need to answer questions like the following:
– What's the first thing you notice when you arrive on this site?
– What is this site about?
– Who is this site for?
– What are you meant to do on this site?
– What sort of services are available on this site?
You may also have some short tasks to complete and report on.  Prior to signing up as a tester, you'll need to complete a short example test.

This is nothing to worry about.
My advice to you hear is just try and speak as clearly as you can, be natural and just keep talking as you navigate the site and keep what you're saying as relevant.
So, if you're confused when you see the website for the first time and you aren't sure what it's about… just say so.  This is valid feedback.
If you don't think it's clear where you are meant to click, or what action you should take; express yourself as you complete the test.
What you don't want is lots of long silences, or pauses.  Try and keep talking and keep it relevant to the task.
However, if you mess up the first test, it's no problem.  You can still take the test again and you will manage it.
The first example test I took was over at another platform and I failed!
I think I was just really nervous and mumbled a lot.  They gave me some pointers and I got all 5 star reviews from then on.
In any case, to make money with Userbrain, you simply need to conduct these small tests and follow instructions.  It's all clearly explained and straightforward.
What Do You Need To Apply To Be A Wesbite Tester?
The great thing about Usablity testing, is there really is very few barriers to entry and it's free and simple to get started, (as long as you have a computer or phone already!).
You need to be 18 or over.
You will need a computer, iphone, or ipad.
A microphone, (doesn't have to be external, but you will get a better result).
Internet broadband.
An active Paypal account, (this is how they pay you!).
Signing up with Userbrain is really simple, as they don't ask for any personal info aside from your name and email address.
As soon as you're registered, you will be able to complete a sample test.
How Long Are The Tests & How Much Are You Paid?
Keep checking your apps or dashboard to see when tests become available, because you won't be notified by email regarding tests.
In a way, this is a good thing, as I find often the tests are immediately snapped up on other sites, the instant an email is sent out.
So, maybe this gives you more of a chance.
You'll have the greatest chance of getting a test if you download their app.  I downloaded their chrome extension,  which was super quick to do.
All tests that you complete, should be somewhere between 5-15 minutes.
It will feel quite strange at first, but the more you do them, the more second nature they become.
For every successful test you complete, you will be rewarded $3.  You need to reach a threshold of $10 before you can withdraw the money into your PayPal account.
Don't Pre-Test A Site!
When you get instructions regarding how to conduct a test, you may feel tempted to go and check out the website first and get a feel for it.
Do not do this!  The whole idea of this exercise is for you to look at the site with fresh eyes, as someone who has just landed on the site for the very first time.
It's important for the website owner to try and look at their website through someone else's eyes, someone who may not immediately know what the site is about, how to navigate it, or what action to take.
By learning from your first time experience, they can improve the usability of their site for future clients.
What's Good About UserBrain?
You can download their app on chrome or IOS to start testing.  This was perfect for me, because I'm a big chrome user right now.
More tests available than some other usability platforms and less competition.
Anyone can join over 18, you don't need any special skills or knowledge.
You're able to complete these tests via your mobile or ipad too.  So, it means you're not restricted to only being able to complete tests on your PC or laptop.
$3 for 5-15 minutes is pretty good if you stick to that time threshold.  It certainly beats some other ways to make money online, (what about filling out a survey for 30 minutes and getting less than a dollar!!).
Plenty of help to get started – Userbrain has clear guides to help you get started and they're really helpful to check out, if you're feeling unsure.
Website testing can be fun, rewarding and interesting!  You can discover some new webistes that you may never have discovered otherwise, it can be enjoyable completing the tasks and you may also feel that you have done a good job – because you will have played a role in a website becoming more user-friendly.
What's Bad About UserBrain?
Some people have suggested that the tests can take a lot longer to complete than suggested.
There aren't email alerts, which mean you have to keep checking back to the dashboard, or miss out, (although this can be a good thing too, as I mentioned earlier).
Your tests will be given a rating.  So, in order to be invited for more tests, you will need to keep up a good record!  A few bad tests could potentially ruin your chances to continue.
Some people had issues with the chrome extension crashing, although they now say this has been resolved.
There still won't be tonnes of tests – to improve your income potential here, you may consider joining other Usablity testing sites as well.
You won't be able to cashout unless you have Paypal.
Improving Your Income Potential:
If you find that you really enjoy testing websites, you could try signing up to a bunch of them and that would give you more opportunities to test… and also to make more money.
Some other related Usability Testing websites that I reviewed recently are:
How Much Can You Make Testing Websites?
This is obviously going to depend on how many tests you can be accepted to and how much they pay.
Some sites will pay $10 for a 20 minute test, if you could get even one of those every day, that's $70 a week.
It's not a fortune, but it's certainly a nice little side line.
So, if you're looking to make a little extra online, then testing websites is definitely worth your time.
For the best chance of making reasonable money; sign up to a few and see how you go.
The first site I got accepted on to was User Testing, they pay $10 for a 20 minute test, but I find the tests get snapped up SO quickly, that I barely manage to catch one.
Looking To Make More Online?
If you're looking for a longer-term higher paying income long term; you may want to consider something like affiliate marketing. 
That's how I currently make the most online, as well as various other ways – which you can learn about here.
Let me know in the comments if you have any questions!
All the best,