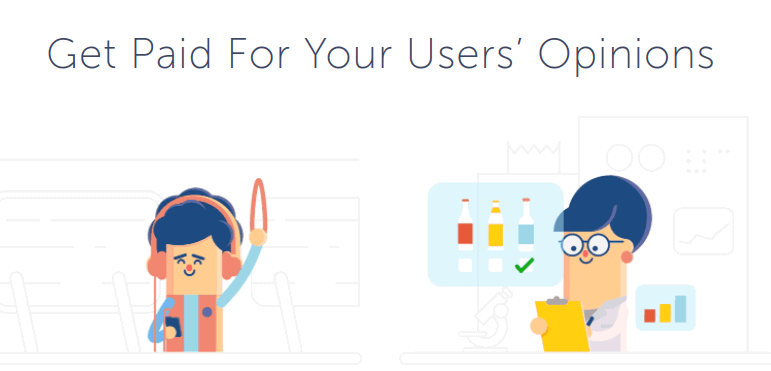 What is peanut lab surveys? legit, or just a survey site scam?
Peanut Lab surveys can be found on many different survey related platforms.
They're a company that will link the user to different survey providers and sometimes offers too.
The website owner can easily integrate peanut lab surveys into their site and get paid a commission per survey or offer completed, but earn this income passively.
That is, they don't have to be a survey provider themselves, they can just rely on peanut lab surveys connecting their users with surveys that are a good fit for them.
They do this quite well by using a profiling survey at first, which is meant to help reduce the rate of disqualification from surveys, (although it would seem that many people find that completely ineffective).

What is survey disqualification?
Surveys are created by businesses who are looking for a very particular demorgrpahic to answer their surveys.
The survey information they generate, will help them to improve their services, with an aim of increasing profit and customer experience in general.
But because businesses are looking for a particular sub-group of people – not everyone will be the right candidate!
All to often, you'll start a survey, only to be chucked off it again several questions in.  You simply don't fit the demographic.
However, sometimes this can be reduced by answering certain profile questions beforehand.
Many times though, this hasn't seemed to have helped me at all!
But peanut lab surveys are one of the few providers that I seem to have had more success getting through.
MANY PEOPLE DO NOT AGREE THOUGH, (take a look further down, where I take a look at some of the complaints online).
Some sites that use Peanut lab surveys, (that I've reviewed recently) include:
How Does Peanut Lab Surveys Work?
If you have a blog or website, you can apply to have a peanut labs integration on your website, so that your visitors can partake in surveys and you can earn a commission for every survey completed.
But the main thing I'm looking at is from the perspective of a survey-taker.
In this case, you'll usually be confronted by a block of potential survey options, (like below) and you'll be told roughly how long the survey will take and how much you will earn for that survey.
Below is a list of peanut lab surveys on Swagbucks at the moment.

Once you click, you then tend to go through a quick pre-qualification survey.
I decided to try a shorter one.
I ended up being switched to four different surveys, (as I didn't qualify for any).
Then on the last survey, I was answering questions for at least 5 minutes and maybe more, before I got disqualified yet again.
I thought this was cheeky, as I had been answering so many questions on various surveys and got nothing.
So, I get a 1 point back for compensation – which isn't good is it?
You have to be super careful about being inconsistent!
What I have realised after answering a lot of surveys though, is just how careful you really have to be with your answers.
If there is the slightest inconsistency in your answers, they will chuck you off right away.
They constantly seem to try and catch you out in this way too – by asking the same question in different ways.
But because we're all human, (and not robots) we often can't remember exactly what we've answered and we may also change our minds about answering a question, depending how it's worded.
It's usually when I'm concentrating really hard on remembering everything that I've answered 100%, that I have the most luck completing a survey until the end… and I'm sure this is no coincidence!
So, while I have had some luck with Peanut Lab surveys in the past, (over other providers) it wasn't too good today!
However, I was finding it hard to concentrate after being shipped around to various surveys, maybe I gave a slightly inconsistent answer. 🙁
What other people say about Peanut Lab Surveys
I was quite surprised by the really bad reviews for this provider online.
Complaints Against Peanut Labs:
The complaints seem to focus on the following problems:
Not being credited for surveys
Taking too long before they disqualify you.
Constantly getting disqualified.
Having to constantly answer the same profiling questions.
Surveys not paying enough.
Jumping from one survey to another when you don't qualify – but you don't always know how long that survey is or how much you're being paid.
These are all valid complaints but really, they're the same sort of complaints you'll find for all survey sites and providers.
Disqualification is a relentless problem.  Sometimes it seems much worse than other times.  But, as I said earlier, you also have to be ridiculously careful how you answer the questions.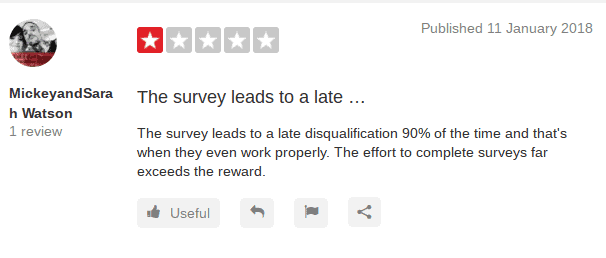 I don't blame anyone for getting frustrated!  There should have been some way to ensure that people can quickly and either qualify for surveys by now, (or not).
It's just not right that someone could be disqualified from survey after survey – another user mentioned being disqualified from 20 in a row!  Imagine the time wasted?
So, is Peanut Lab Surveys legit, or is this a scam & waste of time?
Peanut labs are a legitimate company, who are merely connecting you to different surveys.  So, they don't have control over what criteria these companies set out.
Often times, companies are looking for a narrow demographic – why it sometimes takes too long to figure out you're not the "right fit," I'm not sure.
Although, I do think that if you're disqualified later on in a survey, it's not to do with not being a good fit… it's probably to do with giving inconsistent answers.
It doesn't take much at all to flag up inconsistencies in their system.
It's then decided you aren't answering truthfully, or aren't paying attention to the questions and you'll be frozen out.
This is also a common reason for survey sites freezing accounts, or blocking people from their sites.
So, you have to have good concentration skills to avoid getting disqualified, because the surveys can be SO dull that it's really difficult to not lose attention and possibly answer something which contradicts a previous answer.
Have you had experience with Peanut Lab surveys?  Let me know below.
Making More Money Online – Long Term!
Survey sites can be ok, when you can actually qualify for them!  But the pay is so bad, that it just doesn't feel worth the effort most of the time.
If you've been looking for a way to make more online, there are ways you can do it.
I personally came online myself to find ways to make a bit of extra money, but started to get lost by all the conflicting advice before I found a community that helped.
The way I make the most online right now is via affiliate marketing – it's just one way that you can earn money from a blog or website.
You don't need to know any technical stuff to get started either, (I didn't).
If you'd like to do the same, this is where I got started.
All the best

Other posts that may interest you