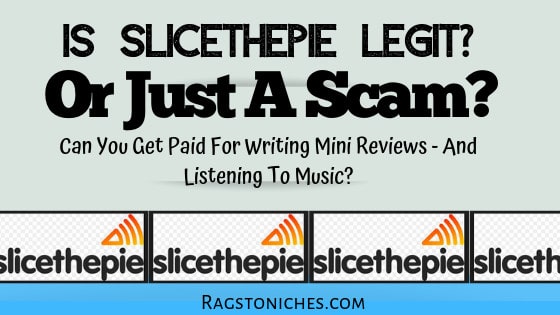 Can you really make money on this platform?  Is Slicethepie a scam…  Or a legit way to write mini reviews online for money?
In my in depth Slicethepie review today, I will share what I have discovered about this platform since joining.
Slice the pie or Slicethepie is a review site.  For every little mini review you write, you can earn a small amount of money for your time.
The reviews used to just be focused on Music… But there are now additional categories that change.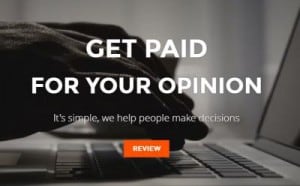 At the time I first joined it was a choice between:  Music, fashion, mobile accessories, or a "lucky dip," option.
Sounds  quite fun, hey?
Well, it's certainly not a scam and while you can't make much money here, I actually find the site enjoyable & fun to use.
Check out what I made of it below!
Review In Brief:
Product: Slicethepie
Cost: Free to join, you get paid!
Money Making Potential: Pocket money.
Overall Ranking: Legit!  Earn a small amount by writing mini reviews.  More for enjoyment than cash really, but can still make a small amount.  You will also be able to provide artists, designers and creators constructive feedback.  Sign up here.
The website has not gone without it's criticisms and they're extremely strict if they think someone is gaming the system!
That said, they've paid me with zero issues at all and I have not had any problems with this site since I joined.
Tip – if you want to make 100's or 1000's of dollars per month, paid surveys don't work! You can learn to make more here.

What Is SlicethePie About?
Now, considering the earning potential for this product is extremely low, it's quite amazing that I have given this site such a high rating!
So, why have I?
Well, after wasting countless hours exploring the benefits, (or not) of survey sites and all those relentless boring as hell questions…
It was like a breath of fresh air to discover Slicethepie.
Because this time – it's not about answering questions.
This time, you are simply giving your opinion on a selection of topics, by writing mini reviews.
Plus, part of that involves listening to music and giving your opinion.
So, enjoyment wise, this is a whole lot more fun.
Maybe I am a little biased, since I actually enjoy writing and find it preferable to ticking boxes and answering mundane questions!

At the time of writing, there are four categories you can choose to review relate to either fashion, music, mobiles, homeware items – or a lucky dip option.
They added the "homeware," items in 2016, which added a bit more variety.
Sometimes a certain category will have BONUS underneath and this means it will pay you more per review.
The difference in price between regular and bonus reviews really seems to vary – sometimes it seems to be 20 cents more, other times only a few cents.
When you go to write your review, you need to write it in a little box, (as shown above).
When you've reached you MINIMUM word count, the orange timeline will be full, (You can see it via the arrow in the pic above).
When your review is complete, you can rate the product out of 10 and press enter.
Normally it goes through, but sometimes it may ask you to elaborate to stick to the point.
A couple of times I had to make a couple of quick edits, but 95% of the time it was just accepted.
Want $5 Free? Join My Top Rewards Site For Free. Click Here To Join & Get $5.
Slicethepie – Mini Experiment
I decided to see how much I could earn in a timed 30 minutes.
Now, by the time I did this today, I was only able to do this reviewing MUSIC –
that's because I used up all my surveys in the other categories, so it was the only option left.
Music takes the longest to review because you HAVE to listen to 90 seconds of music, before you can submit your review.
The most time-saving way to do it, is to make sure your review is already ready to submit within that 90 seconds.
So, you need to listen and type as you go.
There was also no bonus option when I did this.
So, really you'll be looking at the minimum you can earn in 30 minutes using Slice The Pie.
At time of starting I had $2.52 in the bank.

The following amounts that I then earned via listening and reviewing music clips was as follows,
In cents… 7, 7, 4, 5, 5 ,5 ,5, 6, 4, 6, 4.
If I had been efficient, I definitely could have done more.
But several songs, I listened through completely.
Also, sometimes I'd be told that the review was not concise or specific enough, (this is common).
I then had to quickly figure out what you've done wrong and correct it.
By the end I had…$3.10

Thereby making all of 58 cents in half an hour.  I made the first couple of dollars in around an hour the day previously.
So, earnings can definitely vary… buy yup, they are super small.
But that's what you can expect from any similar opportunity online, (survey sites and the like) and AT LEAST with this one, it's actually fun.
You also get to help out up and coming artists or designers by giving feedback on their creations.
Your reviews do go straight to them, so they will receive any feedback you provide.
If you want to make more money, by referring friends and family to the program via your individual link, you can earn bonus money every time they write a review too, (20% of their earnings).
You're able to withdraw your earnings, once you've made a minimum of $10.
The withdrawal method is incredibly easy and it wouldn't take too long to make up the $10 to take out.
Remember, you'd have to look at this like playing a game or a mini hobby, it's not a business opportunity.
The way you could make the most money would be referring a lot of people – but even then, it's hardly a massive earner.
PROS VS CONS
PROS
Simple to join, easy to figure out what to do.
Only mini reviews required, so very quick to complete.
Much more interesting and fun than answering survey questions!
BONUS categories at times, that pay extra money.
The chance to hear some brand new music & find new bands.
A referral program, so you can make money from other people joining too.
Unlike survey sites, you don't get "chucked" out of a review because you don't qualify.  If you complete the review – you get paid.
CONS
Limited categories to write reviews on.
You don't know how much you've made for the review, until it's been written.
Very limited earning potential, (seems to have got even less over the last year!).
You need to be a quick typist to benefit the most.
Sometimes it will tell you the survey isn't concise enough, isn't written in English, or isn't thorough enough!  Through trial and error, you get to understand slowly what is wrong and what works/what doesn't.
A look inside of Slicethepie…
Update:  I've had a couple of comments on my you tube video for slicethepie that people have reached a certain amount, (in one case $15) and been thrown out for their reviews not being unique enough.
However, I've been paid with zero problems!  A majority of people do get their money just fine and do not get thrown out.
What it does mean is that you have to be careful when writing your reviews that they are unique and not just a generic response.
Slicethepie are very strict in this respect.
Another good idea, would be to withdraw as soon as you reach the $10 mark, rather than leaving the money in there.
Conclusion:  Is Slicethepie A Scam?
Slicethepie is not a scam.
That said, it's earning potential is extremely low and I wouldn't recommend that you spend hours and hours of your time on it.
Personally, I do feel that this websites quick easy earning potential, along with the fact there is no being "chucked off" as there is in regular survey sites – blows the socks off many similar sites that I have reviewed.
If you stick to the bonus reviews too, you will make much more than going with the regular ones.
Slicethepie is a straight forward, enjoyable and fun way to build up some extra pocket change, but not much money at all.
Most survey panels don't pay much and can be really frustrating, so I think this is a reasonable alternative for people who really hate surveys.
If you want to increase your earning potential overall – sign up to a select few sites and then you'll have some variety.
Tip: Try These 10 Survey Panels.
Do You Want To Make More Money Online – In The Long Term!?
My advice is to not work exclusively for small change – for hours of your time each day.  You may make a little, but what will you have to show for it in the long term?
These types of sites will only ever pay you minor amounts.
Simply doing this alone will not generate a decent side income!  Let alone a full-time income, (if that is what you want).
They're fine for a bit of fun in your spare time.  The trouble is, people often turn to sites like this when they actually want to make more substantial money — and that won't work.
For a more longer term project, consider looking into building a real long term business online, that can make you substantial money in the future.
This place is a good place to get started, as you can get started for free and start learning right away.
You can learn step-by-step how to turn your interests into something that can generate you a profit in the future and also be part of a wide community – who all support each other.
When you sign up, there is also a free ten part training course members & two free websites included.
I hope you found this review useful, let me know how you're getting on with your online ventures!
All the best…. 🙂