Is Branded Surveys Legit, Or A Scam Survey Panel?
What is Branded Surveys really?… Can you trust Branded them and, most importantly, can you make money with them?
Having reviewed dozens and dozens of sites like this, I have been on a mission to find some of the best. However, most are still a disappointment.
In my Branded Surveys review today, I will let you know some of the pros and cons, how much you could earn & how much you need to make to cash out.
Website: Branded Surveys, (previously Mintvine).
Cost: Free to join.
Money Making Opportunity: Pocket Money.
Overall Verdict: Legit. This site has plenty of surveys, a good incentive referral program, a low cash out threshold and plenty of good feedback. It's one of the better survey panels I've looked at. Click here to try it.
Once Mintvine…. Now Branded Surveys:
This company has only been renamed/rebranded as Branded Surveys since 2017. Prior to that, it was known as Mintvine.
Branded Surveys provide people online to make a small amount of money online, by completing surveys, (each worth a small amount of money), or by completing cash offers, both free and paid.
As with many other survey platforms, you're awarded points for completing surveys and must make up to a 1000, before you can withdraw $10.
You'll be able to cash out your earnings via PayPal, or gift cards.
You May Also Like…
Branded Surveys – Signing Up & First Impressions:
You can sign up to this site with a few clicks – either via Facebook, or by entering your email address.
You'll need to confirm your registration via email, then make sure you answer the profiling questions. This will be basic info that should help to match you with the right surveys, (or a better chance anyway).
You will get 50 points for completing this and it's the first thing you need to do.
First impression wise…  I like the layout of branded surveys.  It has an attractive design and you can easily see what you need to do.
You can see surveys available for you on the main dashboard, including a prediction for how long they'll take and how much you'll make.
Most surveys I've seen seem to be under 100 points, ($1). I actually saw one for 400 points, but I was thrown off for not qualifying. I think you had to be a tradesman to be accepted!
Everything is easy to navigate and the site looks professional.
There is a large bar along the top of the screen that shows you how many points you've made and how far you are from cash-out. I think this will encourage people to keep going to make it to at least their first $10!
Disqualification….!?
If you're sick of getting chucked off surveys, I recommend you check out Prolific, or Yougov.
However, with most survey panels, you will struggle to qualify for surveys and may get thrown off several prior to being able to complete one.
Branded Surveys do at least give you a little compensation when you don't qualify for a survey.
You only get 5 points but… better than nothing.
Personally, so far I seem to have been disqualified less here than many other sites.
How much you get disqualified from most panels, will depend on things like – where you live, your income, your occupation.
You can also get thrown off if you're not paying attention and contradicting your answers.
Survey panels tend to try and catch you out and it can be quite difficult to remember exactly what you've said previously, when a similar question is put to you slightly differently.
Daily Polls:
On the main dashboard, you will find a daily poll question. These only give you 5 points, but only take a second to do.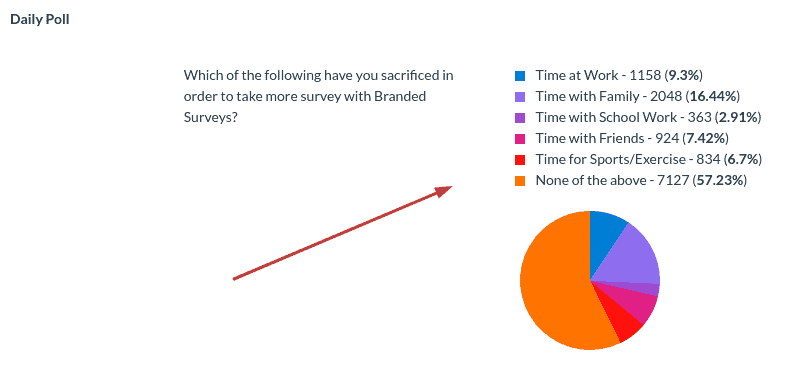 Branded Surveys Paid & Free Offers:
You can also access plenty of paid and free offers on this site.
They link you up to third party companies that specialize in these offers and can be found on many other sites.
These include companies like peanut labs, offertoro, personaly, Adwall, Trialpay and Adgate.
Offers tend to include things like, free trials, sweepstakes, points to join other survey panels, points to join casinos and so on.
Paid offers can pay quite well, but the problem is that you have to pay something for them, (even though you get more back in the way of points).
Offers seem to range from as low as about 10 points, to as high a couple of thousand++ for some of the paid offers.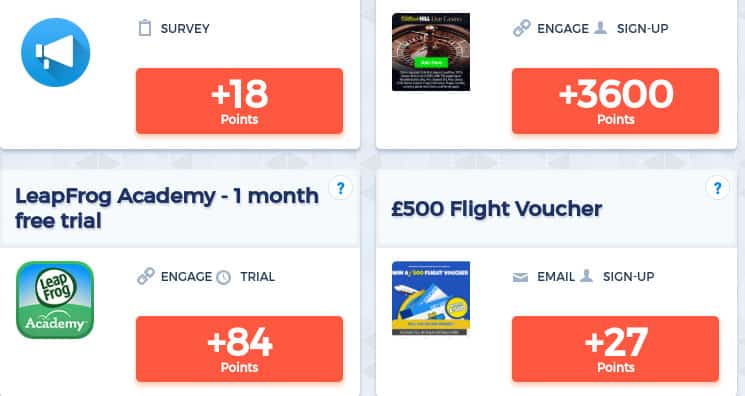 Elite Bronze, Silver And Gold Members – A Way To Boost Earnings.
The more points you make, the higher up your status and the more money you can potentially earn.
10 points you earn from surveys = 1 credit. You will need 60 credits to become an Elite silver member and 210 credits to become a gold member.
However, you can also earn credits for recommending your friends/family join Branded surveys. Your referrals need to be active and reach silver status to get your points.
If you're a silver member at the time, you get 50 points for the referral. But as a gold member, you get 200 points per referral.
There are other ways that you can get extra points too – these ways are explained via the table below: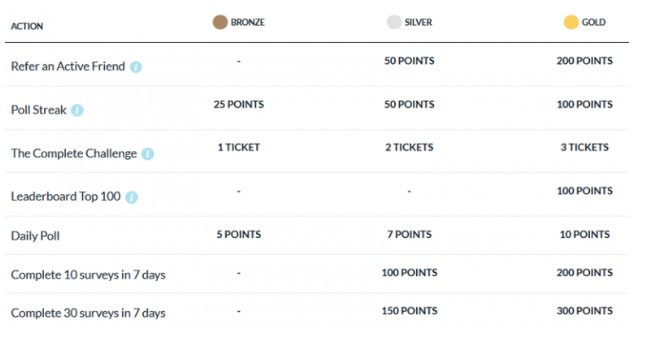 What Do Other People Think Of Branded Surveys?
This platform has a good reputation online, with plenty of good feedback.
It has 4 out of 5 starts with Trustpilot, and over 16,000 reviews to date!

However, some people have been complaining of not receiving their payments of late, or not hearing back from customer service.
In addition, there was a website error where the payment button suddenly disappeared. I believe this was partly the reason they got an influx of bad reviews on Survey Police.
That being said, the Branded Surveys team resolved this issue and are now trying to repair the damage and have been working hard to restore their good reputation after this mini blip.
I have noticed that they are very quick to reply to comments about them online. Personally I like to see a company trying to protect their brand and actively trying to resolve problems directly with their customers.
Are you having issues with Branded Surveys? Or do you have a good experience to share!? Please let me know in the comments!
PROS VS CONS:
PROS:
Well reviewed/popular website.
Attractive layout and easy to navigate.
Extra incentives and chances to make more points, with the bronze/silver/gold memberships.
You get some points even if you get thrown off a survey.
Various payout options, including PayPal and gift card options.
Low payout threshold – $10.
CONS:
Still a low income/pocket money opportunity.
Disqualification is still an issue, despite compensation.
You must be a Silver level member before you can refer members. That means, you need to have made 600 points – but that won't take long to achieve.
Some people complain that the estimated time of the survey is sometimes incorrect.
Only takes members from the UK, US and Canada.
Conclusion: Is Branded Surveys Legit? Is It A Scam?
No, Branded surveys is not a scam and is a legitimate survey panel.
In my opinion, it's one of the better survey panels out there. There has been some mixed feedback recently, (from what I can see)
Beyond Survey Panels Online?!
The best ways to make money from extra income sites is to stack up some of the best and work out a routine of completing tasks and surveys regularly.
For the most part though, while the extra money will be a nice thing – it's still not going to be very much.
Even if you managed to break into three figures a month, (which is possible if you combined things like Prolific, User Testing and survey sites in addition) it will take a tonne of your time to reach that goal and it still won't add up to a part-time income, let alone anything more.
The thing is, you could still do all of those things and run a blog or website at the same time – which is pretty much what I do.
I make the most online from things like affiliate marketing. I discovered all about that right here.
You may also like to check out my 40+ ways to make money online.
All the best,