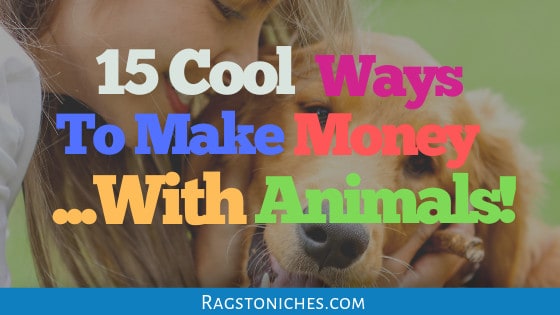 How can you make money working with animals?
I've pondered this question more recently for a couple of reasons.
Firstly, I adore animals and have considered doing a little part-time work outside the home, (to get out in the real world a bit!).
I've also been thinking of work that might suit my son in the future, who has Autism.
He is also an animal lover and I think animals have a lovely calming influence – he has a kind and caring nature, so working with animals could be a good fit!
So, I did my research and came up with a bunch of different ways that you can make money working with animals…. Without a college degree!
Some are online based and some are more local/home based.
Let me know what type of work attracts you in the comments!
Related:
1/ Sell Photos Of Your Pet:
You probably already think your pet is the cutest thing ever… and maybe other people will also agree!
There are tonnes of stock photo websites online that will PAY you for images, when they sell. In some cases, you could get up to 50% commission on the sale.
While this is not an easy way to make money and there is plenty of competition, if you have a gorgeous pet and a knack for taking quality images, you could do well!
The good news is, there are plenty of options. Check out this useful post, sharing 12 places that you can sell your photos for cash!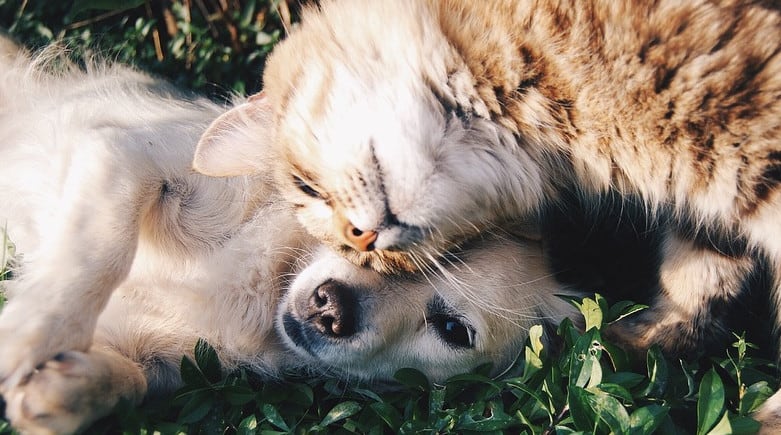 2/ Pet Sitting Or Boarding:
Pet sitting can be a way to make money from all sorts of animals. Forget about just cats and dogs… What about rabbits, guinea pigs, reptiles, or birds!
If a pet owner goes away for any length of time, they will need someone to keep an eye on their pets and sometimes relying on family or friends, isn't reliable.
Or maybe you don't have any family who live close by!
We personally spend an absolute fortune paying to put our cats in a cattery whenever we do go away and I do that for peace of mind…
But for a smaller fee, I could have someone come in and check on the cats daily and feed them.
This would work particularly well if your Cats are house Cats! My Cats go out usually and keeping them in would be a challenge for any sitter.
Whatever animals you look after, this is a simple business to set up from home, or you could join an agency at first to get some experience.
As well as pet sitting, you could also offer boarding – which is when you will take the pet into your own home to look after it. If you're in the UK, there is a useful step-by-step guide here you may find useful.
If you're in the US, you may want to check out House Sitters America.
3/ Dog Training/Animal Training:
I've seen a bunch of programs on TV recently about troublesome pets, that have some serious behavior issues!
While there will be some risk involved in working with potentially aggressive pets, (thinking… cats going scratch cazy!) it could be rewarding too.
It must be rewarding to figure out why a pet is acting a certain negative way and manage to change that behavior and improve the life of the both the pet, AND the owner!
Check out how to become an animal trainer, in 5 steps.
4/ Pet Grooming:
I had my first, (and last) dog when I was 18.
Unfortunately, it turned out that I am allergic to dogs, but my parents looked after the pooch in the end.
However, they spent a lot of money regularly taking him to have his fur trimmed and on general beautification!
Our dog absolutely loved it and many pooches do. Of course, you're going to need to build up some experience in this area, it's not like you can just start this immediately.
But what about approaching a local groomer and getting work experience? Work for free at first and you may even get a paid position there, before starting your own business further down the road.
You don't necessarily need to open your own shop either, you could be a travelling groomer and take your tools on the road & make appointments online.
You could create flyers and post them in your local area. Check out how to become a Dog Groomer here.
5/ Get Your Pet A Huge YouTube, Or Instagram Following!
After many pets have made their owners millionaires via social media, you can imagine how many pet owners have tried to make their pets super stars since.
But while there is competition, no doubt, if you have a special pet – it's still possible for them to end up with a gigantic following.
With YouTube, you can make money via paid advertising, sponsored videos and affiliate marketing.
With Instagram, you can actually charge for space on your account, charging per sponsored post. You can also use affiliate marketing.
How much you can make per sponsored post can vary – but if you have around 100,000 followers, then a few hundred dollars per sponsored post is common.
However, if you have millions of followers, your rate could go into the thousands!!
6/ Selling Pet Toys N'Stuff:
Pet supplies are always going to be a thing!
People are always going to want to treat and spoil their pets so, it's an evergreen opportunity.
Online, you could get into drop shipping. This is where you can purchase items online for cheap, somewhere like Aliexpress and sell items on for a profit.
You will have a website that you can set up really easily with Shopify and you can generate free traffic via blogging, or run low-cost Ads on Facebook to drive traffic to your dropshipping store.
This isn't a a super quick method and will take plenty of learning and trial and error on your part… Dropshipping is something that I want to tackle in the near future.
If you'd like to learn more about Dropshipping, I highly recommend watching ANYTHING by Wholesale Ted….
Their channel is SO helpful and entertaining to watch too.
7/ Silly Pet Videos:
We already talked about pets becoming huge on social media for being gorgeous.
But you could also create crazy, silly videos of your Pet on YouTube and create, (hopefully) viral videos that way!
You will need many, many thousands of views on YouTube to get any decent cash..
But due to the viral nature of animal related videos, this is potentially more possible with this type of video than others.
Once you start getting followers and people start sharing your videos, it can snowball.
As well as paid advertising, having a big following and thousands of views can make you attractive to sponsors – who will pay you for sponsored content.
For example; you could get a sponsorship deal to talk about a particular pet food brand. Or you may get sent a new pet gadget to review on your channel!
You may want to check out – how to start a successful pet YouTube channel.
8/ Dog Walking:
Obviously, this is connected to pet sitting, but some people have carved out full-time careers out of Dog Walking alone.
Not only can you work independently, but you could join an agency and eventually start up your own agency/website.
There are many agencies you can sign up with, such as Rover. Read more about making money with Dogs, over at this post.
9/ Do Yoga… With Your Dog!
If you're a Yoga enthusiast already, there is a legit way that you can take your Dog to work AND get paid for it.
Dog Yoga has increased in popularity recently and what a lovely way to get to meet new Dogs every day!
Before you go into Dog Yoga however, you'll first want to find out how to become a Yoga Teacher.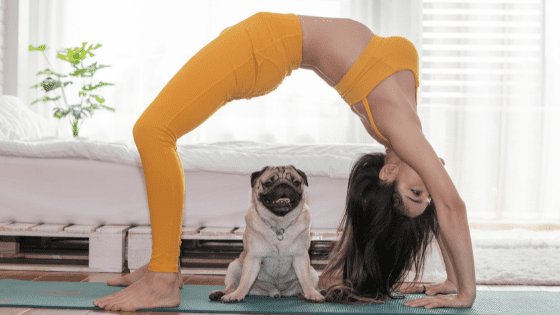 10/ Raise Chickens – Sell The Eggs!
My brother in law has a bunch of chickens and they're so adorable. However, they don't sell their eggs, they use them for themselves.
You're not going to become a millionaire selling a few eggs, but it could be a way of making a little extra money, from your passion for chickens!
Find out how to make money selling eggs here.
11/ Beekeeping… Sell The Honey!
If you have a passion for bees and have the option, beekeeping could be a rewarding hobby for you.
And it's not unusual for beekeepers to sell their honey.
While it isn't going to bring in bundles of cash, for the most part, it can be a way to make some extra money.
Of course, if you do want to sell your produce, there will be certain legal rules and regulations that you need to adhere to.
Read about how you can make money from honey here.
12/ Make Your Pet…. A Movie Star?
OK… So, this is going to be less of a possibility for many regular pets and there is going to be some hot competition out there.
But if you have a great looking pet in good health, there is the potential for TV or film work.
You will have to pay some money initially, to get some professional photographs taken, for example. You will also need to seek out a reputable Pet agent.
13/ Create Animal Related Merchandise
This is a little further removed, because you may not be working directly with pets, but being inspired by them.
So, if you're talented craft wise, you could create pet related clothing, (either for the pet, or simply the design).
You could go into an animal related niche selling print-on-demand products, such as with Merch By Amazon.
Alternatively; you could sell pet inspired jewellery, clothing, bags, beds, or toys that you create on the Etsy platform.
14/ Pet Portraits And Art Work:
If you're a talented artist and love animals, you could consider creating and selling Art work of other peoples pets.
You can create all sorts of custom designs and of course, you don't need to be with the pet…
As long as you have a photograph, you could be anywhere in the world!!
I have seen a bunch of Artists on Etsy right now, selling custom made portraits of pets and they don't have to be traditional!
The artist below has currently sold hundreds of portaits on Etsy….
15/ Animal/Pet Related Blog:
I seriously considered going into a Cat related niche when I started blogging, because I just love everything Cat related.
The great thing about having a blog, is that there are multiple ways you can earn from it as you go on.
Once you have some reasonable traffic, you can get paid from having Ads on your webiste… (Sure you can spot some on this blog!)….
And then there is affiliate marketing, sponsorship deals, email marketing and even creating your own products.
There are so many ways you can incorporate cats into a blog, whether it's a personal blog involving your own Cats, news and stories of other Cats, product review based and many other ways besides.
If you're interested in creating a niche Cat blog, but want more step-by-step help; I highly recommend the training here.
Other Ways To Make Money With Animals?
If you don't have any experience or qualifications related to animal care, then you're going to be limited with the amount of jobs you can just walk into.
If you're really serious at working with animals, then look into the particular role, figure out the training necessary and figure out whether it's feasible for you.
But there are still some regular jobs you could apply for, without a degree…
For example; working as in a pet store, working in a Zoo as a customer service assistant, or in the gift shop, offering to help out at local catteries/boarding kennels/Wildlife parks, or farms.
You could even find work as a trainee animal care assistant!
There are many ways that you can incorporate your passion for animals into your working life, you just need to choose a path and just go for it!
Is there some ways that I have missed out? Let me know in the comments!
All the best,